Paul Burlison: Train Kept A Rollin'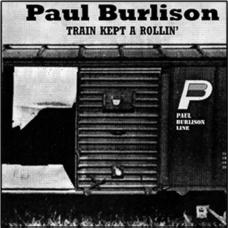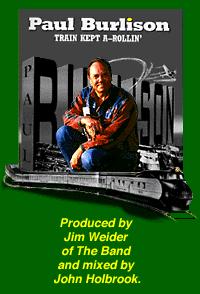 The first ever distorted, fuzz-tone guitar sound shocked the music world when "Train Kept A-Rollin'" b/w "Honey Hush", by Johnny Burnette And The Rock 'n' Roll Trio, was released on Coral Records in 1956. "Train" has since become a Rock standard, reworked by the Yardbirds (with Jeff Beck) in the '60s and Aerosmith in the '70s. The Rock 'n' Roll Trio, from Memphis, Tennessee, were brothers Johnny and Dorsey Burnette on acoustic guitar and stand-up bass, respectively, and Paul Burlison on electric lead guitar. Paul is now 69 years old and currently completing a new record that features performances with The Band, Los Lobos, Kim Wilson and many others.
-- extracted from Guitar Shop, 1997
Produced by Jim Weider of The Band, mixed by John Holbrook. The album features such guest artists as Rocky Burnette, Billy Burnette of Fleetwood Mac, Rick Danko and Levon Helm of The Band, David Hidalgo, Cesar Rosas, and Conrad Rozano of Los Lobos, Mavis Staples, and Kim Wilson of the Fabulous Thunderbirds. Recorded at Master Link Studio, Nashville, Tennessee, Levon Helm Studio, Woodstock, New York, and Sweetfish Recording Studios, Argyle, New York.
Jim Weider plays guitar on numerous cuts, Levon and Mavis Staples do a version of "Hound Dog" and Rick Danko does vocals on "Lonesome Train (on a Lonesome Track)."
The CD features an enhanced CD-ROM facility from Sweetfish Records Interactive, including a Quicktime movie from the recording sessions, with Jim Weider producing and playing guitar, photos of the Johnny Burnette Trio, and interviews with Paul Burlison.
Tracks
Train Kept A-Rollin'
She's Hot
Lonesome Tears in My Eyes
We're Gonna Rock
Love's Like Rain
Memphis Blues
Love My Baby
Hound Dog (241K)
Trouble Is I'm in Love with You
Lonesome Train (on a Lonesome Track)
Boogie to Woodstock
Sidemen
Richard Bell, piano/Wurlitzer piano/organ
Victor Bisetti, drums/percussion
Gary Burke, drums/tambourine
Paul Burlison, electric guitar/hand claps
Billy Burnette, vocal/acoustic & electric guitars/background vocals
Rocky Burnette, vocals
Rick Danko, bass/vocals
D.J. Fontana, drums
Doug Ford, vocals/engineer
Chad Hailey, engineer
Kuniko Hashizum, hand claps
Levon Helm, vocal/drums
David Hidalgo, vocal/electric guitar/percussion
John Holbrook, mix
George Lembesis, hand claps
Conrad Lozano, guitarrone/acoustic bass
Dennis Morgan, dobro
Tony Newman, drums
Scott Petito, hand claps/engineer
Cesar Rosas, vocal/acoustic & electric guitars
Jeff Sarli, acoustic guitar/acoustic bass & yelps
Gary Smith, piano
Mavis Staple, vocals
Gary Tallent, acoustic & electric basses
Jim Weider, producer/acoustic & electric guitars/handclaps
Kim Wilson, vocal/harp/harmonica
Paul Burlison - Train Kept A Rollin' - 1997 - Sweetfish Records
---
[History] [Members] [Library] [Discography] [Videography] [Filmography] [Pictures] [Audio Files] [Video Clips] [Tape Archive] [Concerts] [Related Artists] [Merchandise] [Guestbook] [Chat Room] [Search] [What's New?] [Main Page]
Webmaster