Stephen Smoke: Trick of the Light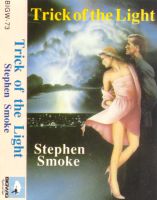 Stephen Smoke has been working as a novelist since the '70s, writing psychological thrillers mainly. His books has been published worldwide. He has also written and directed feature films, the latest being Street Crimes, starring Dennis Farina and Michael Worth.
In 1989 he recorded an album titled Trick of the Light, with Garth Hudson playing on a couple of tunes. The album was meant to be promoted in tandem with Smoke's 1989 book with the same title, but the album never got national or international distribution. Stephen Smoke, who is big fan of The Band, has confirmed that Garth was indeed present on Trick of the Light, and he told me the following about Garth's involvement:
Despite being a novelist and screenwriter, my first love was always music -- I used to run a coffeehouse in Ohio in 1972 before venturing to Los Angeles to make it as a singer/songwriter, which never happened ... Garth came in one day to play on two songs: "Wild Child" (on which he played sax and accordion) and "Lemon Midnight" (on which he played accordion). It was a big thrill to meet him and listen to him play. I was a big fan and the producer David Vaught (who has played with many of the accoustic Byrd's type bands, including The Flying Burritto Brothers) knew Garth. Essentially, I believe that Garth did it as a favor for David.
The album was recorded at Trax Studios, Hollywood, CA and Camp David Studios, Thousand Oaks, CA, and released on cassette tape on the Bigwig Records label. It is no longer available. The 8 songs, the production and the playing are quite good. Stephen Smoke's voice reminds me of a young Tom Pacheco.
Tracks
(all music and lyrics by Stephen Smoke)
Spiritual Street
Wild Child
Victim of You
For the Rain Forest
Trick of the Light
Lemon Midnight
The Music Was Coltrane
Lost in America.
Sidemen
Jim Bailey, engineer
Tomczek Bednarek, producer / backing vocals
Carl Byron, keyboards / piano
Sarah Coley, backing vocals
M.B. Gordy, drums / percussion
Garth Hudson, sax / accordian
Margaret Khai, cover design
Peter Malmroth, backing vocals
Peter Meisner, guitar
John Rowe, cover painting
Stephen Smoke, vocals / acc.guitar / co-producer
David Vaught, bass / keyboards / percussion / co-producer
Stephen Smoke - Trick of the Light - 1989 - Bigwig Records & Tapes BIGW-73
---
[History] [Members] [Library] [Discography] [Videography] [Filmography] [Pictures] [Audio Files] [Video Clips] [Tape Archive] [Concerts] [Related Artists] [Merchandise] [Guestbook] [Chat Room] [Search] [What's New?] [Main Page]
Webmaster