Broderick Smith: Unknown Country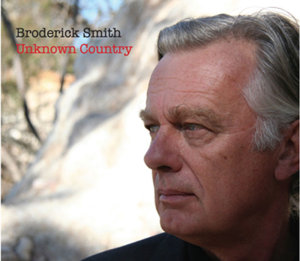 2009 album from Australian Broderick Smith (the Dingoes), featuring Garth Hudson on keys and accordion.
Brod talks about the Garth connection
---
from brodericksmith.com
---
I first met Garth Hudson back in the days with The Dingoes when we lived in San Francisco around, say, 1977. We were recording an album at His Master's Wheels Studio in San Francisco. It was a funky place with Star's Guitars, a real good store, at the front on the left of the building. Upstairs, Lane Poor would take mind-altering substances and spend a long time building weird guitar electronics, like LED lights in Nils Lofgren's guitar neck, or 4 pickups that ran down the neck of a bass guitar.
Across the road from the studio was Red Power's HQ in San Francisco. This was about the time that Leonard Peltier and other Sioux were on the run from the FBI for having a shootout with them, so the studio and the Red Power building were under surveillance, especially when later on we were recording with Buffy Saint Marie. While Buffy was there different Plains Indian guys would come in like Floyd Westerman, who was in Dances with Wolves, and Buffy's husband, Sheldon Wolfchild. Their son Cody would occasionally play on the floor with my son Perry. They were just little guys.
I can clearly remember two FBI agents with short hair, sunglasses and in grey suits sitting in a grey car that was so unobtrusive it really stuck out . They'd be there for days and they'd just sit there. I felt like making them a cuppa and taking it out to them but I figured they wouldn't appreciate it.
Anyway, I digress ...
We were making this album and a track wasn't working right so we got in Mal Logan, the NZ keyboard player, to put some organ on it. He did a fine job and helped knit the track together. But something was missing and Elliot Mazer, the producer and owner of the studio suggested that maybe Garth Hudson would do a great part.
We sat there stunned and said, "Okay".
Garth came into town and spent a few days with Elliot and the band and did some great work. I got on well with him I guess because it was a little guy/big guy thing (classic pal set-up) and we both shared a love for archaic words so we would be throwing words around like curmudgeon, or rapscallion, etc.
He also intimated to Elliott that he would be interested in coming on the road with us as The Band had broken up. We went into a huddle and felt that we'd be looking at him in awe rather than the audience, plus in hindsight, because of certain folks' "lifestyles" it wouldn't have worked anyway. The Dingoes was one of those bands where some members cheerfully tried to destroy as much as they could while having as much fun as possible.
So thirty years later here we are with Garth on the new cd and quite happy to work on any future tracks I do!
All I need to do now is win the lottery so I can get him out here!
Tracks
Unknown Country
The Devil and the Boy
Buddy Bolden
I'm the Same as You
Bad Star
Crazy Mary
Jack Napoleon From Cape Grim
Mary the Larrikin (Joe Byrne's Ballad)
God May Not be With Us
The Ring
Smashman
Walk into my Soul
What Goes Down
Broderick Smith - Unknown Country - 2009 - Liberation Music
---
[History] [Members] [Library] [Discography] [Videography] [Filmography] [Pictures] [Audio Files] [Video Clips] [Tape Archive] [Concerts] [Related Artists] [Merchandise] [Guestbook] [Chat Room] [Search] [What's New?] [Main Page]
Webmaster