Various Artists: Bring It on Home Vol. 2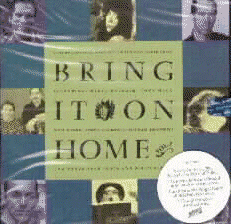 Part two of Sony's set of excerpts from Happy and Artie Traums radio show called "Bring It On Home" from the late eighties (from NPR affilliate WAMC in Albany, NY). This folk song compilation includes performances from Hall, Fradon, Ritter, Kaukonen, Muldaur, Herald, Danko, and Horowitz.
Danko sings two songs on the CD, "Raining in my Heart" and "The Weight".
Tracks
1.
Weeping Willow Blues
2.
New Orleans
3.
Foggy River
4.
Raining In My Heart
(258K)
5.
You Can Dream Of Me
6.
Still The One
7.
Bread Of Heaven
8.
The Shooting Of Dan's Guru
9.
Like A Dovetail
10.
Walking Blues
11.
Killing Time In The Crystal City
12.
The Weight
Sidemen
(only members of the Band listed)

Various Artists - Bring It on Home Vol. 2 - 1994 - Sony/Legacy JK 52998 (CD)

---
[History] [Members] [Library] [Discography] [Videography] [Filmography] [Pictures] [Audio Files] [Video Clips] [Tape Archive] [Concerts] [Related Artists] [Merchandise] [Guestbook] [Chat Room] [Search] [What's New?] [Main Page]
Webmaster