Various Artists: We Are the World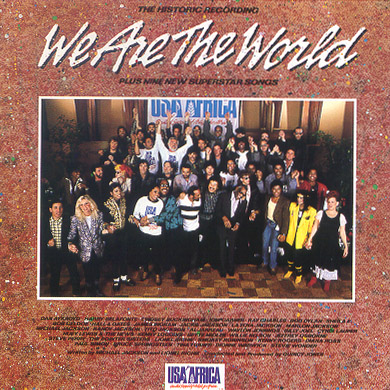 Richard Manuel and Ronnie Hawkins were part of the Northern Lights ensemble, a collection of Canadian artists that contributed vocals on one track on this "Food for Africa"-project. Their song "Tears Are Not Enough" was also released as a 45 single in Canada, and a "making of" special aired on the CBC.
The musicians on "Tears Are Not Enough" are David Foster - keyboards, Paul Dean -guitar, Jim Vallance - drums, David Sinclair - guitar, Steven Denroche - french horn and Doug Johnson - keyboards. The Northern Lights singers are Bryan Adams, Carroll Baker, Veronique Beliveau, Salome Bey, Liona Boyd, John Candy, Robert Charlebois, Tom Cochrane, Bruce Cockburn, Burton Cummings, Dalbello , Gorden Deppe, Claude Dubois, Robin Duke, Don Gerrard, Brian Good, Corey Hart, Ronnie Hawkins, Dan Hill, Mark Holmes, Tommy Hunter, Paul Hyde, Martha Johnson, Marc Jordan, Eugene Levy, Gordon Lightfoot, Baron Longfellow, Richard Manuel, Murray McLauchlan, Frank Mills, Geddy Lee, Kim Mitchell, Joni Mitchell, Anne Murray, Bruce Murray, Aldo Nova, Catherine O'Hara, Oscar Peterson, Colina Phillips, Carole Pope, Mike Reno, Lorraine Segato, Paul Shaffer, Graham Shaw , Leroy Sibbles, Jane Siberry, Liberty Silver, Wayne St. John, Ian Thomas, Sylvia Tyson, Sharon Lee Williams, Neil Young and Zappacosta.
Tracks
We Are The World (Usa For Africa)
If Only For The Moment (Steve Perry)
Just A Little Closer (The Pointer Sisters)
Trapped (Bruce Springsteen & The E Street Band)
Tears Are Not Enough (Northern Lights) (3.8MB)
The Tears In Your Eyes (Prince & The Revolution)
Good For Nothing (Chicago)
Total Control (Tina Turner)
A Little More Love (Kenny Rogers)
Various Artists - We Are the World - 1985 - Polygram 824 822 and Columbia 40043
Compact Disc: PGD/Polygram 4228 24822 (1991)
AMG Rating: 5 (out of 9)
---
[History] [Members] [Library] [Discography] [Videography] [Filmography] [Pictures] [Audio Files] [Video Clips] [Tape Archive] [Concerts] [Related Artists] [Merchandise] [Guestbook] [Chat Room] [Search] [What's New?] [Main Page]
Webmaster