Mark Fromm: What Can I Give?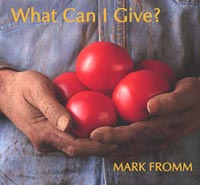 As a long-time lover of Rick's vocals, I feel that his work on these tracks is of a par with the distinctive, emotional quality I've always loved about his singing. I will also always carry some great memories (and have some good stories) about working with him twice when he came to San Francisco.
--Mark Fromm, November 2002
What Can I Give is the first of two CDs from San Francisco psychologist, musician and writer Dr.Mark Fromm, both featuring previously unreleased vocals by Rick Danko. The 7-track CD single/ sampler features the all-star song "What Can I Give for Christmas?" On this track, Rick Danko sings some lead and harmonies, and Eric Anderson and Jonas Fjeld sing harmonies as well. Clarence Clemons (E-Street Band), Maria Muldaur, and Pete Sears (Hot Tuna, Jefferson Starship) are also featured on the track.
In addition to this holiday tune, the CD includes four songs from Mark's upcoming full-length album Preparation of the Bridegroom, to be released in the spring of 2003, and an additional two songs, "How Do You Launch Your Dream?" and "People Come Back Home." Preparation of the Bridegroom will feature another cut, "Feel Her Wings," with Rick on extensive harmonies and Eric and Jonas on some harmonies as well.
All songs on What Can I Give? written by Mark Fromm. Executive producer Mark Fromm, co-producer Dennis Criteser. The CD is available from markfromm.com. 30% of the proceeds from each CD sale can be designated by the purchaser to go to charity.
Tracks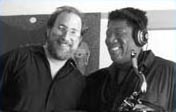 Mark Fromm and Clarence Clemons in the studio

(tracks 2-5 from Preparation of the Bridegroom)
What Can I Give for Christmas? (540K)

Mark Fromm: lead vocal, electric guitar, sleigh bells/ Clarence Clemons: lead vocal, tenor saxophone/ Rick Danko: lead and background vocals/ Maria Muldaur: lead and background vocals/ Eric Andersen: background vocal/ Pete Sears: piano, organ/ Jonas Fjeld: background vocal/ Dennis Criteser: additional drum programming, synthesizer programming/ Bruce Linde: bass/ David Rokeach: drums

Husband Stuff
Leap of Faith
Love Comes from Inside Out
Missing Persons
How Do You Launch Your Dream?
People Come Back Home
Mark Fromm - What Can I Give? - 2002
---
[History] [Members] [Library] [Discography] [Videography] [Filmography] [Pictures] [Audio Files] [Video Clips] [Tape Archive] [Concerts] [Related Artists] [Merchandise] [Guestbook] [Chat Room] [Search] [What's New?] [Main Page]
Webmaster