Various Artists: Where Woodstock Lives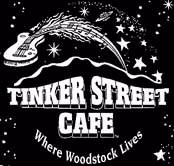 In 1994 the owners of the Tinker Street Cafe in Woodstock, where Bob Dylan lived while writing songs for the two 1964 and 1965 albums Another Side of Bob Dylan and Bringing It All Back Home, released the compilation album Where Woodstock Lives.
The CD features groups from New York state that have played at the cafe, including The Blacktop Kings doing the song "Karen" written by Randy Ciarlante (with Randy Ciarlante, drums/backup vocals, Jimmy Eppard, rhythm guitar/lap steel/lead vocals, Aaron "Louie" Hurwitz, accordian, Mike Dunn, bass, produced/mixed by Jimmy Eppard), the D.T.'s (basically the same band as the Blacktop Kings, with Jimmy Weider added on guitar and J. "Gizmo" Fullin, vocal, produced by J.Eppard, mixed by Aaron Hurwitz.), the local band 3Three3, which played Woodstock '94 , and also The Band's Garth Hudson.
Sidemen
(only members of the Band listed)
Garth Hudson
Randy Ciarlante
Jim Weider
Various Artists - Where Woodstock Lives - 1994 - Tinker Street PR. TSP023
---
[History] [Members] [Library] [Discography] [Videography] [Filmography] [Pictures] [Audio Files] [Video Clips] [Tape Archive] [Concerts] [Related Artists] [Merchandise] [Guestbook] [Chat Room] [Search] [What's New?] [Main Page]
Webmaster