Various Artists: White Mansions and The Legend of Jesse James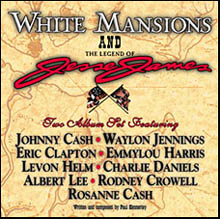 An encore appearance on the Mercury Nashville label of two extraordinary American Civil War concept albums, the historical country-folk album White Mansions from 1978, featuring such diverse talents as Waylon Jennings, the Eagles' Bernie Leadon, and Eric Clapton (on the tracks "White Trash" and "Kentucky Racehorse"), and the 1980 album The Legend of Jesse James where The Band's Levon Helm "played" the role as Jesse James himself. The stories of the South are told through original songs written by Paul Kennerley and produced by Glyn Johns. Musical history was in the making as major artists agreed to appear together on albums by a (then) unknown songwriter. Also Featuring Johnny Cash, Emmylou Harris, Charlie Daniels, Albert Lee, Jessi Colter, Rodney Crowell, Roseanne Cash, and others.
The two albums were released as a set titled Confederate Tales in the UK in 1997, but this 1999 release is the first time they are available together in the US. A bonus track of a previously unissued demo titled "A Train Robbery" is included at the end of Jesse James. This song, performed by Paul Kennerley, recounts a real historical train robbery event.
The 1999 release includes liner notes by Paul Kennerley and Robert K. Oermann
Tracks
Disc 1 - White Mansions

1.
Story To Tell
2.
Dixie On Hold
3.
Join Around The Flag
4.
White Trash
5.
The Last Dance & The Kentucky Racehorse
6.
Southern Boys
7.
The Union Mare & Confederate Grey
8.
No One Would Believe A Summer Could Be So Cold
9.
The Southland's Bleeding
10.
Bring Up The Twelve Pounders
11.
They Laid Waste To Our Land
12.
Praise The Lord
13.
The King Has Called Me Home
14.
Bad Man
15.
Dixie, Now You're Done

Disc 2 - Jesse James

1.
Ride Of The Redlegs
2.
Quantrill's Guerillas
3.
Six Gun Shooting
4.
Have You Heard The News?
5.
Heaven Ain't Ready For You Yet
6.
Help Him, Jesus
7.
The Old Clay County
8.
Riding With Jesse James
9.
Hunt Them Down
10.
Wish We Were Back In Missouri
11.
Northfield: The Plan
12.
Northfield: The Disaster
13.
High Walls
14.
The Death Of Me
15.
The Plot
16.
One More Shot
17.
A Train Robbery
Various Artists - White Mansions and The Legend of Jesse James - 1999 - Mercury Nashville
---
[History] [Members] [Library] [Discography] [Videography] [Filmography] [Pictures] [Audio Files] [Video Clips] [Tape Archive] [Concerts] [Related Artists] [Merchandise] [Guestbook] [Chat Room] [Search] [What's New?] [Main Page]
Webmaster