Boomkat: The Wreckoning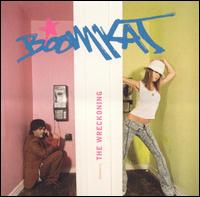 2003 CD single from DreamWorks act Boomkat, a duo with Taryn Manning on vocals and her brother Kellin providing "multi-layered beats and samples". According to their web site, "hip-hop ­ particularly the old-school breaks ­ is a key part of the mix, but so is pop, soul, electronica and the downright mystical bond between siblings."
The song "The Wreckoning" is taken from the album Boomkatalog.One (Dreamworks 450386, 2003.) Robbie Robertson is credited as executive producer on the CD single. Robbie was also responsible for signing Boomkat to DreamWorks Records after "recognizing immediately that Taryn and Kellin had managed to seize a creative space no one else seemed to occupy."
Tracks
The Wreckoning [Radio Edit]
The Wreckoning [Clean]
Boomkat - The Wreckoning - 2003 - DreamWorks B000006632
---
[History] [Members] [Library] [Discography] [Videography] [Filmography] [Pictures] [Audio Files] [Video Clips] [Tape Archive] [Concerts] [Related Artists] [Merchandise] [Guestbook] [Chat Room] [Search] [What's New?] [Main Page]
Webmaster