For Rick, with love
Playing in The Band: Jim Weider Talks About The Old Days and His New Music
---
by Carol Caffin
BandBites, Volume I, No. 2, March 1, 2007.
Copyright © 2007 by Carol Caffin. All Rights Reserved.

---
You gotta give Jim Weider credit: With the spectre of Robbie Robertson looming large above him, and in the face of seemingly insurmountable odds, the Telecaster wiz took -- and successfully held -- the reins as lead guitarist of The Band throughout the better part of the 80s and 90s.
Being saddled with the dubious honor of "replacing" the legendary Robertson, who'd called it quits with The Last Waltz, would have been a daunting task for any musician, but Weider, who'd grown up in the shadow of Big Pink, who'd idolized The Band as a teenager, and who'd witnessed their progression from legends-in-the-making to bona fide, larger-than-life icons, emerged from his nearly decade-and-a-half tenure unscathed and sounding better than ever.
Weider's success with The Band and his acceptance by both peers and fans are due largely to the fact that he never tried to replace Robbie Robertson. He loved and respected the music of The Band and, if anything, particularly in the early years, he paid homage to The Band's original guitarist by staying true to his licks and arrangements. Still, though, he continued to forge his own solid musical identity, hone his inimitable playing style, and become a valued and respected member of The Band -- honoring the group's no-nonsense, no-bullshit, no-fluff, no-bells-and-whistles approach to performing and recording.
The last time I saw Jim was, sadly, at Rick's funeral in 1999. So I was happy to talk to him once again under much more pleasant circumstances. He's excited about his new music, and about his upcoming European tour. "I've been writing different music," he told me. "It's more instrumental groove music, and atmospheric music. We're stretching stuff out a bit."
That doesn't mean that he's forgotten The Band. "I still do 'The Weight' in the show, but we do it with a Reggae groove, and we really jam it out," Jim said. "I'm having fun musically now. I think people will really dig it. Band fans will like it and young, new fans will like it, too."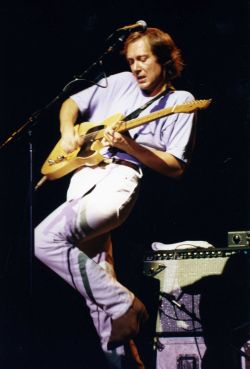 Photo © 1992 by Dana Scheer
CC: You were born and raised in Woodstock, right?
JW: Yeah, actually right outside of town, but right in the Woodstock area.
CC: Do you want to tell everyone how old you are?
JW: Do I want to... ?
CC: I wouldn't worry, I'm sure you're young compared to those guys. [laughs]
JW: [Laughs] Yeah, I was always the young guy, and then it was Rick. And then Richard I guess. Actually, Richard might have been younger than Rick. But they were pretty close if he was. But anyway, I was the youngest when I joined. And those guys were just a little bit older than me.
CC: When were you born? You're being a little evasive, now. [laughs]
JW: [Laughs] I was born in 1951.
CC: Oh, that's a baby compared to you-know-who. When did you start playing?
JW: I started playing... well, you know, my father played a little guitar, I had a guitar in the house and then my uncle made me a little amp out of a radio and I stuck a pickup -- you could buy these pickups that were like transducer pickups -- I stuck it on my father's acoustic guitar when Chuck Berry and all that stuff was out. I'd say I was around 11 or 12 years old when I got into playing. As soon as I could pick up a guitar and play a few Ventures licks, I just got some buddies together and got in a band. And we did high school dances and little beatnik parties.
CC: Who were your first musical influences?
JW: Elvis Presley and Scotty Moore were the guys that got me into rock and roll. But I guess the early influences... well, you'd see James Burton on 'The Ricky Nelson Show' -- as soon as you could see it on TV... Chuck Berry on 'The Ed Sullivan Show.' Ed Sullivan brought the music to us and all the early music that you'd hear on the radio back then. So all those guys on the TV shows, and then hearing it on the radio, too. Then it slowly went from 50s acts to the British Invasion, groups like the Yardbirds, the Beatles, and the Rolling Stones. Then I think I went from there to blues. I think I heard that before I heard the really old black blues.
CC: You mean the Yardbirds?
JW: Yeah, I'd hear the Yardbirds doing it [the blues]...
CC: And then you went backward, sort of?
JW: Yeah, then I went backward. Then I got into the country-rock, folk-rock thing and then, after Dylan, The Band, of course. And them being in my hometown -- they were living here when they did Big Pink and I would see the guys. I met Levon right when he first started The Band, when he was living here. I showed him my Telecaster and he really liked it. I was working at a stereo shop in town. I went over to his house and I hung out with him.
CC: So how old were you then?
JW: Oh, I had to be like 16 or 17 or something. He was like 12 years older than me. And that's when I first met them. I think it was after the Big Pink record. It was either around the Big Pink record, or they had the Brown Album out.
CC: Everybody's heard the stories about The Band in Woodstock during that time, but you had a really unique and interesting perspective, because you were here before they were. How were they perceived when they first arrived? Were they considered celebrities, or just cool guys?
JW: Oh yeah, there was this whole Bearsville Records/Albert Grossman thing. Albert managed them at that point, and he had this big studio that brought all the top musicians to town, like Janis Joplin. So there was this whole inner-circle scene here and, of course, I was a huge Band fan. I loved the music.
CC: Do you remember the first time you heard their music?
JW: The first time I heard The Band I was in Sled Hill Café, this café that all these great musicians used to come and play in Woodstock. I was upstairs and I heard 'Chest Fever.' I don't know if it was the radio or the record, but I went 'Wow, that's really different.' I really liked it and I got into it.
CC: Did you get into their music before you knew who they were?
JW: Yeah, that was it. I didn't know them and I thought 'That's really cool. Who is that?' And it was The Band, it was their first record. That was like, what, 1969?
CC: Sixty-eight.
JW: That was really cool and then I realized it was The Band, and they lived here. It was a great scene here -- Paul Butterfield was here, Van Morrison. And everybody was starting out. Rock and roll was changing and The Band was a big part of that Woodstock sound. That Dylan/Van Morrison thing. I guess you'd call it country rock, or country blues. It was a whole sound that I really loved.
CC: Did you think at the time this was happening that it was something monumental or did you just kind of go with the flow? Did you realize then how big, how significant this whole sound was or was going to be?
JW: I could tell that it was really special. I mean, Van Morrison was special, but he was a solo artist. But a band that had so many different singers and songs that were so great... for a band to come out that was different like that... they had rock and roll, blues, folk, and the songs were deep, you know? They were really strong as a band. It was different.
CC: Well, were you thinking then... I mean I'm sure you couldn't imagine that one day you'd be The Band's guitarist...
JW: No! [laughs]
CC: The notion may have been far-fetched at the time, but how did it actually happen?
JW: I had no idea then. I was off and running around. I think the last place I had been living was Atlanta. I'd gone down to Nashville with Ben Keith, who produces Neil Young. I was making a record up here with a songwriter, and I went to Nashville with Ben Keith, who was a great pedal steel player and producer, and ended up working with Johnny Paycheck and different acts down there...
CC: When was that?
JW: In the early '70s. And then I went to Atlanta and worked, and then I finally moved back here, and went on tour with my friend Robbie Dupree. And then Levon asked me to play guitar in the All Stars. I guess Artie Traum couldn't make it, so Artie called me up and I called Levon and I started playing with him. And then Rick moved back to town, and sometimes we'd go out just me, Rick, and Levon. And then Richard came back and it was me, Levon, Rick, and Richard. Then Garth moved back, and eventually, they asked me to go out with them on the first tour in '85. They went out with the Cates for a week. I had sat in with them the night before the tour, and without rehearsing, I played all the tunes. It was easy to follow for me. The music, of course, I knew it and I liked it. It felt good, and I had been playing with Levon. We did a show at the Getaway. Those guys went out, and a week later, they called me to play with them, and I was with them ever since.
CC: The show at the Getaway was just with Levon?
JW: No, it was with the whole Band. But it was Levon who really pushed for me to get in the group, which was great. He really opened up the door, he believed in my playing. So through him everything happened.
CC: I'm sure that it was difficult for you in the beginning because people assumed that you were trying to fill Robbie's shoes. But I think you really added a lot to The Band, as I'm sure a lot of others do.
JW: Well, thanks. At first, some would ask 'Where's Robbie?' but eventually, that stopped. The Band would just let me do my thing. I would play the trademark intro licks that Robbie wrote, which were great. But then I would just do what I always felt.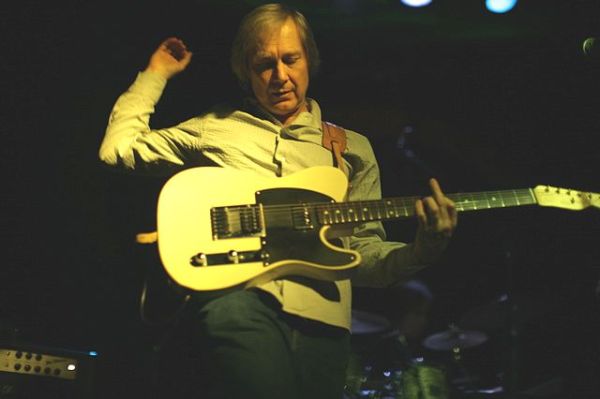 Photo © Paul la Raia
CC: I remember first being impressed by your guitar playing on 'Deep Feeling.'
JW: I actually recorded that on my first record. Levon turned me onto that.
CC: I thought you really had -- and have -- your own style. I really like what you did with The Band. And I think fans accepted you and appreciated you for yourself.
JW: Yeah, they did. And a million, million miles later, everything just kind of fell into place. You know, The Band had a lot of hard luck, but we did make a lot of great music and a lot of people happy, and I'm proud to have been a part of it. We had many, many memorable nights, like Carnegie Hall. We did it twice, and I really liked the first time we did it with J.J. Cale. Soldier Stadium two nights with The Grateful Dead in '95 [July 8 and 9] were two great shows for us. Those were Jerry Garcia's last shows with the Dead. The Band was at its height then, I thought, with Richard [Bell] and Randy [Ciarlante] in the lineup.. We did a lot of stuff. We played all over the place. But mostly we played a lot of clubs -- all over.
CC: Any favorite club shows?
JW: Oh, there were so many.
CC: The Lone Star shows were some of my favorites. I just thought they were so rowdy...
JW: Yeah, rowdy and it was like get down and dirty. And there were people wrapped around the building waiting to get in.
CC: Yes! I remember. It was the only place that The Band had this certain kind of sound...
JW: It was a circus!
CC: It was. It was very crazy. It seemed like you guys just let loose there. I don't know how it compares musically to the others, but I loved those shows.
JW: Oh, the Lone Star shows were great. Everybody from Dylan to Stevie Winwood to Jaco Pastorius sat in with us on any given night.
CC: Then there were your songs. Tell me about 'Remedy,' which you co-wrote. Was it written specifically for The Band?
JW: Yeah. I had this groove and this chorus -- 'you got the cure, you got the remedy', you know? And I got together with Colin Linden. He's such a great lyricist; he came up with some really cool verses. We wrote the rest of the music and I had no idea it was gonna be a single, or even if The Band would like it, but it was definitely written for the Jericho record. It was very exciting because it was the first time that I'd had anything published or recorded... and to be recorded by those guys, it was great. I was very honored that the guys did it. I was excited by it.
CC: Can you talk a bit about the guys? What made them special and what was their relationship with each other like? Anything you can share with fans about what they were like?
JW: They were very, very close. They really looked out for each other. It was a nice vibe to be on the bus and on tour with them. When people needed their space, they took it, but they really looked out for each other. When I wasn't feeling right, Levon would check in with me, he was right there for me. And the same with Rick. For some reason, I never slept and neither did Rick and we always bumped into each other. For the life of me, I don't know why, but whenever we were on the bus, we'd be on our way down some highway, I'd go to the bathroom and we'd bump into each other at the door. Every time! It was really funny. But he was a good guy. All those guys were good guys, and they really did look out for each other. Funny bunch, too. [laughs] There was a tremendous amount of laughing. It was a cool thing.
CC: Were you closest to Levon?
JW: Yes, I was closest to Levon, but Rick and I would hang out a lot also. He liked to go out more. [laughs] So, a lot of times in the early days, I'd hang out with Rick. We'd go out after the gigs or whatever. It used to be me, Rick, and Richard, 'cause we were the three youngest. When I first joined, the three of us would hang out, and Levon would keep more to himself. Garth took it a lot easier. He's got his own pace.
CC: So it sounds like they were all supportive of you individually and as a group.
JW: Yeah. They were together a long time. But they readily just let me do my thing musically, which was great, and they were very loose about it -- and very informative. I learned a lot about coming together and working as a band, as a unit, as a rhythm section. Rick would teach Randy about harmonies -- he was really into the harmony part. He would say 'try this harmony' or 'try that harmony.' Rick was really into the variations of where to place your harmony notes. Levon really concentrated on how to keep the rhythm section working good, and focused on how to groove as a band. It was a good learning experience.
CC: Do you think that there was a pecking order or a hierarchy in The Band?
JW: Oh, yeah. Levon ran the show. He would discuss stuff [with the others], but he was pretty much the leader. You gotta have a leader. Every band does. If somebody doesn't lead the pack, nothing ever gets solved. Somebody has to make the decisions, like 'okay, this is the way we're gonna do it.' I would say that he was definitely the leader.
CC: And you think the other guys were okay with it?
JW: Yeah. I mean somebody's gotta be the leader to run a band. Somebody's gotta call the final shots. Otherwise it doesn't get done.
CC: So what do you think about 'The Feud'?
JW: The feud?
CC: Yeah, you know, The Feud -- capital 't,' capital 'f'?
JW: Oh, 'The Feud?' You mean the Robertson/Helm feud?
CC: Yeah, that one.
JW: Oh, I thought that was old.
CC: Well, I thought it was 30 years old myself. But it's something that just won't die.
JW: I have no idea.
CC: Is it something that these guys talked about, or is it just something that fans talk about?
JW: I don't know. I mean, I forgot about that. I thought it was old news. I know how hard it is to write songs. Being a songwriter takes a lot of work. So whoever did write the tunes needs to get the credit. But I never heard them talk about it.
CC: Do you know Levon's side and/or Robbie's side? Or is it something you just never got into?
JW: I just never got into it. I really have no idea. I stay out of that one.
CC: Good for you.
JW: Being in the same room doesn't mean you wrote the song. But if you contributed a part that's undeniably a songwriting part, well then, you should have the credit. I know that sounds like a generic answer, but I have no idea about the past. All I know about is what happened since I was with them.
CC: Well, I appreciate that -- it's an honest answer. It's just something I wanted to ask, because it's something that fans continue to talk about and ask about. That said, in all the years with Rick I never heard him or any of them mention it, ever.
JW: Rick was such a humble, gracious guy. He always wanted to make everybody happy.
CC: Yes, he did.
JW: Unfortunately, I don't think he ended up making himself happy. He drained himself. It was devastating to me.
CC: I know. It's taken years.
JW: Yeah, it takes a long time. He had a lot of baggage. Losing his son really devastated him. I was there through all these things. And I think that, for any parent, is one of the hardest things... you never get over it. I don't think it helped. Unfortunately, he's not with us, but he's probably up there looking down from a fluffy cloud... hopefully, he's having a cappuccino or something. [laughs]
CC: I hope so... but maybe a decaf... 'cause he really doesn't need to be more hyper, right? [laughs]
---
[History] [Members] [Library] [Discography] [Videography] [Filmography] [Pictures] [Audio Files] [Video Clips] [Tape Archive] [Concerts] [Related Artists] [Merchandise] [Guestbook] [Chat Room] [Search] [What's New?] [Main Page]
Webmaster