For Rick, with love
A Brief Chat with Jorma Kaukonen
---
by Carol Caffin
BandBites outtake
Copyright © 2008 by Carol Caffin. All Rights Reserved.

---
Note: This interview was the first interview I did for BandBites. I never published it, primarily because I felt it was too short, too stiff and stagnant, with not enough flow or spontaneity. A lot of that had to do with the fact that 1) it was the first interview for the series, and I was not quite sure myself where I wanted to take it, so I didn't veer from my planned questions, and 2) Jorma was pressed for time, literally about to head out on tour, and, though he graciously answered my questions, I did not want to keep him any longer than necessary. It is very Rick-centric, mostly because I knew Jorma through his work with Rick I was just looking through my completed interviews and felt that this one was worth sharing with you -- even just for Rick's Canadian jokes! Hope you enjoy.
Anyone who followed Rick Danko's career in the 1980s and 90s will remember his exciting and energetic shows with Jefferson Airplane alum and Hot Tuna co-founder Jorma Kaukonen. Rick collaborated often throughout his career, on record and on stage, and though many of those collaborations were successful, some just naturally jelled more than others.
When Rick played with Jorma Kaukonen, it was always a rollicking time, both for Rick and Jorma and for their mesmerized audiences. Rick and Jorma just hit it off -- musically and personally -- and it showed. Oddly, though the two were contemporaries and their paths likely crossed many times throughout the 60s and 70s, it wasn't until years later that they actually met and became friends. They played together, whenever the opportunity arose, for more than a decade.
This interview was done with Jorma in January, 2007, on the eve of his departure for a short Italian tour. He told me he'd just finished recording a new project in Nashville, on which he was joined by Barry Mitterhoff, Sally Van Meter, Ed Gerhard, Byron House (who also produced the sessions), and a host of talented Nashville musicians. "The theme of this CD on some level is redemption," Jorma told me, "but more specifically, it is a small view of the river of life... my life. It is called Stars in My Crown after an old gospel tune." Stars in My Crown was released in March, 2007 on Redhouse Records.
Here's what Jorma had to say about getting to know Rick and The Band.
CC: When and where did you first meet Rick and The Band?
JK: I first met Rick when I moved to Mount Tremper [New York, near Woodstock] in 1984 and we were with the same agency at the time. We started doing shows together and our friendship grew from there. I had never met The Band prior to that, but was always a big fan of their music. I got to know The Band over the course of the next ten years, though.
CC: How did you guys become friends?
JK: Rick and I just clicked. Music will do that. I knew his family and we did socialize but, as these things go, it was always around the music.
CC: Do you remember any specific projects (i.e., shows, tours) you worked on together?
We never did any formal projects together...with just he and I. That said, I toured extensively with Rick solo as well as The Band.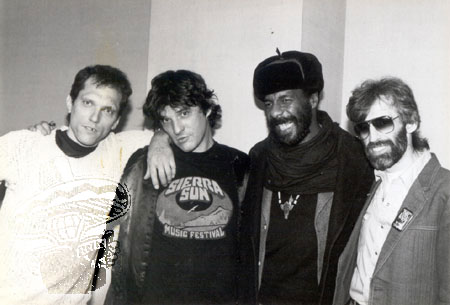 Jorma Kaukonen, Rick Danko, Richie Havens and Richard Manuel, after a 1985 Rockages Convention concert. Photo copyright © 1985, 2004, 2006 Les Kippel.
CC: What were some of your favorite songs you performed together?
JK: I used to love playing JJ Cale's song "Crazy Mama" with Rick, as well as the Kenny Rogers tune, "Blaze of Glory."
CC: Jorma, do you have any "road stories" you want to share? Or maybe I should phrase it another way: any road stories that are shareable?
JK: I will never forget sitting in a little bar with Rick and some of the other members of The Band in Japan in 1986. Rick started to make some sort of an amazing speech. I couldn't even tell you today what the speech was all about, but his closing lines -- "Every man a king!" -- brought down the house. Rick always brought down the house.
CC: How would you describe Rick's singing, bass playing, and acoustic guitar playing?
JK: Rick's talent almost defies adequate description. He always sang like an angel. But there was more to him than that. He was a great bass player and a fine guitar player as well. As a guitarist, he primarily accompanied his own singing and as a bass player he was there to support the band. He was all about the song. As a musician, Rick had an amazing ability to create loving cohesion on stage. More than that, he involved the audience intimately in his world. Nobody could lead a sing-along like Rick Danko. He breathed music.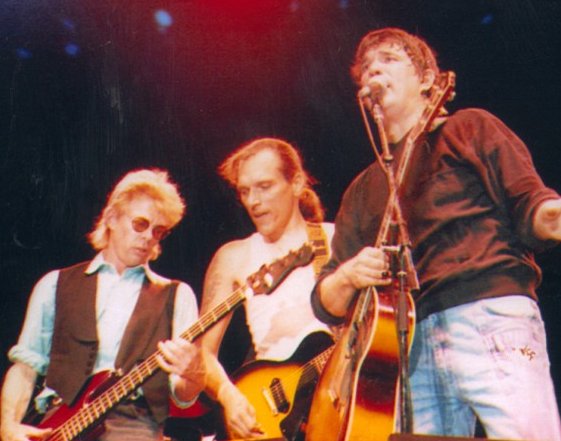 Jack Casady, Jorma Kaukonen and Rick Danko, The Pier, NY, 08.19.87.
Photo by Frank Ahart. Copyright © 2000 Frank Ahart, all rights reserved.
CC: Rick had a one-of-a-kind sense of humor. Any funny recollections or experiences you'd care to share with Band fans?
JK: Interacting with Rick was a never-ending series of humorous surprises. We were in a cab in Canada en route to perform at one of Wavy Gravy's SEVA benefits. Rick had been quiet for a moment... a rare thing. All of a sudden, he turned to me and said, "How does a Canadian spell Canada?" "I don't know," I replied. I knew something good was coming. Rick cocked his head to one side, got that funny smile on his face and said, " C eh, N eh, D eh." Before I could stop laughing, he finished up with, "Give a Canadian an inch and he'll measure it." The cab driver joined in the laughter. Rick could make anyone love him. It doesn't get any better than that.
CC: That's true. Even his "Canadian riff-raff" comments were endearing. What was it that you liked most about Rick personally, if you could put it into words? Do you have a favorite memory?
JK: No matter what befell Rick in his life, good or bad, he seemed to approach his relationship with the world with the most amazing equanimity. He was one of the purest spirits I've ever met. My favorite memory of Rick would be him singing a song such as "Keep on the Sunny Side" or "It Makes No Difference".
CC: How did you hear about Rick's death? Do you remember where you were at the time?
JK: I was at home in Ohio and my agent (and formerly his agent) called me and said, "Remember that phone call you are always afraid to get? This is it. Rick just died." I'll never forget that.
CC: When was the last time you saw Rick?
JK; It had been years. We were both working so much.... I would have to say it was February of 1994. We were both recording for this River Phoenix tribute that Justin Creutzman was working on.
[This is where I cut the interview. When I read over the transcription, I realized that February of 94 couldn't have been the last time Jorma saw Rick. With so many shows and tours in his memory bank, Jorma likely forgot about one of the biggies -- Woodstock '94. See photo of Rick and Jorma backstage taking it all in.]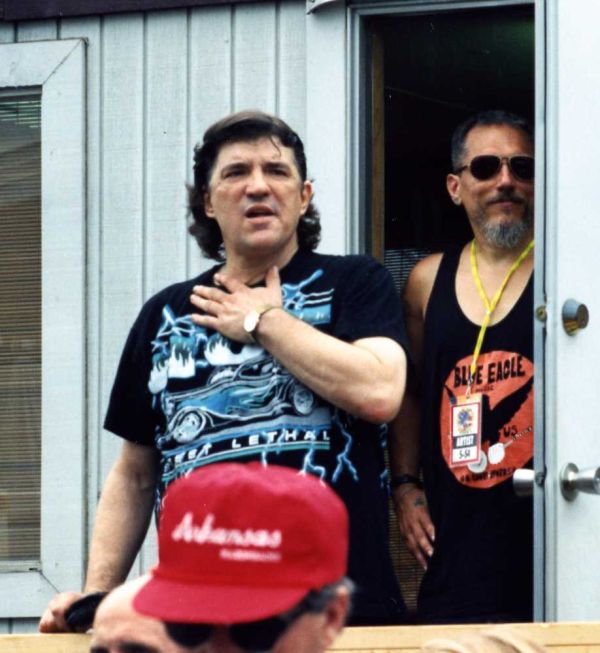 Danko and Kaukonen backstage at Woodstock '94
Photo copyright &copy, 1994, 2008, Carol Caffin
---
[History] [Members] [Library] [Discography] [Videography] [Filmography] [Pictures] [Audio Files] [Video Clips] [Tape Archive] [Concerts] [Related Artists] [Merchandise] [Guestbook] [Chat Room] [Search] [What's New?] [Main Page]
Webmaster