For Rick, with love
Goin' Electric
Mickey Jones Talks About Dylan's 1966 World Tour and His (Mostly Fond) Memories of The Band
---
by Carol Caffin
BandBites, Volume I, No. 6, May 1, 2007.
Copyright © 2007 by Carol Caffin. All Rights Reserved.

---
Mickey Jones is determined not to become just a footnote in rock and roll history. In the four decades since he backed Bob Dylan with four-fifths of The Band (then still the Hawks), replacing Levon Helm as drummer during Dylan's groundbreaking 1966 electric world tour, Jones has parlayed what -- for a less industrious musician -- essentially would have amounted to 15 minutes of fame, into a relatively prominent place in the annals of rock legend.
Unlike some other notable "stand-in" musicians -- Jimmy Nichols, say, who briefly subbed for Ringo with The Beatles in 1964 when Starr had tonsillitis, and whose name is indelibly linked to his short-lived stint with the Fab Four -- the likable, talented, hard-working Jones, who will turn 66 next month, has managed to forge a solid identity apart from the looming Dylan/Band legacy. Yet, he's also kept his name afloat -- and public interest and curiosity piqued -- regarding his role in the tour and in Dylan's "going electric." Though he will probably always be known to many Dylan and Band fans as the "drummer who sat in for Levon" during that magical tour, Jones has had a long career that's included several successful stints as both a musician and a recognizable character actor. In an industry in which even a modicum of success is usually fleeting, Jones's longevity is admirable to say the least.
Here's what Mickey had to say about Dylan, The Band, and Tour '66.
CC: Why don't you tell me a bit about you -- what you've been doing in recent years -- and then we can backtrack, okay?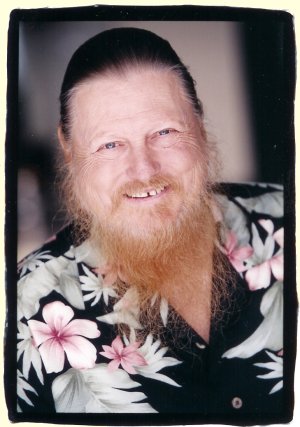 Mickey Jones, 2006
Photo by Robert Kazandjian
MJ: Sure. I actually have been an actor now since '78 -- that's when I got my first job, which was an episode of The Incredible Hulk. That was kinda my start. That's when I really decided to get off of the road, get out of the music business, and do something that I'd dreamed of doing most of my life. I was making such a good living as a musician, I sort of didn't want to give that up, but I knew that until I was ready to get off the road, this acting thing was not gonna happen. I had been out there on the road for 23 years, and reached a point that I did not want to get up every day and go to an airport.
CC: You mean in '78 you had already been on the road for that long?
MJ: Yeah. So, quite honestly, I look back on my career in music, and I wouldn't trade it. For eight years, I was a drummer with a guy named Trini Lopez, then three years with Johnny Rivers. I am currently helping Johnny put together a DVD on his life and career. We had huge records, man, like "Secret Agent Man."
CC: Were you involved with "Summer Rain?"
MJ: No, that was right after I left. And then I was with Bob [Dylan], even though we didn't tour for the last part of that year I was with him. I had a two-year deal with Bob. He paid me for two years, so that was kinda cool. It was '66, '67. And that electric tour -- I still get emails from people every day talking about that tour. I've known Levon since probably '57 or '58, 'cause I knew Ronnie Hawkins in those days, in Fayetteville, Arkansas. And Levon was playing with Ronnie.
CC: It's one big circle. I've said that many times, but it still always amazes me.
MJ: It is. Levon was with the Hawks up in Toronto with Ronnie, and Bob had hired me actually before he hired Robbie and Rick and all those guys.
CC: Really? I didn't know that.
MJ: Yeah, a lot of people don't know that. But I was the first one hired, and I was the only American in the group. When we got together to rehearse, I guess Bobby Gregg had already been there, and Sandy Konikoff was the guy that came in with the guys [the Hawks/Band]. The first night of rehearsal, I played drums and I thought Sandy was gonna play percussion. But then the next night, Sandy was gone. So it was just Rick, Robbie, Richard, Garth, and me.
[Note: Bobby Gregg replaced Levon as Dylan and the Hawks' touring drummer in mid-November, 1965, when Levon left. Gregg was replaced by Konikoff in early February, 1966. Jones replaced Konikoff in early April and stayed until late May 27, 1966, when Dylan and the Hawks played the famous Royal Albert Hall show.]
CC: How long before the guys in The Band were you hired?
MJ: You know, I don't know exactly, but it was probably late '64 or early '65 when I had my first one-on-one encounter with Bob, and all he talked about then was that he wanted to record with me -- he wanted me to record with him.
CC: How had he heard your music, or how did he know of you?
MJ: Well, I don't know, but the first time I physically met him, he came in the Whisky a Go-Go when I was playing with Johnny Rivers and called me over to his table on one of our breaks and said he really wanted to talk to me. He invited me up to a little party in the Hollywood Hills that night. So I went up there to hang out for a while. But I was ready to leave because there was all this Hollywood stuff around and... I was just ready to go. I went over to say goodnight and he said 'Wait, we have to talk.' So me and Bob and Bob Neuwirth went back into the kitchen of this house and started just kinda chattin.' And that's when he told me that he wanted me to come and do some recording with him and I said 'Yeah, I'd like to do that.' And that night, he said to me, 'You're my favorite rock and roll drummer.' All I was geared up for was to record. And then I ran into Bob about two or three times -- this must have been, like I said, late '64 or early '65.
And he was like, 'I'm still gonna call you, man. Is your number still the same?' And I told him 'Yeah it is.'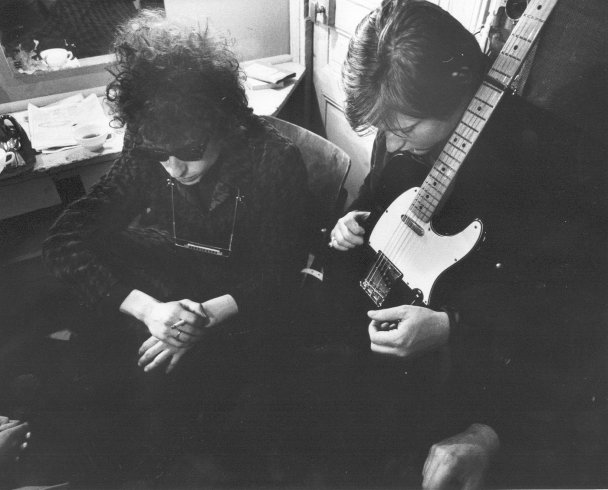 Bob Dylan and Mickey Jones, 1966
Photo by Barry Feinstein
CC: So what happened then?
MJ: I never heard from him -- probably for about a year. And I thought 'Well, this isn't gonna happen.' And when I got the call, it was from Albert Grossman. I didn't know who Albert Grossman was, and I didn't call him back because it was a long-distance call. I was working at a club in Detroit with Johnny Rivers at the time, and I didn't want to pay for a long-distance call to call somebody I didn't know. He called me probably half a dozen times. Finally, there was a message that said call back Operator 6 or something. So I called, and they said 'My God, we've been looking for you for a couple of weeks.'
CC: Who was it that said that?
MJ: Albert's secretary.
CC: Mary Martin?
MJ: You know, I don't know who I talked to. But Albert said 'Bob wants you to play with him.' And I said 'Is this for an album, a recording, or what?' He said 'No, no. He wants to put a group together, and he wants you for the drummer -- nobody else.' I said 'Well, what's the deal? What does this pay?' That's the first thing a good musician asks. And he said Bob would get back to me on that. So Bob called me two or three days later when I got back to LA, and we made a deal and I found out later on that I got a better deal than everybody else, because he was paying all my expenses -- hotels, everything. And I think my meals too. And all the other guys were paying for their own hotels.
CC: You mean all the other guys in The Band were?
MJ: Yeah.
CC: How'd you find that out?
MJ: Bob told me! [laughs] He said 'Keep this quiet! Don't say a word about this 'cause the other guys are paying for their own hotels.' I guess all these years later, it's okay to say it now. I did keep it quiet, but I just finished my book and that story's in my book [That Would Be Me (Rock & Roll Survivor to Hollywood Actor)].
CC: Your book is coming out in May?
MJ: It looks like May, but I don't have an actual release date yet. [As of May 1, there is still no official release date for Mickey's book, though, when I checked back in with Mickey, he told me it will probably be late May or early June.]
CC: Who's your publisher?
MJ: It's a company called AuthorHouse, out of Indiana. [AuthorHouse is a self-publishing company/print-on-demand publisher.] I actually had a literary agent in New York who was pretty happy with it. She went to Simon & Schuster with it, thinking it was a good move because they published Bob's book, Chronicles. And apparently Simon & Schuster said they weren't interested because they'd published Bob's book.
CC: Well, I understand that; it can work both ways. The publishing industry can be volatile.
MJ: Then my literary agent got involved in a John Travolta project, so she had to bail on me. So it took me a while. My book's been done for three or four years, but getting it published is a whole different ballgame. The thing is, I own all the rights. And I'm kind of excited to see where this train's gonna ride.
CC: I'm sure there will be lots of people eager to read it. But, until then... what happened after the tour?
MJ: Well, when Bob broke his neck -- 'cause we were supposed to go to Moscow right after that; we were gonna do Shea Stadium with Peter, Paul & Mary a couple months after we got back from the first electric world tour -- I got this call from Bob himself, not Albert, telling me that he was laid up [from this] motorcycle accident, so he canceled the tour, killed Moscow and everything. And he continued to pay me my salary for a year, which was pretty cool.
CC: So Mickey, let me ask you this: There are people who doubt that this motorcycle accident ever really happened. What do you think?
MJ: I've heard that too. [Photographer] Barry Feinstein told me that it happened in Albert Grossman's driveway.
CC: Really?
MJ: Yeah. I'd heard that he'd crashed kinda out in the woods. But then Barry Feinstein said that it happened in Albert's driveway. It was a pretty steep driveway, and that's where he went down, in Albert's driveway in Woodstock. I don't know. I think there is speculation whether it really happened. A lot of people, I guess, don't know if it did or not. It seems like it'd be easy to go back and check some medical records in Woodstock, to see who got taken to the hospital that day. But who knows what day it was? I don't know. I do know that Scorcese got something wrong in No Direction Home.
CC: I think I know where this is going...
MJ: The 'Judas' shout.
CC: Yeah, tell me about that. There was the shout from the stage, and the 'Judas' shout from the audience. Who shouted from the stage?
MJ: Well it was not Bob talking to Robbie. It was not Bob. I've been asked hundreds -- maybe thousands -- of times who yelled 'Play F-ing loud' [Mickey's omission of the actual expletive], and it wasn't me. And it wasn't Bob -- totally out of character for Bob. Plus, if you really listen to it and you crank the volume up, this guy is yelling. On No Direction Home, on the real footage, Bob is whispering something to Robbie. It doesn't sync up -- I've played it 25 times. It just don't sync up with the words. It is not Bob, I guarantee you that.
CC: And it's not you...
MJ: And it's not me.
CC: Is it anybody in The Band?
MJ: I don't think it's anybody -- it's not any one of us. My personal opinion -- and it's just that -- 'cause if you listen to it real closely, there's a bit of a British accent; go check it again -- I fully believe that it was one of our roadies -- one of our British guys who were on the tour with us -- kind of standing up for us in the moment, yelling from somewhere back on the stage. Because the person is definitely yelling, he's not close to the mike. I was three feet from the mike -- Bob was whispering, and you can see that he's whispering.
CC: Yeah -- the body language...
MJ: Yeah, it's not Bob. It's not me. I truly believe that it was a stagehand on the stage or one of our road crew that was on the stage. And they finally did find the guy who yelled 'Judas.' In fact, I have a tape somewhere of a BBC interview from about three or four years ago. He was a Canadian guy who was just over there with some friends. He's dead now; he passed away a year or so ago. But they did eventually find him, and he was very apologetic about yelling 'Judas' at Bob. He felt terrible that he did it.
CC: Did he change his mind on the music?
MJ: Yes, he did. He told a story that he was sitting in a diner in Toronto one morning, and he picked up the paper and there was this thing about the search for the guy who shouted 'Judas.' But he finally contacted a guy in England named CP Lee who wrote a book called Like the Night about the Manchester Free Trade Hall concert. And they were able to hook up to BBC and do the interview for a show that they broadcast from the stage of the Manchester Free Trade Hall, which they sent me a tape of.
CC: Mickey, when Albert Grossman called you, you were on tour with Johnny Rivers, right?
MJ: Yes, I was.
CC: How did it come to pass that Levon wasn't with The Band and you ended up on that tour?
MJ: Well, here's the story that I got from Ronnie Hawkins. I asked Ronnie that question point blank. I said 'Where's Levon?' He said that Levon did that concert in '65, you know where they got booed so much? Well it upset him so much that he had a nervous breakdown and went back to Arkansas. Now that's what Ronnie Hawkins told me. Now, if he went back to Arkansas because he hated getting booed, that makes sense to me and it came from the mouth of Ronnie Hawkins. I don't know anybody who was closer to those guys -- especially Levon -- than Ronnie.
CC: At that time, probably not.
MJ: Levon went to Canada with Ronnie -- he was from Arkansas. So that made sense to me and I never questioned Ronnie after that. Ronnie and I have been friends since the 50s.
CC: Do you still talk to Ronnie?
MJ: Yeah, I talk to him once or twice a year. The last time I talked to him, his health wasn't too good. His wife Wanda actually begged him to record a couple of the songs I wrote, though I don't think it ever happened. But I spent a lot of time in Toronto. We did a TV show over there for two years.
CC: What show was that?
MJ: It was called Rollin' On the River with Kenny Rogers and the First Edition. The second season, it was just called Rollin.' In fact, we had Ronnie on the show with the Hawks, but it was a different group of Hawks.
CC: Yes, there have been Hawks in many incarnations. When did the show run?
MJ: When the gig was over with Bob, I ended up with Kenny Rogers. We had a group together called the First Edition. And then we did that TV show from '70 to '72.
CC: What was the '66 tour like? We know what the music was like -- but what was it really like being with these guys on the road? What was your day-to-day existence?
MJ: Garth and I became like best friends.
CC: Garth? Really?
MJ: Garth and I hung out all the time. Rick -- we hung out a good bit with Rick, too. Richard was a little standoffish, not terribly. Robbie was very standoffish. I never felt like I ever clicked with Robbie.
CC: In what way was he standoffish?
MJ: Well, like we'd go to press conferences, but yet it was always Robbie that was glued to Bob. We used to call him -- I don't want to say anything derogatory, but we called him Barnacle Man 'cause he was like stuck to Bob like an appendage. Like Garth and Rick and I, we'd be there, but we just never tried to get on the camera I guess, you know.
CC: What about the other guys?
MJ: I could never have anything negative to say about Rick. Rick was a great kid. In fact, Rick was the kid that everybody liked -- all the girls liked him because he was a cute guy, a good-lookin' kid. He had this presence on stage that I thought was very good. One day, I got a call from New York. I didn't know who it was -- my pager went off, and I called back, and it was New Musical Express wanting to know my reaction to the death of Rick Danko.
CC: Oh God. What a horrible day.
MJ: It was. And I was like What? I was shocked. I just couldn't believe it. I said 'You gotta be kidding me.' It was heartbreaking.
CC: Yes it was. Still is.
MJ: See, Garth and I were roommates on the [1966] tour, so we got to be real tight. But I would say Rick would be next with me, because Rick was funny, he was fun to be around -- I mean, it was a fun time together. Not particularly with Robbie, because Robbie was into Robbie. And Richard, I never felt like I really knew him.
CC: Did you feel that maybe Richard was just shy?
MJ: Here's the feeling I got from Richard: Richard hung more with Robbie because it was kind of the 'in' thing to do. That was the impression I got from Richard. I liked Richard. We never had a cross word or anything like that, but I never felt like I got through that shell to know him, whereas I did with Rick and Garth. I have nothing negative to say about anybody, except that Robbie was distant, so I never really got to know him.
CC: Did you ever see him after the tour?
MJ: I saw him a few years later. He did a movie with Gary Busey called Carny. I was trying to be an actor. My agent sent me in, and I had an audition. And there was Robbie. And I thought, 'Well, this is gonna be cool to see Robbie. It's gonna be hugs and like Man, how you doin'?' And it wasn't. I walked in and he barely said hello.
CC: Really? Did he know it was you?
MJ: Absolutely. I made sure of that. I walked out thinkin' 'Man, I can't believe this guy' and... it was more than that it just hurt my feelings. It disappointed me. You know what? I'm thrilled for his success. I know Scorcese loves him, has him score his movies and, you know, good for him. All I can say is I really never got to know him.
CC: I don't really know Robbie, but I can picture the scenario, because when I was first introduced to Robbie, the condescending look he gave me -- it was kind of a half-smile, but a smug one, sort of like saying 'yeah right, whatever' -- all in a facial expression. And to be on the other end of that look...
MJ: I know exactly what you're saying, because I've experienced it as well.
CC: Well, in your case, you had a reason to feel hurt. In my case, I was just insulted. I felt like 'Wow, what a snob!'
MJ: Well, honestly, Carol, that is an insult.
CC: It is. And it was an insult to Rick, too. I was kind of disappointed.
MJ: It absolutely was to Rick. You know, Robbie's had great success, he's a real well-respected player, and again, I don't really know him -- I worked with him, but I don't know him -- but I do believe that he always gave off the impression that he felt he was a cut above the rest. And I've never been that way. I was like 'let's have some fun together.' And that's the way Rick was. The kid that I remember was always friendly and courteous. I thought he was a class act and he was a good player. I always loved that moment on the '66 electric tour when we did 'One Too Many Mornings' and he'd lean in with he and Bob together on that microphone -- 'cause he would sing that harmony line. Did you ever see that DVD I put together? [The DVD, Bob Dylan-1966 World Tour: The Home Movies was released in 2006.]
CC: Yeah, I thought there was lots of interesting footage in there.
MJ: It was all footage that I shot on the tour. It was kind of fun.
CC: You know, I love the photo that we're using of you and Dylan and the guys on the tour. Rick with that crazy hair, the smile -- a little glimpse of the future. It is such an incredible moment in time -- Pennebaker with his camera, Grossman, Dylan with that grin. A photographic time capsule. That's Barry Feinstein's shot, right?
MJ: Yes, so is the other one with me and Bob.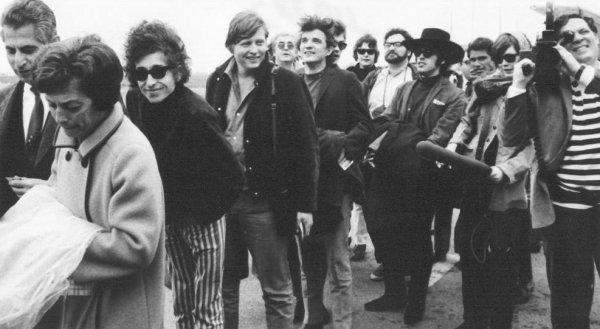 Photo by Barry Feinstein
CC: Who are the two older people in front of Dylan? Do you know?
MJ: The two older people were just passengers on that flight.
CC: Mickey, what's your best memory of that tour?
MJ: I think for me, it was fun just to be on the road, but concert time and backstage was the most fun, because we were making what I felt to be great music, even though we were getting booed everywhere we went. I tell people they just didn't get it, because the reality is, we were making great music. We loved what we were doing, Bob loved what we were doing. I get emails from people saying 'Thank God they released the '66 live CD.' They credit me -- no disrespect to Levon, but they say that the tour would not have been the same, these recordings wouldn't be the same, with another drummer. Finally, once I got credit for it, I got tons of emails from people telling me how much they loved the drums on that CD. Because Bob Johnston, who produced it -- he put the drums out front, man, he put 'em out there where you can hear 'em. And I love the mix on it. I can't tell you how many emails I get from fans saying they were glad it was me on drums on that tour, because it cemented Bob Dylan electric forever.
CC: What do you think it was about the drums, about your playing, and about you that made it special?
MJ: That's an interesting question. The only thing I can attribute about my playing to is, uh... Levon ragged me pretty good in his book saying that I was just this overweight guy that was just a 'clubber,' you know, slammin.' And it was pretty derogatory. And I think that made me the thing that I was on the '66 tour is that I had the heaviest right foot in Los Angeles, and I played hard. I made sure that every kick and every accent -- everybody in that room knew it. That's just my style of playing. I got an email from a guy yesterday who said 'I'm a drummer, and every band I play with is required to do 'Secret Agent Man' so I can play every lick you play.'
CC: That must be great to hear after so much time.
MJ: Yeah, it is. I never thought -- 'cause Bob Johnston recorded it for a test, 'cause he wanted to do a live album -- but with all the boos and the 'Judas' shout, I thought this was never gonna come out, never expected the '66 live album to come out, so I was thrilled when it did. I listen to it every now and then and, I'll tell you, it's a great album. Every musician, every one of us held up our end of the bargain on that '66 live.
CC: Did you feel that it was historical when it was happening? The whole thing -- the tour, going electric?
MJ: No. I knew we were making great music, but I didn't think it would be earth-shattering at all. With the booing and everything I thought 'Well, they'll be glad when we're gone.' I never expected anything. But the reality is -- and I put it in these terms -- if you go back, Rolling Stone called that tour the greatest rock and roll tour in history, the tour that changed the face of American music.
CC: Absolutely. I agree. I wasn't even four years old, but I agree! [laughs]
MJ: When we were doing it, I never thought it was anything more than us being out there, young guys, playing what we loved to play and having a great time. I didn't think there would be any memory of it down the line. But I'm sure if you went back and asked Clark Gable if he thought when he was making Gone With the Wind that it was going to be the most adored movie of all time, he would say 'No, it was a gig, a job.' And I have to say that about that tour.
CC: After Dylan recovered in '67, was there a break with him, did it just peter out, or what? Levon came back, right?
MJ: Well, I don't know if Levon came back and played with Dylan right after that or what in '67, but after my deal with Bob expired, I never talked to him again -- until years later. My deal was done and when it ended, I figured if he wants to renew this, Albert or somebody will let me know. There is one thing that really hit me wrong about Levon. I happen to love Levon. I think he's a terrific actor, I think he's a great musician -- I don't have anything negative to say about Levon. But there was an instance where, I think A&E did a 'Biography' and the reporter said 'That '66 world tour had to be something else,' the reporter thinking that it was Levon on the tour. And instead of Levon saying 'It was not me, it was Mickey Jones,' his reply was 'Yeah, that '66 tour was unlike anything else. It was really something else.' Well, he could have cleared the air right there as far as I was concerned.
CC: Maybe he didn't want to embarrass the reporter by telling him...
MJ: Well, it sort of hurt my feelings, because I will always give credit where credit is due. Being part of that tour and that whole event was a pretty big deal to me, and for years everybody thought it was Levon. I never got any credit for it at all. When the '66 live CD came out, that all changed. But I know Levon had some health problems and I hear he's doing really good now.
CC: He is, from what I know.
MJ: If you talk to him, tell him that regardless of what he thinks, I'm on his side, man.
CC: Did you keep in touch with any of the guys after that tour?
MJ: The only one I had talked to really is Garth. And Garth has become such a recluse. I emailed him recently but never got a response. I will try to keep in touch with somebody but when I don't get a response -- to me that is the response.
CC: What about Dylan? When he called you and told you about the accident, was that the last time you talked to him?
MJ: Yeah, it just kinda petered out. Then I saw him back in the early 90s. My son-in-law is a professional fighter, and I was up in his locker room telling him to kick ass, and I hear this voice behind me saying 'Mickey... ' I turned around and it was Bob and I said 'Bob, what are you doing here?' And he had what I call the consummate Bob Dylan reply: He said 'I don't know. They just bring me and I come.' [laughs]
---
[History] [Members] [Library] [Discography] [Videography] [Filmography] [Pictures] [Audio Files] [Video Clips] [Tape Archive] [Concerts] [Related Artists] [Merchandise] [Guestbook] [Chat Room] [Search] [What's New?] [Main Page]
Webmaster