The Rock of Aged
Former Band drummer Levon Helm lends his experience to the youthful Barn Burners
---
by Aaron Howard
Copied from the Houston Press Online, 01/25/2001. Copyright © 2001 New Times. All rights reserved. Please do not copy or redistribute.
---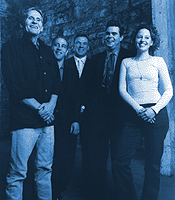 Levon Helm (left): Getting back to his blues roots with the Barn Burners, which includes his daughter Amy.

Now into his fifth decade of music-making, Levon Helm has come full circle: The drummer and vocalist with one of the greatest rock bands of all time -- the generically named outfit that recorded some of the most idiosyncratic music of the late '60s and early '70s -- is back where he started, playing the club circuit. He's touring with a blues band called the Barn Burners, a group of youngbloods that includes his daughter Amy.

"I grew up in south Arkansas listening to Sonny Boy Williamson and Junior Parker," notes Helm. "Blues was my first love. I've played everything that I could over the years. Now I play with my daughter. You've got to show the kids the blues standards and help them write their own songs. It helps them to learn the fundamentals."

Helm, of course, is best known for anchoring the Band, the group that evolved from a semifamous Canadian-based outfit called the Hawks, which began as the backing band for transplanted Arkansas rockabilly singer Ronnie Hawkins. During the late '50s Hawkins plucked raw Arkansas teenagers like Helm and took them on the road, initiating them into the mysteries of music and life. They ended up in Canada because that's where the better-paying gigs were at the time.

"It was a regular job, an opportunity to play music all the time," recalls Helm. "We played six and seven nights a week. We had a good booking agent, and we wanted to work all the time. Me being so young and loving good music, that's all I needed."

Toronto, in the 1950s, was one of the best towns in North America for live music. Oscar Peterson was redefining the piano up on North Younge Street, while larger venues hosted the major R&B acts of the day, like Ray Charles. Helm remembers playing at night and, during the breaks, walking next door to hear Carl Perkins. He also was getting an education about jazz.

"I remember the first time I heard the Cannonball Adderley band with Louis Hayes on drums. What a touch Hayes had. He didn't play hard and frantic. He left plenty of room on top for dynamics," Helm recalls. "He had more control over his instrument and a more musical touch than any drummer I'd heard. It made me want to learn how to really play drums."

As the Hawks' other Razorbacks drifted back to the States, Helm began recruiting Canadian kids into the band. The key acquisition was keyboard and sax player Garth Hudson out of London, Ontario. Hudson not only read music but also had played with Canadian jazz combos and big bands. Bassist Rick Danko and pianist Richard Manuel also were recruited to complement an ensemble that already had attracted then unknown Robbie Robertson. Now, instead of playing the same three rockabilly chords over and over, the Hawks were aiming to sound like the big blues bands that backed up Bobby Bland, Junior Parker, Ray Charles and B.B. King.

"We went from being as good as anyone on the circuit to being the best band around," says Helm. "We had double keyboards and double horns. Garth could arrange them. We sounded better than anybody but maybe the Bobby Bland band."

By this time the Hawks had developed way beyond the retro-rocking skills of Hawkins, who would soon leave the band. Helm became the de facto leader; the group even briefly performed under the moniker Levon and the Hawks. It's intriguing to speculate what might have happened to the Hawks had the band not been completely eclipsed by the Beatles and the British Invasion. One theory suggests that nothing would have changed. After all, even though the group boasted a great rhythm section, keyboards, guitar and horns, the musicians still essentially thought of themselves as sidemen.

Certainly that's what Bob Dylan hired them for in 1965. The Hawks backed Dylan through his historic electric tours of 1965 and 1966. Helm left the band early in the tour, rejoining when the group followed Dylan to Woodstock, New York, in 1966.

"Dylan showed us how to put songs together," says Helm. "We would go downstairs while Dylan and Richard would sit at the typewriter and type out little lines. They'd grin at their work, take the paper out of the typewriter and come downstairs, and we'd put it all together. Until then, we never had that luxury of time. It was like a studio situation where you record your work and listen to it. You can stop doing what doesn't sound good. It was like hearing yourself for the first time. We had a little recording experience, but we really never studied ourselves."

Helping Dylan set his lyrics to music forced the Hawks, now rechristened the Band, to incorporate second and third lead vocals. That grew into a musical construct of their making. The outcome was Music from Big Pink (1968) and The Band (1969), two albums of extraordinary versatility and storytelling. Unlike most records of that period, these two don't bow to any trends. But by the time Stage Fright was released in 1970, the Band had changed from a group collaboration to Robbie Robertson's band. So says Helm.

"Our success brought in a lot of money and a lot of greed," Helm says. "By Stage Fright, the writing was on the wall. That was no collaboration. It was Robbie and his manager Albert Grossman and their accountants and lawyers versus the rest of the band. Well, he's rich and the rest of us are poor, and that's the difference."

Although the Band officially called it quits in 1976 by throwing a big party in The Last Waltz, it was really over in 1972. Up to now, Helm's best post-Band work was in 1977 with the RCO All-Stars, a handpicked blues ensemble that included Dr. John, Paul Butterfield and "Duck" Dunn. But the opportunity to tour with his daughter has introduced Helm to another quality outfit, the appropriately named Barn Burners. Aside from Amy Helm on piano, the band includes guitarist Pat O'Shea, bassist Frankie Ingrao, harmonica player Chris O'Leary, veteran hornman Bobby Keys and, of course, Helm on drums.

"What we do is country blues-rock," says Helm. "That's just taking a combination of lots of labels. Basically it's just American roots music."

Helm is acutely aware of his own personal role reversal; these days he's playing the Ronnie Hawkins character, and the young musicians in the Barn Burners are collectively assuming the role of a naive Levon Helm, circa the late 1950s. It's a 60-year-old Helm who's shepherding these kids through the obstacle course known as the music business.

"I heard a smart man call music the language of heaven," Helm says seriously. "Amy loves music, bless her heart. She can't help herself. It's a blessing. And if you're a player, you're a player. I always knew it, I guess."
---
[History] [Members] [Library] [Discography] [Videography] [Filmography] [Pictures] [Audio Files] [Video Clips] [Tape Archive] [Concerts] [Related Artists] [Merchandise] [Guestbook] [Chat Room] [Search] [What's New?] [Main Page]
Webmaster