Levon Helm and The Barn Burners
Harper's Ferry, Boston, MA, November 4, 2000
---
by Patricia Shaw
Copyright © Patricia Shaw 2000.
---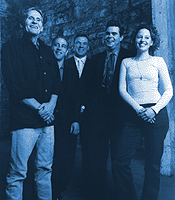 Levon Helm and the Barn Burners.

Levon Helm's legacy in the rock-n-roll arena is about as secure as it gets. As drummer, vocalist, mandolinist, and founding member of The Band, (the band that backed Dylan's early days - hence the name The Band) Helm has played it all, heard it all, and seen it all. The past year has been difficult for Helm on many levels. He has battled and beat throat cancer - perhaps the most difficult thing to happen to a signature style vocalist - that is until the death of former Band-mate and beloved friend, Rick Danko. So why at this point in his life is he out on the road touring with his new band, The Barn Burners? The answer is simple: the pure joy of living and playing the delta blues.

Although Helm no longer sings, do not think of him as a wingless bird. Rather think of a majestic American eagle traveling through the musical conscience of American rockabilly. His high energy fuels his rhythmic grooves, while his weathered well worn smile welcomes all. Happiness is easily equated to Helm. He has a warmth and vigor that simply infuses the spirit, something that daughter, Amy Helm, is fully aware of. "I love playing with him, it's an honor to be able to play with him."

The superior lineup of The Barn Burners consist of: Helm on drums, Amy Helm on vocals, Chris O'Leary on vocals & harp, Pat O'Shea on guitar, and Frank Ingrao on stand-up bass. This is the delta blues the way it is meant to be played: swinging grooves, bare-boned full bodied bass with flaming guitar licks, and immensely soulful harp and vocals that make you want to testify!

PS: I'm loving the band! You guys blew the doors off the place. We haven't had blues like this around here in a long time. . . and this is in between sets.

LH: I'm happy playing the drums . . . I'm happy to be alive and to be playing music.

PS: My deepest sympathies about Danko.

LH: I appreciate that. I know it's a loss for all of us. I miss him everyday. . . . We were neighbors and lived within five miles of each other, so we miss him everyday.

PS: What about the collaborative process in the this band, The Barn Burners. Working with your daughter, Amy, it must be an amazing thrill to have her as a colleague. That must just feel so wonderful.

LH: It does. It's a brand new kind of fun for me. I've never played with my relatives before. And with the Barn Burners -- all the Barn Burners are like my daughter, they're in their late 20's early 30's, so they're kids to me. I'm having a ball playing with these young bloods!

PS: You have plans to tour? . . . You're heading down to Florida, the Carolinas?

LH: Yeah, we're trying to do some recording, and we want to do some touring. And we know if we get to record we'll get two or more so that's the plan. Maybe we'll get a cd done before the end of the year, we're trying. . . .We're shooting for it, keep your fingers crossed.

PS: I know you did a couple of originals, who writes the originals? How do you pick what standards to cover? Is it a collaborative thing?

LH: Yeah, Chris and Patty are doing most of the writing now. But we're starting to collaborate, and it will be a collaborative effort between everybody in the band. As far as what we cover, we don't do anything except the blues standards. If it's not by Muddy Waters, or Junior Parker, . . . or Little Walter . . .someone that you grew up liking. . . we don't do it because you don't really learn the fundamentals of music making any other way better than playing the blues, so that's the best thing we can do for ourselves. Plus it's the most fun!

Although they perform some wonderful originals, Levon Helm and The Barn Burners deliver the delta blues standards with the kind of intense control that blues purists will respect and admire. "Crazy About You Baby", "The Same Thing", "Wang Dang Doodle", "Hound Dog" - you get the idea. This particular evening at Harper's Ferry illustrated the deep reach Helm has. The "special guests" were none other than Bobby Keys on sax, and Jerry Portnoy on harmonica. Keys, a longtime sax great who has recorded and toured with the best of them (Rolling Stones, Clapton) is a rock-n-roll session man extraordinaire. Portnoy, the ultimate blues harp man, has played with such greats at Muddy Waters and Eric Clapton. Although the Barn Burners didn't need any help Portnoy and Keys were a wonderful surprise. If you're feeling the need for the delta blues than look no farther than Levon Helm and The Barn Burners - they deliver!
---
[History] [Members] [Library] [Discography] [Videography] [Filmography] [Pictures] [Audio Files] [Video Clips] [Tape Archive] [Concerts] [Related Artists] [Merchandise] [Guestbook] [Chat Room] [Search] [What's New?] [Main Page]
Webmaster