Blues Group Brings "Something Real" to Santa Fe
---
by Kay Roybal
From the Albuquerque Journal , Jan. 26, 2001. Reprinted with permission from the author. Copyright © 2001 Kay Roybal, Albuquerque Journal.
---
A genuine rock and roll icon will show Santa Fe how it's done Monday night when the great drummer Levon Helm --formerly of The Band -- introduces his Blues band, the Barn Burners, at the Paramount.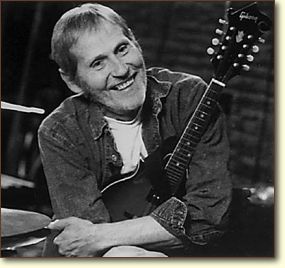 Levon Helm

A collection of of young players from upstate New York, the Barn Burners have been around a few years, performing in Woodstock and for a time as house band at Helm's New Orleans club. Anchored by Helm's state-of-the-art blues drumming, they have that tight and loose quality that comes from playing together a lot.

And to top it off, they're bringing saxophone hero Bobby Keys. Keys has played with Elvis, the Beatles and on Rolling Stones tours and albums since the 70s, (yes, that's him on Brown Sugar,) He started playing with the band in the fall and is currently a full fledged Barn Burner.

The last time Helm graced New Mexico with his smooth southern style and famous junk beat was when The Band - some called it the new Band -- played Midnight Rodeo five years ago. A lot's happened since then. There was the death of Band bassist Rick Danko a year ago and a bout with throat cancer that cost Helm his lowdown growl of a singing voice, the voice most of us first heard on The Weight, possibly the most recognized Band song from their first record, Music From Big Pink.

When the Barn Burners play, most of the singing is handled by Chris O'Leary, a powerfully built former Marine whose passion and good humor infuse his vocals and forceful harp playing. Also singing with the band is Helm's daughter, Amy, whose rave-up Hound Dog can peel the paint from the walls. A curly haired beauty like her mother, singer Libby Titus, Amy Helm also plays piano. The other members of the band are Frankie Ingrao on bass and Pat O'Shea on guitar.

The Barn Burners have been recording their debut album at Helm's studio in Woodstock, some blues standards and a number of original songs written by the multi-talented O'Leary, who also recently sang on a record with Hubert Sumlin, Howling Wolf's guitar player.

The blues continues to attract fans young and old. And for the Barn Burners, there's always plenty of Band heads who'll turn out to see Levon Helm.

"It's nice to see our older fans coming out with the college crowd,, and folks bringing their kids," Helm said. "It's like we pass the torch to the younger generation of musicians like the Barn Burners and our fans pass it on to the younger fans. Folks are still looking for something real, something they can dance to, and we still give them that.. . just not all that screaming and noise ya hear on the radio now. "

Working closely with Helm and other music legends out of the commercial mainstream has given the young musicians in the band a firsthand glimpse of the vagaries of fame and fortune, and how achieving great critical success at a young age is a mixed blessing for a musician.

Helm was a young musician himself when The Band scored twice in quick succession with Big Pink and The Band, their second album. They also became, for a half dozen years, the hottest live act around. Helm's ride in the business has included a fair number of sold-out stadium tours ,with and without Bob Dylan. But he was not an overnight success, having been a working musician since he was a teenager from Turkey Scratch, Arkansas.

As most rock aficionados know, The Band, former ly The Hawks, was kind of a collection of super-sidemen, first for rockabilly singer and Toronto character Ronnie Hawkins, then for Dylan..

While Dylan recuperated from his 1967 motorcycle accident, he and the band spent hours every night writing and recording strange and evocative music in the basement of a pink house near Woodstock. Demand for what came to be known as The Basement Tapes may have launched the bootleg record industry, and that experience was the laboratory that produced The Band's sound. . The music conveyed an out-of-time feeling whose source was unclear.

People are still discussing the components of that music on an excellent Web site devoted to The Band, where a loyal group of diehard fans from around the world trade concert stories and other Band lore and bicker endlessly about matters large and small. The site is maintained by a teacher and fan in Norway. The site is theband.hiof.no/

The Barn Burners are also a group of talented individual players and their driving blues music recalls some of what The Band explored, but in a more traditional way. The band reveres Muddy Waters, and covers a number of his songs, notably Long Distance Call, featuring impassioned harp playing by O'Leary. Paced by the unerring instincts of the man behind the drums, they know how to deliver a song. Amy Helm growls the lyrics to I Just Want to Make Love to You and prowls the stage like she owns it.

Although Helm's been around the world and back since he started playing, what the Barn Burners lay down is not so very different from the music he and the other member of the Band started out with. They all shared a fascination with the Blues.

Helm was the only American in The Band. Danko, singer and multi-instrumentalist Richard Manuel, organ and horn player Garth Hudson and guitarist Robbie Robertson were all Canadian musicians seasoned on the northern music circuit. Still, they became interpreters of a sort of Americana roots rock that struck a chord with many young music lovers burnt out by the intensity of psychedelia

"All the other fellas heard the music through the Canadian border from Detroit," said Leon "Butch" Dener, road manager for the Band in the 90s, and for the Barn Burners now. "Garth and Richard talked about hearing that early swing and jump blues, and of course there was Rick and his Motown obsessions."

Coming from a small farmtown near Helena, Arkansas, Helm had the blues in the marrow of his bones.

"Levon's roots in the delta, hearing Sonny Boy Williamson and other blues greats play led to the Band's covering Blues standards like Mystery Train (from 1973's Moondog Matinee) and Blues Stay Away from Me (from 1993's Jericho)," Dener said.

The Band's gorgeous sound and soulfulness was a true collaboration of musical talents that did not survive the stresses of success. The Band in its original form broke up in 1976 and Helm moved on to other projects.

But one curse of fame is that people get attached to what they already know about you and it can be hard to escape their expectations. After the breakup of The(Original) Band, all but Robertson reunited for a time. Manuel's death on a 1986 tour ended that version of The Band. Since then, Helm has played in a number of other groups, including the so-called new Band, composed of Helm, Danko and Hudson, with three other musicians. This configuration produced some great music on their three CDs, Jericho, High on the Hog and 1998's Jubilation.

Helm had been discussing a joint project with Danko before he died of a stroke in December of 1999. He still performs occasionally with Hudson.

Helm has had some critical acclaim as an actor, receiving a bit of Oscar buzz for his debut role in Coal Miner's Daughter in 1980 and again as Ridley in 1983's The Right Stuff.

But his status as a rock and roll icon is inescapable.Fans still yell for him to sing Up on Cripple Creek and they hatch wild schemes to reunite him with Robertson, who went to Hollywood after he left the group and is still there, working for Steven Spielberg at Dreamworks.

Helm has a friendly way with his fans, but also a sort of personal dignity that tends to discourage unsolicited advice about personal matters. He has told his side of the story of The Band in his book This Wheel's On Fire, first published in 1993. The book was recently re-issued with new material covering the developments of the past few years.

As the book details, the past 25 years have been a rollercoaster ride of public approval and indifference. But after awhile, up and down starts to be relative and the trick becomes keeping it interesting. And Helm has always managed to do that, maybe because he has always focused on the music. He went to college after he became successful to fill in the gaps in his music education. His Woodstock recording studio has seen musicians from Muddy Waters to Scotty Moore lay down some tracks. His skills are sought after by musicians from Hubert Sumlin, Guy Davis and Louisiana Red to southern comedian Tim Wilson.

Helm's contribution to his craft is undisputed, but the trip has included disappointment, tragedy and betrayal. But rising above all the less attractive aspects of life in the music business, there's been the magic of working with a really talented group of musicians who have taken the time to know one another's strengths and style. The Barn Burners have that magic, and Helm has shown them how to find it. It's a great pleasure just to watch them work.
---
[History] [Members] [Library] [Discography] [Videography] [Filmography] [Pictures] [Audio Files] [Video Clips] [Tape Archive] [Concerts] [Related Artists] [Merchandise] [Guestbook] [Chat Room] [Search] [What's New?] [Main Page]
Webmaster