Levon Helm's Midnight Ramble
Woodstock, NY, Sep 10, 2005
---
by Kay Cordtz
From Blues Revue magazine, issue no. 98, February 2006. Copyright © 2006 Visionation Ltd. Reprinted with permission from the author.
---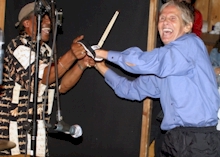 EVER WANTED to be a fly on the wall at a jam session in a legend's living room? For the time being, you can. Every other Saturday night in Woodstock, drummer Levon Helm hosts a gathering in his barn-slash-studio for 90 guests. At one of these house parties -- Helm calls them "Midnight Rambles" -- he combined fresh faces (the glorious Alexis P. Suter) and old hands (the Muddy Waters Band) with his own group of top-drawer musicians (Little Sammy Davis on harmonica and vocals, Jimmy Vivino on guitar, David Maxwell on keyboards, Mike Merritt on bass, Erik Lawrence on sax, and Steven Bernstein on trumpet).

Suter, a soul singer who's a regular at Helm's Rambles, warmed up the crowd with her deep, powerful voice; she was particularly stirring on a drop-dead version of Al Green's "So Glad You're Mine." A lengthy set by the Muddy Waters Band followed, featuring Jerry Portnoy on harmonica, Bob Margolin and Luther "Guitar Jr." Johnson on guitar, Calvin "Fuzz" Jones on bass, and Willie "Big Eyes" Smith on drums. The band members have played together, off and on, for more than 30 years, so they fell easily into their groove, each member out front for two songs. Margolin belted out Waters' "Goin' Down to Main Street," noting that he had also played it for Muddy's Woodstock Album, recorded 30 years earlier. The band was swinging hard until the song ended abruptly and the old blues cats slapped their knees, laughing at the audience's surprise. "That's how Muddy used to do it back in the '50s," Margolin recalled. "He said he liked to mess up the dancers."

After an hour or so, blues legend Pinetop Perkins sat down at Maxwell's Yamaha P120 electric piano and launched into a boogie-woogie jam leading into his signature tunes, "Big Fat Mama" and "How Long?" A frenetic "Got My Mojo Working" with the whole band at full power and the cheering audience on its feet, closed the set.

An explosion of applause greeted Helm's arrival on the bandstand and he played electric mandolin for the first few songs of his set. On "Back to Memphis," Helm's lowdown twang proved that his iconic voice, nearly lost to throat cancer, is all the way back. Before counting off "40 Days," Vivino called Margolin back up, and their fiery interplay began a series of intense duels between two guitarists at the top of their game. Smith sat at a second drum kit, and he and Helm settled into a fat groove, highlighted by a double Bo Diddley drum solo. Davis' harp sparkled on "Bring it On Home to Me," and Helm persuaded the crowd to join in on the joyous "Sing, Sing, Sing." After Perkins shooed Maxwell from the keyboard to the piano bench, Maxwell acknowledged his mentor's economy of style: "It's as lyrical as it is vital. No unnecessary notes."

Smith sang "Big Boss Man," then handed it over to Perkins for "Kansas City" and "Down in Mississippi," fueled by Lawrence and Bernstein's wild horns. Helm closed the show with a strong reading of "Take Me to the River." It doesn't get any better.
---
[History] [Members] [Library] [Discography] [Videography] [Filmography] [Pictures] [Audio Files] [Video Clips] [Tape Archive] [Concerts] [Related Artists] [Merchandise] [Guestbook] [Chat Room] [Search] [What's New?] [Main Page]
Webmaster