Remembering Rick
Hometown honours musical legacy of 'the kid from Simcoe' whose music wowed millions

---

by Elizabeth Yates From the Brantford Expositor, 07.20.2006.
The text is copyrighted, please do not copy or redistribute.
---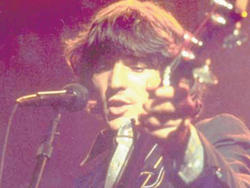 Rick in Martin Scorsese's film The Last Waltz.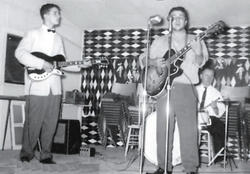 Long before The Band, a teenaged Rick Danko (left) played every dance hall around Norfolk and beyond in The Starlites, along with brother Maurice "Junior" Danko and drummer Glen Silverthorn.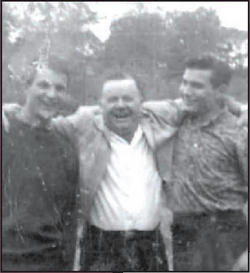 Rick Danko, Glen Silverthorn and Maurice "Junior" Danko take a break from the stage for this outdoor photo from around 1959-1960.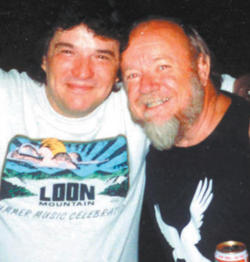 Rick reunited with Glen after a show in Kitchener in the early 1990s.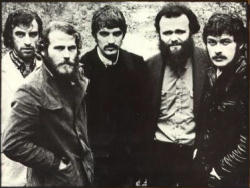 One of the most influential groups in rock history is The Band. From left to right: Richard Manuel, Levon Helm, Rick Danko , Garth Hudson and Robbie Robertson.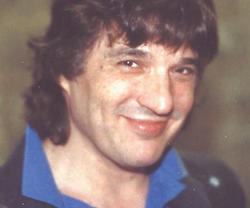 Rick in 1991. Photo by Carol Caffin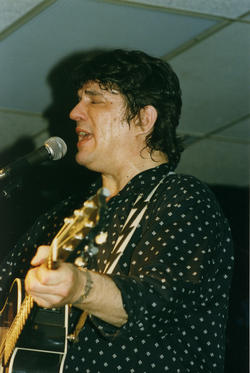 Rick performing in May, 1992. Photo by Carol Caffin.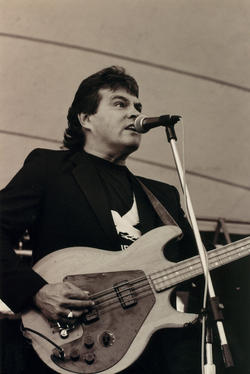 Terry Danko, circa 1992, onstage in Ontario with Ronnie Hawkins and the Hawks.
He played to thousands of adoring fans around the world, gigged with rock's biggest heavyweights and influenced generations of younger musicians.
But, to the end, Rick Danko remained a big-hearted kid from smalltown Simcoe who could make friends with just about anybody.
So say admirers who have organized a special tribute concert to honour the legendary bassist, singer and songwriter who died in 1999 at 56, after rising to fame with The Band and later becoming a solo artist. Set for Aug. 4 in the shiny new gym at Simcoe Composite School, the show will feature headliners Bearfoot -- with Rick's younger brother, Terry, on bass -- and The Shoeshine Boys Blues Band from Simcoe.
Presented by the Simcoe Lions Club as a fundraiser for their many good works, it doesn't commemorate any special date or anniversary; it was just time, says organizer Tony Duclos.
"We wanted to recognize a local guy gone good," says Duclos, 40, who sings and plays harmonica in the Shoeshine Boys. "And the people who loved Rick have jumped on board to help."
That list includes New York State-based band Professor Louie and The Cromatix, who are hopping over to Simcoe in between shows in Ohio. Professor Louie -- aka Aaron Hurwitz -- was a longtime musical collaborator with Danko in the 1990s and was eager to participate, says Duclos. "He wants to be a part of anything honouring Rick."
The crowd is also expected to include locals who knew the musician from days behind the counter of Simcoe's butcher shop and chats at the Tartan restaurant.
Those decades-old ties reflect a personal legacy that has never ebbed. "You meet him once and he changes your life. He had this energy about him and it just stays with you. I miss him still," says Carol Caffin, Danko's longtime publicist and, more importantly, friend. As such, she has helped out with the tribute and will be in Simcoe for the 4th.
Gregarious, funny and charismatic, "he was one of a kind," Caffin says in a telephone interview from Westchester County, N.Y., near Danko's home in the Catskills.
"He was a really good, kind human being," she says. A country boy till the end, he loved the rustic, mountainous region, with its artsy vibe: 1969's massive rock festival and love-in casts an eternal aura, it seems.
"He was such a part of the fabric of Woodstock and the Hudson Valley," says Caffin, 43. "It sounds really corny, but people really do still feel his spirit: They still talk about Rick and The Band in a very real way."
It all started back in Green's Corners, west of Simcoe, when Tom and Leola Danko made their own music in between raising kids --Maurice, Rick, Terry and Dennis -- and growing tobacco.
"We played any instrument we could get our hands on," remembers Terry Danko, 57. "It was non-stop music at our house. It never ended."
At 14, Rick dropped out of school and started working downtown at the Simcoe Meat Market. But the butcher's apron didn't fit as well as a guitar and mike.
It wasn't long before he put together a band, coaxing former Simcoe lad Glen Silverthorn -- then a newly minted schoolteacher -- into hitting the drum kit after class. Then just 16, Danko would pick Silverthorn up in his little MG and they'd zip around the county hustling up gigs. "He had a way of getting to people," remembers Silverthorn, now a respected Brantford musician and Expositor columnist. "And he was a very astute businessman for his age."
The Starlites played a mix of old standards and rock 'n' roll, hitting community centres, dance halls and legions from Delhi to Dover.
Then fate stepped in, in the form of Rompin' Ronnie Hawkins, who played Dover's Summer Gardens every Sunday night. After taking in some of those shows, Danko did some wrangling to get The Starlites on the same bill.
'Where he went was to the top of the world.'
Silverthorn recalls the night they noticed Hawkins -- Levon Helm and Robbie Robertson -- watching closely in the audience. Later, Danko told Silverthorn Hawkins had asked him to become a Hawk. He wasn't sure whether to go.
"I told him,'You've got the wherewithal to go on to be something as a musician," remembers the 67- year-old drummer. "I didn't know I was being so prophetic. Where he went was to the top of the world."
After driving off in Hawkins' Cadillac, Danko played non-stop gigs with the legendary rockabilly artist for three years. Starting off on rhythm guitar, the teenager moved to bass, eventually mastering a trademark percussive style. Known for great rhythm and impeccable timing, he was also a gifted singer whose soulful delivery maximized an impressive vocal range.
By the early 1960s, The Hawks were ready to fly the roadhouse coop and launch their own career -- leading to a encounter with iconic folkie Bob Dylan, who signed them to play on his 1965-66 world tour. Their collaboration changed music forever, spawning the new genre of folk rock.
It didn't sound all that different to anyone familiar with Norfolk's unique musical mystique. Something in the confluence of tobacco fields, lake-blown air and immigrants mingling musical traditions spawned a powerful sonic hybrid rooted in bluegrass, rock, blues and country.
"There was a definite southern Ontario sound to what they played," says Terry Danko. "The sound they took with them came from here."
By 1968, Dylan's back-up act had become The Band: guitarist Robbie Robertson; Danko on bass, violin and guitar; Garth Hudson on keyboard, accordion and horns; pianist and drummer Richard Manuel; and drummer Levon Helm. Each took turns on lead vocals.
Their debut album, 1968's Music from Big Pink -- named after the group's home in West Saugerties, N.Y. -- was the first instalment of what became a timeless fusion of contemporary and traditional sounds.
Releasing several albums and touring the world, The Band spawned hits such as The Weight, Up on Cripple Creek, Life is a Carnival and The Night They Drove Old Dixie Down. They were a seminal influence on contemporaries such as Eric Clapton and critics have acknowledged that The Band changed popular music forever.
By 1976, though, members were ready to move on. The group's farewell concert -- featuring a huge lineup of guest stars including Neil Young, Joni Mitchell, Van Morrison, Ringo Star -- was filmed by Martin Scorcese for The Last Waltz, still deemed the best rock movie of all time.
During all that wild ride, Danko made it back home for low-key visits from time to time. "He always kept a special spot in his heart for Simcoe and that never changed," says Terry. "No matter what he did in the world, he was still the young kid from Simcoe with the sparkle in his eye."
The rock star stayed in touch with his old pal Silverthorn, getting him front row tickets for a show with Dylan at Massey Hall in 1965 and hanging out after a Band reunion tour brought him to Hamilton in 1985.
Their last contact came in the summer of 1999, when Silverthorn and his wife, Nola, visited Danko in the Catskills.
"Rick picked us up in his car and it was just like the old days," recalls the drummer. Though heavily overweight and taking blood pressure medication, Danko was his typical jolly and generous self, giving Silverthorn an advance tape of his coming album. "That's a real collector's item for me. He put a lot of heart and soul into his songs in a way a lot of other singers don't really capture."
Danko had forged a satisfying solo career after The Band, releasing a critically acclaimed self-titled album in 1978 which showcased his sensitive songwriting and strong vocals.
A few low-key years followed before The Band reunited without Robertson in 1983. While they toured and and released three records, Danko continued playing solo and with other artists.
One of his favourite collaborations was with folk artist Eric Andersen and Norwegian singer-songwriter Jonas Fjeld, says Caffin. Their album, Danko Fjeld Andersen, won a Norwegian Grammy and got a four-star review in Rolling Stone.
Before unexpectedly dying in his sleep, the musician was happily promoting Live on Breeze Hill, released in September 1999, and laying down tracks for a disc issued posthumously as Times Like These.
Though the end came too soon, it was peaceful, says Caffin, who spoke to him the day before. Despite earlier troubles -- including a 1997 conviction for smuggling heroin into Japan -- Danko's death had nothing to do with drugs. "His heart just gave out."
He is survived by his wife, Elizabeth Danko and children Justin and Lisa, both now in their 30s. Another son, Eli, died in 1989 at age 19.
On Aug. 4, "Rick will be there with us in spirit," says Terry Danko, noting his brother would have been tickled by the tribute. "He would have been thrilled by any acknowledgement from his hometown."
'We're celebrating the music'
Terry Danko will return to his roots on Aug. 4
It's good to be back in the spotlight, says Terry Danko, who is back playing bass after a few years off stage. The Simcoe native has had his own success in the music biz, starting out with Ronnie Hawkins just like his big brother Rick Danko -- famed member of The Band. But when Hawkins' flight was halted by health problems, Danko decided to take his own hiatus and ended up exploring another side of his artistic personality.
Asked by a friend to help out, he ended up joining the Toronto Zoo, designing exhibits for some of the animals' habitats. What was supposed to be a temporary post has turned into a permanent career for the 57-year-old, who started there in 1999. Currently, he works in purchasing, securing everything from ammunition to nuts and bolts for what essentially is a city unto itself.
"I thought I'd never find anything I love as much as music," Danko says in a telephone interview from home in the Toronto area. "I really enjoy this."
Raised by Tom and Leola on a tobacco farm in Green's Corners, he'll return to his roots on Aug. 4 for a tribute concert in memory of his brother, who died in 1999. As part of a reunited Bearfoot, Danko will perform with Jim Atkinson and Hugh Brockie on guitar, Ray Harrison on keyboard, Orin Baird on horns and drummer Dean Atkinson.
They'll do some original Bearfoot tunes and a few hits from The Band. But don't expect to feel like you've stepped back in time.
"We're not 18 any more and you can hear that in the music," he says. "We're not striving to make it sound like that era. We're celebrating the music."
After landing his first professional job at age 12 -- performing on the radio station in Tillsonburg -- Danko, like his brother, started playing in bands as a teenager.
He remembers drawing packed crowds to Turkey Point with the Newport Trio before moving out to Montreal to play one summer "and having more fun than a 17-year-old should have."
Six Nights a Week
After some time on the circuit, he came home to form Tin Pan Alley with longtime collaborator Atkinson. They spent several months hunkered down at Turkey Point, writing songs and rehearsing before opening downstairs at the Graham Bell Hotel in Brantford. "We ended up packing that place six nights a week," says the bassist, who was picked up there by The Hawk.
After learning the ropes from the rockabilly rogue, Danko and Atkinson left to form their own group, which eventually became Bearfoot and put out a couple of records for Columbia in the early 1970s.
By 1974, Danko had taken off for California to become one of the most respected studio musicians in the biz, laying down tracks for big-name British rockers such as Pete Townsend and Eric Clapton.
Then he hooked up with his brother for a while, playing huge shows along with Gary Busey (of the Buddy Holly biopic fame) and renowned blues man Paul Butterfield. "We were an all-star band," recalls Danko, describing soldout New Year's Eve shows at the Roxy in L.A. "It was a lot of fun. When we had to stop, nobody really wanted to."
After releasing a solo album, Danko was sidelined by a 1983 car accident, which left him with serious head injuries.
As part of his recovery, he began to play music again with Atkinson. Back came Hawkins, and what was supposed to be a short stint with The Hawk turned into 15 years of touring, including gigs in Poland, regular visits to Scandinavia and a memorable performance when the Wall came down in Berlin.
"We travelled the world non-stop at that point."
Hawkins' more recent health woes brought a welcome hiatus for Danko, who used the time to get back in touch with his roots as a painter and poet. The creative resurgence also sparked a welcome revival of Bearfoot.
"My life is changing one more time," he muses. "I didn't feel good about music for a while, but now I'm sitting down to play four or five hours a night."
Now Playing
What: A Rick Danko tribute concert, featuring performances by Bearfoot, Professor Louie and The Cromatix, Duane Rutter, The Shoeshine Boys Blues Band, and a slide show presented by former bandmate Glen Silverthorn

When: Aug. 4, 8 p.m.

Where: Simcoe Composite School Auditorium

Tickets: $25 in advance, $30 at the door. Call 519- 426-6655
---
[History] [Members] [Library] [Discography] [Videography] [Filmography] [Pictures] [Audio Files] [Video Clips] [Tape Archive] [Concerts] [Related Artists] [Merchandise] [Guestbook] [Chat Room] [Search] [What's New?] [Main Page]
Webmaster