Midnight Ramble
September 24, 2005

---
by Clark Tucker, Dallas, TX
Review from "The Band Guestbook", 10.03.2005.
All photos by Paul La Raia.
Photos copyright © Levon Helm Studios 2005.
---
By the time I got to Woodstock I had traveled better than 2200 miles on crowded airline flights with a connection in Chicago. Landing at Newark, I rented a car and drove north for what was to be one of the best weekends of my life. The Catskills are beautiful this time of year with a slight chill in the night that lets you know that winter is not far over the horizon. Arriving a few days early I did some sightseeing, looking for Big Pink and checking out the Hamlet of Woodstock for the first time. Coming from Dallas Texas it was refreshing to breathe the sweet mountain air.
Saturday I made the trip up to 160 Plochmann Lane to Levon Helm's beautiful hideaway home and studio. Right away I felt at home; like, for the moment, this was where I was supposed to be. Helping me feel right at home was Levon's staff, Barbara, Tony, Brandon and all of the rest. Everyone was busy making ready for the coming evening.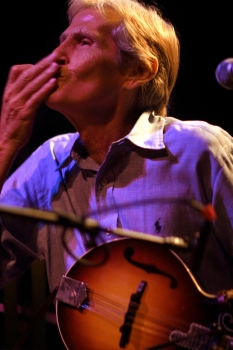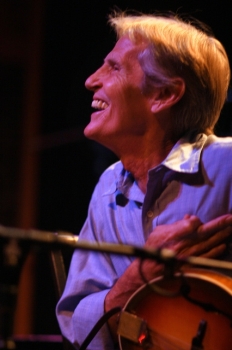 Levon Helm, Midnight Ramble 09.24.2005
I was privileged to meet and converse with Levon for a few moments. He is every bit the gentleman that everyone has talked about and then some. With just his smile he made me feel like I was his best friend in the whole world. He asked if I had a good trip and was I comfortable there at his home. We then conversed briefly about a mutual friend and then he was off to finish his preparations for the Ramble.
If you have never visited Levon's home and studio, you are in for a treat. Set back about 200 yards from the road on a beautiful wooded lot, Levon's tin roof home sits on a small hill on the property with a nice lake just down the hill from the house. Once you see it you understand right away why Levon planted his roots in this place. The home is built with finely hewed lumber (put together with wooden pegs) and local blue stone. The inside of the studio is beautiful with a large fireplace at one end and a comfortable loft up above the stage area at the other. The loft area also doubles as the studio's engineering area with the mixing console for the house system and recording gear.
For the Ramble I sat in the upper stage left loft. At this vantage point I could look right down onto the stage area with Levon's drum kit facing me. Earlier, when I was talking to Levon, he pointed up to the exact spot I was occupying and said 'That's the best seat in the house'. So, I took him up on it. He was right! To my left there was a picture of Rick and Richard, looking down on the Ramble stage. When I saw that picture I felt that the spirits of Rick and Richard were in the house. Of course, wherever Levon is, I believe their spirits are right with him. The magic of the night proved that fact.
That magic started with the music of Ollabelle. Like her father, when Amy Helm walks into a room, the room lights up with a welcoming love that you feel in your soul. Her smile, also like her father's, lets you know you are loved no matter who you are.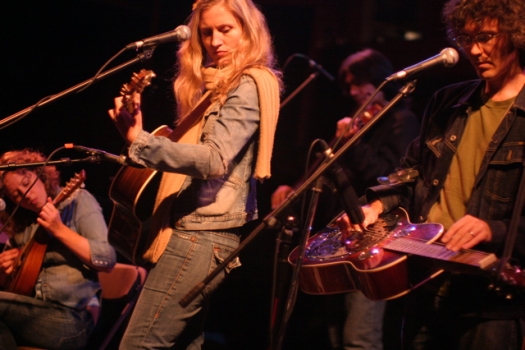 Amy Helm (left) with Ollabelle, Midnight Ramble 09.24.2005
Ollabelle's music was spiritual and soulful. I get the same feeling with their music as I do listening to the Dixie Hummingbirds. The musicianship is precision. Amy's harmonies with Fiona McBain are like listening to angels sing.
When Amy cradled her mandolin she reminded me of Levon who cradles his in the same ways, bringing back lots of Band memories for me. Larry Campbell rounded out Ollabelle with his own professionalism on guitar, violin, and mandolin.
Ida was up next. Consisting of mostly female musicians, save the piano, steel guitar and guitar player; Ida provided a very tasty fare of what I would call eclectic blues. Being a drummer myself I was impressed by Ida's female drummer who provided a nice touch to each and every song, and I told her so afterward. There was also a hand pump piano used on a song or two that was quite impressive.
On stage next was Kate Taylor with the Taylor Brown Trio. Kate proved her versatility by swinging on a country tune and later rocking the house while Taylor Brown wailed away on lead guitar, a fine musician in his own right. What impressed me the most was Kate and Taylor's haunting a cappella rendition of Harriet Tubbman. Kate and the Trio defiantly pleased, and left the crowd wanting more.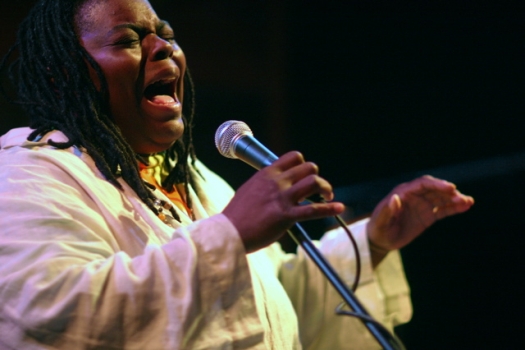 Alexis P. Suter, Midnight Ramble 09.24.2005
And more is what we got when Alexis P. Suter hit the stage. What can you say about this dynamic performer? You really have to experience her first hand to know what I really want to say. She can really belt out the blues in her almost baritone to brilliant tenor voice. Once you have heard her sing, you really get an education on what R&B and Soul is suppose to be. Her band of professionals pounded out the blues giving Alexis the freedom to soar. Bringing down the house would be weak in describing how Alexis finished her act. You have to see her to believe her.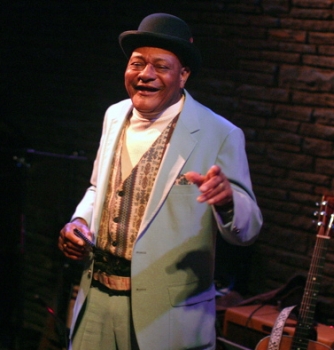 Little Sammy Davis, Midnight Ramble 09.24.2005
The focal point of the evening of course is the Levon Helm Band with Little Sammy Davis and Larry Campbell. Starting out on mandolin, Levon hit the ground running with Evangeline accompanied by Teresa Campbell (Larry's beautiful wife). Included in the Levon on mandolin portion of the show was my favorite 'Don't Ya Tell Henry'. Later Levon got behind the drum kit and it was wall to wall blues at its best. With Little Sammy singing the blues and blowing harp, Mike Merritt on electric upright bass, Brian Mitchell on piano, Larry Campbell's smooth blues guitar, and a smoking horn section with Steven Bernstein and Erik Lawrence; the combination of these great talents made it a musical evening to be remembered by all. By far the best musical talent that I have heard in one night, under one roof. Levon's voice is strong and well healed. Hearing him sing again made me feel that all was right with the world again.
The evening was not over yet. The folks who left after the Levon Helm Band played missed a real treat. 'The Jam' was great! Levon and Sammy and part of the band came back and jammed with local New York area talent. Kate Taylor even came back and sang one. A featured artist in the Jam was a young man by the name of Bill Perry, a hard working bluesman whose vocals blew me away.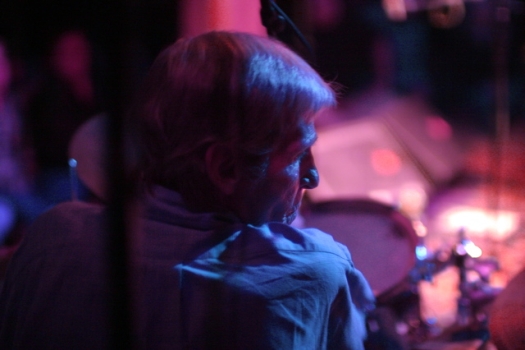 Levon Helm, Midnight Ramble 09.24.2005
The best thing to me about the Jam was the fact that I sat no less than five feet away from Levon as he played. Hovering over his kit like a man possessed, Levon was pounding out the backbeat for each and every song, chewing gum to the beat (Hey Ridley, could you spare a stick or two?). Levon works very hard behind the drum kit, providing a variety of blues shuffles that are unique for every song. I have been playing drums for 30+ years and I have never seen anyone lay down the backbeat in quite the way that Levon did that night. Someone asked him afterward why he concentrated so much of his playing on the snare drum. His answer was quite simple. He said 'because that is where the backbeat lives'. A point every drummer understands but the majority of us will never be able to deliver it quite like Levon, he is one of a kind. The Jam concluded about 2 am and then Levon took the time to tell most everyone goodbye. By that time it was 2:30 am and the day had ended.
For me, coming from Texas, the Ramble was an $800 investment (plane tickets, motel, rental car, meals etc.). But it was the best $800 I have ever spent. I could have sat at home and watched Volumes 1 & 2, but I would have missed the magic that IS the Midnight Ramble. Levon has done very well in providing a place where musicians can practice their art, plus allow the public to witness that art in motion. In his book 'This Wheels On Fire' Levon described the carnival atmosphere surrounding the old time F.S. Wolcott's Rabbits Foot Minstrels shows in the 40's & 50's. Somehow Levon and his staff have been able to recreate that atmosphere in a very unique way. I realized when I was watching Levon play that there is almost 7 decades of music history in the soul of that man and how lucky I was to be a witness to more of that history in the making.
So Ramble on Levon! Thank you for all that you have contributed to my life, and to the music world.
---
[History] [Members] [Library] [Discography] [Videography] [Filmography] [Pictures] [Audio Files] [Video Clips] [Tape Archive] [Concerts] [Related Artists] [Merchandise] [Guestbook] [Chat Room] [Search] [What's New?] [Main Page]
Webmaster