Cause for Celebration
---
This article first appeared as the featured story in the on-line music magazine Hudson Valley Music, July 1999. Copyright &copy 1999 Tuned-In, Haven James. Reprinted with permission.
---
Event:
Levon Helm Blues Band
Where:
Bearsville Theater,
Bearsville, NY (679-4406)
When:
Fri, July 2-- Sat, July 3 [1999]


Chris O'Leary, Levon Helm
Bearsville nights with Levon Helm have always been very special, the "Waltz" has continued through the years bringing Woodstock a number of occasions the likes of which only happen here. Coming up this weekend, the rockets' red glare of the Independence Day celebration will illuminate the Bearsville Theater both Friday and Saturday nights with a brilliant cascade of talent that may very well take your breath away.
The evenings are billed as the Levon Helm Blues Band featuring Phoebe Snow, Mindy Jostyn, Amy Helm and many more. This is one case where you may want to take note of the more. Not only is Levon introducing a brand new band on at least one night (and very possibly both), the concert(s) will feature a very special guest making a very rare Woodstock appearance: Donald Fagan is set to join Levon and Phoebe to do some songs. Exactly which tunes they'll do and how many is still under discussion as this entire venture came together very quickly over the past two-and-a-half weeks. At the same time, however, the level of excitement expressed by everyone involved in the production is so intense that it is a lock that these will be "Woodstock nights" not to be missed.
Townsfolk who remember the Legion Benefit and its more recent follow-up concert already have a clue as what to expect from these holiday shows. Different from The Band tours, Helm has a soft spot for assembling a posse of hot R&B and blues players and just letting things rip. There's almost a party-jam atmosphere to these events as rarely-seen friends pour out of their hide-a-way homes in the mountains and descend en masse to the hamlet up the flats. It is this sort of inspiration that kindled the fuse for the Bearsville Theater 4th of July Weekend Bash.
Veteran music producer and member of the extended Helm family (as in mother of Amy Helm) Libby Titus (now Libby Fagan) re-tells the spark for the upcoming events: "Levon was saying how good it would be if he did one of his shows that he likes to do with his new blues band. He [recently] found a really hot, tight, incredible blues band in Poughkeepsie."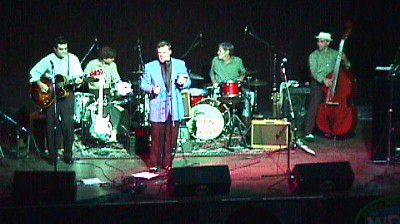 (left to right) Pat O'Shea, Mike Cervano, Chris O'Leary, Levon Helm, Frank Ingrao

Libby's husband, Donald Fagan, heard them playing together and reported to her, "Levon sounds like he's playing in the Last Waltz, his drumming is incredible, his power and his delicacy, and his touch, his tone is incredible...." Together with Bearsville's Sally Grossman and additional members of the "family," they decided to go for it and do this weekend double-header.

Libby got to work coordinating the project. She's recruited Jimmy Divino to host as musical director. Phoebe will bring her ace guitarist Roger Butterly. Amy Helm will sing and Mindy Jostyn, who plays almost everything, will add her many voices. The new blues band is composed of Pat O'Shea on guitar, Frank Ingrao on bass, Chris O'Leary blows harmonica, Mike Cervano plays percussion, and of course, Levon will be primarily playing drums although he usually covers a lot of bases. The "new" band is as-yet unnamed and there's talk of a name-that-band contest, too.

It will be "a blue-themed evening," says Phoebe. She's worked with all the key players involved before except Levon, and is looking forward to the event, expressing a sentiment many others repeated verbatim: "[I] think he's a genius."

Addressing concerns many have had lately regarding Levon's recent illness, Libby confirmed, "Lee is back, health-wise he's a new man. I've never seen [such] a transformation... his spirit blazes. He's got that all back." Praise be, more cause for celebration.

These concerts may prove to be a pilot for a continuing series, presenting Levon and his core band and then featuring special guest artists appearing with them over the coming months. Libby produced a similar venture at the Lonestar in Manhattan with Donald, Phoebe and Mindy called the Rock and Soul Reviews, which eventually led to a tour and an album. A lot of names are in the hopper for future shows, and they, too, will stun you so let's hope.

The details for the weekend concerts are: July 2 and 3, doors open at 9, shows are at 10 p.m. Tickets are $20 and available in advance by phone with VISA/MC by calling 679-4406, or at Rhythms Records or the Golden Notebook in Woodstock, Abrams Music in Uptown Kingston, or at Rhino Records in New Paltz.

Catch Werewolves on the Web for links to related info and updates. This will truly be a power-packed presentation so get your reservations early.
---
Haven James has been a consistent contributor to the Music & Arts scene around the Hudson Valley and beyond for almost a decade through his column, Werewolves of Woodstock, published weekly in the
Woodstock Times
A writer, musician, philanthropist, and Mac addict; he lives reclusively, high atop Overlook Mountain with his son and a menagerie of animals, both wild and domesticated. Though currently unmarried, rumors abound as to his intimate relationships with Madonna, Sandra Bernhardt, and Eli Bach; though he insists these notions to be pure hearsay. His identity has remained a mystery to all but the closest of friends as he often travels in disguise and appears unannounced and undercover at concerts and venues in a dedicated effort to get the real story.
Go to the Werewolves of Woodstock page for more articles by Haven James.
Haven James can be contacted at werewolves@netstep.net
Posted on July 1st, 1999
---
[History] [Members] [Library] [Discography] [Videography] [Filmography] [Pictures] [Audio Files] [Video Clips] [Tape Archive] [Concerts] [Related Artists] [Merchandise] [Guestbook] [Chat Room] [Search] [What's New?] [Main Page]
Webmaster