Rick Danko - Times Like These
---
Review from CoraZong Records, 2003.
---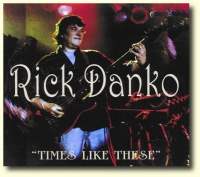 Rick Danko: Times Like These, Woodstock Records, 2002.

"It's only my humble opinion, but you have to be a great musician before you can sing like that (Rick Danko)."
--Eric Clapton

"I think Rick was one of the greatest and most soulful singers I've ever heard."
--Robbie Robertson

"Rick's voice was, and unbelievably still is, the watermark for an entire modern music generation."
--Jonathan Donahue, Mercury Rev

There's a memorable scene in Martin Scorsese's Last Waltz when the director asks The Band's vocalist & bassist Rick Danko what he's going to do now they're gone. Slowly the camera focuses on Danko and registers his sad, stoned reaction. From behind the mixing desk he mumbles something about making music and keeping busy before pulling his hat over his eyes and losing himself completely in cinematic shadow. A tape rolls and after a slow picked intro his familiar voice soars. The song in question is "Sip The Wine", a lovely ballad that was also included in his first solo record. A newly recorded version has been added to his last album Times Like These, now officially released in Europe by CoraZong Records.

"All Our Past Times" also on Times Like These is connected with The Last Waltz too, be it as part of Eric Clapton's guest spot in The Band's farewell party, of which the film is considered to be the best concert movie ever made. Rick Danko wrote this song together with Clapton when The Band was based at Malibu and operating from their clubhouse / studio Shangri-La. Eric put it on his No Reason To Cry album. Here Rick performs a grand vocal to a version that retains a country feel to the album. Great dobro guitar and mandolin from Jim Weider, guitar player in the 90's line up of The Band.

Times Like These is the last solo album Rick Danko, lead singer and bass player of The Band made. All members of the 90's line-up of The Band are present. Sadly Rick passed away on December 10, 1999. "Experts" are inclined to under-appreciate Danko's later work, opting instead for some sepia-toned memories of the Ontario woodchopper's son amidst his original band colleagues in the 60s and 70s -- but that is only part of the story of a 40-year career. Danko's voice, while remaining the distinctly mournful instrument of his youth, mellowed to equal parts milk and whiskey. Here a less urgent and wiser artist wraps his pipes around his signature tune "This Wheel?s On Fire" (a co-write with Bob Dylan), which is drawn out on both ends by elegant instrumental passages. This version of the song is a fitting coda to Danko's life, lingered over lovingly and masterfully by the Crowmatix with Band cohort Garth Hudson, a veritable one-man Fellini soundtrack on accordion. "Let The Four Winds Blow", a Fats Domino cover, recorded live with Levon Helm on harmonica and longtime Danko / Band associate Professor "Louie" Hurwitz on piano.

And a cover of The Grateful Dead's "Ripple" - with Hudson and Helm once again making appearances - is delivered with the rustic charm of a back porch session (albeit a highly skilled one). "Change Is Good" is another original song co-written by Danko, with Rick's brother Terry Danko on bass and Joe Walsh on guitar and piano. The song was intended for a solo album on Elektra Records, which never saw the light of day. Sam Cooke was one of Rick's big influences and those lucky enough to have seen Danko solo shows will fondly remember him performing Cooke's "Chain Gang". Garth Hudson can be heard on saxophone in the final verse. Danko and his friend singer/songwriter Tom Pacheco wrote "You Can Go Home Again", a ballad about the refugees the world over. Sredni Vollmer's harmonica throughout the song is both haunting and sublime. It is fair to say that if Rick had not passed away before this album was finished "Book Faded Brown" would probably not have been included due to its inclusion on The Band's "best kept secret" Jubilation. But the track clearly meant a lot to Rick as he had it in his pocket since 1993. This version was recorded in Michigan for (radio show) Acoustic Café on December 6, 1999 accompanied by Professor "Louie" Hurwitz.

It would be Rick's last live performance. The recording has been enriched with a lovely backing vocal from Maud Hudson, Garth's wife. Bass and drums were also added to the track. "Let The Four Winds Blow", mentioned before, was recorded as same session. The album closes with "People Of Conscience", lyrically and musically an absolute stunning song, that Tom Pacheco may have written especially for Danko. Rick sings the song with great passion. Pacheco is on backing vocals. Garth Hudson and Tom Malone's horns are all over this song from beginning to end. ?"efending the defenseless"... "From Texas prisons to California Redwoods." A tribute to environmentalists and those who fight political injustice everywhere. Also a fitting finale of the last album of a great musician.

---
[History] [Members] [Library] [Discography] [Videography] [Filmography] [Pictures] [Audio Files] [Video Clips] [Tape Archive] [Concerts] [Related Artists] [Merchandise] [Guestbook] [Chat Room] [Search] [What's New?] [Main Page]
Webmaster