Robbie Robertson Interview:
"I've always looked for some kind of brotherhood"
"The Band was one, but also 'Marty' Scorsese"

---
by Gijsbert Kamer
Originally published in Dutch in deVolksrant, 08.20.2020
Translated by Imar Koutchoukali
---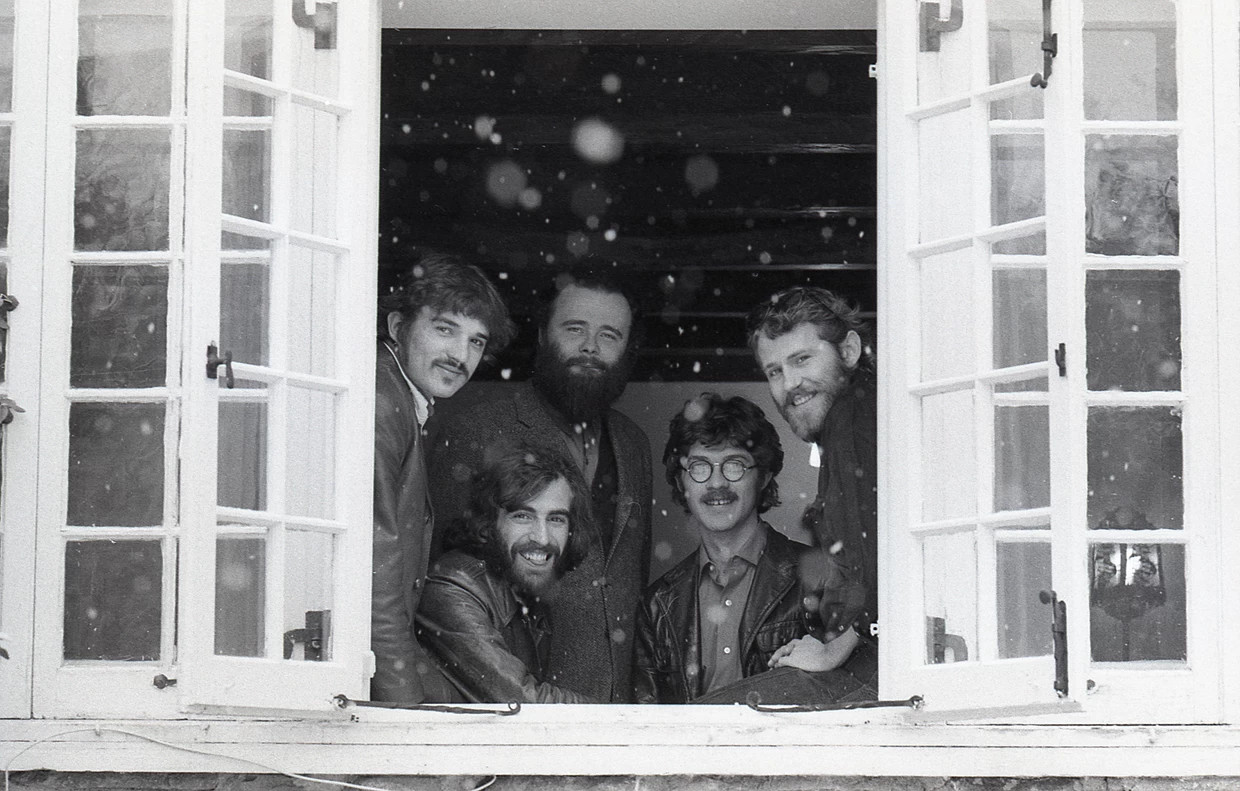 The Band in Once Were Brothers, with Robbie Robertson second from right. Photo by David Gahr.

The documentary Once Were Brothers tells the story of The Band, according to guitarist Robbie Robertson. Gijsbert Kamer spoke with the Canadian about the "brotherhood" that fell apart, as well as his cooperation with Martin Scorcese.

ow, I'm jealous of you guys!' Robbie Robertson (77) enthusiastically shouts, when hearing the news that visiting cinemas is possible in the Netherlands. 'Here in the US everything's been locked down for months. I've retread to Maine, on the East Coast, and have enough work to do, but I haven't seen a cinema from the inside for months.'

Robertson would have liked coming to the Netherlands to watch the screen, when, starting next week, the documentary Once Were Brothers will be presented. The film tells his side of the story about The Band, one of the most influential rock bands in pop history, for which Robertson played guitar and wrote most of the songs.

'I was 33 when The Band ceased to exist, and I still had my entire life in front of me. But those years together with the boys, between the 1960s and 1976, will never let me go.' Regardless, he believes that with his autobiography Testimony (2016), and this movie, the definite story has now been written.

The movie is about four Canadians (Robbie Robertson, Richard Manuel, Rick Danko and Garth Hudson), and an American (Levon Helm), who under the wing of an old rockabilly (Ronnie Hawkins) learn the trade of rock-and-roll, run into Bob Dylan, electrify his folk music and, partially with him, develop a new musical style in Woodstock. Country, folk, rock and roll and blues developed into its own genre, which gets its depth from Robertson's strong, movie-like lyrics.

They're not just fantastic instrumentalists: Helm (drums), Manuel (piano) and Danko (bass guitar) are also blessed with extraordinary singing voices, which, either in solo or unison, give you goosebumps. The two first Band albums, Music from Big Pink (1968) and The Band (1969) are considered rock classics and are often named as precursors to the genre we call 'Americana'. With the third album Stage Fright (1970), the group's chemistry began to dissolve.

'We were using way too many drugs and alcohol', Robertson confesses. 'But I've always stayed away from heroin. The rest, sadly, didn't.'

Their success remained, but Robertson is done dragging everyone along with him. 'We'd have a meeting and nobody would show up, because they were busy sleeping off their hangovers. I was done with all that.'

After a few years of increasing frustrations Robertson came with the idea to organize a tentative final concert, and to have it recorded by the best director and film crew.

This resulted in the iconic movie The Last Waltz, directed by Martin Scorcese. His name also shows up in the credits of Once Were Brothers, as one of the "executive producers". 'But he joined pretty late, you know', says Robertson, who has been friends with Scorcese (77) for 45 years and calls him 'Marty'.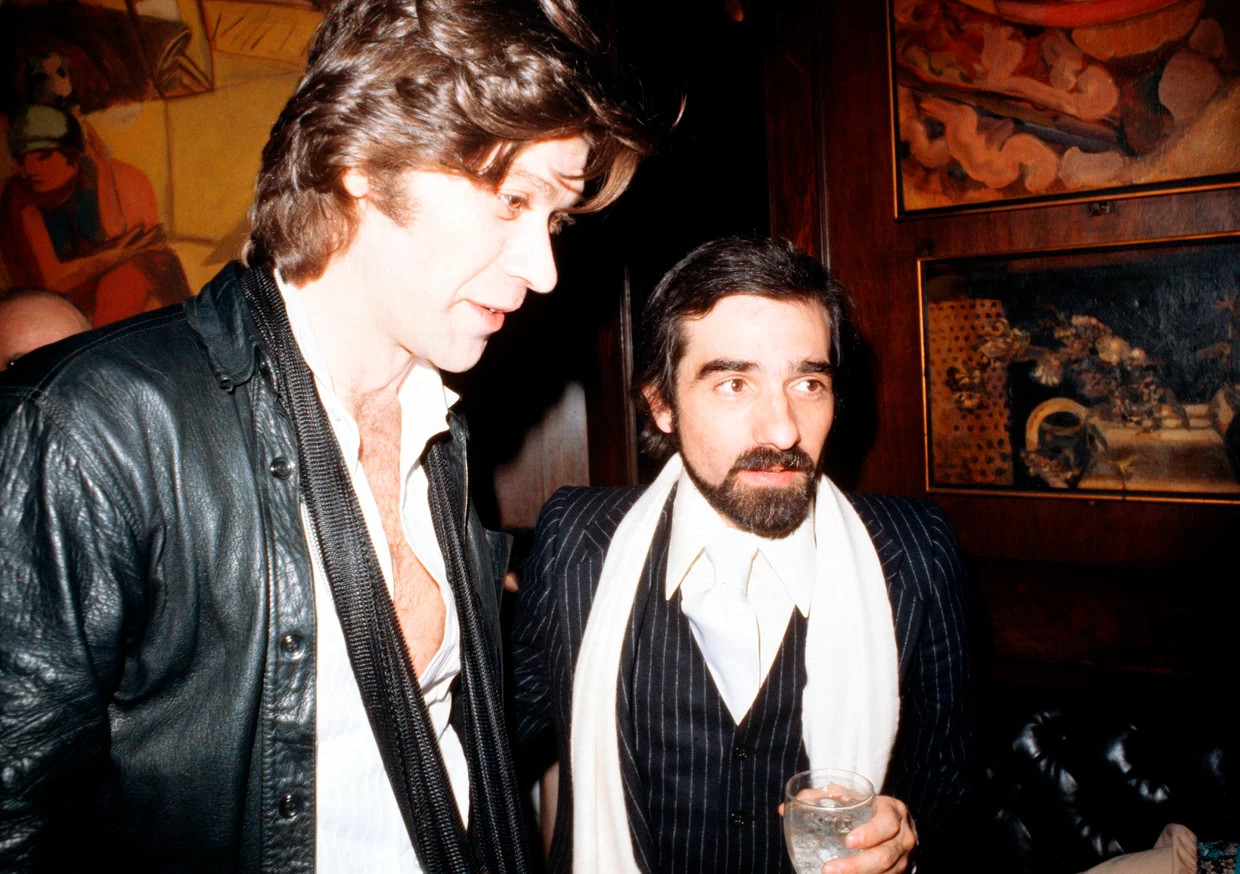 Robbie Robertson (left) and Martin Scorsese in 1978. Photo Getty.
'We interviewed Marty for this movie when we were working on the music of his movie The Irishman. I wouldn't be involved with the content of Once Were Brothers, just tell my story. But I showed up regardless, and I was pretty curious as to what he thought of the film. So I proposed a viewing: director Daniel Roher, a young guy who hugely looked up to Marty, was okay with him looking at the material he'd already shot.
Scorcese was impressed, but had some advice regardless. Emotional scenes should get more room. And there were quite a few of them, said Robertson. The end, which includes the death of Levon (in 2012, ed.) is a good example of such.'
Robertson is still torn, he says on the phone, by the fact that Levon Helm, whom he considered a brother, turned away from him. 'Levon pulled me into the world of rock and roll. For years we had been soulmates, until the dope ruined everything. It turned Levon paranoid, he accused me of stealing his writing credits and kept talking about it to his death.
The matter of credits is also shortly discussed in the movie, but the producers of Once Were Brothers make it very clear: Robertson wrote the majority of the songs; the royalties were shared with everyone's agreement.
'Up to this day Levon's fans accuse me of theft. We never really reconciled. But I visited him when he was sick. When I arrived, he was already unconscious. I held his hand and said: "I'll see you on the other side".
There is a silence on the other side of the phone. 'In my book I wasn't really capable of talking about my emotions. This movie makes it a lot clearer, thanks to the music and direction, that I very deeply cared about Levon. I am an only child and have always looked for brotherhoods. The Band was one, but Marty, too, has become like a brother to me.'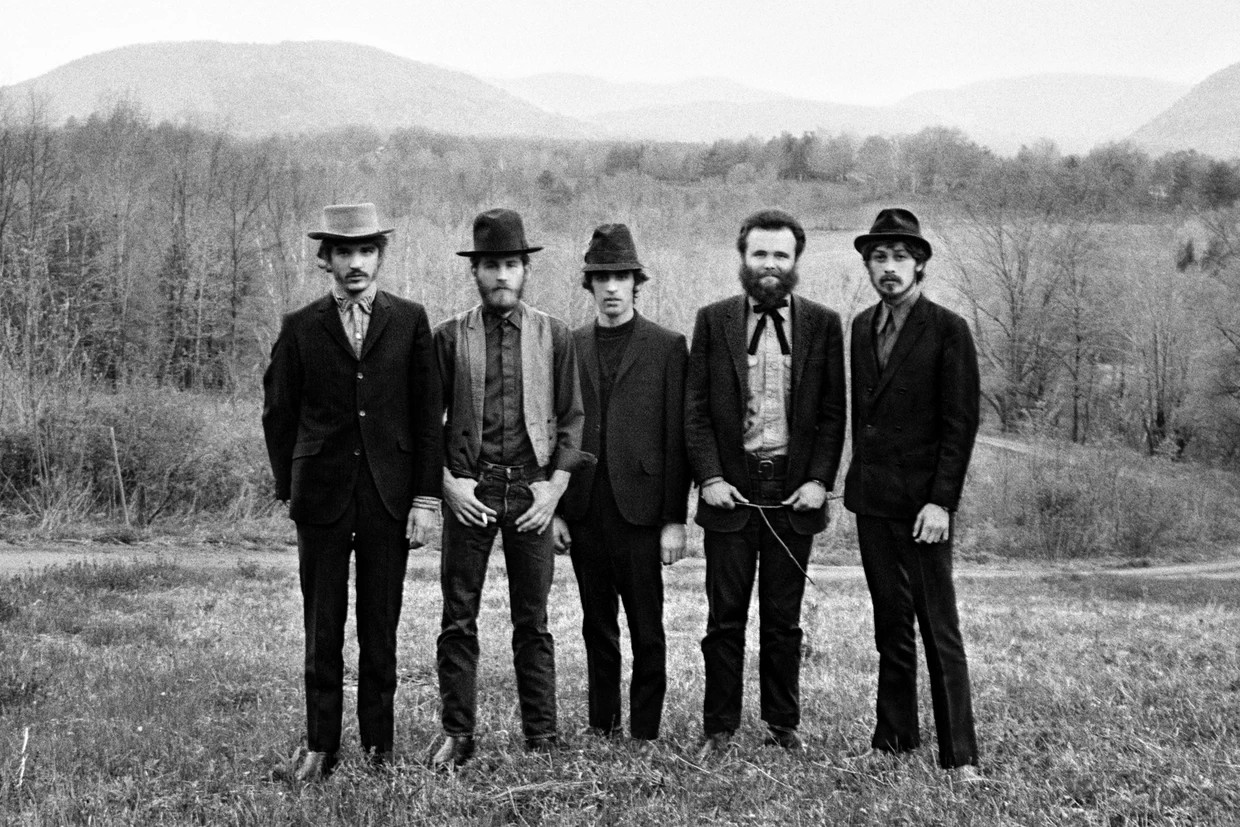 The Band in 1968, from left: Rick Danko, Levon Helm, Richard Manuel, Garth Hudson and Robbie Robertson. Photo by Elliott Landy
Scorcese and Robertson met in 1973, thanks to Jonathan Taplin (73), The Band's tour manager. 'Jonathan and I talked about films, but I didn't know he had ambitions in the movie industry. One day in 1972 he admitted he was sick of babysitting Rick, Richard and Levon all day. They were so deep in drugs they'd forgotten all appointments.'
'I remember laughing at him: "yeah, right, movie producer". But a year later he called me up: "Robbie, I produced a movie, Mean Streets, with a couple of young guys, Robert De Niro and Harvey Keitel. I'd like to show it to you, because the director, Martin Scorcese, enjoys the same kind of music as you."
Robertson went to take a look and was deeply impressed: 'The way Marty worked pop music into the score, I'd never seen anything like it. We talked for hours about the Rolling Stones, Bob Dylan, and songs like "Be My Baby".
When Robertson had the idea of The Last Waltz a few years later, he knew exactly who to call. Scorcese had become a celebrated director thanks to Taxi Driver and was on the top of his list. 'There was just one problem: Marty was working on another movie, New York, New York. And if there's one thing movie investors hate, it's directors who have gigs on the side'.
When Scorcese saw who was playing that San Francisco night in 1976, apart from The Band – Eric Clapton, Joni Mitchell, Muddy Waters – he agreed anyway. In full secrecy Scorcese and his crew slipped to San Francisco and recorded The Last Waltz, the documentary which is still known as one of the very best music films ever.
Robertson: 'I didn't mean for it to be a final concert. My idea was that we'd do something else for a few year, and then get back together with fresh ideas to make some of the best rock and roll. Except nobody came back'.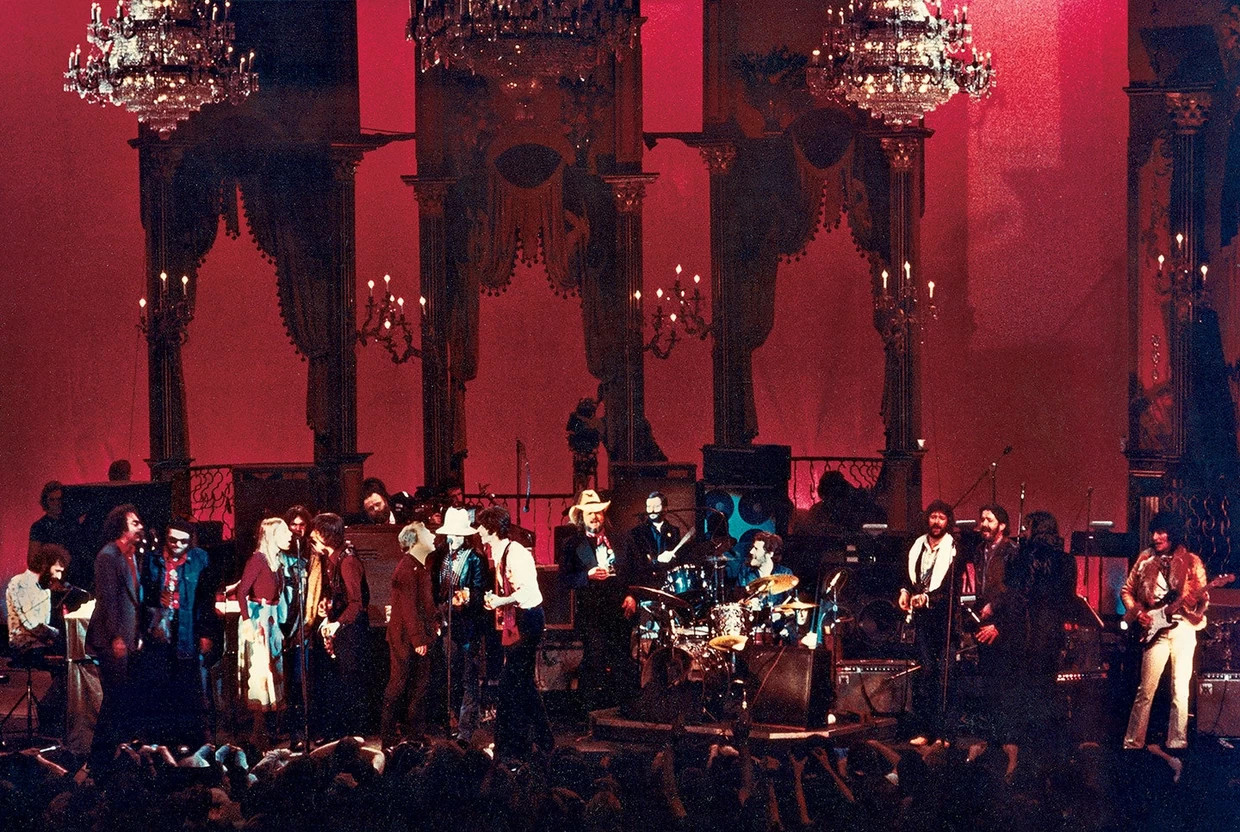 The Last Waltz.
The movie and the book end, apart from Helm's death, effectively in 1976. Richard Manuel's (1986) and Rick Danko's (2000) deaths are not discussed at all. Three of five Band members have passed, apart from Robbie Robertson only organ player Garth Hudson (83) survives. Despite that, Once Were Brothers does not feature him.
'I know they tried, twice, with a whole film crew to get him to give his side of the story, but his health wouldn't allow it. You have to maintain some respect for a person, otherwise it wouldn't accurately portray him'.
'It's too bad. We never did anything between the five of us afterwards. I thought it was very sad that the rest kept playing without me as a kind of cover band. Me, I'd already been involved in a lot of different things: after The Last Waltz Marty dragged me into the movie business. I got to do the music for Raging Bull (1980), and he liked that a lot. Since then, he's always asked me when he's got an idea for a movie.
Casino (1995), Gangs of New York (2002), The Wolf of Wall Street (2013) and The Irishman (2019), are all Scorcese films with Robbie Robertson's movie, who still considers himself more rocker than composer. 'I think Marty likes that about me. He can get anyone to compose fantastic movie music for a big orchestra. But he'd rather sit at the table with me and talk about rock and roll. I have an elephant memory when it comes to good pop and rock songs. We are the same age and have the same taste. Together we make a list of songs, I compose some music with that, instrumental rock numbers. Marty likes that'.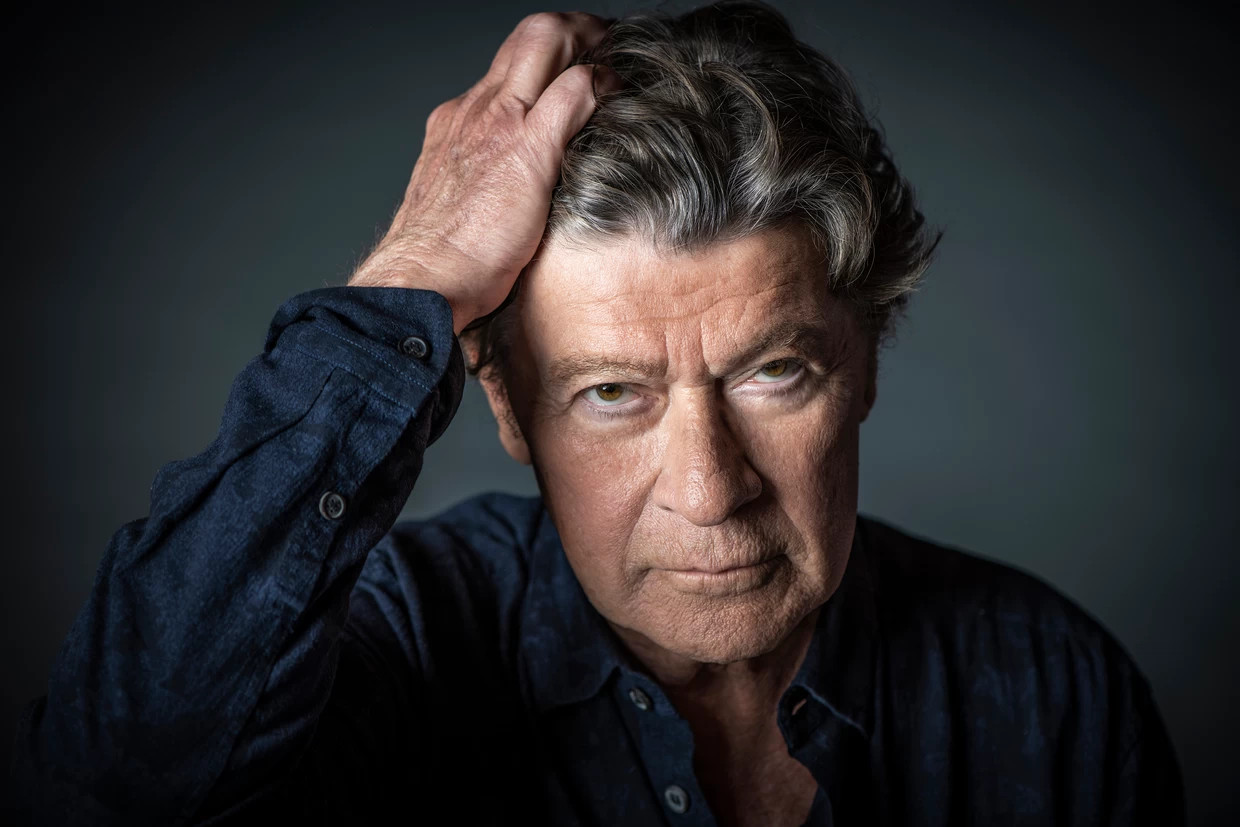 Photo by Don Dixon.
If not for corona, then the duo would now have been finishing Killers of the Flower Moon, Scorcese's most recent movie. 'I have to see some takes first before I get an idea for the music. I have no idea when that's gonna be possible'.
And so Robertson spends his time doing other stuff, like the second part of his autobiography, which should be done at the end of this year. He is also working on an anniversary edition of the third Band album Stage Fright (1970) and after this interview will have a Zoom meeting with a scenario writer about a future film on The Band. 'No documentary but drama. I really hope I still get to see its release.'
Not that he really doubts that, because he feels as right as rain. 'I don't really think about growing older and the limitations that come with it. We don't do that.'
Who does he mean by 'we'? 'My other brothers: Marty, architect Frank Gehry and of course good old Bob Dylan. All people who aren't just extraordinarily good at what they do, but at their advanced age are still capable of producing their best work. 'I've been lapping at their greatness for decennia. We might not be the youngest brotherhood, but we're still capable of doing stuff.'
Once Were Brothers will be in cinemas starting August 20th.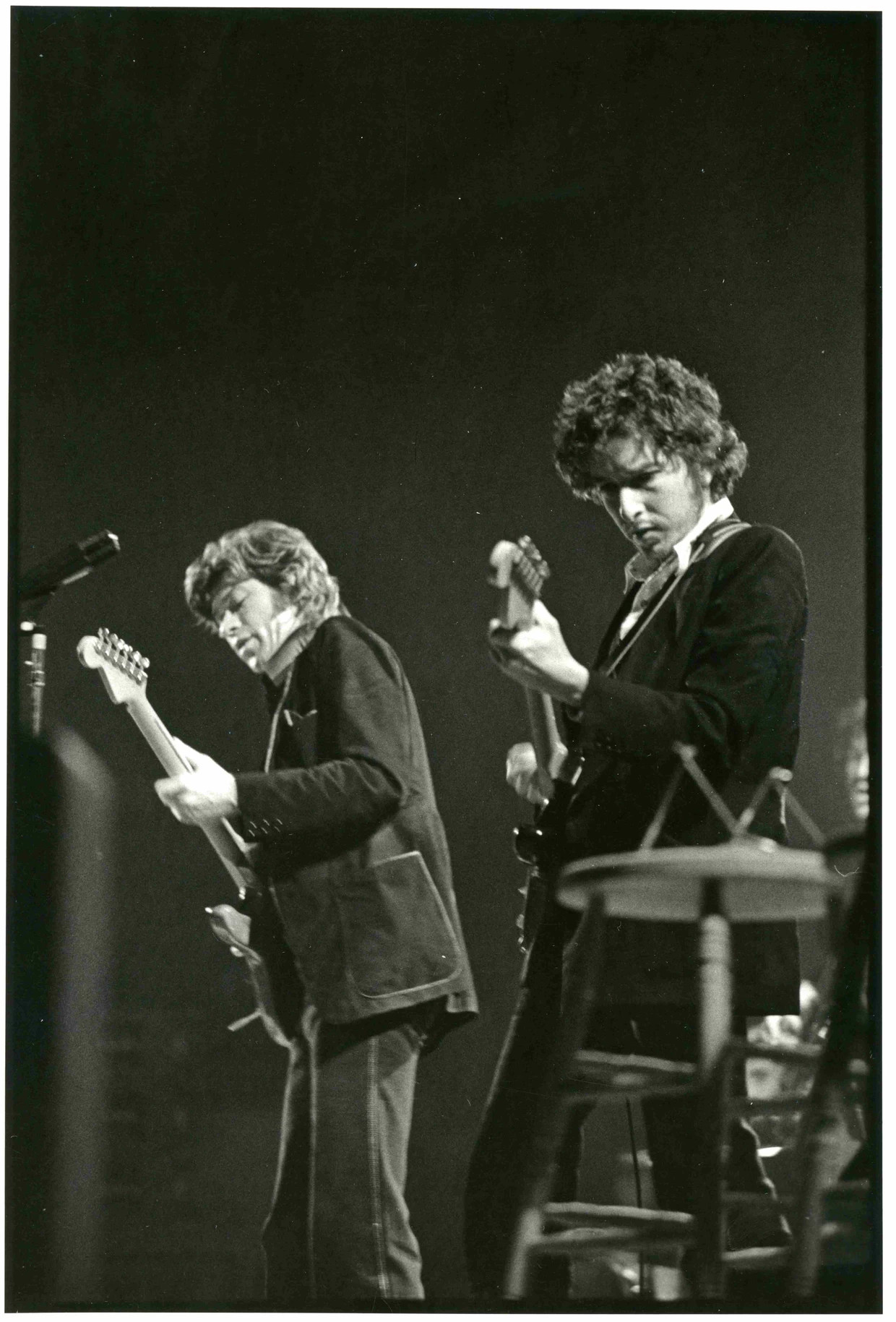 Bob Dylan (right) and Robbie Robertson, archive photo in Once Were Brothers. Photo by Barry Feinstein
SOLO RECORDS
Although his film work was given priority, Robbie Robertson has always continued to make solo records after The Band's demise. Sometimes that resulted in a hit, like "Somewhere Down the Crazy River" in 1987, but often the albums quickly disappeared from view. His most recent album Sinematic was also in danger of drifting into oblivion, but still contains three pieces that have surfaced elsewhere. The song Once Were Brothers returns in the documentary of the same name and Robertson used two other songs in the music for Scorsese's film The Irishman (2019).
---
[History] [Members] [Library] [Discography] [Videography] [Filmography] [Pictures] [Audio Files] [Video Clips] [Tape Archive] [Concerts] [Related Artists] [Merchandise] [Guestbook] [Chat Room] [Search] [What's New?] [Main Page]
Webmaster