A Wonderful New Group
---
by Tony Glover
From Eye magazine, issue 7, November 1968. The article is significant in that it's one of the earliest, and it's written by Tony Glover, a blues musician from "Koerner, Ray and Glover" (Elektra Records), with Elliott Landy photos. The article is copyrighted, please do not copy or redistribute.
---
A wonderful new group.
A group without a name.
The next super group?
Just five guys who want to make good, lovin' music.
After jamming for a year
with Bob Dylan, they've put together a first album
called Music from
Big Pink.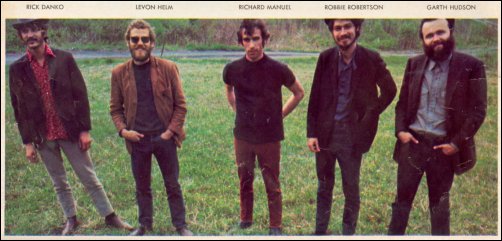 The Band, 1968. Photo copyright © Elliott Landy. All rights reserved.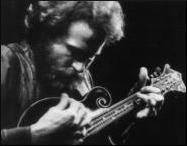 Levon
From West Helena, Arkansas, Levon Helm, drummer, is the group's only native American. He talks in a slow Southern drawl which is as soft as the suedes he likes to wear. He had a group in high school called the Jungle Bush Beaters, but now is a hang-around-the-house person.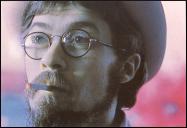 Robbie
A quiet and serious guitarist from Toronto, Robbie Robertson is the only one in the band from a big city. He's also the only married man. His wife, Dominique, a French-Canadian journalist from Montreal, met him. while on assignment. Robbie writes too - songs.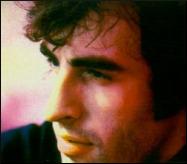 Richard
A pianist who started at nine, quit, and got back to music when he was twelve, Richard Manuel says, "I became a party star, in fact I became a party." He's the most open and talkative of the band. He was the real chef at Big Pink and likes to sip wine.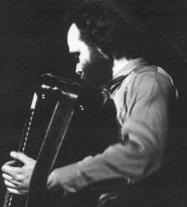 Garth
People claim Garth Hudson a mechanical genius. He's the band's Mr. Fixit, the one who transformed the basement of Big Pink into a studio. Organized and neat, an inventor of weird electronic instruments, a drinker of many cups of coffee, a collector (guns, knives), he used to play organ in his father's funeral parlor.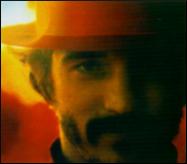 Rick
"I always wanted to go to Nashville to be a cowboy," says Rick Danko, the groups bassist. He likes fires in fireplaces, plays checkers and has a dog named Hamlet who used to belong to Dylan. Hamlet was supposed to purebred but grew up rock 'n' roll shaggy, a shepherd/poodle.

First you have to understand that the distance from New York City to Woodstock is more than two hours of upstate traveling time. It's a distance measured in ways of life.

Woodstock was once known as a summer art colony; lately its fame is that Bob Dylan is alive and well up there in the hills. The place itself is a small country town, but the beauty is in the back roads. Dirt, tree-lined and winding, they weave through the woods slowly, and it takes a while to realize that there are houses hidden among the trees. Birds sing, dogs bark, and it's peaceful - the air is even good enough to breathe.

Near Woodstock is West Saugerties in the Overlook Mountains, and there sits a large, ugly, pink-shingled house, known as Big Pink. It was in the basement there that Bob Dylan and a band once known as the Hawks worked up some of the songs you've heard lately: Manfred Mann's "Mighty Quinn," The Byrds' "You Ain't Going Nowhere" and Julie Driscoll's "Wheels on Fire," to name a few. And, it was also in this basement that the band (lowercase on purpose) conceived and created a new LP that is one of the most talked about in months.

The men who made that album grew up with music, first country and western, and then rock. They had sifted through various bands and ended up working as the Hawks with Ronnie Hawkins, Canada's king of rockabilly, before they met Dylan. Robbie Robertson, lead guitar, Richard Manuel, piano, Garth Hudson, organ, and Rick Danko, bass, all come from Canada. Drummer Levon Helm from West Helena, Arkansas, is the only native American. Average age is twenty-four or twenty-five.

So there was Ronnie Hawkins, who had three million-selling singles, and the Hawks. Robbie recalls, "There were only three kinds of rock in those days: Rhythm 'n' blues, corny white rock and rockabilly. We played rockabilly." They shared bills with people like Conway Twitty, Carl Perkins, Jerry Lee Lewis and Little Richard. "We'd been into it long enough to know," Robbie remembers. "There was no fooling around, we were out for blood - we played hard, fast and heavy." They toured together for three years in the United States and Canada. Top pay was one hundred and fifty dollars a week per man.

But in time the four felt they had to do their own thing, so they became the Hawks on their own and went off to play the back-town club circuit in the southern United States. The music was a cross between r'n'b and rock, and the gigs were as far-flung as Molasses, Texas, and Timmins, Canada, a mining town about 100 miles from the tree line. There was a time when the band had to steal from supermarkets to survive. "We played such far-out places I couldn't even begin to tell you about them," Robbie says. "We played places that were 85 percent Oklahoma Indian. We played places where the people didn't come to hear you, they came to mess with you. They'd flick cigarette butts at you, throw coins at you, steal your things, and if you got past that, then they'd listen to you."

Things got so funky that they found themselves working in a gangster club in Fort Worth, Texas, that had been bombed, gassed, burned and robbed so many times that nobody even bothered to lock it up at night anymore. "We had to wear guns and take turns staying through the night to guard our equipment," Robbie remembers. "One night the police came bursting in with dogs. The dogs nearly got us, we nearly got them. The next night somebody shot off a tear-gas bomb. It stunk up the place for four days. People would come in and start crying."

In the spring of 1965, the band went to Levon's hometown in Arkansas and spent some time jamming with Sonny Boy Williamson, the great blues singer and harpist. Sonny Boy had just come back from a successful tour in England to obscurity here in the States. Sonny Boy, who was then seventy, had tuberculosis and as he played would stop to spit blood into a can. Robbie tells of days spent playing music and drinking white lightning, which Sonny Boy could down at an amazing rate.

"He was really beautiful," Robbie says. "He made some. great records, but they were nowhere as good as the music he could play in just a little room. He really dug us, we really dug him. Then the cops ran us out of town; they couldn't understand what we were up to. Sonny Boy wanted us to tour with him. It was all set - then we got a letter saying he had died. It was really a shame; his time to make it big was on the verge of happening."

Shortly after, part of the band (Rick, Levon and Robbie) worked on a recording session for Vanguard Records backing John Hammond, one of the best of the white blues singers: It was an all-star session, also including the then-fledgling guitarist Mike Bloomfield on piano, and Charlie Musselwhite on mouth-harp. Vanguard didn't do such a hot recording job, but the music is hard and heavy Chicago blues, and the record, called So Many Roads, is a classic of its kind.

In late summer of 1965, the Hawks were playing at a resort near Atlantic City when they got a call from the office of Bob Dylan, whom they'd barely heard of then. "We weren't listening to the radio much," Robbie explains. "But he'd heard of us somehow, maybe through Ian and Sylvia, maybe John Hammond, I'm not really sure. Even though he hadn't heard us perform he wanted us to come and play a gig with him at the Hollywood Bowl. I was flabbergasted, but I figured, why not? So Levon and I went, later the others came in. We jammed with Bob a lot. It was more than just songs, it was a whole dynamic experience. Dylan brought us into a whole new thing, and I guess he's gotten something from us."

About a month after joining Dylan, Robbie ran into John Hammond. John asked Robbie if he'd like to do some sessions with him. Robbie, who was hanging out with Bill Wyman and Brian Jones of the Stones, said sure, and Wyman asked if he could come along. The result was Hammond's album, I Can't Tell, later released by Atlantic. Robbie played lead, Rick Danko and Wyman traded off on bass. From September of 1965 till May of 1966 the band worked almost constantly with Dylan (Robbie can be heard on Blonde on Blonde), touring first in the States, then Europe and Australia. It was hard in many ways because Dylan was, at that point, just getting into performing with a band, and many of the people who came to the concerts wanted Dylan to remain what they thought he was supposed to be: a folk singer, period. So when the band came on, they would boo.

I first met Robbie when Dylan's tour brought him to Minneapolis. Bob invited me to come down and see him. My book on blues mouthharp had just come out, so I brought him a copy. Inside was a full-page photo of my idol, Sonny Boy. Robbie saw it and we started talking. Later I asked him how he felt about the booing. "Doesn't really matter much," he said. "We're just playing the best music we know how-that other stuff is their problem."

After the European tour, the band was exhausted and took six months off. Then, in August, Bob broke his neck in a motorcycle accident. After his recovery the band moved to the Woodstock area. "It was time to rest," Robbie says. "We didn't listen to the radio for a year - just music that didn't try to force anything on you, music you didn't have to listen to, like opera, classical." The only project the band undertook was a sound track with Tiny Tim for a film that Peter Yarrow (of Peter, Paul and Mary) was making- You Are What You Eat.

At Woodstock the band settled into a routine, working with Bob six days a week at Big Pink. Out of those sessions came the songs he's written since the accident, and eventually his return to the concert stage, with the band. The occasion was the Carnegie Hall tribute to Woody Guthrie in February of '68. Also from these sessions came the present album.

When I was in New York this summer to record, I phoned Robbie. He told me some of the history of the album. "Bob had been wanting us to record for a coupIe of years," Robbie said. "But until now we hadn't felt the time was right. Then things worked out, so we told Albert [Grossman] we were ready." "He let record companies know, and Capitol came up with the grooviest offer."

"By the way, one thing I'd like to clear up - we have no name for the group. We're not interested in doing record promotion or going on the Johnny Carson show to plug the LP. Capitol said they had to have a name, so off the top of our heads we said `the Crackers.' They said, `great'-until a few months later when they thought about it a bit. But the name of the group is our Christian names. The only reason the LP is by 'the band' is so that they can file it in record stores. And also, that's the way we're known to our friends and neighbors. Another thing, we're not Bob Dylan's band; he doesn't think of us in that way, neither do we. We all play together because we respect each other and enjoy playing together; it's on a personal level.

"John Simon was the producer, and he asked us how we wanted the record to sound, and we told him, `Just like it did in the basement, we don't want to use any tricks.' See, we don't freak out anymore, that was seven or eight years ago. We wanted the album to be loose and easy. There was a lot of instrument swapping - like I played guitar, zither, drums and piano; everybody took turns. It was a very drunken LP. We had a good time."

The album itself strongly reflects the attitudes of the group; it looks as close to homemade as a commercial product can be. The cover is warm, deceptively childlike painting by Dylan, which Robbie points out can be considered "almost a panorama of the rock 'n' roll scene." Robbie mentioned one other thing: "Bob offered to help us out in any way we wanted: play harp or piano or sing harmony. We thought it over and decided it wasn't right to trade on the name of a famous man, so instead, he painted the cover for us. A very warm, neighborly gift."

Inside is a large color photo titled "Next-of-Kin" which is just that. It was taken at a picnic on Rick's uncle's chicken farm in Ontario. (In the upper corner inset are Levon's parents, who couldn't make the picnic, since they live in Arkansas.)

The album contains original material for the most, including three Dylan songs, two previously unheard. Side one opens with "Tears of Rage, a Dylan-Manuel collaboration (words and music respectively), Manuel is lead vocalist on; this number (everybody in the band sings, there is no steady lead), and the unusual organ sound is accounted for by the fact that Garth plays a Lowery, which has a wider range of effects than most rock organs. A sad song ("Tears of rage, tears of grief/Why must I always be the thief?"), the added instruments are soprano sax played by Garth, and bass horn by John Simon. Next is "To Kingdom Come," a Robertson composition. The lyric of the chorus is very reminiscent of Dylan ("Tarred and feathered, thistled and thorned/One or the other he kindly warned"), but why not? Robbie sings lead. Next is "In a Station," written and sung by Manuel, a very reflective, introspective ballad ("Life seems so little to give... ") beautifully done. "Caledonia Mission" is Robbie's song, lead voice is Rick. The chorus has a beautiful intercut rhythm-riff that really builds. Last is "The Weight," by Robbie, sung by Levon. When we first heard this, all we had was an acetate dub of the record with a blank label. We were convinced it was a Dylan song. That's a compliment. The chorus is a beautiful blending of bluegrass harmonies with rock rhythms.

Side two opens with "We Can Talk," a Manuel composition. An up-tempo ballad, it shows a good ear for American language and thought processes. ("Did you ever milk a cow?" and, "I'd rather be burned in Canada than freeze here in the South.") Next is "Long Black Veil," a traditional type of ballad that brings back nostalgic scenes of people sitting in rooms and singing because it was fun. That low sound is the bass horn played in its lowest register. "Chest Fever" is another of Robbie's works. "It was mostly just a musical riff," Robbie said. "The words were half written out, half improvised. In some ways, it's like a song that wasn't quite finished when it was recorded. That's the only one like that though, on all the others every word is accounted for." Garth's organ is a swelling tide that engulfs you. "Lonesome Suzy" was written and sung by Manuel, a supersad ballad. "This Wheel's on Fire" is a Dylan-Danko piece (words and music again). That weird little sound is Garth's invention. He hooked up a telegraph key to a cheap toy like organ called the Rocksachord and tapped it at appropriate times. You all know the song well enough so I needn't say more, except that the chorus is one of the most perfect pieces of musical construction that I've heard. The album closes with "I Shall Be Released," a Dylan number. The windlike sounds are Garth playing organ with one hand, manipulating .the stops with the other. The song itself is one of the nicest Dylan numbers and has a country-hymnlike feel to it.

All in all, Music from Big Pink is quite a change from the heavy rock-blues sound the group had in their touring days. Robbie says it best: "You're up here in the mountains and you fell like you can look down on New York City. The music we play now - it's mountain music, because this place where we are - it is the mountains." Homemade music, made by musicians who play what they want to with little regard for the trends of the "scene."

As to the future, Robbie says, "We're not out to hustle or get all involved in the music business end of it. We just want to play music. We're sort of waiting for the music scene to straighten itself out, which it will; then maybe we can tour again. Maybe like a show, with Bob and the band. When people are ready to listen, we'll be ready to play."

Judging from the enthusiastic response to the record, both inside and outside of the business, that time may not be too far off.

People, get ready.

---
[History] [Members] [Library] [Discography] [Videography] [Filmography] [Pictures] [Audio Files] [Video Clips] [Tape Archive] [Concerts] [Related Artists] [Merchandise] [Guestbook] [Chat Room] [Search] [What's New?] [Main Page]
Webmaster