The Faithful Servant
---
by Mark T. Gould
This article first appeared in Sound Waves magazine, Vol. 11, No. 4, January 2000. Reprinted with permission. Copyright © 2000 Sound Waves, Mark T. Gould. You are not allowed to reprint or redistribute this article for commercial purposes.
---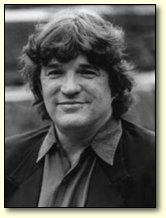 Rick Danko
Itís all small town talk ... you know how people are...
-- Rick Danko, 1978
Somehow, for those with the gift, we tend to overlook their frailties and weaknesses. So long as they share the gift, we seemingly look the other way.
And, Rick Danko certainly shared his gift-a love for music and a song, which he could, no matter what was going on his personal life, no matter what demons he may have been fighting, he delivered with that beautiful combination of happy playing and heartfelt, soulful and soul-deep, singing and performing.
Man, that singing.
I probably saw Danko perform live eight or 10 times over the past 25 years, first as a member of the original Band, then as a duet with Levon Helm, and onto the reformed Band of the 1980s and 1990s, as well as several solo performances, as well as hearing tapes of shows far too numerous to mention. Never, not once, did I ever hear him give even a mediocre performance, never mind a bad one.
Not a bad track record for that Canadian farmerís son.
I remember the first time I saw the Band live. It was with Bob Dylan on his comeback tour in 1974. It was January 31, and I took a bus from Hartford to New York City, with a friend who also loved the group. While most of the audience at Madison Square Garden was clearly there to see Dylan-not that there was anything wrong with that!-we were there to see the Band.
They wisely opened together with about six songs, and Dylan naturally received a conquering heroís welcome. As the bard left the stage, the Band members huddled in the middle of the stage, with lights low, waiting for the tumult to cease. I will never forget what happened next. They hit the opening bars of "Stage Fright," the light coming across Danko, as he did that little "hop and skip" method of strumming his bass, and his strode to the microphone and sang "deep in the heart of a lonely kid ... "
Blew me away. Still does, almost 26 years later.
With seconds, the Band-which was so tight you canít even discuss it-won over the crowd and got as big an ovation as Dylan. It was an amazing performance, and I will never forget how Danko stood there, grinning, as the song ended and the crowd cheered.
Over the years, thatís how it was with any time I saw him on stage. I remember seeing him with Helm at a nightclub in Portland, Oregon in 1980. They came on about two hours late, and it was clear draw as to who was more out there due to the delay-the perfumeries or the audience. Yet, you could hear a pin drop, both on stage and off, when Rick sang "It Makes No Difference." It put a lump in my throat every time I heard him sing that song, on record or live.
A few years later, I saw the Bandís first New York concert, at the Beacon Theatre, in over seven years. Danko, naturally, was the first one to bound onto the stage, gingerly holding his acoustic guitar and grinning again. There were some face-busting smiles in the audience that night as the crowd played off his obvious enthusiasm for being back on stage with his old friends.
As the Band regrouped and rededicated itself both to recording and to its live audience, Danko did appear to have some personal issues affecting him as this decade drew on. He was clearly gaining a good deal of weight, and his drug bust in Japan in 1996 did not bode well for either his freedom or his health. But, when he came on stage, grinning-naturally- and gesturing to a wildly cheering audience to play with Dylan at the Oakdale Theatre in Wallingford in August 1997 in his first concert appearance since his return from Japan, he looked robust, healthy, and most importantly, sounded wonderful. He harmonized with Dylan on "Wheelís on Fire," and "I Shall be Released," and it was pure magic all over again.
Creatively, he was seeming to peak again earlier this year, with the release of "Live at Breeze Hill," an album chock full of new arrangements and reinvigorated and revitalized singing of Band and personal chestnuts. Hell, heíd been singing some of these songs for 30 years, but he somehow was making them sound fresh all over again. The future seemed to bode well.
Two days after a show in Michigan, he went home to his beloved Woodstock area, which he called home for some three decades, to celebrate his birthday, and probably to bask in the glory of what his career was still showing.
On Friday morning, December 10, I got a call in my office from a friend who was close to the group. He said simply "Danko died." Frankly, given what I had read and heard about his health in recent months, it did not surprise me. Yet, I kind of think and hope that it happened with that warm grin on his face.
Yet, in a funny sense, all that did not matter. The Canadian farm boy had indeed reached his fortune and fame, and, since that day, we-and him-werenít the same.
---
[History] [Members] [Library] [Discography] [Videography] [Filmography] [Pictures] [Audio Files] [Video Clips] [Tape Archive] [Concerts] [Related Artists] [Merchandise] [Guestbook] [Chat Room] [Search] [What's New?] [Main Page]
Webmaster