Genetically Speaking
Garth Hudson steps into the pianistic limelight
---
by Brian Hollander
From The Woodstock Times, March 6, 2003.
Article copyright © 2003 Brian Hollander/Woodstock Times. All rights reserved.
Photos copyright © 2003 Dion August/Woodstock Times. All rights reserved.
---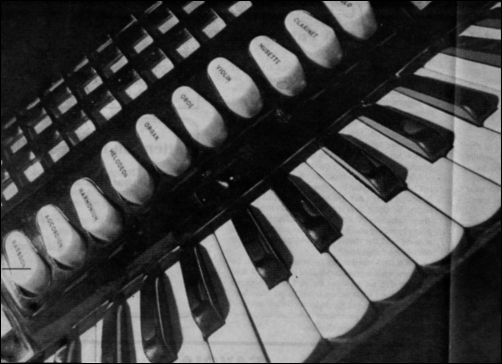 Photo by Dion August
You used to hear Garth Hudson play solo only at a point in the Band's shows as an extended introduction to the classic song "Chest Fever." The multi-instrumentalist best known as the organ player in that group, would crank up his Lowry and for ten minutes or so spin a wildly colorful, literate, hypnotic improvisation he called The Genetic Method.
"I was reading a book that described the various ways of gathering information about ancient and folk music and one of the methods of looking at a tradition coming from ancient times was called, in this book, the genetic method," says Hudson in his gentle, gruff voice. "There are apparently other ways of looking at it, and I don't know what they are because I left the book somewhere. I think I lost it in the Malibu fire in California. A copy of that book will show up again."
Hudson will again employ the (lower case) genetic method, as he begins what could be a new career, or a new phase of a long, varied musical journey when he brings a show to the Colony Café (8 p.m. or thereabouts, Saturday, March 8, $25 general admission, $20 for seniors and students) in which he will be the lone instrumentalist. Hudson's wife Maud, who has performed with Albert Collins, Paul Butterfield, Dr. John, Clifford Scott, and Geoff Muldaur, will provide vocals during the evening, but, as only once before, the emphasis will be on the musical breadth and prowess of an extraordinarily powerful and equally facile keyboard artist.
Hudson will perform on the Colony's grand piano, which he lauds.
"I think I'll bring a couple of electronic modules along. It'll be mainly piano but I like to work from both together," he says. "And when I play a job I like to have two keyboards, three would be ideal. It's nice to have the main keyboard in front, one on the left and the other on top, so it's like an organ."
The format of the evening, with his keyboard playing in the forefront, has been long awaited by fans in the area who have been more used to seeing Hudson play rock and roll, first in the Band, and later, after the death of compatriot Rick Danko signaled the end of the road for that group, with ensembles like Professor Louie and the Crowmatix.
"I have been preparing to (play solo) for twenty or thirty years or forty," says Hudson now 65. "Only recently a couple of challenges have come up. One was the South Canada Blues Society invited me to Windsor Ontario to hear their Boogie Woogie Christmas show, that was now a year ago. I was all ready to go and play one number and so I caught my finger in the car door and it might have healed up if I hadn't kept working on my left hand, first finger of the left hand. And so I kept at it and it got inflamed, so I just told them no, and I passed on it. But it was in preparation that I began to think seriously about it. And I began to arrange little pieces... little piano pieces...assembled piano arrangements."
The first of the gigs took place several months ago in Canada after Maud took on the duties of manager and publicist. "Maud and I played and sang in London, Ontario at the opening of the Wolf Performance Hall in the new public library there. That was very nice," he says. "The hall is brand new and we recorded it. It was recorded very well by pianist, producer Lance Anderson, and friends from Toronto." He says a CD of the performance is being readied for release. "In the following summer (2002) they presented me with a very special lifetime achievement award."
And after a lifetime as a rollicking rock and roller, Hudson is ready to call this performance "jazz."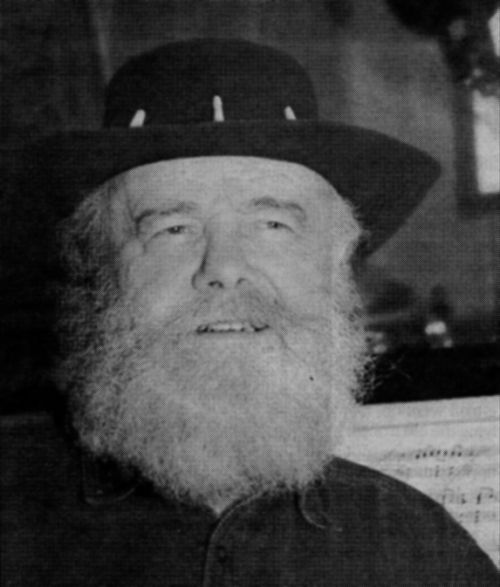 Photo by Dion August
"A lot of it is improvised," he says. "But I think throughout, in every section, in every little musical episode you will hear familiar melodies and styles, of course. Melodies that almost, to me, speak, and not necessarily anything to do with the words of the songs from which I would extract them. But there will be basic songs and variations."
Earlier hints of Hudson's solo piano style have shown jazz stylings, a rollicking Tatum-esque facility; some Monk-like spacing, some barrelhouse left-handed New Orleans stride, wrapped into a unique sensibility that spans Eastern European folk traditions, polka, heaps of the blues and an Ellingtonian elegance.
A wisp of the beauty of his solo playing is available on Hudson's first solo album Sea to the North, on the CD's final piece "Little Island."
"I'll be playing solo piano in Toronto on jazz and blues pieces at a great jazz club, The Top O' the Senator," says Hudson, who will also continue his career in other musical forms. "Maud has defined these four areas for the various concert promoters we've talked with. We can do, and will do, each style of music.
"I just returned from France and Holland and Zurich where I played with Burrito Deluxe and Sneaky Pete Kleinow, (steel guitar), who I haven't seen in ten years now. I like to go on stage with whoever is playing and stay with that musical language. So I don't include any bebop licks in my country projects. I definitely came out of rock and roll and blues and gospel. Probably London at the opening of the library was the first jazz performance that I have done since 1957, where I used to play in what they would call a London, Ontario Coffeehouse. Also Levon (Band-mate, drummer Levon Helm) and I are recording with the Dixie Hummingbirds for their 75th jubilee anniversary."
He also mentions a group that will be called Garth Hudson and A Different Band, featuring Maud, that will come up in the summer for festivals.
"We have Marty Grebb (Buckinghams, Chicago, Bonnie Raitt 20 yrs, B.B. King, Etta James),sax, he plays everything. Woodstock's own Ted Ors (Karl Berger, Jack de Johnette, Swollen Monkeys, George Clinton),guitar, Reggie McBride (RCO Allstars, James Brown, Rare Eaeth, Stevie Wonder, Elton John) on bass, and Garry Mallaber (Van Morrison, Steve Miller, Bruce Springsteen, Jackson Browne) on drums."
Hudson says the Colony performance won't be recorded - officially.
"It's always fascinating to me, even just plugging a cassette player into the board and get lucky and come home with a real nice sounding tape," he says. " It has happened with the house sound and house board with a little cassette or DAT. All in all, I think we'll be at it an hour and three quarters or two."
Plenty of time to sate the anxious listeners.++
Brian Hollander
---
[History] [Members] [Library] [Discography] [Videography] [Filmography] [Pictures] [Audio Files] [Video Clips] [Tape Archive] [Concerts] [Related Artists] [Merchandise] [Guestbook] [Chat Room] [Search] [What's New?] [Main Page]
Webmaster