A Haunting Suicide Silences the Sweet Soulful Voice of The Band's Richard Manuel
---
by Steve Dougherty
From People magazine, March 2006.
The text is copyrighted, please do not copy or redistribute.
---

Manuel was a Baptist, but his funeral was held in his town's larger Presbyterian church. The minister said, "God understands." Photo by John Collier.
It seemed like the old magic was back. The Cheek to Cheek lounge, an upscale Art Deco nightclub in suburban Winter Park, Fla., outside Orlando, was packed to capacity. Fans who had paid $18 a ticket leapt to their feet and sang along with The Band as it tore through the second of two 90-minute sets of its classics .. like The Weight, The Night They Drove Old Dixie Down, Up on Cripple Creek and Rag Mama Rag.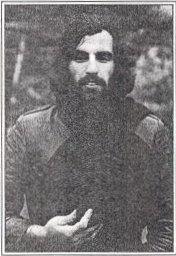 Richard Manuel, 1970. Photo by David Gahr.

A seminal rock'n'roll force in the '60s and '70s, The Band had regrouped for this tour after having disbanded in 1976. And when Band pianist Richard Manuel, known in his native Canada as "the white Ray Charles," brought the house down with his heart-cracking rendition of Georgia, the audience went bonkers. One fan said that Manuel, a dark-bearded man with a nose so prominent friends always called him "the Beak," played "beautifully" but looked "very tight and gaunt."

Band drummer and film star Levon Helm later told police that his friend of nearly 25 years had been in an upbeat mood. He said that backstage "everything was optimistic. We had played a good show for good and intelligent people. Talk was of the next show. That's what we were all living for."

For some reason -- a reason that even his wife and closest friends don't understand -- the next show wasn't enough for Manuel. After the performance, he stopped by Helm's room at the nearby Quality Inn, where they were staying. Helm told police that Manuel "was not depressed; he was not mad. He sat on the edge of my bed and talked about songs and people. Around 2:30 he went back to his room. I thought he was coming back. That's the last I saw him."

Arlie, 33, Manuel's wife, told police that he woke her up when he came home later that night. "He was all pissed off about something," she said, and mentioned that he had complained about the quality of the piano earlier that evening. "I said, 'Honey, just come to bed with me.'" Manuel lay down on the bed with his clothes on, and Arlie went back to sleep.

Manuel went into the bathroom and, according to the autopsy report, sometime between 2:30 and 3:30 a.m. slipped the end of a plain black belt through the buckle and around his neck. He looped the other end of the belt twice around the shower curtain rod and tucked the loose end under. Then, police say, he simply sat down hard. The force of his drop bent the rod and caused a mounting screw to pop.

Arlie Manuel told police she woke on the morning of Tuesday, March 4, to find herself alone in the motel bedroom. Thinking Manuel was on the group's tour bus, she said she dressed, went out to the Bojangle's fast-food restaurant and returned with a take-out order. Sobbing as she recounted the events to the police, Arlie said, "I went to the bathroom, and there he was." She started screaming. Helm, the Band bassist Rick Danko and his wife, Elizabeth Grafton, rushed to Manuel's room. Helm told the police, "It took us five minutes to get him down from there. It just drained me." They lay manuel on the bed and Elizabeth began beating on his chest, but it was no use. Police ruled his death a suicide. There was no note.

Though his friends knew that Manuel had a long history of alcohol and drug abuse, they felt things were looking up for Richard. He had been composing music lately and was working on a new album with The Band. Manuel had entered a detoxification program years earlier. His wife remembers the exact date - Aug. 28, 1978 -- when he quit drinking and drugging. Recently, however, he had apparently fallen back into old habits. Danko told police that he had complained to Manuel about his drinking after the Winter Park concert. The medical examiner's report showed that Manuel was legally drunk the night he died and that he had taken cocaine within the previous 12 to 24 hours. In fact, police found in his room an empty Grand Marnier bottle and a small brown glass "cocaine" bottle with a spoon attached. Did the drugs explain why the man everyone knew as a gifted musician with a gentle, sensitive nature took his own life?

Surely any anxieties The Band's members may have had about the wisdom of reuniting the group had been dispelled by the ecstatic reaction of sold-out audiences on its reunion tour. Maybe the problem was that even 10 years after The Band's famous Last Waltz farewell concert, the road itself hadn't changed. The country-rock group had called it quits after guitarist Robbie Robertson declared touring "a goddamn impossible way of life." The only original Band member to ignore the reunion tour, Robertson had been replaced on guitar by Jim Weider, a young Woodstock, N.Y. musician who proved to have ample sting in his strings to take Robertson's honored place. Helm, Manuel, Danko and organ player Garth Hudson had played together on and off for 24 years, produced 10 LPs and a hit movie (The Last Waltz, directed by Martin Scorses) and in the process left an idelible and lovely mark on rock'n'roll history.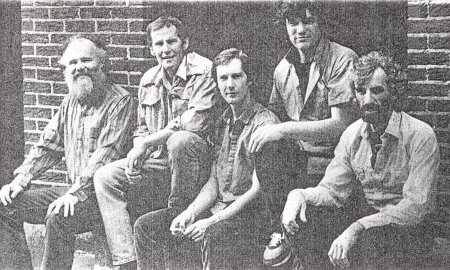 The new Band was (from left) Hudson, Helm, Weider, Danko and Manuel. A group spokesman said the tour may continue as a "tribute" to their pianist. Photo by Elliott Landy.
Funeral services for Manuel, who would have turned 43 on April 3, were held on a cold Sunday afternoon, five days after his death, in a 142-year-old church in the singer's hometown of Stratford, Ontario. His widow, his ex-wife, Jane, and their two children, Paula, 16, and Joshua, 10, three surviving members of The Band, and dozens of relatives and friends attended. Former group leader Robertson, who had agreed to deliver the eulogy, remained home in L.A. with the flu.
Laid out in a closed, gunmetal gray coffin, Manuel was remembered for his music, his engaging smile and even his bad driving. Hudson performed an instrumental version of Bob Dylan's I Shall Be Released, a song that was one of Manuel's favorites, one that he had performed in concert for years. Though the lyrics were included in the program, no one could bring himself to sing the words.
Following the service Danko said he had no idea why Manuel killed himself. "We'd been in the studio recording. We just finished filming in Arkansas (for Country Boy, a movie starring Helm and his Band mates in small parts). We were getting ready to do so much more."
The day Manuel's body was found, Helm told police investigators he had no answers: "I don't know what got crosswise in his mind between leaving the foot of my bed and going into his own bathroom."
--Written by Steve Dougherty, reported by Julie Greenwalt and Sandra Hinson
---
[History] [Members] [Library] [Discography] [Videography] [Filmography] [Pictures] [Audio Files] [Video Clips] [Tape Archive] [Concerts] [Related Artists] [Merchandise] [Guestbook] [Chat Room] [Search] [What's New?] [Main Page]
Webmaster