Hudson/ Fjeld/ Andersen/ Andersen
Drammens Teater, Drammen, Norway, May 18, 2001
---
by Johnny Andreassen
Review from Drammens Tidende, May 21, 2001. Translated from Norwegian. The text is copyrighted, please do not copy or redistribute.
---
Jonas Fjeld was, to use his own words, extraordinarily energetic at the first quartet concert in Drammen Teater on Friday, when Jonas, Eric Andersen and his daughter Sari, all with Rick Danko in their thoughts and souls, gave a more than two hour long performance.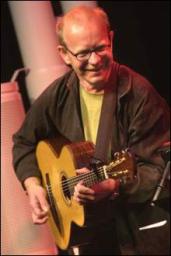 Jonas Fjeld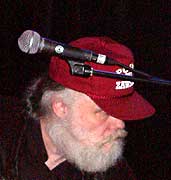 Garth Hudson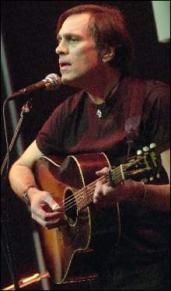 Eric Andersen
Concert: Jonas Fjeld, Garth Hudson, Sari Andersen, Eric Andersen
Location: Glassfoajeen, Drammens Teater
Audience: 300 (sold out)
Rating: 6 (out of 6)
It became a showcase of harmony singing and American soul that moved everyone familiar with The Band.
Jonas opened the proceedings with Frozen North. Another song that should have been on Danko, Fjeld, Andersen's third album. Danko passed away, quick and unexpected, at the end of 1999, and the album was never recorded. More inspired than we have ever seen him, Fjeld continued with an all new version of Skyggemann (Shadowman). That song, and Engler i Snøen (Angels in the Snow), were the only Fjeld songs at the concert. Guitar enthusiasts in the front row was given a little lecture when Fjeld told the story behind his new version of Skyggeman. About different tunings. About G and D strings. He breathed new life into the song.
But the night was dedicated to Danko, Fjeld and Andersen's music from the 1991 debut album, now re-released with a new title, One More Shot. Not many in the audience responded when Sari Andersen asked if they had seen the original trio, but the folks in the back obviously knew the songs and the legacy of Rick Danko. It was a good crowd, lots of warm applaus and the singing up there on the stage is something one is unlikely to experience more than of a few times in life. The hair in my neck stood out when Jonas Fjeld and Eric Andersen sang harmony on the Rick Danko classic It Makes No Difference, with lead vocals by his replacement Sari Andersen. On the 1991 live recording from Molde, included as a bonus disc on One More Shot, Rick sings this song alone. In Drammen Theater it was as if his friends put all their feelings and the longing in their hearts into the harmonies they sang. Pure magic.
Garth Hudson played a very emotional saxophone solo on It Makes No Difference, adding to the tribute to his former Band colleague. There were probably few in the audience that really knew what a great musician he is, as he was sitting anonymously behind Fjeld and two generations of Andersens. To see Garth lean over his keyboards with his bushy beard and big frame, playing like only he can, was to me an experience just as wonderful as hearing the harmonies sung by the three others. Garth never plays the obvious notes, and he gives true meaning to the term musical artist.
In between, fiddler Hallvard T. Bjørgum gave us a slått (traditional Norwegian dance music) from Setesdal, "from the times when air was clean and sex was dirty" as he said, before Domedagsslåtten took us back to 1991 and the trio's brilliant debut.
Sari Andersen filled Rick Danko's role in an excellent way, even if it sounded differently with her soprano voice, and the only little minus I can think of is that they played too many "down" songs. But then again, a little less of the melancholic material and the audience may have gone completely wild. As when Jonas Fjeld, tired but happy, ended the show with When Morning Comes To America.
It's a glass roof over this concert venue. And if it's true that Heaven is somewhere up there, then Rick Danko could probably see it all. I don't think he was pleased with the recreation of the trio's first album, or with Sari's version of his Twilight... I know it.

---
[History] [Members] [Library] [Discography] [Videography] [Filmography] [Pictures] [Audio Files] [Video Clips] [Tape Archive] [Concerts] [Related Artists] [Merchandise] [Guestbook] [Chat Room] [Search] [What's New?] [Main Page]
Webmaster