Garth's Gear - The Classic Years
by Kerrin Worsfold
The work of Garth Hudson has long been a mysterious and largely undocumented chapter. His unique and idiosyncratic voice as an organist elevated The Hawks R&B rhythm section, before enriching the cinematic folk-country-blues-rock of The Band with his considerate and expressive approach. Much of his playing seems to defy transcription, even apparently simple phrases are blurred and unresolved. His legendary solo improvisations drift from one idea to the next like a dream sequence, or as though someone kept fast-forwarding some strange movie soundtrack, skipping through the scenes. The timing, seemingly unhinged, is dragged and drawn out with elegant perfection. This article investigates his equipment choices through The Band's "classic" years. However, it is by no means the final word, and I'd love to hear from anyone who knows something I've missed, especially any ex-Band roadies, studio engineers, repair technicians - anyone who had a closer look at Garth's rig than the rest of us!

-- Kerrin Worsfold, October 2013, worsfoldfamily@gmail.com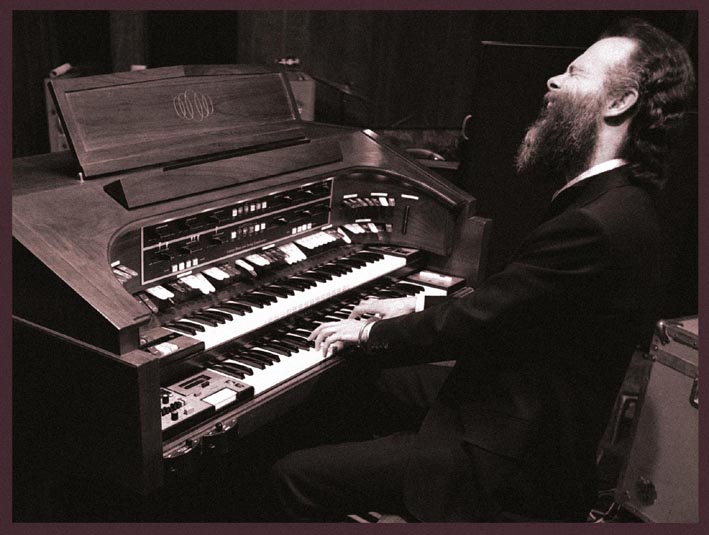 Garth Hudson. Photo copyright © 2002 John Scheele. All rights reserved.
To begin at the beginning: In late 1961, having been pursued by Levon Helm and Ronnie Hawkins for some time, Garth Hudson was playing hard to get. Although asked to join The Hawks as pianist, Garth, feeling he couldn't match the rude power of his hammer-breaking predecessors, and mindful of the low opinion his family held of bar musicians, he coolly told Ronnie he preferred to play organ. Discussing this with his right hand man, Levon Helm, Ronnie decided that Garth had to be secured at any reasonable cost. They finally offered Garth two incentives: a retainer in addition to payment for gigs, hitherto referred to as music teacher wages for the benefit of his parents, and a new Lowrey organ, a model FL (Festival).
The Festival, Lowrey's first full-size console model, was physically influenced by the industry standard Hammond B2/B3 series, whose popularity among jazz and blues performers had as much to do with portability as it had to do with the legendary tonewheel sound - their "four-poster" style cabinets were gutted out, working musicians alternatives to the churchier-looking Hammond C3's and A100's. Portability was still a relative term, though, with a B3 weighing 425 pounds, and the Lowrey FL around 390. A separate external speaker, most commonly a Leslie rotary type, would be substituted for the internal ones.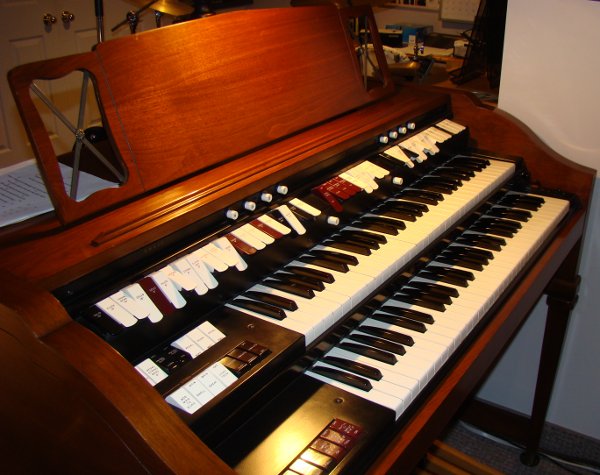 Lowrey Festival FL. Photo by Mike Racioppa.
Although outwardly resembling the B3, Lowrey made no attempt to mimic Hammond's trademark sound, which they regarded as inferior (it was, in terms of its resemblance to a pipe organ) and archaic (Hammonds' technology did have numerous limitations). Lowrey's market was the burgeoning home organ trend - essentially still classical style instruments with a peppering of novelty effects mostly inherited from the glamorous theatre organ "tradition". One of these effects, the exclusive Lowrey "glide" footswitch, particularly appealed to Garth. Originally intended to imitate a Hawaiian guitar or slide trombone, he modified the factory preset so that the organ pitch could be "bent" down a whole tone, rather than just a half-step. His solo in "The Shape I'm In", from The Last Waltz, is an obvious example of this effect, and his future Lowrey's would all have this alteration.
Another interesting feature of these early consoles was the stereo capabilities - Lowrey had separate outputs for upper and lower keyboards, and Garth would later use a separate Leslie speaker for each of these. Starting out he used a Leslie model 45 to the right of the Lowrey, and like all pre-'63 Leslies this was a single speed (fast/off) cabinet. The fast/off sound can be heard on the Hawks early singles, right through to Dylan's performances at the end of their European tour in 1966.
There is an interesting piece of film from around this time which appears in the Authorised Biography video. It shows a clean shaven Garth doodling on an organ during a soundcheck on the '66 tour. Mickey Jones' Ludwig kit is high on its riser, and Rick and Robbie are there, smoking cigarettes. The organ is a Lowrey - but a Lincolnwood SSO, not Garth's Festival. Presumably this is D.A. Pennebaker footage - does anyone know where it could have been taken? Photos also exist of Garth playing a B3 whilst still on the US portion of the tour, so we can conclude the organs were rented for each stop of the Dylan outing.
Following the hyper-intense '66 world tour the Hawks were placed on a retainer by Dylan's manager, Albert Grossman, until rehearsals could begin for more shows. However with Dylan sidelined by his motorcycle incident the Hawks found themselves on indefinite paid leave. Rehearsals of a far more casual nature finally began the following summer in their various accommodations around Woodstock, evolving into an almost daily ritual at Big Pink and becoming the stuff of legends. Besides recording these occasions on gear borrowed from Peter, Paul and Mary (through mutual manager Grossman), Garth was able to spend his days playing - and tinkering with - the Festival.
Right from the earliest reels the Basement Tapes recordings have a two-speed Leslie on them, so we know Garth had traded his single speed 45 for a 145 sometime between mid '66 and mid '67, or had his original speaker upgraded with the extra motor. He also bought an early example of the Hohner Clavinet, a model II, which sat atop the Lowrey and offered a kind of electric harpsichord sound. This model was later played - famously - through a wah-wah pedal for the jaw-harp sound on "Up on Cripple Creek", and later still for The Band's cover of "Mystery Train". Even in the early days of the basement sessions, this seems to also be processed through some kind of chorus unit - more on that later - so Garth obviously acquired some new toys during this period, presumably with the earnings from the lengthy Dylan tour.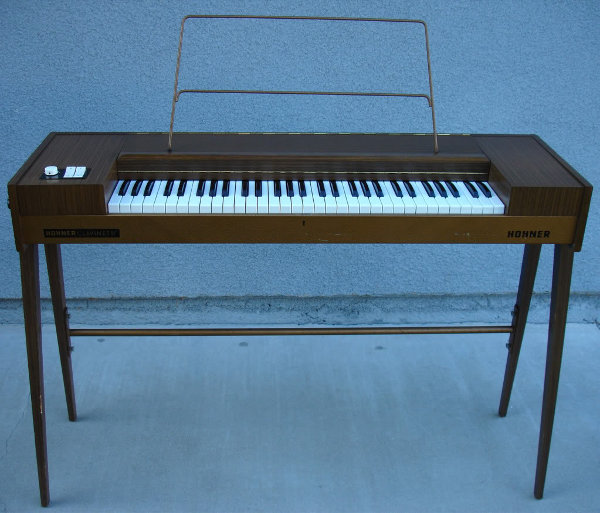 Hohner Clavinet model II
When the time came for The Hawks to record Music from Big Pink the setup had been established, although homemade effects and constant hot-rodding of the Lowrey were an ongoing source of entertainment for Garth. In an interview with Bob Doerschuk (Keyboard Magazine, Dec. 1983) he recalls running the Festival through a semi-automatic telegraph key salvaged from an army surplus store. "I got a little box and mounted some quarter-inch receptacles into it through which you could connect the key to the instrument. Then you set the reiteration rate, and you were ready to play". Shelly Yakus, co-engineer on the New York Big Pink sessions at A&R, remembers Garth slacking off the spring tension on this same morse-key. "He loosened the spring and whacked this key, and it started bouncing around, making and breaking contact, and then started playing the intro to one of those songs." This may be a slight misconception, Garth's own description is of an "automatic" key, where the repeat speed could be adjusted to meet the operators requirements.
For his legendary introduction to "Chest Fever", Garth explained to Terje Mosnes: "We had the song all done, but John Simon wanted an intro. We put the Leslie cabinet, a 145, in a small cubicle and opened it up completely. I played the first three notes from Bach's "Toccata and Fugue in D minor", and then I improvised. The intro is longer than what you hear on the album. John edited it down". He has confirmed this since, speaking to Seth Rogovoy: "The sound on 'Chest Fever', that was a 145 Leslie cabinet". Additional colour on Music from Big Pink came from an RMI Rock-Si-Chord, which supplied the shimmering percussive sounds on "In a Station" and other tracks. The mysterious "black box" Robbie played guitar through on "Tears of Rage" was allegedly a rotosonic speaker built by Garth.
Changes for the taping of The Band in 1969 were few. Garth had by now built a raised platform to the right of the Lowrey's expression pedal and mounted a pair of Vox wah pedals on it for the organ and clavinet. A pair of larger 147 Leslies replaced the single 145 - one for each organ keyboard. In photos from this period I've also seen a Guild Echorec (by Binson) tape echo unit perched atop the clavinet. It was probably used for a chorus effect on the clavinet, as well as adding occasional delay effects to the Festival.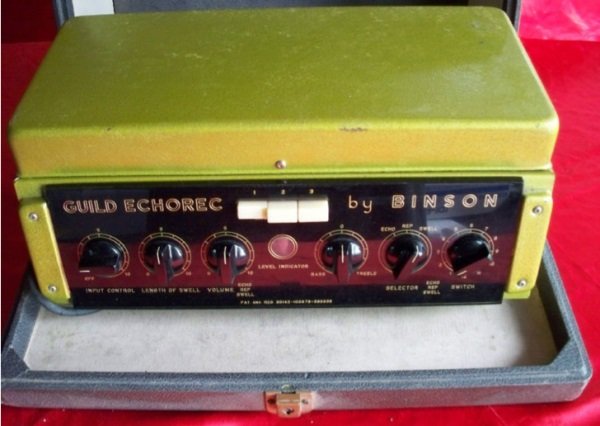 Binson Guild Echorec tape echo unit
It's worth mentioning that by now Garth's approach to the organ was noticeably diverging away from the gospel-influenced heroics of his contemporaries, and from the barroom blues of The Hawks. This was, of course, in step with the other band members who - with much encouragement from Dylan - had reacquainted themselves with their folk and country roots, and distanced themselves from the high-volume psychedelia of the current supergroups. Garth, however, embraced the new technologies and found his own more subtle applications for them. Avoiding the obvious Hammond cliches Garth sought out registrations on the Lowrey that were specific to each song, suggesting old reed organs, tremelo strings, rolling waves, or baseball fanfares at will. His playing techniques, and use of effects and textures, established a style that pre-dated the arrival of polyphonic synths by more than half a decade. Evidence of this is all over the brown album, but the crowning glory must surely be "Whispering Pines", in all its dreamy, shivering beauty.
In a recent interview with Seth Rogovoy, Garth fondly remembers his old Festival as "a beautiful instrument that does things that I didn't find on later transistor organs that Lowrey made." Although this and other instruments were apparently stolen from a storage facility in the eighties, he managed to find a replacement Festival, which languishes at Levon Helm Studios awaiting restoration.
When the band began touring as The Band in 1969 the sudden upturn in their collective incomes spelt trouble for some members, but for Garth it meant an upgrade in gear. Whilst their initial shows at the Fillmore West and East, etc., were done with the old Festival, its days of loyal service were drawing to a close. Although it's not clear how directly involved with the Lowrey Organ Company Garth became, it seems they took at least a brief interest in him following the success of Music from Big Pink. Garth remembers: "The Chicago Musical Instrument Company gave me their transistorised model, and then later gave me the update of that one, and I gave them a picture of me standing in a field full of dead bats...." The transistorised model was a Lowrey Lincolnwood Deluxe, model TSO-25 and it made its debut at the Woodstock Music and Arts Festival in August 1969.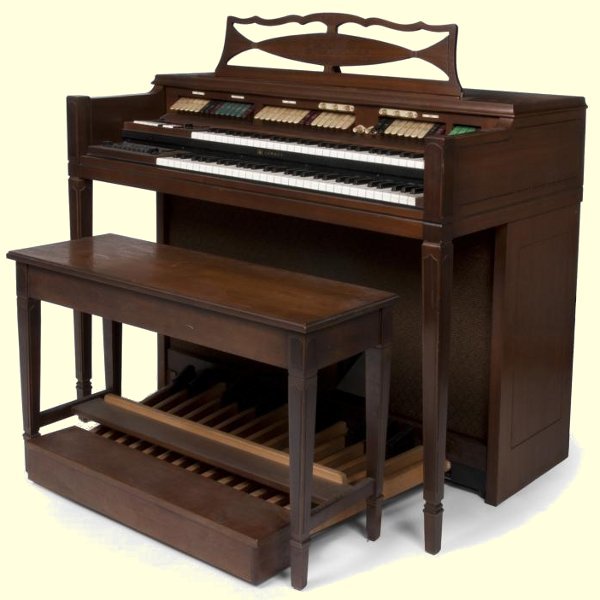 Lowrey Lincolnwood TSO-25
In the same way the Festivals mimicked Hammond B3's, the Lincolnwood seemed to parallel Hammond's A100. It had much in common with the earlier tube-driven Lincolnwoods/ Coronations/ Festivals in terms of stops and effects, and like the old Festival, it was a stereo instrument with separate outputs for upper and lower manuals. The upper keyboard and bass pedals were run through the old Leslie 145, while the lower manual went through a new Leslie 103. The 103 was a strange beast, designed by Leslie to compliment the new Lowrey Theatre's and Gulbransen's excellent Rialto models. It utilised two "rotosonic" drums - two speakers mounted on a spinning board, instead of the usual spinning horn, and included stationary speakers for non-rotary amplification. The outro of "The Shape I'm In" from Stage Fright is an example of this stationary sound, although it could have been done with an electrical "brake" on the rotary horn of the 145. The TSO-25's offered another interesting novelty - a switch that changed the volume pedal into a wah-wah pedal. This effect is showcased on the studio outtake of "Back to Memphis", and early 70's live versions of "I Shall Be Released", among others. As usual, Garth had a number of things done to his new toy before using it live, with the help of Band sound man Ed Anderson. Two half-moon Leslie switches were mounted inside the ends of the cabinet, two to the left past the banks of rocker switches, and one on the right. The three preset pistons for the upper manual were removed, leaving the holes, I can't think why except that perhaps the mechanism was in the way of something being installed inside the organ. The pitch bend was stretched to a whole tone drop, and I believe the outputs were "hotter" than stock, this was a common tweak amongst pro players and even Lowrey agents on their demonstration models.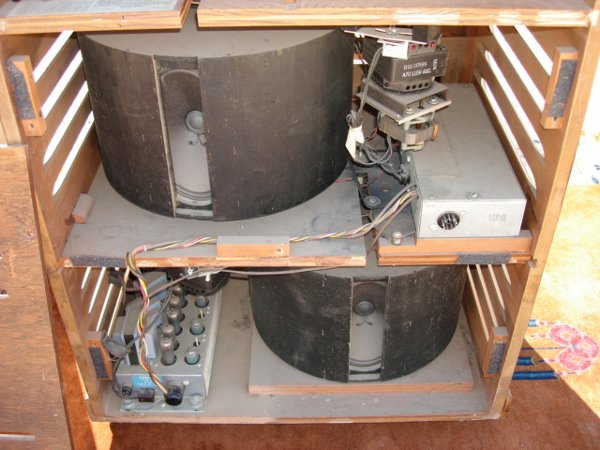 Leslie 103 internals
Shortly after Woodstock The Band were scheduled to accompany Dylan again at his much-anticipated Isle of Wight Festival appearance - and this is where another case of an organ being supplied locally seems to have occurred. Lowrey arranged with Selmer, their English manufacturers, to have a new instrument waiting for Garth, tailored to his specifications, when The Band arrived to begin rehearsals in late August. In his article "Memories of the Selmer Shop" (www.vintagehofner.co.uk), Patrick Kirby recalls that "Selmer engineers took weeks customising a Lowrey H25 console organ. The result was the most amazing set of sounds you've ever heard." The H25R Theatre model (Lowrey's top of the line instrument, superior to Garth's TSO-25) was apparently never shipped back to the States. Either way, having returned to Woodstock, The Band assembled to rehearse for their first tour proper and tape some promotional film clips in Robbie's "painting studio" in late September, and the Lincolnwood was present once again.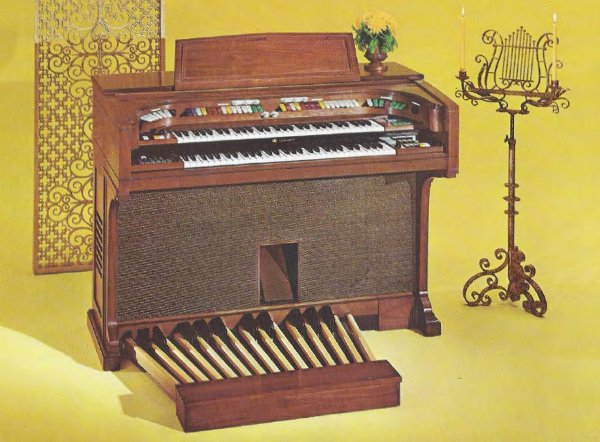 Lowrey H25 Brochure
With an interlude only for an appearance on the Ed Sullivan show, The Band began an East coast tour in October 1969, playing venues in New York, Philadelphia and Boston. Except where space was limited the clavinet was now positioned to Garth's left, rather than on top of the organ. Other changes were few. In the latter half of 1970 the TSO's cabinet was altered, adding a folding lid. A Yamaha YC-30 combo organ was added to the Garth's right for their European tour in 1971, and the 145 Leslie was replaced with a 147 for the three shows The Band performed in 1973.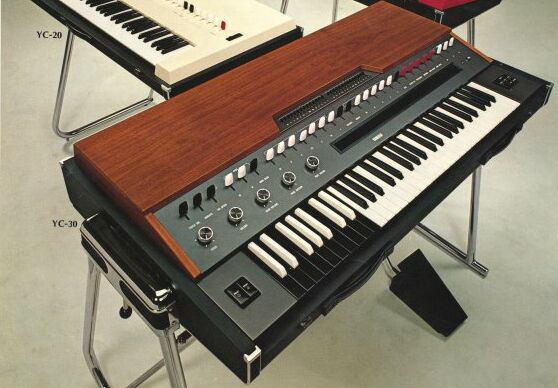 Yamaha YC-30
Studio recordings through this phase were still mostly representative of their live approach, so most of Garth's keyboard work was limited to the Lowrey, piano, accordian, and (very) occasional clavinet. In between tours he continued to tinker, building a miniature pipe organ with technician friend Bill Putnam. It makes a cameo on Cahoots in "The Moon Struck One", and the occasional fill in "Where Do We Go From Here?" He also played a borrowed mellotron on Moondog Matinee ("The Great Pretender", the outtake "Shakin'", and probably the "Third Man Theme"), and a Hammond A100 (alongside his Lowrey) on Planet Waves.
The Planet Waves sessions in November 1973 were to be the final outing for the Lowrey Lincolnwood, and a completely revised arsenal was planned for the upcoming tour beginning in Chicago on January 3rd, 1974. Its centrepiece was a new Lowrey Symphonic Theatre Console, model H25-3. This was a logical development of the original H25, with an almost identical layout of voice tabs, arranged in the "horseshoe" style of the old cinema Wurlitzers.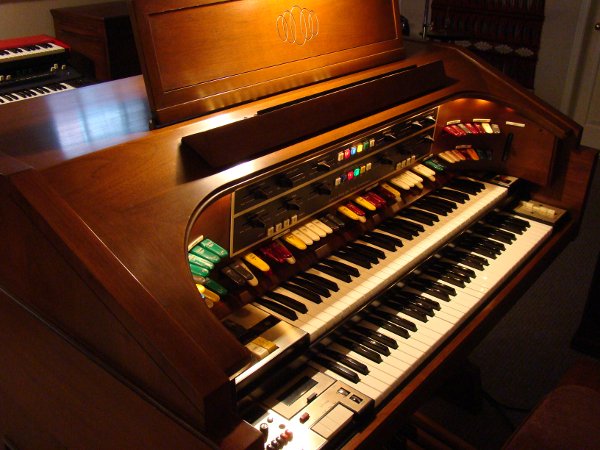 Lowrey Symphonic Theatre Organ H25-3. Photo by Mike Racioppa.
The addition of tibia chorus gave them a decidedly brighter, glossier sound, however the most apparent difference, sonically and visually, was the addition of the "Brass and String Symphonizer". Garth used the brass sounds fairly sparingly, but clearly loved the string voices. Lowrey's String Symphonizer was in fact a watered-down adaption of a stillborn instrument called the Freeman String Symphonizer. Where the Freeman unit had three oscillators, the Lowrey version had only two, de-tunable for a rich chorus effect. Still, it had a lovely sweet, soft tone, putting most of its contemporaries to shame. Garth took advantage of the multiple tone generators in the H25-3 (organ, strings, brass, percussion, pedals, piano/harpsi, etc) and had separate outputs for each wired to a custom patch bay in the back panel. Unlike the previous stereo arrangement, I believe all organ voices went through the twin 147 Leslies, both having their speeds controlled by the same rocker switch. The old clavinet, too, was up for renewal, its replacement being a model C, with its distinctive orange and white tolex case.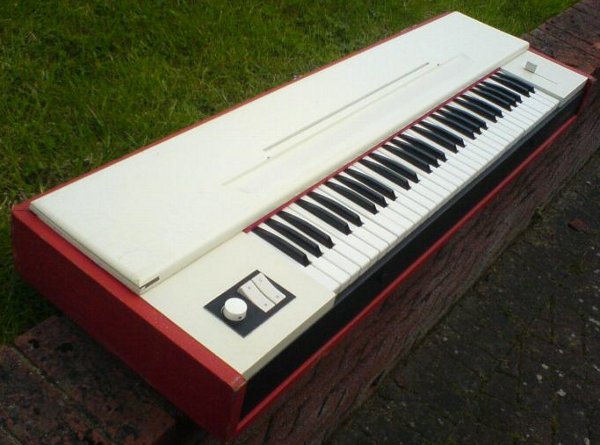 Clavinet Model C
Although limited and temperamental onstage, early synthesizers were great studio toys for Garth. Starting out with a Minimoog, he soon aquired an ARP2600, a Roland SH2000, an RMI KC-1, and doubtless many others. These all contributed, alongside the Lowrey brass and strings, to the orchestral nature of 1975's . Faced with the prospect of touring to support this material in the summer of 1976, Garth added the more stable of these synths to his live setup.
Centre stage was the Lowrey H25-3. To Garth's left was the Clavinet, now run through a Morley wah pedal, and only really used for "Cripple Creek", and on top of that his Roland SH2000. These were a very early Japanese entry into the synth market - a short monophonic keyboard (with aftertouch!) obviously designed to sit on top of an organ, judging by the row of coloured preset tabs along the front. Garth loved to blend this with the Lowrey for solos, playing parallel lines with his left hand on the SH2000.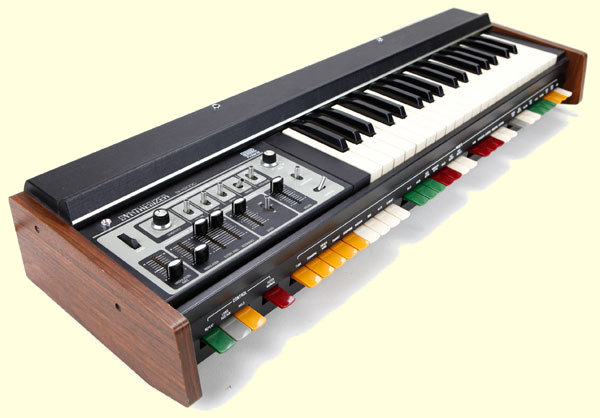 Roland SH2000 synthesizer
To his right was the RMI Keyboard Computer 1 (KC-1). A pioneering attempt at digital synthesis, the technology came from parent company Allen's experiments with digital organs. This monster polyphonic synth came with its own pedalboard, comprising four expression pedals. By all accounts fewer than one hundred were ever produced.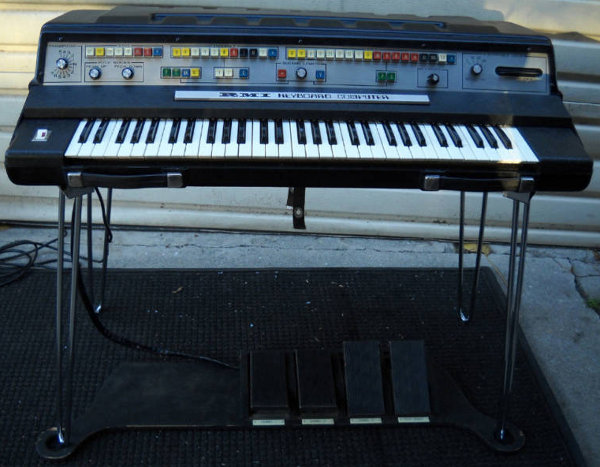 RMI Keyboard Computer 1
Atop the KC-1 was a Yamaha SY-2, another preset-based monophonic synth in a similar vein to the SH2000.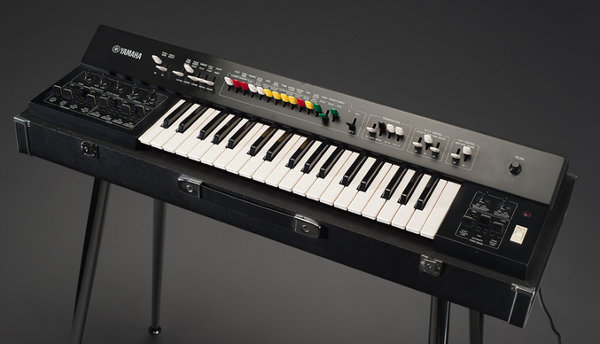 Yamaha SY-2 synthesizer
A rack unit under the clavinet held an Acoustic brand mixer and a Roland RE-201 Space Echo tape delay, whose bypass footswitch rested up on the Lowrey's music rack.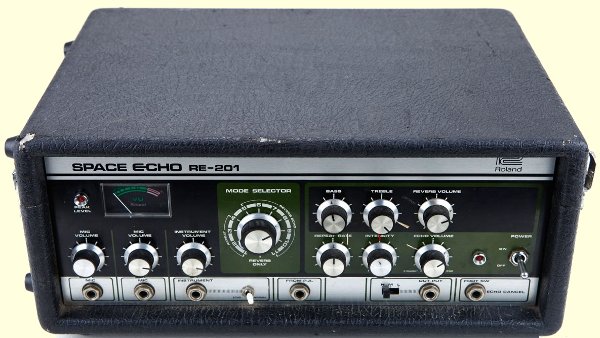 Roland RE-201 Space Echo tape delay
Now to those two mysterious-looking Leslies! It seems that Garth had his old pair of 147 cabinets customised sometime after the CSN&Y tour of 1974, removing the upper and lower louvres to maximise projection onstage. The 103 Leslie, although often out of sight, was re-instated for '76, probably serving as amplification for the string symphonizer. Mounted at the left hand end of the Lowrey's lower keyboard were two Leslie "half moon" switches, one for the speed and one for the channel selection (rotary or stationary) on the model 103.
Finally, a custom swivel chair had to be made to straddle the 25-note pedalboard of the Lowrey, giving easy access to any of these instruments. Touring in June and July of 1976, both the SY-2 and SH-2000 were stacked to Garth's right and left respectively, but note that when dates were resumed in August these smaller synths were angled across the corners of the Lowrey in a much more comfortable playing position. This arrangement would see out the remainder of the original lineups touring days, culminating in The Last Waltz.
Around this time Garth was approached by Yamaha to assist in fine tuning a new high-end polyphonic synth, to be released the following year as the CS80. Garth was given a prototype to explore and assess, and it made a couple of tentative cameos on Islands before its appearance in The Last Waltz in place of the SY-2 on top of the KC-1. However, it wasn't featured heavily: "I tried a couple of things with it, but I had not fitted in with it, so I stuck mostly with the Lowrey for The Last Waltz." He can be seen playing it when Dr. John takes over on the Lowrey in "Jam 2" (from The Last Waltz Special Edition DVD).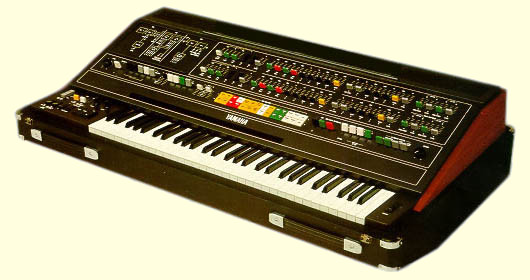 Yamaha CS80 polyphonic synth
The CS80 was to feature prominently in the next phase of Garth's career, before it was stolen in New York in the mid-80's. Even the H25-3, long since retired, was apparently taken from a storage unit around the same time. This has since surfaced in private ownership in San Robles, CA. It's certainly the real deal, all Garth's modifications are present - even his little stickers marking the percussion repeat speeds for "Wheels on Fire" - and it has the custom road case with THE BAND stencilled on it.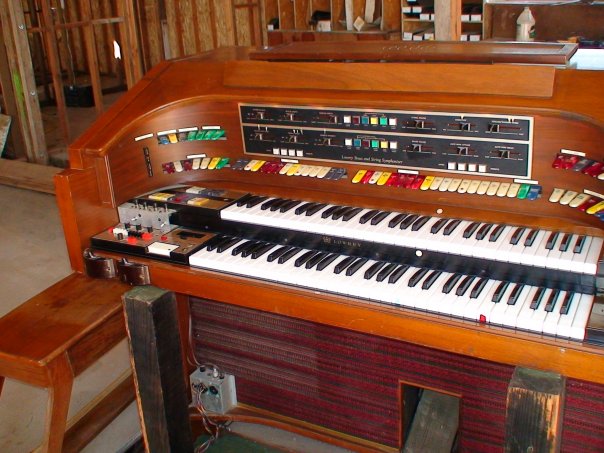 Garth's H25-3 in 2008. Photo by Denis Keldie.
A short word on accordians: Garth has used a succession of accordians over the years, but mostly stuck with a black Serenelli throughout The Band's touring years. His most famous, with the mother-of-pearl belly dancer on the front, he purchased from the Bell Accordian Co., N.Y., in 1970. I understand this one was stolen in the '80's, but he found another in a similar style, with the name "N. Ferrari" in bejewelled letters down the front. This can be seen in the concert video Roger Waters: The Wall - Live in Berlin. At various times he has also favoured a Hohner Atlantic, a Galanti, Excelsior, and several others too hard to identify in photos.
The saxophones have also come and gone since Garth mimicked those Lee Allen solos in the mid-fifties. Although basically relying on a Selmer Mk VI tenor, he has said he owns one which once belonged to Vido Musso, the tenor legend from the Stan Kenton Band. However, I have not been able to find out what model Vido played. Soprano's too, both curved and the more common straight type, have been a part of the Band's sound from "Tears of Rage," and "Unfaithful Servant" (straight models), to "Last of the Blacksmiths," "A Change is Gonna Come," and "It Makes No Difference" (curved). Once again, like the many other woodwind and brass instruments Garth owns, pictures of them are too few and too vague to determine the exact make or vintage, although he has played a Yanagisawa curved soprano going back at least as far as The Band's reunion in 1983.
More information will gradually come to light. Every time some new film footage is released, or some great photographs emerge, or an interview is published, some other detail presents itself. If Garth had played a Hammond there would be articles about him all over the net, but he's probably just as happy to have his work shrouded in mystery! He really did do a fantastic job, though. The equipment in those days, even the best of it, was very straightforward, and the musical level Garth took it to was far beyond what most of it was expected to attain. Any version of "The Genetic Method" is proof enough of his extraordinary talent and vision.
---
[History] [Members] [Library] [Discography] [Videography] [Filmography] [Pictures] [Audio Files] [Video Clips] [Tape Archive] [Concerts] [Related Artists] [Merchandise] [Guestbook] [Chat Room] [Search] [What's New?] [Main Page]
Webmaster