Levon Helm of The Band
Way Back Up in the Woods
---
by Baker Rorick
This article appeared in Home Recording magazine, October '99. Photos by George Lembesis. The text and the images are copyrighted. Please do not copy or redistribute. Copyright © 1999, 2000 Home Recording, Baker Rorick, George Lembesis.
---
Levon Helm's home studio, as befits The Band's Arkansas-born drummer, is a big ol' barn, centered in a clearing surrounded by secluding woods in Woodstock, NY. With a trout pond and a regulation-size baseball diamond out front, the barn is a private refuge for The Band, their side projects, and their circle of music friends: a bucolic retreat for rehearsal, recording, or laying in the hammock on the screen porch, spinning songs and stories.

Levon and the Hawks first came to Woodstock in 1966, to hole up in a rented house and play with Bob Dylan in the basement. In 1968 they reemerged as The Band with Music from Big Pink, recorded in a converted barn at manager Albert Grossman's nearby Bearsville Studios. Their early records are landmarks in the history of American popular music, and The Band was inducted into the Rock & Roll Hall of Fame in 1994.

There's a mystique about The Band, whose three remaining original members--Levon, Rick Danko, and Garth Hudson--are local legends with reputations as notorious recluses, and Levon's barn offers security, independence, and freedom for their continued creativity after some 35 years together.

Levon, born in 1940, had spent half his life on the road when he decided to build. His inspiration was that barn in Bearsville where The Band did much of its early recording.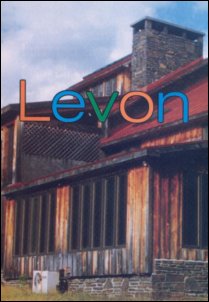 Levon's "barn"

"I had thought that we was gonna be part of Bearsville Studios," he says. "That's how dumb I was, right? I could see myself with my own key and never having to break those drums down. Just leaving 'em set up and sweetened and never havin' to unsweeten 'em. 'Course it didn't work out that a-way. Ralph Shuttis was the old Woodstock stone mason who built the main building at Bearsville, and I told him I didn't think that room there sounded as good as that old chestnut timber barn at Turtle Creek [now Bearsville Studio C], and he said, 'No, by Jesus, I don't believe it does either.' I said, 'Well, if it was for your money, what would you build?' He said, 'I believe I'd rather have a damn good barn.' I said, 'I feel the same way,' and me and him got started, about 1970. We did a regular barn shape, pretty much standard procedure. 'Course, there ain't no more chestnut, and oak is a little expensive, so we went with hemlock timbers, used those big 10x10 hemlocks. That's got good stren'th to it, of course. About the only thing different that we done was put a big double porch across the back. Then we hooked another smaller barn on one end to make a little apartment for me and Mama, and on the other end we hung a truck shed, and upstairs there's a control room space. Got heat in '73."

Inside, the main room is maybe 45x30 feet, one end broken up by a number of lofts and balconies hung at different levels, the other end open to the roof four stories above. Capping the roof is a barn cupola with glass skylights and windows all around, to which Levon attributes some of the room's character. "You open those skylights about three inches and all your music, smoke, conversation, whatever, goes right up and goes right on out. Nothin' ever bounces back down in the old microphone. Plain, clear, clean sound. You hear it one time and it's gone, so we don't have any echo to deal with and that gives the room broadcast qualities. We've actually done some radio shows and things from here." The wooden walls and rafters have a warm, golden glow and, despite its size, the barn has an intimate sound and feel. The two ground-floor end walls are of local bluestone, with a fireplace in the south wall, which adjoins Levon's house.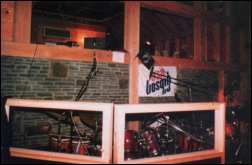 There've been a couple of fires over the years, the most disastrous in 1992 when, like the line in "King Harvest," his whole barn went up in smoke and the tapes stored in a stone basement vault were all that survived. Levon rebuilt, and those who've been to both barns say it's uncanny: everything is exactly the same. Some say the new barn sounds better, too, and it's now outfitted with fire hoses and steel safety doors between the barn and the house.

The main floor can be left open for rehearsal or reconfigured with studio gobos for instrument separation and to create isolation booths for vocals and acoustic instruments when recording. There's a baby grand piano and a Hammond organ. A set of organ pipes for Garth Hudson's mighty Wurlitzer are mounted high up on the east wall, and Rick Danko's upright Ampeg Baby Bass leans in a corner.

The barn's drums are a matched pair of Yamaha Recording Custom 20th Anniversary sets. Levon's has a kick with Ludwig Speedking beater, a rack tom and a floor tom. Older Yamaha hardware holds a Sonor snare drum, Zildjian New Beat hi-hats, and a selection of Zildjian and Sabian cymbals.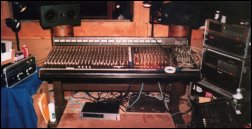 The other is for The Band's second drummer, Randy Ciarlante. Of prime importance to Levon is the "sweet spot" where his drums sit, looking up to his cupola with his back to the bluestone wall for reflection. On the north wall, above and behind the drums, the whole second story is open to the 30x30 control-room loft beyond, which is outfitted with all the comforts of the studio, like couches, coffee machine, and refrigerator for Levon's endless supply of Coca-Cola, but sparsely equipped electronically. Recording gear is just not one of Levon's concerns. "My plan was always to call in a truck: Back 'em in, plug 'em up, record 'em, and get 'em the fuck out of here. I never did want to spend no damn half-million dollars on the electronics of it. Talk to Aaron 'bout that end of it."

Aaron Hurwitz is The Band's long-time engineer and co-producer of their last three records, and he also plays keyboards in both Levon's Crowmatix and Rick Danko's band. (The "house" Hammond is his old, modified C-2.) There's a small selection of microphones, "Neumann U-87s and U-67s, Sennheiser 441s, some new Audix 421s and D112s, other by AKG and Audio-Technica," says Aaron, "but we like to just borrow or rent different mics a lot of times." There are mics strung from the rafters, hanging at various levels to capture the sound of the room, either for simple reference or to add to a mix, and mic cables are run down to the basement and garage for echo chambers. When not using a mobile recording truck or rented studio gear for specific projects, most of the "house" gear actually belongs to Aaron.

"For the most part, things go down live, and moments are captured. There's been a lot of music made here in the last 25 years: Levon's solo albums in the '70s and '80s; The Band's last three albums, including last year's Jubilation, with guest appearances by Eric Clapton and John Hiatt; and sessions with the likes of Ringo Starr, Champion Jack DuPree, Keith Richards, Scotty Moore and D.J. Fontana, producer Tom Dowd, to name just a few."

"We like to use it ourselves and have it for other friends so they can use it," says Levon. "We've done about probably 10 or 12 records here in just the past few years, among friends. The goddamn record companies, they can run you crazy about recording, but we got control here. The main thing is, we've got the key."

And it's home. "Yeah," Levon emphasizes, "that's the best: Get up, get dressed, go over and go to work. It's really worked out for us."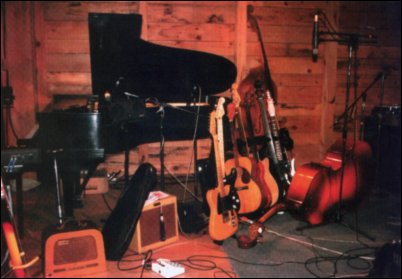 ---
[History] [Members] [Library] [Discography] [Videography] [Filmography] [Pictures] [Audio Files] [Video Clips] [Tape Archive] [Concerts] [Related Artists] [Merchandise] [Guestbook] [Chat Room] [Search] [What's New?] [Main Page]
Webmaster