He Shall Be Levon...
The Band's Levon Helm Is Rocking Harder Than Ever With The Barnburners
---
by Mitch Lopate
From the Southern music magazine GRITZ, Fall 2002.
Reprinted with permission from the author.
The text is copyrighted, please do not copy or redistribute.
---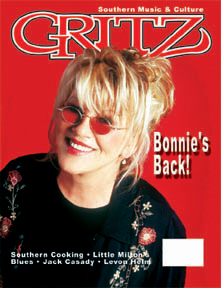 Yes, he's a legend in his own time as a musician, a singer, a leader, and as a living representative of the solid bedrock foundation of Southern charm and warmth. As the drummer/vocalist for The Band, Levon Helm's contributions have been touchstones of good music since the end of the '60s through today's times. The voice and persona captured a heritage of nostalgia that evokes images of the late 1800s county carnivals, of farmers hard at work in the fields with a mule and an old reaper, and a back-woods flavor that can't be bought from a trading post. To watch Levon onstage is an extra bonus, because his shows with his group, The Barnburners, allow the audience to get up close and see the look of joy and happiness that radiates on his face as he plays. I had the pure pleasure of kidnapping my best friend and fellow music master, Mike Michel, from his seven-day-a-week landscape architecture schedule, to drive up with me to Montgomery, NY and see a terrific show at the fairgrounds. Even better, I had the chance to do some roadie work-and hauling gear for Levon Helm is a small token of appreciation for the endless hours I've spent listening to his workmanship.

As a means of thanks for agreeing to speak with me, I had found three books of recipes that a real farmboy like Levon would know, and mailed them. Two were from a noted food author/recipe collector and editor/writer from upstate New York, Mrs. Bunny Crumpacker: The Old-Time Brand-Name Cookbook and The Old-Time Brand-Name Desserts. Illustrated with images and labels from scenes from the 1930s and '40s, it was perfect for someone like Levon and his wife, Sandy, who spent hours looking at the pictures and reliving thoughts and good feelings of their younger days--as well as some tasty opportunities. In a phone call, Sandy graciously gave me the acknowledgment that they helped bring memories to Levon about those hardscrabble days as a young boy on a farm, and shared with me the history of the Helm family. It's really "Helms," she said, and they dropped the 's' a while back. It seems that one of Levon's nephews had to go out of his way to prove his uncle was indeed the same man that was up there onstage with Bob Dylan, all because of that missing letter.

When he looked back at me from his drumkit in the middle of a song and gave a huge grin, I saw "the luckiest man I ever did see, doing what he loves to do." Levon doesn't sing any more, due to throat surgery, but boy, can he whack those drums!

Howdy, Levon, where have you been since I last saw you?

We (the Barnburners) were in Sackett's Harbor, New York, doing a show. We were there along with the Honky-Tonk Gurus. We'll play anyplace, anywhere! We're often found in New York City on the pier boats, and we'll be down by Atlantic City in July (the 12th) at Bubba Mac's Shack in Somers Point. We've been down to Missouri and Arkansas too.

I want to say how thankful I am that you're enjoying those recipe books. Sandy said that they brought back memories of your early years.

Oh, thank you, you bet. I'm always interested in the samples myself. She found a heckuva good rice pudding recipe, and I can't wait! It'll be a flight test for her to try 'em and see how they taste.

I understand a website dedicated to the Band (www.theband.hiof.no [sic]) has information on a drummer's video of your technique, as well as links to the Barnburners music. I'm going to look it up for a copy.

That's kind of an old one; it's a few things that I did that I don't even remember, but I thank you for asking about it.

I watched you from behind the drumset at the outdoor show in Middletown, NY. You seemed to be having the time of your life--just happy as you could be.

Oh, yes. Nothing's better than that. Drumming is the best--there's nothing more fun than making music. When you get players like that (the Barnburners), you can get everyone playing above their head--it's just great. They're all good guys, too. They love the blues! It was just in the cards to meet them, I guess. It's a small world and the music world is even smaller, so these are the kinds of guys you're gonna run across. They're all local musicians from the Henry Hudson River valley, right here in the old Woodstock area. There's guitarist Pat O'Shea, lead vocalist, harmonica player Chris O'Leary, and upright bassist Jeff Sarli. There are a lot of good local musicians right here. I don't know what the per-capita population is, but for it's size and number of residents, it seems like Woodstock probably has more studios than any town in the world--maybe close to two dozen, or a dozen-and-a-half. So that kind of gives you an idea of how many musicians there are up here.

Like Muscle Shoals?

It reminds you of something like that. I can think of six or seven 24-48 track studios, and maybe a dozen-and-a-half homemade studios of different sizes and calibers. The Barnburners and I kind of hooked up because we are kind of musically coming from the same place, and we were in the right location, too. It's our common denominator-they don't want to play anything but blues, and I don't want 'em to, so we get along great.

I see you and the Barnburners are playing a show in West Virginia soon. You like those small venues where you can get up close to the audience.

Yeah, they have a blues festival over there that we're gonna play (the Heritage Music Blues Festival in Wheeling, WV). (Matter-of-factly) We'll travel to the ends of the earth to make music! Those small shows, they're the best. It's like last weekend up at Sackett's Harbor, NY-that was one of those small town community festivals--same thing out in West Virginia. That's gonna be beautiful. That won't be quite as small town-like, but it's still got that good community thing like smaller venues: they really enjoy it and everybody comes out. We did one about three weeks ago, me and the Barnburners, in Williamsport, PA, at the county fairgrounds there. I'll give you an example. The stage and everything and the music, that's all the same, but here's the difference (between the large shows and the small ones): the people are friendly, nobody's got nothing to prove, nobody's trying to express their authority. Everybody you see has got a big smile and a thank-you; if you ask somebody for something, they'll say, well, let me see if I can--they try and accommodate you. And when it comes time to lean over there and get something to eat with that coca-cola, everything's home-made...all the cookies. One of the old boys made one of the best home-made bean soups you ever had. That's the difference-all the food was home-made, all the people were just bending over backwards to accommodate the situation--those things are always more fun. The food's better, the people are nicer, and it's more fun.

I heard you really enjoy Coca-Cola. Someone had told me to ask you that.

Oh, sure. It's America's favorite--it's the real thing.

What's the difference between living in Arkansas where you grew up and living in New York? You go back home to visit when you can, right?

I go back to Arkansas two or three times a year. I just went there, and I'm due to go back again in a few weeks. I like to go down in the fall for the King Biscuit Blues Festival if I can, and I like to get home every spring to watch them cut the ground and get ready for planting season. I like to see that all go down if I can. If I get back there in the fall for the blues festival, I get to watch them cut the rice, and the beans, and pick cotton--I get to watch some of that harvest go down. That's fun to see.

That's what you personify to us as an audience when we hear your music with the Band. We see those images.

Oh, boy--I appreciate that! It's a beautiful place, it's so stark--it's got beauty of it's own. As ugly as it can be in places, it's still beautiful. It's flat as a pan, wet, swampy, mosquitoes, and so forth, but boy, there's nothing like a Delta sunset...or a Delta thunderstorm! You get close to the elements there. Growing up on a cotton farm, I got acquainted with them at an early age. I've spent my share of time in a stormhouse, listening to the wrath of God outside. You ever been in a stormhouse?

Not directly--but I once stepped outside in a lightning storm in New Hampshire that almost scared me back through the door without opening it.

(laughter) People have said that the buckle of the tornado belt is right there in the Delta, I've heard. We do get our share of 'em. They come rippin' through there--they can happen any time, and of course, they're most frequent in the springtime.

I understand you had the old milk-the-cows-and-feed-the-chickens type of childhood.

Growing up on a cotton farm, we pretty much had things on a regular basis. We didn't have electricity until I was in high school. If there was chicken for dinner or breakfast, we'd have to catch one and...well, you know the rest.

Would you tell me about your mandolin playing? One of my favorite songs where you play it is "When I Paint My Masterpiece."

A mandolin is one of those instruments that's hard to get tired of--it's kind of like a harmonica in that way. There's something about it that you hardly ever get tired of hearing, and it seems to fit in some of the strangest places. Any kind of music can accomodate it--you don't think of mandolin in blues music, but it's a great instrument. You can put it up there in that tenor guitar spot, just to kind of spread out the rhythm guitar, the drums and the sock cymbal and other parts of the drum sound like they're in tune. If you've got that mandolin in there with the spread--in with the mix--we've always been on the lookout to use it when we could. Certain songs accommodate it better, but the mandolin, the accordion, and the harmonica, those kinds of instruments make you want to sing along, too!

I like the Cajun-style accordion of folks like Buckwheat Zydeco and Clifton Chenier.

I do, too. I've always loved that stuff. Clifton Chenier was always one of my favorites--he reminded me of Little Walter. His melodies and stuff just cover the whole thing so well.

I have someone you'd know: The Allan Touissant Collection.

Mmmmm! Well, he's my favorite. He was the first man we went to when we had the opportunity to get some horns into the mix (for the Band). We didn't go anywhere else. Did you ever hear all those Lee Dorsey records he did in the Fifties? You ought to go check out "Working in a Coal Mine," that was a big hit. That'll tell you how long he's been playing. His horn arrangements made our album "Rock of Ages" such a great success.

Tell me how I saw you use such minimal motion and yet get such a loud sound. What's your secret--wrist strength?

I'm trying to play pretty hard and keep my strength up, to save most of the motion for the lick itself--whatever you have to do to get there with as much correctness and touch and strength as you need--I try to play that way. I try to play hard--I don't want to hold back! I want to be free enough to hit it hard and not worry about it.

What about the 'muffled' sound you get--it's like the drumhead is made of a thick cardboard box.

I thinks it's the 'Memphis School of backbeat'. Drummers from Memphis have done odd things, like Jimmy Van Eaton--J.M. Van Eaton, who cut "Whole Lotta Shakin'". He taped a cigar box to the top of the snare drum and played on top of that, because the sound of the backbeat was better. It recorded better--the microphone heard it better, coming off that cigar box. It was too heavy coming off the snare drum--it was overbearing and overpowering. Coming off that cigar box, it was just right. Now that you know the story, you can hear that I'm right: it's a damn cigar box on top of that snare drum. That's the way of Memphis drummers: they've always done special things to the snare drum to get that 'pop'. But at the same time, it lets them have that 'snap'. From what I heard, growing up and being conscious of the drums and hearing it that way, it sounded to me like every one of those backbeats was a rim shot, and the only way I could get it to sound that way was to hit a rim shot. Consequently, that's what makes my drums sound the way they do--all the backbeats are rim shots, if I can manage it (laughs). You know, when you miss one, you can tell (laughs)--it sticks out like a sour thumb. Get every one of 'em right, and nothing sounds better.

We were talking at the show about live albums, and my friend Mike mentioned to you how much he had been enjoying "Rock of Ages." Michael B. Smith loves it too, as do I--it's on our "Top Five" list.

I appreciate you saying that. I feel that way about live albums--my favorite ones are live albums. B.B. King Live at the Regal Theater (note: Levon says it, "Thee-AY-ter" with the accent on the second syllable), Ray Charles Live at Newport, and so on. I feel the same way about us (The Band). And for me, I think the reason it's that way is that you get more than just the players, you get the audience, too. You can hear that excitement--it comes out in the music--the excitement that the crowd brings to the equation. And if your in the studio--a cold, hard, electric-lighted studio, you're not going to get the electricity that an audience can give to a situation.

On that theme--tell me about the feedback at The Fillmore East...

The Band always tried to bring the goods, that was our mission, to be one of the best bands, and when we played, we tried to make the music and the show as good as we could make it and do some of that fun stuff. The Fillmore was one of the best--one of the most sophisticated musical audiences in the world. They treated us like gold--better than we deserved a couple of times (laughs).

How about with Bob Dylan on the "After the Flood" album?

That was real satisfying for me--that was the first time we had ever been able to play with Bob and get a round of applause. We had played with him and been booed all around the country, but all of a sudden, it was a new dawn--a new light--and I really enjoyed working with the Bill Graham outfit. I thought Bill Graham and Barry Imhoff and the production crew did a great job, and it was fun to travel along with everybody and put that show on every night. All I had to do was play drums and do my part, so I was really enjoying it.

How about Watkins Glen? You have some great items from The Band's box set, "Across the Great Divide," there, including some previously-unreleased material.

That was a good show--that was a good time! You know the difference in time is that a couple of years had gone by--that was only three years after the Woodstock Festival (where The Band played, but did not get featured on the soundtrack, or the movie)--it made a difference--people were in a whole lot better shape. People weren't as zoned out. Traffic jams would happen on the way into the festival, and people would get out and throw Frisbees and play guitars, touch football and stuff, the traffic would move and they'd get back in their cars and go on up the road and get ready for the next game. It was just mellow and easy and healthy--it was over in one day; that might have had something to do with it. It didn't last for three days and nights. There wasn't time for a whole new nation to be born.

How do you feel about your acting career in the movies as a change from being a musician?

I've done a lot of acting--probably a dozen or so parts (laughs). "Coal Miner's Daughter" (with Sissy Spacek as Loretta Lynn) was the first. You ever see a movie called "The Right Stuff"? I was in that one--I was (Chuck) Yeager's buddy, Ridley. Yeager would ask Ridley for the Beamon's gum for luck before a test flight. That's two of my favorite things: I like to make records and I like to make movies. My favorite movie is It's a Mad, Mad, Mad, Mad World (laughs).

For the cast or the action?

Both. The greatest in the world (including Spencer Tracy, Buddy Hackett, Terry Thomas, Ethel Merman, Jonathan Winters, Sid Caeser, and Micky Rooney). I can't think of anything that would be more fun, unless you could be in a Mel Brooks and a Cohen Brothers all at the same time. I'm also a big Strother Martin fan (laughs). Remember him in "The Wild Bunch"? (imitates him: "Awright, awright, help me get his boots!")

Levon, being mindful of the fact that you have recovered from throat cancer, is it easier for you to focus on playing drums and enjoy it more without having to sing?

Well, you know, I always enjoyed singing, when I did it, but I would rather play drums. I think most musicians I know would feel the same way. All of us will sing if we have to, but we'd rather be players. When I used to sing in The Band, that was just my turn. More than anything else, Richard (Manuel) was the lead singer in The Band. Rick (Danko) and I did enough so that they could call it The Band, with three lead singers--all that (sarcastically) 'record company jive,' but just between us boys, Richard was the lead singer and there wasn't no worry about it. But if no one else will do it (sing), I'll do it.

I'd like to think this is unanimous for many fans: you were the leader, as well as lead vocalist, of The Band.

Well, I thank you a lot. I appreciate you saying that. That was really our mission--just to make some good music.

Speaking of Richard as a musician, I've read where you said he was melodic on the drums and rhythmic on the piano. From a drummer's perspective, I thought it was a great compliment.

Richard...oh, boy. Richard was just one of them self-taught people--it was almost like he was double left-handed. He wasn't, but he played like he was. Richard might carry the backbeat with his right hand, or he might carry it with his left. It just came off fantastic. Songs like "Rag Momma Rag," with me playing mandolin, Richard played the hell out of those drums. What it did for The Band, it had the same sort of effect like me and Rick taking the lead on a song would have. All of a sudden, we'd have ourselves a whole new rhythm section, right? 'cause Richard's now playing drums, and I might be playing bass or mandolin or something else, and Rick's moving around to fiddle or something else--it's a whole other rhythm section. That's why The Band was able to sound different on different songs--'cause we wanted to!

It's like you all were musically ambidextrous.

We learned to be that way because of (keyboard/horn player) Garth (Hudson). Garth was the one of us who could really do that stuff. There's a few of us who could play a few percussion instruments, but Brother Garth can play percussion, woodwinds, and brass! (laughs heartily) Ain't that great?!

I've also enjoyed him on David Lindley's "El Rayo-Ex" album on the title track, listed as "The Horns." He really is a walking musical encyclopedia.

That's the truth. We look ambidextrous because Garth sure enough is! (laughs). It made us hustle our buns off, trying to make it appear so.

I love the variation he did on his solo (also known as "The Genetic Method") on the box set--here he's called it "Too Wet to Work" (recorded at Watkins Glen, previously unreleased). He sounds to me like Bach riding on a Harley-Davidson.

I'll let you in on this, because it probably went by without registering: when you watch the "Right Stuff," when he (Yeager) breaks the sound barrier, forget about all the excitement and listen to the soundtrack. What you'll hear, down deep in there, is Garth Hudson. That's all him. I also love his saxophone playing as much as anything.

I want to take a moment and thank you for a song you did on the "Greatest Hits" CD: "Ain't Got No Home," from "Moondog Matinee."

Clarence "Frogman" Henry! Yeah, that's a good song. Well, you know that was the way it got--when The Band reached those days of collaboration being over, that was the best that we could come up with.

Wait! That song brought back some funny thoughts and memories--like old-time fairs and social events--scenes that have gone 100+ years past in the heartland of America, of good old-fashioned fun and dancing and eating--kind of like the smell that old leather does to you.

You know, nobody gave us credit for it--the critics certainly didn't, and the record company, they didn't know what was going on, anyway. That was all we could do at the time. We couldn't get along--we all knew that fairness was a bunch of shit. We all knew we were getting screwed, so we couldn't sit down and create no more music. "Up on Cripple Creek" and all that stuff was over--all that collaboration was over, and that type of song ("Ain't Got No Home") was all we could do. I'll tell you something that they never gave us credit: you can't tell how good The Band is, or not, when they're doing their own stuff. Same with The Beatles, or anybody else. When they're doing their own stuff, you can't tell how good they are or how good they ain't. You let both of us do a Chuck Berry tune--then you can tell how good the (two) bands are, can't you? So, that's what they never gave us credit for.

I think Eric Clapton said it best: when he heard the music from "Big Pink," he said, 'That's what I want to do.' I am also certain that fans and new listeners are in your corner. That reminds me: you sound a lot like Ray Charles on the box set's "He Don't Love You." Was Ray an influence on you?

Oh, absolutely. Ray Charles is my hero. Ray Charles had the best band in town--whatever town you were in--since I've been around, anyway. I never got to hear Louis Jordan in a live performance.

Per your request, I gave Bonnie Bramlett a big hug for you when I saw her in the Shoals.

Ain't she the best?--ain't she somethin'? And her daughter, Bekka--looks and sounds just like her momma, just younger. I love her--she's just great!

Thank you, Levon, this has been a real treat. I am so glad we hooked up for this.

Thank you, too, Mitch, glad to do this, too. And thanks to your friend, Michael; it was a pleasure to meet him and talk with him.

Postscript: I just returned home from a fabulous show at Bubba Mac's Shack in Somerset Point, just south of Atlantic City. Pat's '52-Cadillac-colored Les Paul was a scorching sensation, Chris was a titan of strength and power on harmonica and vocals, Jeff's vintage, upright, radiantly polished mahogany-cherry bass was a rippling wave of deep pulsation, and of course--the ground was shaking underneath our feet as Levon pummeled and thundered on the drums. If you want to see the hottest, most dynamic R&B show on the circuit, break all the rules, take all the vacation time you've got, empty the bank account--or whatever is necessary to get there--just go and see Levon Helm and the Barnburners before the clock turns another tick on the dial. It's worth every second of the effort, and the payoff is the best investment you can find.
---
[History] [Members] [Library] [Discography] [Videography] [Filmography] [Pictures] [Audio Files] [Video Clips] [Tape Archive] [Concerts] [Related Artists] [Merchandise] [Guestbook] [Chat Room] [Search] [What's New?] [Main Page]
Webmaster