Conversations with The Band
Levon Helm
---
by Ruth Albert Spencer
From The Woodstock Times, Vol. 14, no. 15, April 11, 1985. This is one of a series of interviews with all five members of The Band that appeared in this weekly newspaper.
Copyright © Ruth Albert Spencer.


Front page header, Woodstock Times, Vol. 14, no. 15, April 11, 1985.
---
Several months ago, I conceived of the idea of writing a loving study of the Band's music from a classical musician's point of view. The Woodstock Times agreed to publish this article, but when it was suggested that I perhaps interview some of the Band, I became obsessed with the idea of speaking to each of the five about music and theit lives as musicians. I decided to focus on comparisons between classical and rock musicians, and the creative process of writing and performing music. Anything they could say would surely be more interesting than anything I could say, and I set to find and speak with each. This self-imposed task wasn't easy; even after all five had agreed to do this, the saga of arranging for the individual interviews became almost as interesting as the interviews themselves and could surely form the basis of a film or thriller novel. It meant dealing with the in-between people, going backstage to clubs both in New York and Woodstock and in one case, following a member home and having my daughter hand deliver a note. It meant contacting old friends in the recording and film world in Los Angeles at the time I was working on this project. Of course, some of the Band members helped put me in contact with the others. But in the end, each of the five sat down with me and spoke seriously and I believe quite sincerely. The interviews took place over a three-month period in Woodstock, New York and Los Angeles. I am presenting them in the chronological order they were conducted.
--Ruth Albert Spencer

The other interviews by Ruth A. Spencer:
[Richard Manuel] [Garth Hudson] [Robbie Robertson] [Rick Danko]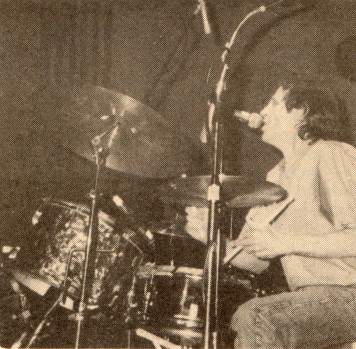 Levon Helm, keeping in shape.
The interview with Levon Helm took place on February 23, 1985, in the basement (which serves at the backstage area) of the Getaway Club in Woodstock, between Levon's first and second sets. This meeting had also taken months of phone calls, letters and in-person contacts to arrange. Various members of his band, along with some of his friends, were around as my husband and I talked with Levon. This interview, like Rick Danko's, was done without tape recorder at Levon's request. His conversation was very funny and descriptive, filled with southern idioms which are almost impossible to capture on paper. He used the phrase "Woodstock neighbors" many times. As he had to return to the stage after about 45 minutes, we finished our interview by phone several days later.
Woodstock
"I'm the one that still lives in Woodstock. I fell in love with it when I first got here. The people here are like the people down in the Ozark Mountains, where I come from; and the people here are just as country in that good kind of solid citizen way as they are back home. So there are all those similarities, and I've had the good fortune to live here. This is really my home now and I know everybody. Many musicians also live here. I'm just a practicing musician here in town. Brad Dourif, another of our Woodstock neighbors, introduced me to Tommy Lee [Jones]. Tommy Lee got me into Coal Miner's Daughter. Now some people think I'm an actor. If they wanna think that, I'm not gonna argue with them."

"I favor the Catskills over the Ozarks in appearance. They're both comparable, but there are more people in the Catskills. When people talk about "New York" they usually mean New York City, but it means the whole Empire State and the farms. The atmosphere here is comfortable and close. It's easy to communicate. Woodstock has farmers and regular human workers. And then there are the "night workers" [like Levon].

"Woodstock is a good town; you won't hear any horror stories here, like the sheriff stringing somebody up on the Village Green. Anyone who lives here is a lucky son-of-a-gun; anyone who lives here is blessed. If you ever leave here, go to the Ozarks. I still go home to visit in Arkansas, but this is home. I try to celebrate the holidays in two places - in Arkansas and in Woodstock. That way I get to eat two holiday meals."
Early years as a musician
"My dad played country dances; he played the guitar. He taught me (and I still play) "Sitting On Top of the World." My dad loved music; he took me to shows. He farmed during the week and played music on weekends. At age four, he took me to hear Bill Monroe and the Blue Grass Boys. That stopped me from playing Cowboys and Indians. I took a broom, held it sidewards and made believe it was a guitar. Then I'd take the broom out past the barn, to the pump and around the watermelon patch, and pretend to play guitar. The guitar was my first instrument; then came drums, harmonica and mandolin. I went to hear groups like Silas Green from New Orleans, who had a 12-piece orchestra, and the F.S. Walcott Rabbit's Foot Minstrels."

I mentioned that I remembered him talking about the latter in The Last Waltz. They had a left handed drummer. I asked, "Are you left handed?" "No," said Levon. "But he plays like he is," said his assistant, Bob Jones.

"By the time I was 6, I knew I'd be a musician. I never had any formal lessons, although about ten years ago I signed up and attended Boston Conservatory for one semester to study the beginning rudiments of music. I liked going to Boston and seeing the architecture."

RAS: Do you practice every day?

LH: I think about it every day. I do a certain amount; it's a form of athletics. I practice drums, harp and mandolin. You have to also keep your voice in shape. A drummer needs to keep good callouses on his hands and feet.

RAS: Have you ever taught music?

LH: I've shared ideas with anyone who would listen or who would teach me something.
Levon personally as a musician
"You've seen me for the last month my ambition is to play first chair eventually. The ballgame ain't over yet. So that's what I do. I have to do it. Music is sort of like athletics; it's like a fine-tuned form of being an athlete. If you don't play, your hands get soft, your feet get soft, you get blisters on your toes, your voice gets hoarse. It's a physical endeavor. I'm sort of operating at a minimum by playing around here enough to stay in shape. It gives me time to experiment and work on some things that I haven't tried yet."

"I guess it boils down to having had the blessing to play music and having it feed me. It doesn't make me a rich man or a powerful figure or anything like that. That's not the game of it. The game of it is to get to play music. It seems like a hell of a good deal to me. I don't really have any sage advice to give anyone. I can tell them what Ralph Shultis told me. (He's one of our leading citizens.) When I asked him what he was doing, he said he was taking in everything but washing. And he would fix anything but a broken heart. Well, I'm taking over where Ralph leaves off. I'm making people forget all of that stuff for a little while. That's the musical commitment you make to the audience. They've got the farmers on television here, they're in protest, they're all going broke. I wish I could go out there and play for them. I probably will. That'll be my job - to make them forget it and have a good time for at least a couple of hours. I think that's the game - that's the way I understand it."
The Band
RAS: Can I ask you a few questions about the Band?

LH: Well, if you have to; it's all plowed ground. We got started with Bob's help; he kicked the door open to recording contracts and opportunities. At that time groups weren't popular. It had been a while since the Coasters and people made hit records. Hell, they were into Pat Boone! Record companies weren't looking for groups. But on the strength of playing with Dylan, we got in. And we rolled a couple of sevens - we had the dice in our hands a few times. I think we had a 10- or 12-album career with Capitol Records. I think we got about 3 or 4 home runs out of it, as far as a gold record is concerned. And the other ones were just like any other ballgame.

RAS: What do you think made the Band so unique?

LH: Chemistry - the chemistry of the people that were in the Band. Collectively, five people can add up to more than five. That's what helped us - we'd been back to back for a long time. We were birds of a feather; there was a common denominator. We all had an appreciation of music, art and human nature. When it finally got down to the simple proposition of making music, then you have five heads, which are better than one or two. When it got that simple, our chemistry was pretty well cultivated, tried and tested under fire. We had played everywhere and done everything two of three times.

RAS: Can you remember the first time you met any of them.

LH: Oh yeah. Hey, I'm not that old, Ruth.

RAS: I mean, can you remember your first impressions?

LH: "Good musicians" was my impression when I met all the other fellas. I went from Arkansas up to Canada and ran into them up there. The fella I went up to Canada with, Ronnie Hawkins, fell in love with it, the same as I did. But he fell in love with a Canadian girl, too. So he married and stayed up there and raised a family. He still really enjoys it, it's one of those good places. Canadian audiences are real knowledgeable - kind of like New York or Memphis audiences.

RAS: Do you think the Band would have been different if the rest hadn't been from Canada, if they had been American?

LH: You've got to remember that we were sort of world citizens, because our circuit, our southern circuit, was colleges and dance halls, down through Oklahoma, Arkansas and Texas. We would stop off and play the Jersey shore in the summertime and then would go back up to southern Ontario and sometimes into Quebec. The same music that's going on here is going on there, so it's like a two-way street. The Canadian boys lived a lot of their time in the States and I lived a lot of my time in Canada, which was really enjoyable to me, to grow up in Toronto and see the kind of musical people that I got to see. I was just a musician working the Young Street strip, which was a big street with clubs, everybody from Oscar Peterson to Cannonball Adderly, Carl Perkins, anybody you'd want to see. Ray Charles would be around the corner.

RAS: We saw the video tape of the Band reunion concert and I remember you talking about all this. Speaking about reunion concerts, how did you feel about the ones last year?

RAS: Would you play with them again?

LH: Well, not only that, but just as individuals, we're supposed to get better, as we do now. So if that rule of physical endeavor and human concentration holds true, we will play better, year after next, than we do now.

RAS: Do you think you'll play with them again?

LH: I don't know. It's so hard to say. . Win, lose or draw though, we have that satisfaction of trying to attain that first chair sort of place.
Classical music
RAS: Do you listen to classical music?
LH: Not a lot. I like listening to different music - I like listening to Baul music from India and I like listening to gospel music. I like the old southern gospel stuff and I ike the mountain sacred heart singing; where it's all a cappella. I enjoy listening to that. And I enjoy checking on my friends; I enjoy listening, to their latest records.
RAS: Do you have friends who are classical musicians?
LH: No. I meant like Bonnie Raitt. If she puts out a new record, I want to hear it.
RAS: Well, that's abut it.
LH: Okay - now put a good picture of me in there.
RAS: I will, and I will write this up and send you a copy, in case you want anything changed.
LH: That'll be interesting; I've never had it that way.
I asked Levon about a reunion concert. "It's not like everybody's dead," he answered. "I still want to think that the best music is still coming." And so do I. ++

© Ruth Albert Spencer
Ruth Albert Spencer is a classically trained musician and teacher. She is Director of the Music and Movement Department at the Diller-Quaile Music School in Manhattan. She has published two books on Music Education for teachers and currently is working on a book entitled Recollections of John Lennon. Ruth lives with her husband Michael, teenaged daughter Joanna and three dogs in New York City. The have a weekend home in Woodstock, just down the road from Big Pink. She describes herself as the "world's number one Band fan."
---
[History] [Members] [Library] [Discography] [Videography] [Filmography] [Pictures] [Audio Files] [Video Clips] [Tape Archive] [Concerts] [Related Artists] [Merchandise] [Guestbook] [Chat Room] [Search] [What's New?] [Main Page]
Webmaster