Robbie Robertson
Interview With A Legend
---
by Nick Krewen
From the Canadian Music Week web site.
Article copyright © 2002Nick Krewen.
---
Photos by Tom Sandler/ Galaxie Media.com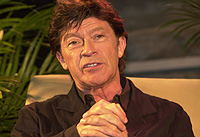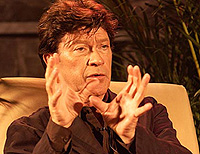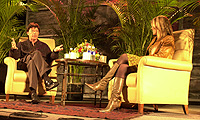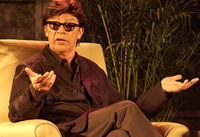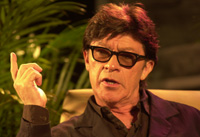 One of the advantages of being in the presence of a Canadian music icon is that you can clear up some historic misconceptions directly from the source.

In the case of Six Nations legend Robbie Robertson, it was the circumstances that led to The Hawks hooking up with Bob Dylan.

"We were playing a club in Summer's Point, NJ, when we got word Dylan was interested in meeting us," Robertson recalled at Saturday's keynote speech that officially concluded Canadian Music Week.

"He was wanting to make this transition from folk to electric, and we were from the electric side of the tracks."

Robertson said Dylan rendezvoused with the Hawks -- later known as The Band -- in Toronto at the Friar's Tavern on Yonge Street and sat in with them after hours to see if the two would mesh.

Then it was off to Newport and a historic world tour that was greeted with animosity by acoustic folk purists who felt Dylan had sold his soul to the Devil.

"It was the strangest thing," Robertson remembered. "We went on this big tour all around the U.S. and Canada and got booed. Nobody could figure out why. A few years later we toured again, as the Dylan/Band (Before The Flood) tour, and played exactly the same thing.

"The combustion of the music was magical, and everybody loved it. The audience came from the point of, `Yeah, I knew this would work all along.'

"We didn't change, but the world came around to our point of view."

Robertson, 59, also dispelled the notion that The Hawks left Ronnie Hawkins to hook up with Dylan.

"The Hawks had left Ronnie just to explore new musical territory. There were certain limitations. We were playing a year before we met Dylan."

Robertson recalls that when he traveled to the Delta to first join Ronnie Hawkins and The Hawks, he felt he had entered "a holy temple."

"When I went to the Mississippi Delta at 16 to join The Hawks, it was place where rock 'n roll grew out of the ground. Now that I was walking into their world, I was amazed at how musical that whole world was.

"Jerry Lee Lewis and Howlin' Wolf were playing around locally, and when anyone attended the shows, people of all ages were there.

"When I walked into that world, I took notes. Coming from the remote distance of Canada, playing the chitlin circuit made a strong impression on me. I ended up being the guy who wrote "The Night They Drove Old Dixie Down."

Aside from his 11-album contribution to the legacy of The Band and his own four-album solo career, Robertson has also supervised the music for several soundtracks and has signed a number of acts -- including Boomkat and Dana Glover -- to DreamWorks Records in his capacity as A&R executive.

In a conversation with Jana Lynn White presented by the Songwriters Association of Canada and sponsored by the Ontario Media Development Corporation, Robertson admitted that he doesn't come "from a traditional place" for music and film. The lasting friendship he's forged with Martin Scorsese since 1978's The Last Waltz -- he's served as either soundtrack producer or music supervisor on a number of Scorsese films ranging from King Of Comedy through Gangs Of New York, is one built on mutual respect and trust.

"We appreciate one another's tastes," Robertson said. "It's trial and error. There are no rules, no boundaries. We've moved on from that place where the only lesson is that you have to take a shot. You have to discover something no one else has -- that's your commitment."

Robertson says filmmakers hire executive music producers just to feed them ideas, while the producer is always looking for music that "pumps up the film."

"Marty is a frustrated musician," said Robertson. "Whenever he's working on a script, music is always playing. There's a soundtrack for everything for him."

Reflecting the time period of a film with historical accuracy is important, said Robertson, but in providing music for Gangs Of New York he strayed from his path.

"It was a really interesting counterpoint for this opening scene where various gangs are marching to combat," he explained. "I had discovered this fife 'n drum blues from Southern Mississippi that was fairly obscure. It doesn't really have anything to do with the context of the film, but when it appears in this film, it does this thing to you where you receive this ominous feeling. It carried a lot of emotion and power."

For artists that want to place their music in film, Robertson advised sending it directly to a music supervisor or a music publisher.

"To get the attention of these people is the key to this door," he said.

Although he got his feet wet as an actor in the movie Carny and performed a cameo in The Crossing Guard, Robertson says he's in no hurry to return to being in front of the camera.

"It's not my passion," he states.

Discussion then turned to Music For The Native Americans, the 1994 album Robertson recorded with The Red Road Ensemble in which he assembled various aboriginal musicians to forge a traditional and contemporary view of the aboriginal music scene for an accompanying PBS documentary.

"I was trying to be very respectful of the documentary," said Robertson. "We were trying very much to spread those wings on the music without getting overly precious."

When its success led to his next album, Contact From The Underworld Of Redboy, Robertson's aim was " to make it more personal."

He also commented on the addition of aboriginal music categories to the Juno and Grammy Awards, applauding the Junos for "stepping up."

"I had a much more difficult time convincing the organizers of the Grammys," said Robertson, who handed out the very first awards for each ceremony. " I said, `Listen, this is the original roots music of the continent.' C'mon, you have this cheesy polka category. There 's a lot of Native people making great music. It was so long overdue."

Robertson also cleared up any misconception as to where his allegiance lies.

"I have a tremendous pride of Canadian talent. At Dreamworks we have Nelly Furtado, someone we're very proud of. There's a natural connection. I want you to know you have a connection.

"It's a bit of a mystery as to why so much great music comes out of Canada, and am I ever proud of that. There's an appreciation of good music here much more than in the U.S.," he declared.

As the recipient of Lifetime Achievement honors for the upcoming National Aboriginal Achievement Awards and a just-announced inductee into Canada's Walk of Fame, Robbie Robertson says he hasn't finished exploring new musical, cultural and entertainment opportunities.

"I hope my greatest triumph is yet to come," Robertson said. "I like stepping up to the challenge."

---
[History] [Members] [Library] [Discography] [Videography] [Filmography] [Pictures] [Audio Files] [Video Clips] [Tape Archive] [Concerts] [Related Artists] [Merchandise] [Guestbook] [Chat Room] [Search] [What's New?] [Main Page]
Webmaster