The Band picks up beat for '90s
Legendary group keeps the faith with new lineup
---
by Walter Tunis
From the Kentucky newspaper Lexington Herald-Leader, May 5, 1997. All contents © Copyright 1997 Lexington Herald-Leader. All Rights Reserved.
---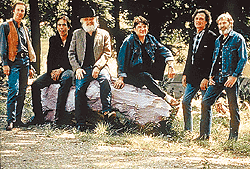 Rick Danko, left, Richard Bell, Garth Hudson, Randy Ciarlante, Jim Weider and Levon Helm now form The Band. Danko, Hudson and Helm go all the way back to the group's 1960s genesis.

Possibly the toughest task for a rock 'n' roll group with a legendary past is to maintain a reputable profile in the here and now.

Just ask Jim Weider. Since 1985, this Woodstock, N.Y., native has been a guitarist for The Band. That's right, The Band -- as in "The Night They Drove Old Dixie Down" and "The Weight."

In an especially celebrated and colorful chapter of rock history, The Band rejected the trendier aspects of the psychedelic '60s. It turned rock back to its blues and country roots and explored almost cinematic-style themes of Americana for its songs.

All of that happened in a span of a decade -- from the 1968 debut of the classic Music From Big Pink to the 1978 album and film release of what was to have been The Band's farewell concert from two years before, The Last Waltz.

It was also a time that came and went long before Weider -- or half the members of the current Band, for that matter -- joined the group.

So the toughest question to ask today is also the most obvious. How does a group known almost exclusively for recordings made ages ago strive for a new identity in the late '90s and still stay loyal to the music of its illustrious past?

"I think we're on the right path," Weider said. "We're getting closer and closer to where we need to be. Over the years, The Band's sound has changed and developed. It rocks a bit harder now than it did years ago, but in a good way.

"We're just edging closer to coming up with that great album that we need to make. Progress is being made."
New musical turf
Although The Band ended a long breakup in 1983 -- with all except guitarist and songwriter Robbie Robertson returning from its founding lineup -- another decade passed before serious steps were made to stake out new musical turf.
You could say there were more than a few problems along the way.
In March 1986, while touring Florida, pianist Richard Manuel -- the exquisitely smoky voice behind such classic Band fare as "Across the Great Divide" and "The Shape I'm In" -- took his own life.
That trimmed the number of original Band members to three -- drummer/vocalist Levon Helm, bassist/vocalist Rick Danko and keyboardist/saxophonist Garth Hudson.
"Richard was one of the most soulful singers and musicians that I ever got to meet," Weider said. "And just one of the nicest guys. When he sat down at the piano to sing, you couldn't help but be in awe of his musicality. He could sing anything."
The Band persevered, though. In the years that followed, extended club tours were mixed with with some especially high-profile performances that ranged from enchanting -- such as the update of "When I Play My Masterpiece" at the 1992 tribute to the group's one-time boss and collaborator, Bob Dylan -- to downright weird -- as in its very unlikely duet with Sinead O'Connor at Roger Waters' 1990 Berlin staging of The Wall.
But it wasn't until a 1993 album called Jericho -- The Band's first full studio recording since 1977's Islands -- that the group was able to show to the world what its newest lineup was worth.
"Finally getting Jericho out brought us back to the spotlight," Weider said. "I think it helped tremendously for people just to know that there was a new album out there."
Although Weider had been a touring member of The Band for eight years before the album's release, Jericho was the world-at-large's first look at him. Keyboardist Richard Bell and drummer Randy Ciarlante were also on hand to help flesh out the sound of the "new" Band, but Weider by far had the biggest job -- filling the guitar role of Robbie Robertson.
Ironically, it was Robertson as well as such guitarists as the late Roy Buchanan (a noted favorite of Robertson) who served as a significant musical influence on Weider.
"Robbie and all of his great guitar licks have provided a great influence," Weider said. "And since I had grown up with that kind of music, I felt immediately comfortable playing it with The Band.
"I just approach what I do now from what I'm able to do with my own style and how I can put my own stamp on the music."
A second post-Robertson studio album called High on the Hog was released last year. But by far the album's most outrageous surprise was Helm's saucy vocal turn on a version of (of all things) En Vogue's "Free Your Mind."
"Levon has been like my mentor in music," Weider said. "He's taught me just about everything in terms of being a professional musician. His approach to music comes from the roots of the Delta so there was a lot to learn just from the people who inspired him."
Live album coming
Ahead for The Band is another new recording -- a live album of predominantly acoustic material that the group will begin to assemble in fall. Until then, there's more roadwork to be done to further spread the word on both the new and old music of The Band.
"Sometimes we still feel that to get through to the masses we have to have that big wheel behind us, the push and publicity that a major record company can give us," Weider said. "It seems that no matter how much we travel and play will ever match that.
"But we're grateful that there's still a good cult fan following out there that wants to hear us. So we always look forward to getting out there and playing for them."
If you go
The Band performs at 8 p.m. Thursday at the Kentucky Theatre. Tickets are $26.50. For more information call 231-6997.
---
[History] [Members] [Library] [Discography] [Videography] [Filmography] [Pictures] [Audio Files] [Video Clips] [Tape Archive] [Concerts] [Related Artists] [Merchandise] [Guestbook] [Chat Room] [Search] [What's New?] [Main Page]
Webmaster