The Beat Goes On
Despite a series of setbacks, Woodstock's Levon Helm still drums like nobody's business
---
by Thomas Staudter
From
Hudson Valley Magazine
, June 2003.
Article copyright © Thomas Staudter, Hudson Valley Magazine 2003. Please do not copy or redistribute.
---
Photos © Alex Layman/ Laroc Photography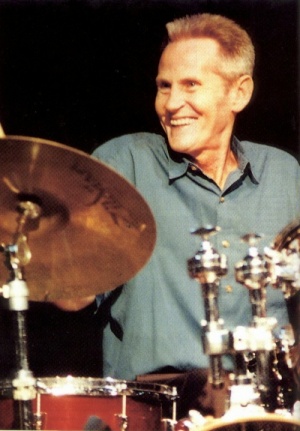 Levon Helm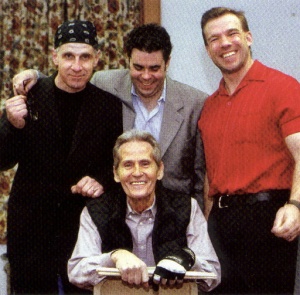 Levon & the Barn Burners
Levon Helm and the Barn Burners have packed the Turning Point, a Rockland County nightclub, and are deep into their first set when they start chugging through "Hey Mr.Porter," the old George "Harmonica" Smith tune. Helm has set up a shuffle pattern on the snare drum that's so insistent you hardly notice the intricate rhythms within his playing -- all the more surprising since he appears to be expending barely any effort at all.
Helm breaks the shuffle into a steady syncopating roll across his two tom-toms as the Barn Burners and special guest Jimmy Vivino shift into Junior Parker's "Mystery Train," sending the standing-room-only crowd into a frenzy. The song combines much of what Helm represents to the audience: it's a classic rhythm and blues number that a truck driver from Memphis named Elvis Presley recorded in 1955, the year rock 'n' roll found its mass audience, and it's one that Helm has played probably thousands of times since he first led his own Band, the Jungle Bush Beaters, while still in high school in Arkansas. Hunched over his drums with his right shoulder cocked up, Helm smiles as he returns to the shuffle on his snare.
Twenty years ago Levon Helm was sitting on the top of the world. A true rock 'n' roll royal thanks to his inimitable vocals and drum playing with The Band, he was recruited into film acting and had just starred in the Right Stuff, the blockbuster screen history of early U.S. astronauts. Between Hollywood's beckoning and a solid career as a solo artist and much-in-demand session musician, Helm had his mojo working overtime.
Time brought Helm, now 63, a large share of hardship, including health problems and financial woes -- more than enough to force lesser souls into retreat. But not him. Today the longtime denizen of Woodstock is in the midst of a musical resurgence, and once again his calender is heavy with studio and touring dates. While a battle with throat cancer six years ago keeps him from singing, Helm can pop a snare drum and drive a rhythm section like few others. "If I couldn't play anymore, I'd feel miserable," he says, "like I was the biggest failure in the world."
But since bandleaders are eager to have his experience ticking away behind them, idleness doesn't seem to be an option. In the past few years he has toured with Ringo Starr and Roger Waters (of Pink Floyd). In recent weeks, he worked in the house band at Radio City Music Hall's "Tribute to the Blues" spectacular, backed the Dixie Hummingbirds on their upcoming album, and then rushed back to Woodstock to cut some tracks with Rufus Wainwright.
These days Helm regularly associates with two groups steeped in the "roots" music genres that first hit him 50 years ago. The Last Hombres is a rockin' quartet from Huntington, Long Island, whose members first hired Helm while recording their album Redemption, which was released earlier this year. The experience in the studio was so enjoyable, says Helm, that he now gigs with the Hombres whenever he can. In the Hudson Valley, music fans are probably more aware of Helm's ongoing collaboration with the Barn Burners, a Poughkeepsie-based quartet that features the bluesy vocals and harmonica playing of Chris O'Leary.
"Levon's playing has the funk and stink, the pull on the back of the shirt that all those old guys had," says Barn Burners guitarist Pat O'Shea, who began playing with Helm four years ago. "To be true to the blues tradition you have to learn the music's nuances. Levon is the tradition; it's part of him. Every time I'm in the bandstand with him I feel like I'm doing my homework."
Jimmy Vivino, the guitarist seen nightly on TV's Conan O'Brian Show, praises Helm as "living folklore" and for playing drums "like an old black man."
Between sets at the Turning Point, Helm relaxes upstairs in the dressing room with the Barn Burners and his trusted aide-de-camp, Butch Dener, when some friends come to say hello. A college-age fan stops by and asks him to autograph a mint copy of the 1963 Roulette LP The Best of Ronnie Hawkins. Helm politely obliges, and then, better yet, recalls for his guests several exploits from his juke joint days with "The Hawk."
Originally from Marvell, Arkansas, a small cotton-farming community near Helena, Helm grew up loving the blues, gospel, and country music. He trekked weekly to Helena to see harmonica legend Sonny Boy Williamson host the King Biscuit Time radio program, and as a teen he saw Elvis perform twice. Fresh out of high school, he joined Hawkins' backing band and relocated to Toronto, which the leader saw as fertile ground for his torrid brand of rockabilly music. In Canada Hawkins hired four young musicians -- guitarist Robbie Robertson, bassist Rick Danko, and two keyboardists, Richard Manuel and Garth Hudson -- to join Helm as his "Hawks," and the unit quickly gelled. Eventually the Hawks set off on their own, and in 1965 Bob Dylan sought the quintet's backing. Together they launched the folk-rock movevement.
The adverse audience reaction to Dylan's electric, amplified sound caused Helm to quit music for a year, but at Hudson's urging he rejoined his musical cohorts, who by then had all followed Dylan up from Manhattan to the Woodstock area. Danko, Manuel and Hudson were renting a pink split-level ranch house in West Saugerties and had turned the basement into a recording studio, where the group, referred to simply as "the band" by the hip locals, worked with Dylan through 1967 and 1968, composing their own songs and re-arranging a slew of old traditional American tunes.
"Woodstock, back the, hit me as being country, and all us fell in love with the area very quickly," says Helm. "After living in New York City for a while, it was a fantastic place to be, just very sheltering. We knew where all the best swimming holes were. But you've got to take your music to the people to make a living, and so we were away a lot, too. I always looked forward to coming back home."
As The Band, Helm et al released their first album, Music from Big Pink, in late 1968 and continued on a meteoric trajectory until Robertson's departure at their 1976 farewell concert, The Last Waltz, which was recorded and filmed for posterity. Growing rancor in the group through the years stemmed from a perception that Robertson was hogging the spotlight and songwriting credits, but Helm and the rest of the group stayed close and soldiered on as the Band with various other guitarists for a number of years. Sadly, Helm stands today as the only surviving member of the group's celebrated rhythm section; Manuel committed suicide in 1986, and Danko passed away in his sleep four years ago.
In 1974 The Band moved en masse out to Los Angeles, but Danko, Manuel and Helm never gave up their Woodstock residences and were back living full-time in the Hudson Valley before long. Helm built a Dutch "bank barn"-style house on 18 acres in 1973, then rebuilt it after a fire destroyed it in 1989. With his wife Sandy, he leads a quiet life when he's not behind his drum kit, socializing mostly with old friends or spending time with his daughter Amy, a singer living in Manhattan. He also works occasionally with "brother Garth," the Band's iconoclastic organist, who moved back to the Woodstock area a few years ago.
Back at the Turning Point, the Barn Burners stomp through two encores after an over-generous second set and still the crowd needs more. Instinctively, Helm keeps a roll on the drums going past the end of the song. O'Shea nods to the other musicians and the group swings through one more tune. It's been a long night of roadhouse-hot rhythm and blues, obviously just what the audience wanted and expected. A half-hour after the show, Helm has his kit packed in his car and he's heading back home.
---
[History] [Members] [Library] [Discography] [Videography] [Filmography] [Pictures] [Audio Files] [Video Clips] [Tape Archive] [Concerts] [Related Artists] [Merchandise] [Guestbook] [Chat Room] [Search] [What's New?] [Main Page]
Webmaster