The Notorious Byrds Brothers
Backstage at a not-so-magical reunion
---
by Mary Lou Sullivan
From the Fairfield County Advocate, May 1985.
The text is copyrighted, please do not copy or redistribute.
---
Take two original Byrds, add two boys from The Band, the "Sail on, Sailor" Beach Boy, the resonant vocalist of Firefall, throw in two latter day Byrds just for fun, and what do you get? Musical magic and a 20th Anniversary Byrds reunion that just may go down in history as the "Take the money and run" tour.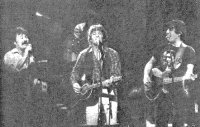 Younger than yesterday?

A few weeks back, Gene Clark and Michael Clarke, the original guitarist and drummer of the Byrds headlined a reunion at the Woodbury Ski and Racquet Lodge in Woodbury, Conn.. Together with bassist Rick Danko and keyboard player Richard Manuel of The Band, guitarist and vocalist Rick Roberts from Firefall, guitarist and vocalist Blondie Chaplin of the Beach Boys, and 12-string guitarist John York and bassist Skip Battin from one of the final line-ups of the Byrds, the players musically captured the essence of 1965 and the band that pioneered "folk rock," a musical style that fused the folksy tunes of people like Bob Dylan and Pete Seeger to the electronic sounds of rock and roll.

The reunion was brainstormed in January by Clark and Clarke who selected the noteworthy line-up because "they were all available and are all great players," said Clarke after the show.

"The tour actually started in February," added Danko, with a wide smile that wouldn't leave his face. "We rehearsed two days and then played out for three weeks. Then I did 12 shows with Richie (Richard Manuel) and then regrouped with the Byrds and did a fourth week. We've played the Midwest, the East and West Coasts."

"They recorded and filmed the two nights we played at the Vogue Theatre in Indianapolis," he continued. "The first night was pure magic. We captured the wonderful spirit and feeling we worked so hard for," he said.

Danko compared the show to "an off Broadway play that gets more powerful as it plays. The sad part is that one day you have to put it away and start something else," he concluded.

Which was exactly what happened to the original line-up of the Byrds which consisted of Roger McGuinn on guitar, vocals and 12-string guitar, David Crosby on guitar, Chris Hillman on bass, and Clark and Clarke. The band was hailed as L.A.'s answer to the British Invasion, and sailed to the top of the charts with their first single, "Mr. Tambourine Man," a tune penned by Bob Dylan and a classic album of the same name. Dylan's public sanction of the band helped launch their musical career, which peaked from 1965 to 1968.

In the fall of 1965, the Byrds released another album and single, "Turn, Turn, Turn," a Biblical passage set to music by Pete Seeger. Their third LP, Fifth Dimension, was released the following summer, and "Eight Miles High" floated up the charts. "Eight Miles High" was unlike any other song before it and contained a wild bass line and an electronic 12-string guitar solo, said to be inspired by jazzman John Coltrane. The Byrds continued breaking new ground musically and lyrically and that tune had the dubious distinction of being one of the first records widely banned because of alleged drug references.

But as the Byrds broke new ground, their internal structure broke down. McGuinn was said to have ruled the band with an iron fist and have manipulated the musicians and their skills to suit his own creative purposes. Gene Clark left early in 1967, Crosby quit later that year, and Clarke and Hillman walked out in 1968, citing creative differences. A nonplused McGuinn hired session players to carry on his musical concepts, but after a few albums and tours, the band disintegrated. "The Byrds broke up in pieces," said Clarke. "I left in 1968. I moved to Hawaii where I played music in a country band, but took a break from being in a rock band," he added.

Clarke's been playing drums for 25 years and says that being an ex-Byrd has helped his career, which included working with Firefall for six years.

"The Byrds was a stimulating band that catapulted me into other things," he said. "It really wasn't a bad band to be in. Sure, people have expectations because of it, but what people expect and what people get are two different things. They only get what you have to give them. Some like it, some don't. But you can't please everyone and you shouldn't try to," he added.

No one could accuse Clarke of trying to please everyone that afternoon. His attitude was cavalier and his answers made me realize that he wasn't taking me or the reunion terribly seriously. Money was the bottom line. The most important thing he learned in the past 20 years since the Byrds first hit stardom was "it takes a lot of hard work to make money, the kind of dough I like," he said.

Their recent Indianapolis reunion show was taped on 24-track equipment but Clarke says the band doesn't have a record label. "I wish I had a record label, then I could screw people," he said with a sneer, then added that he really didn't dislike the music business. "Every once in a while I've wanted to give up music, but that was just temporary. Sometimes it's just a damned job," he added.

Clarke said he didn't think there was much difference between the music industry now, and the industry 20 years ago. (I wonder if he ever listens to the radio.)

"The music business has always been a pain in the ass," he continued, "but you can't do anything musically without it." Then, without skipping a beat, he drooled. "It's a great business, full of great people. There are shysters and sharks in every business. I never hated the music business, I was just perturbed with the way I dealt with it." Well, I wasn't too impressed by the way he dealt with me. He had agreed to do an interview, but I had to literally follow him around the dressing room area, asking a question or two, getting an answer and then having him walk away after five minutes. Then I would approach him again, only to get another factitious answer. Gene Clark was even worse.

I had met Gene and Mike in late January 1985, when they played as the Firebyrds at the Rockinghorse Cafe in Hartford. They were extremely disorganized that weekend and really didn't seem to care.

I spoke extensively with Gene that night and was charmed by his wit, warmth and candor. Clark spoke affectionately of his Apace Indian heritage and said he was proud to be from the Ozark Mountains of Missouri.

Clark said he was one of 10 children and he laughingly told how he was always trying to live up to the macho image of his older brothers. Clark still had the lean look of his youth, but his once perfectly sculptured nose had been rearranged by a gang of Hell's Angels, he said.

He told how one insulted him, calling him a "pretty boy rock star." Clark was determined to show that he was an Ozark Mountain man, no sissified city slicker. He coldcocked the Angel and knocked him down with one blow. Appearantly the Angel's buddies went crazy and attacked him en masse from behind. He lay helpless on the ground while the gang beat him and kicked his face until they heard his nose break.

Clark told tale after tale, with a mischievous glint in his eye. He wore a coyote fur jacket and told me how he finagled the $1500 garment from a merchant in Chinatown for only $250 because the man needed quick cash to keep unsavory characters from killing him over unpaid gambling debts.

Clark bemoaned the "white man's" paternalistic attitude towards the Apache and other Indian tribes and explained that Clark was an English surname given to his ancestors by the white man who stole their land and herded them into reservations, much like the way the English settlers gave English surnames to the black people they stole from their homes in Africa.

It was an entertaining evening that ended with the sunrise, nut the company and the conversation was well worth the loss of sleep.

But the Gene Clark who showed up 15 minutes late for the Woodbury concert was not the same man. He was tense and irritable and couldn't stand still. He said he remembered me, but I wasn't convinced. He paced the dressing room before the concert and said he might speak to me after the show.

Clark arrived with Danko in a New York registered van. Danko was extremely friendly, and said he's love to talk to me after the show.

"It'll be fun," he said, and handed me his broken sunglasses and asked me to replace the screw that held the bow to the frame. Danko was bubbly and smiling, always smiling behind those mirrored lenses. He said they were late because they took the right exit, only they took it into the wrong state. Mew York instead of Connecticut. They drove around in circles for a while, he said, until they finally got on the right track. (Hah!).

After the show, I stopped backstage and Clark asked me to give him a few minutes to "cool dowb." Five minutes later I watched him and Danko walk down a dirt road towards their parked van. I started to wonder.

"You're not runnin' out on me?" I asked Danko, point blank.

"No way, we're just takin' a walk to cool down," he answered, and asked me how I liked the show.

"It was magical," I replied, and he smiled that wide smile and kissed me on the forehead. "We'll be right back," he reiterated. I didn't really believe him, but gave him the benefit of doubt.

While I waited for Clark and Danko to return, I spied Manuel, the keyboard player from The Band. I figured I could glean some gems of musical wisdom from him while I waited. No cigar!

Manuel said he joined the reunion because "old friends and acquaintances offered him an invitation he couldn't refuse." The reason the line-up sounded so hot was because "everyone has the same intentions, which are to do what we're doing and do it better." Uh Huh!

Meanwhile, Clark and Danko sneaked out the back and left me waiting, notebook in hand. Apparently, Clarke was right on target when he talked about expectations. "People only get what you have to give them," he said, and apparently neither he nor Clark had all that much to offer.
---
[History] [Members] [Library] [Discography] [Videography] [Filmography] [Pictures] [Audio Files] [Video Clips] [Tape Archive] [Concerts] [Related Artists] [Merchandise] [Guestbook] [Chat Room] [Search] [What's New?] [Main Page]
Webmaster