THE BAND
The first great American rock group
---
by Andrew Dansby
From the Houston Chronicle, September 26, 2005. The text is copyrighted, please do not copy or redistribute.
---
A new 5-CD/1-DVD anthology digs deep into the Band's history.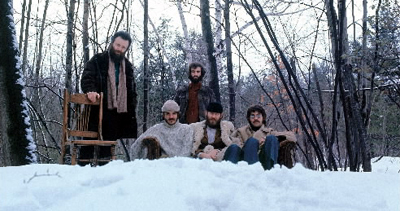 Today, the Band would be considered Americana, but in the late '60s, it sounded like nothing of its era. From left: Garth Hudson, Rick Danko, Richard Manuel, Levon Helm, Robbie Robertson (photo Barry Feinstein/Capitol Records).
The band's name is frustrating, equal parts understated and boastful: The Band.
It lasted a tidy 10 years and released two out-and-out perfect records, another three very good albums and orchestrated perhaps the grandest exit in rock 'n' roll, a genre of music notorious for bad exits.
Things would go grim, very grim, after the Band's final waltz, with incomplete comebacks, in-fighting and death. But during its hot years, the Band was a band that celebrated music.
"It's not something we really talked about, but I think subconsciously we thought of ourselves as having a genuine collaborative spirit," says Robbie Robertson, the Band's guitarist and primary songwriter. "That's probably how we came about with the name the Band. It wasn't one singer or lead guitar player and some other guys in a group. Everybody played such an important part in the sound of it and flavor of it."
The Band's music has been anthologized time and again; the new A Musical History (in stores Tuesday), with its five CDs and one DVD, is the biggest and broadest compilation of its music.
The Band compilations can be a frustrating lot for fans. In 1989, To Kingdom Come, a two-CD set tagged "The Definitive Collection," was released . though it was followed five years later by Across the Great Divide, which seemed extra-definitive with an extra disc.
A Musical History digs even deeper.
It starts with Who Do You Love, rockabilly singer Ronnie Hawkins' recording with his second incarnation of the Hawks, which included his original drummer Levon Helm, and Canadians Robbie Robertson, Richard Manuel, Rick Danko and Garth Hudson.
Several songs represent a period during which Arkansan Helm took the reigns of the Hawks before the group crossed paths with Bob Dylan, with whom it would record the famed The Basement Tapes.
By 1968, the band was the Band.
Today, the Band's music would be saddled with the Americana tag. In the late-'60s, it sounded like nothing of its era. Rock 'n' roll was loud, large and driven by soloists. The Band employed mountain harmonies, subtle keys, little bursts of brass, and Robertson's unique picking, a crackling style that passed on lengthy solos for a sound closer to the great Southern soul music.
"I'd gotten those raging solos out of my system playing with Ronnie," he says. "I guess there were also some screaming solos with Dylan, but by the time we got to Big Pink (the house in New York where the Band recorded its debut) we wanted to concentrate on trying to get as much feeling and storytelling as we could. Really concentrating on the songs."
Today, the Band's look would also be saddled with the hipster tag. They were semi-dapper, bearded, tweed-sporting men who looked like they favored pipes over cigarettes. Part professor, part hillbilly.
"They had the whole thing," says Jason Isbel, a singer/songwriter/guitarist with the Drive-by Truckers, who wrote a poignant tune, Danko/Manuel, about the band. "These days you'd call it an image, but it wasn't really an image in their case, it was just the people that they were. But it worked for them. There are some bands you can tell exactly what they look like by listening to them."
To wit, the Band's sound was a hairy, wooly, organic thicket of sound: R&B, soul, gospel, folk, country and pop . it was all in there. But despite the band's predominantly Canadian roots, it never crossed from appreciation to affectation. Further blurring distinctions was the fact its members all chipped in on vocals, though Manuel's unearthly wraithlike voice and Helm's leathery whelp were the most heard. They were also all multi-instrumentalists who played a broad collection of stringed instruments, keyboards and even brass.
"It was all the stuff that we had collectively and separately gathered in our own personal libraries of music that we had been introduced to in our days on the road," Robertson says. "It just went into this big pot. Over the years, even before we made these records, we kept stirring things into the band's music. It's just a direct collection of what you gather at the side of road over years of woodshedding."
The woodshedding is one of the chief draws of A Musical History. More than 30 unreleased cuts . some castoffs . others revelatory, are included.
"It's really nice to be able to share that stuff," Robertson says. "And I think some fans find it interesting to go back to beginning stages and the growing process, see the way this thing works. It wasn't about everybody playing parts. It was more, 'Here is the song, and let's go in there and discover it.'"
A song sketch of Caledonia Mission, from Music From Big Pink, one of rock 'n' roll's finest, most-fully realized debut albums, is a soulful gem. A snippet of the Carter Family's Will the Circle Be Unbroken is short but resonant. Another sketch, You Don't Come Through, includes an interesting lyric-less vocal by Manuel. Also included is a full-length version of the marvelous To Kingdom Come, a song that illustrates the perfection of the Band's collaborative spirit, putting a great high vocal from Manuel on top of a funky beat and salty backing vocals by Helm.
The group's legacy has a peculiar place today. It was plenty popular in its early years: Big Pink climbed to No. 30 on Billboard's album chart and The Band, its outstanding follow-up, debuted in the Top 10. The Band was even featured on the cover of Time magazine in 1970.
But it was never a big singles band, only getting Up on Cripple Creek and Don't Do It on the charts. So despite commercial success, the Band has become the very model of an influence band, a group with a body of work that inspires future generations of musicians to pick up instruments and make music.
The Americana explosion of the '90s would be unthinkable without the Band. Genre-bending rock bands like Los Lobos carry on its spirit.
"Their music was interesting and you could feel it," Isbel says. "That's really the kind kind of band I always wanted to be in. They embodied that to me."
Beyond the recordings on A Musical History, the Band's songs have legs in a variety of genres. Joan Baez found success with Robertson's Civil War story song The Night They Drove Old Dixie Down. One of his best tunes, the surrealistic Luis Buñel-influenced The Weight, is frequently heard on soundtracks, commercials and was also covered by jazz singer Cassandra Wilson.
It's one of those bands whose fans have different favorite obscure tracks. Take When You Awake, a song with a mammoth melody, a sweet, sweeping organ and perhaps Manuel's best vocal. There's also All La Glory (featured in an early version on A Musical History), which is a harrowing, but delicate gospel-tinged lullaby.
The Band's postscript is as sad as any in rock. Robertson passed on doing an '80s reunion tour, and the band members' relationships were in a deep chill. Manuel hanged himself in 1986. Danko died in 1999.
Helm survived cancer and continues to barnstorm the country with a bluesy troupe. Robertson has recorded a trio of solo records, and Hudson has kept the lowest profile.
But why take apart the components, when the Band was meant to be consumed as a whole?
"One of the things I feel very strong about is the achievement of the Band really being a complete band," Robertson says. "In a lot of groups, you can change a musician and it doesn't mean anything. In this group, when we were making those records, it would have meant everything."
---
[History] [Members] [Library] [Discography] [Videography] [Filmography] [Pictures] [Audio Files] [Video Clips] [Tape Archive] [Concerts] [Related Artists] [Merchandise] [Guestbook] [Chat Room] [Search] [What's New?] [Main Page]
Webmaster