This Wheel's On Fire
Written by Bob Dylan and Rick Danko
---
This article was suggested to me by J. Croce, and is a compilation of extracts from writers on the song.
---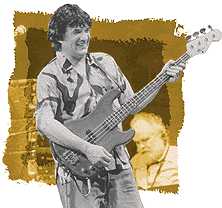 In loving memory of Rick Danko, 1942-1999
What the Critics Said
Robert Palmer
Some have seen it as a piece of rock and roll burn-out bravura, others as a more spiritual declaration. Whatever, its power and immediacy render literal interpretations irrelevant.
Greil Marcus
What matters is … the slow, uncoiling menace of This Wheel's on Fire.
David Fricke (on The Byrds version)
Against the backdrop (of the Democratic National Convention in Chicago) the apocalyptic dementia of Bob Dylan's imagery in This Wheel's On Fire, the opening salvo on Dr Byrds and Mr Hyde rings not like dire prophecy, but streetwise reporting … The Byrds version is slick compared to the rustic voodoo of The Band's version.
Paul Williams
The two songs (Tears of Rage, This Wheel's on Fire) are among the most powerful compositions of the Basement Tapes period, and Dylan performs them with great conviction. One can never be sure, with either song, just what it is he's convinced of; but both performances are deeply moving in spite of or maybe even because of this uncertainty.
Mixing Up The Medicine
During the 1965 / 1966 Dylan tours there was a double shock for the folkies. While they were still getting used to the electric sound of The Hawks, they were hit with someone actually joining Dylan on backing vocal in One Too Many Mornings when Rick Danko sang "… Behind!" When Dylan and The Hawks retired to the basement, it was at Big Pink, the house that Danko rented. When you listen through either the official set, or the five volume The Genuine Basement tapes, Danko's bass is omnipresent, loping its way loudly and proudly through every song. Danko is the voice who comes in behind Dylan most often, and like Dylan he had the encyclopaedic knowledge of folk and country music. It was fitting that like Richard Manuel he received the call to collaborate with Dylan. Danko also co-wrote Bessie Smith with Robbie Robertson.

Rick Danko
We would come together every day and work and Dylan would come over. He gave me the typewritten lyrics to 'This Wheel's On Fire'. At that time I was teaching myself to play the piano. … Some music I had written on the piano the day before just seemed to fit with Dylan's lyrics. I worked on the phrasing and the melody. Then Dylan and I wrote the chorus together.

Three basement songs made it to Big Pink, Tears of Rage, This Wheel's On Fire, and I Shall Be Released and in all cases they were radically improved; vocals, arrangements and backing all show a major leap from the basement versions. Half of Music From Big Pink was done in New York City over just two sessions - Tears of Rage, Chest Fever, We Can Talk, This Wheel's On Fire and The Weight. They were recorded on a four track machine (as was Sergeant Pepper). The Band laid down the instrumental live on tracks 1 and 2, put horns on track three and vocals and tambourine on the fourth track. Producer John Simon has mentioned the wonderful acoustics of A & R studio where it was recorded.

Levon Helm
Garth got some distinctive sounds on that track by running a telegraph key through a Roxochord toy organ. Garth just hit that key when he wanted on that song. I thought we'd cut a pretty good take on it, but when we got back to New York from California, there were problems.

John Simon
The snare drum wasn't loud enough on our four track recording, so Levon had to go back into the studio and overdub the snare, an awful chore. When it was over, Levon growls at me, 'Don't lemmee ever have to do that again."

Greil Marcus has commented that This Wheel's On Fire and I Shall Be Released seem not to fit the mood and style of the album. He even says that they sound like fillers on an album that needs nothing of the sort. Hoskyns repeats the same criticisms. I entirely disagree. Perhaps Marcus had got fixed onto the basement interpretations with Dylan before he heard Big Pink. (The acetate was known, though the bootlegs weren't). I think that both Marcus and Hoskyns are showing (or repeating in Hoskyns case) the normal prejudices of Dylan snobs. Only an elite few can have heard the Dylan version first. For most of the world, the Julie Driscoll, Band and Byrds versions were familiar before they found someone to sell them a bootleg of the basement tapes.

My first meeting with This Wheel's On Fire was the Julie Driscoll / Brian Auger British #5 hit version, which I saw performed live twice in quick succession. Julie Driscoll (now Julie Tippetts) had been touring Britain for four years with Steampacket, a band that featured three vocalists, Driscoll, Rod Stewart and Long John Baldry, with Brian Auger on organ. I'm told Reg Dwight (aka Elton John) was on piano, and I guess I saw Steampacket four or five times. I didn't notice, but this was before the glasses and costumes. When the male vocalists left for fame and solo fortune, the remnant became Brian Auger and The Trinity, and they were one of the earliest fortunate recipients of the basement acetate. The Driscoll version gave the song a spacey, ethereal treatment.

Phil Johnson
If youy listen to her work with Auger now, it still sounds hip, and Julie's voice is quite outstanding. Even then the normal soul vocabulary of generic slurs and slides is made utterly distinctive by rough, throaty sandpaper-textured burrs that are as close to Celtic folk-music as they are to Memphis.

When I first saw that Big Pink cover and looked at the back, the inclusion of two favourites, this and The Weight pushed me to buy it. Because my first contact was with the Driscoll version, I totally fail to comprehend the carping by Marcus and Hoskyns. None of the other versions match the sweep of the Band's take on song nor especially do they match Danko's voice. Even so, the Julie Driscoll vocal also stands the test of time, and Brian Auger's backing is second-only to The Band. On The Band version, Rick's voice sounds as if it's at the end of a long session with many takes which adds to the atmospherics.
The Lyrics
Paul Williams
"This Wheel's On Fire" - the album version adds some 1975 overdubs (drums, piano) to the original recording, but either way it sounds great - is a beautiful and chilling piece of double talk, or dream talk, working off the recurring phrase "If your memory serves you well" and punctuated by the fabulously dramatic "wheel's on fire" chorus (which works even though there's no obvious connection between the words of the verses and the words of the chorus). The song is really circular, chorus breathlessly tumbling into each verse and each verse opening and closing with the same words, rolling forward in an ever increasing tension, releasing again and again and yet still building, still unresolved. What does it mean? It's like a dream. It does and doesn't have to do with certain things that happened; does and doesn't refer to events that may still happen, or are happening now. What does it mean? Maybe nothing. Some songs don't have meanings; they overflow with feelings instead.
Robert Shelton
The title comes from the biblical prophet Ezekiel's vision, recounted in a black spiritual "Ezekiel Saw the Wheel." The image of man's life as a wheel of fortune appears in Chaucer and other medieval literature. Shakespeare described King Lear in decline as "bound upon a wheel of fire". Dylan's shadowy narrator is a returning traveller who develops a vague personal tale into a grim portent of the future - fire and explosion as the mysterious wheel rolls forward. A motorcycle wheel causing a personal explosion? In "Writings and Drawings" Dylan's jaunty sketches convert this wheel into a plaything. "Wheel" contains some of Dylan's most opaque writing, yet the song builds firmly in a series of tension-and-release peaks. Sometimes the words' sonoroties become more important than their literal sense.
Greil Marcus
As the men and women before the preacher crane their heads to place his words, he traces a rolling deliberate rhythm, with his voice, with his hands, stepping into his famous sermon on the Book of Revelation, a soliloquay the crowd knows as "This Wheel's On Fire." It's a story the preacher has told for years, but his listeners are rapt and still because neither he nor they have ever gotten to the bottom of it.
Greil Marcus also describes the songs narrator as a "squinting mystic", which I like. Re-read the last line of each of the comments above. They all return to the same point, you get the feeling, but you can't interpret what the lyrics are about. Andy Gill has a good attempt:
Andy Gill
Given suitably enigmatic melody by Rick Danko, Dylan's lyric draws again on Shakespeare's King Lear … itself inspired by the biblical visions of Ezekiel, possibly the Old Testament's nuttiest prophet - to offer what seems like a mea culpa for past transgressions, a moment of self revelation in which the singer realizes that in order to get to this, it was necessary for him to go through that. The road down which the flaming wheel rolls is of course the road of excess, which Rimbaud claimed, leads to the palace of wisdom. … The mood of the song is far more portentous, capturing a soul suspended on the cusp of torment and deliverance, unable to arrest its headlong drive towards destruction, yet aware of the tasks which have to be completed. It is virtually impossible not to see the locked wheel of Dylan's Triumph 500 in the title, the very wheel upon which his own accelerating pursuit of disaster was borne so swiftly, and then arrested so abruptly. The verses brim with unfinished business, anchored by the certainty that "we shall meet again."
Something else that becomes apparent is that all Dylan commentators read each other. "We shall meet again" / "This wheel shall explode" interests me. In American English, shall has a particularly strong sense of certainty attached to it, and is a favoured Dylan word. I was once told straightfaced by an American editor that "shall" does not exist in American English. I advised her to read the Declaration of Independence and the Constitution while I played I Shall Be Released, We Shall Overcome and This Wheel's On Fire. I can't offer any sensible interpretation either. I always saw it as a companion piece to We Can Talk, full of memorable lines which create an idea, but which don't bear analysis. I've often been guilty of finding the biblical and Shakesperean links myself, but I don't get the connection with "being bound upon wheels of fire". I see a fiery vision, but the headlong rush of urgency brings the motorcycle to mind first, and more especially sudden success - hot, untouchable, unstoppable, hurtling forward, possibly doomed (but possibly exploding into success):
Please notify my next of kin, this wheel shall explode
Notify my next of kin is a phrase from a last will and testament, or a police report - the next of kin have been notified . Shall shows inevitability. Open up the original Music From Big Pink cover, and that same legal phrase "Next of kin" is the label overprinted on the family photo.
Later History of the Song
Rick Danko
Those first royalty checks we got almost killed some of us. 'This Wheel's On Fire' was never really a hit, but it had been recorded by a few people, and all of a sudden I got a couple of hundred thousand dollars out of left field. This was half the writer's royalty from one song. We were all shocked at these windfalls we never dreamed existed. Dealin' with this wasn't in the fucking manual, man! If you've never made a million dollars overnight, like we did. You have no concept of what it can do. We saw it ruin people, kill them! Suddenly we had all the money we needed and people were falling over themselves to make us happy, which meant giving us all the dope we could stand. People wanted to turn us on for free, do favors, and some of us were happy to be taken care of like that. There wasn't anything real dramatic about it, because it was a fact of life, and probably still is. I'm here to tell you that it's a crying shame to see what success can do to some people. I'm sure it wasn't the best thing that could have happened to The Band.
The Band opened their first ever concert at Winterland in 1969 with Rick out front singing the song. In spite of poor quality on tapes, Richard's piano is high in the mix and Garth and Robbie are doing great stuff. The vocal treatment is very close to the album version. He hadn't yet begun to play with the phrasing.
In the first two years of tours it was a solid part of the act, and can be heard to good effect on Live At The Hollywood Bowl in a fast, solid version with louder support from Levon.
The song featured in the Band's live act up to Rock of Ages, when they cut what they felt was the definitive version, at least this was the version they chose for later anthologies. Danko is now totally at home with the lyric asnd uses some of his trademark acting voice in sections. Levon's louder in the background, Robbie more prominent in the foreground. I miss Garth's special effects and prefer the original Big Pink version. Those who favour the live version point to the clearer interplay of voices.
The 1973 Jersey City bootlegs show that Garth is back to the effects with a great solo, Rick's bass guitar sound is fatter and fruitier, but it's harder work on the slightly strained lead vocal, and words are added or changed: "wrap it up in my very special place" and "get you all your favours done" and "you know that we would meet again".
The main criterion for the eventual Live At Watkin's Glen album, twenty five years after the event, was to avoid duplicating material on other live albums, so This Wheel's on Fire didn't get on it. It was played on the day, and tapes are extremely bass heavy, which gives you the chance to appreciate some of the wondrous sliding, plunging bass lines that Rick seemed able to spin out at will. This version is a bass player's delight. He seems to be totally free to pluck bass parts out of the ether and do whatever he wants with them. I was always saddened by the little he played bass in later years.
Robert Lloyd
I loved watching Danko; his bass playing, syncopated and percolating, marked by swoops and slides, was fresh from performance to performance, as if he were hearing every song for the first time but understood it immediately.
The song was an obvious choice for the 1974 tour with Dylan. Even so, it failed to make the official album, probably due to proximity with Rock of Ages, but can be found on bootlegs of other shows. It was part of The Band set, which was a shame, you'd have thought they might have tried it with Dylan as well. The line has become "We should meet again." Lots of nice jangly piano from Richard Manuel.
In 1976 it was in the stage act again, and was performed in shows leading up to The Last Waltz and was performed at the show. Like another Rick Danko song, All Our Past Times it didn't make the eventual release, but can be heard on The Complete Last Waltz bootleg. A fabulous horn intro is added, and Rick is hitting the notes with ease, but singing it lower. The horns are used sparingly but to great effect throughout. I prefer this version to Rock of Ages.
Rick Danko featured it in his 1977 and 1978 solo shows following the Rick Danko album, where he had a full group backing him. He finished up a 1977 FM broadcast from The Bottom Line with an excellent version, introduced as "We're gonna do an old song for you …" immediately followed by shouts for "Wheel's On Fire.". It was also a sensible opening number, and in 1978 was taken with a guitar heavy almost-grungy arrangment. It sounded nothing like The Band's version, which was a plus as at that point he needed solo artist identity.
After that it seems to have got lost. I can't find any record of it from either the reunion tour or the post-1991 Band concerts. Most surprisingly, it doesn't seem to have been a regular feature in the 1985 Byrds Tribute Band tour, which featured both Danko and Manuel.
It was rare on Danko solo shows in the 1980s or 1990s. Solo versions were semi-spoken with a radical and well-thought out rearrangment of the chorus. When he did it, keyboards were present. I tend to think it would not have worked on solo guitar. I also think it's a younger person's song, full of urgency.
In August 1997, he joined Dylan on stage for a joint version at Wallingford, CT. It's taken slower, with Dylan singing lead on the first verse. Rick sings the second verse, and it's now become "we will meet again." It's a guitar dominated version, rather like the Band versions on the 1974 tour, but with inferior guitar work!
In terms of airplay, I strongly suspect that it is The Band's most broadcast composition. It appeared as the theme to the massively successful award-winning BBC TV series Absolutely Fabulous between 1992- 1995, sung by Julie Driscoll with British comedian Adrian Edmonson (The Young Ones, Bottom ). Edmonson is married to the show's star Jennifer Saunders. Julie Driscoll refused permission for its release as the B-side of a French & Saunders charity single, which was a hit, too.
Andy Gill
A quarter of a century later, it provided the theme music for … Absolutely Fabulous, where it brilliantly evoked the high-octane burn out of the show's hippie hangover characters.
The series ended with a 1996 special, where a new version of the song by P.P. Arnold and Marianne Faithful was used. The TV exposure provided Rick Danko with well-deserved funds in recent years. Considering its wide-appeal, and the fact that it is the only Band song many younger people could sing, its comparative lack of exposure on anthologies seems somewhat unfair.
Robert L. Doerschuk
A new generation got to know your music a few years ago when Absolutely
Fabulous went on the air with "This Wheel's on Fire" as its theme song.
Rick Danko
Yeah, that was great. I saw it. And I got two checks for over $100,000 -- checks from God, we call that. At the time, I likely needed the money. So I was thankful.
Robert L. Doerschuk
There are other issues related to songwriting, in disputes you've had with
Robbie Robertson over sharing credit for much of the Band's repertoire.
Rick Danko
I don't have a problem with any of it, you know? I'm a very thankful person. Whatever publishing I've shared with people, whatever songwriting credits I've shared and whatever payments I've gotten, I'm thankful. I could have ended up having to get a real job. I'm thankful for what the Band has represented and what the Band has do.
Versions
Studio albums
The Band: Music From Big Pink (1968)
Bob Dylan & The Band: The Basement Tapes (1975)
Live albums
The Band: Rock of Ages
Compilation albums
The Band: Anthology 2 (Rock of Ages version)
The Band: Across The Great Divide (Rock of Ages version)
The Band: The Night They Drove Old dixie Down (Rock of Ages version)
Selected bootlegs
Bob Dylan & The Band: The Genuine Basement Tapes Volume 3
The Band: Live Band, Pasadena, 1969
The Band: Live At The Hollywood Bowl 1970
The Band: This Wheel's On Fire aka Blue Highways (Jersey City, 1973)
The Band: Crossing The Great Divide (Rock of Ages out-take)
Bob Dylan & The Band: Love Songs For America (Boston 1974)
Bob Dylan & The Band: Into The Flood (Washington 1974)
Bob Dylan & The Band: Paint The Daytime Black (Los Angeles, 1974)
The Band: Take a Load For Free (New York City, 18 September 1976)
The Band: Tears Of Grief (Los Angeles, 25 August 1976)
The Band: The Complete Last Waltz
Bob Dylan & The Wallflowers: You Ain't Goin Nowhere (San Jose Arena, texas, 1997)
Bob Dylan: Back at Wolftrap (1998) Wallingford, CT, 1997 where Rick Danko joins Dylan.
Collectors' tapes
The Band, Winterland, 18 April 1969
The Band, Syria Mosque, Pittsburg, late 1970
The Band: Watkin's Glen, 1973. It didn't make the official release.
Rick Danko broadcast, recorded 15 December 1977, Roslyn, New York
Rick Danko, 13 May 1978, Tokyo
Rick Danko, PBS TV broadcast, 25 February 1978
Surprisingly, it doesn't seem to feature on the Byrds Tribute Band shows from 1985, although it would have seemed the first choice of all.
Rick performed it rarely in later years.
Other Versions
Julie Driscoll with Brian Auger & The Trinity (UK # 5, 1968, and on album Open, UK#12)
The Byrds (Dr Byrds and Mr Hyde , 1969)
Ian & Sylvia (Nashville)
The Hollies (The Hollies sing Dylan )
Flake
Hamilton Camp
Stone Country
Julie Felix
Paul Jones
Leslie West
Brenda Patterson
Mike Batt Orchestra
Nature
Rat & The Whale
The Louis Brothers
Siouxsie & The Banshees(who hadn't realised it was a Dylan song!)
Sport
Julie Driscoll with Adrian Edmonson (Absolutely Fabulous videos)\
Marianne Faithful & P.P. Arnold (Theme to Absolutely Fabulous two part special, broadcast November 6,7 1996, also on video)
Sons of Shiva (dance mix)
---
[History] [Members] [Library] [Discography] [Videography] [Filmography] [Pictures] [Audio Files] [Video Clips] [Tape Archive] [Concerts] [Related Artists] [Merchandise] [Guestbook] [Chat Room] [Search] [What's New?] [Main Page]
Webmaster