Levon's Midnight Ramble

Uncle Remus and the Whole Show, Woodstock, New York, January 24, 2004
---
by Todd Atkinson
This concert review first appeared in the Usenet news group alt.music.the-band in January 2004.
---
The photos below of Levon Helm's new group are from a rehearsal in Levon's studio/barn in Woodstock, January 2004. Uncle Remus & The Whole Show is: Levon Helm - drums and vocals, Johnnie Johnson - piano, Jon Smith - saxophone Amy Helm - vocals, mandolin, & drums Sean Costello - guitar and vocals, Andrew Shober - bass and vocals, Julia Smith - vocals. Photos by Joe Lore.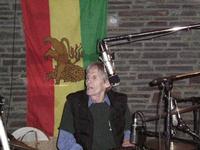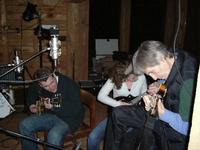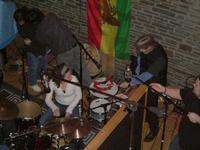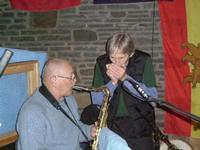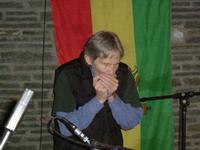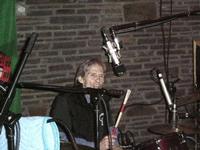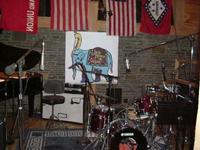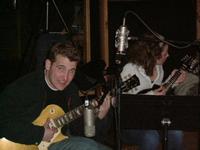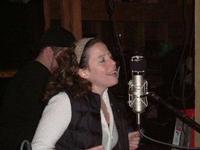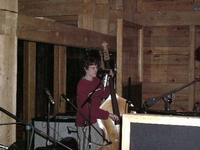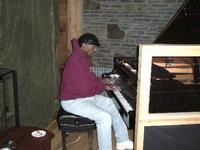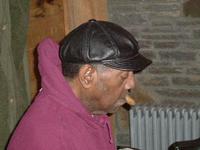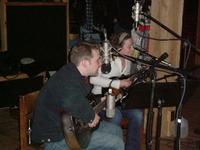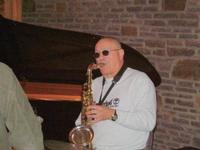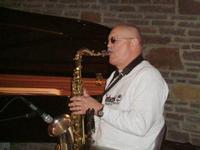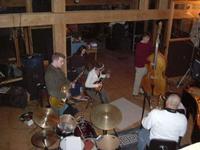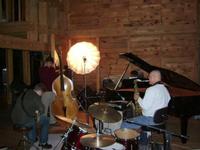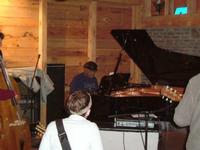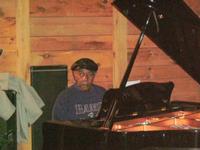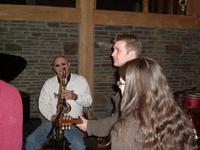 The Journey
My plan was to get into Woodstock mid afternoon before it got dark to have a chance to soak up some of the local flavor, maybe check out a couple of sites with Band Connections, and definitely drive up to Big Pink, and have a look around. Got going a little later than planned, and found myself chasing the sun as I headed due west towards Woodstock. Got over the Kingston Rhinecliff bridge, took Sawkill road to Zena road into Woodstock. (Those are some pretty curvy roads up there). Got into town about 4:30 PM with about twenty minutes of good sunlight left. First stop, Big Pink. No time left in the schedule to get lost. The road up to Big Pink didn't really look like it had been plowed, just driven on w/ snow and ice packed in really good between the potholes. By the way, my car is a two-door sports coupe with about five inches of clearance on a good day. Not the best vehicle for Parnassus Lane in January. I finally understand what SUV's are for. Nevertheless, I do have front wheel drive and a manual transmission, so I jammed it into second gear and went for it. I figured that as long as I got up the hill, I could always put it in sled mode to get back down. Made it to Big Pink and I've got to tell you, I don't think that much has changed up there since Dylan and the boys were cooking up their magic in the basement. It was really something to see. I didn't end up getting out of the car. Someone was obviously living there, and I really didn't want to bother anyone. I'm sure that they're used to it, but I would have felt like I was intruding. Put the car into sled mode, and made it back out to Stoll Rd, and then Glasco Turnpike. Took a left onto Rock City Rd, and stopped in at the Woodstock Music Shop. I bought a new harmonica (M. Hohner Pro Harp MS-Key of A) and chatted a bit with the shop owner. Nice guy, he mentioned that a lot of people had been calling that week with questions about the Ramble. By then, it was dark, so my friend and I headed over to Bearsville for dinner at the Bear. After a great meal, and a Guinness or two to ward off evil spirits, as well as the bone chilling cold weather, we headed back to Woodstock to get ready to Ramble.

We found the road to Levon's place, and headed down the long driveway that winds through the woods. We were met at the gate by some of the Ramble crew, showed them our tickets, and were directed to drive into this huge snow covered field for parking. Bottomed out the car good on the way into the field, taking care not to slide into the creek. Again, not the best vehicle choice, but I figured that I was there, I wasn't going to miss the show, and I could worry about the "getting out part" later. We headed up to the barn/studio, and found some seats inside. It's got to be one of the most beautiful barns I've ever been in. It's a timber frame construction with exposed beams and large granite walls at each end. There's a balcony/loft area in the back and the height from the floor to the peak of the roof inside is easily three stories. It was obviously built with care by skilled craftsmen, just as the songs of the Band were. I remember sitting there just taking in all in and knowing that the Band recorded three albums there in the 90's and undoubtedly a lot of other sessions. You could really feel the energy of the room. I can't imagine a more appropriate place for the Ramble to be.

Downstairs, in the basement of the barn, there was a refreshment area with coffee, soda, water, and popcorn. People who wanted to could bring in their own beer and wine etc. Me, I had some Brooklyn Brown Ale. It was a night that required plenty of antifreeze. Before the show started, people were milling about, chatting etc, and the vibe was very laid back and low key. I don't know why I think that this is so cool, but over in one corner was this huge road case that was orange and had "The Band" stenciled on the side. I found myself just staring at that damn case for a good long time, and just thinking back about the role that case played in bringing the music to people, and all the memories floating around in there. I went back upstairs, and headed up to the loft. I ran into some folks up there obviously having a good time, and I asked where they were from. Vermont was the answer. I had to figure that it was John Cass and his crew, and it was. He's a die-hard fan if there ever was one. He's been to twenty-five Barnburner's shows. Twenty-five!! I talked to John for a little bit then headed back downstairs.
The Show
The Apple Pickers Union started playing around 8:30. They played some reggae with a real nice groove to it. I didn't recognize every thing they did, but it was solid. I'm sure that some of it was original, but they did play some Bob Marley, and a reggae version of the song "Cupid," which worked very well.

After a short break, Uncle Remus and the Whole Show came out. They had to adjust a couple of things. The drummer for the Apple Pickers was left handed, and Levon had to tweak the position of the snare drum and hi-hat etc. Everyone got settled, and Levon introduced the Band members. His speaking voice was fairly low, and I was sitting there wondering how he was possibly going to sound singing. Let me tell you, there was no need to worry, he opened his mouth, and the sound was so sweet. It was obviously a more seasoned voice than from the Band days, but all of the funk and soul of Levon was intact, filling the room with sound. I could not believe how lucky I felt to be sitting there, and truly happy for Levon, and his family. They did a really nice mix of tunes blending, folk, rock, blues, and boogie-woogie piano courtesy of Johnnie Johnson. There was some great saxophone by Jon Smith who used to play with Edgar Winter. Sean Costello was tearing it up on guitar. I was not previously familiar with his work, but I will be now. My friend said that he first heard Sean when he played with Susan Tedeschi, and that Sean could play notes that he didn't even know existed! The Bass player, Andrew Shober, who also played with the Apple Pickers, fit in perfectly. He was a somewhat younger guy, and in my opinion, was definitely channeling Rick. He played an upright Bass, and added some great vocals, and it just seemed he was the guy having the most fun in the room.

And then there was Amy. She, in my opinion, is one of the greatest vocalists around, and when she sings with her Dad, things just go up to another level. And she's got a smile that could melt ice. You could see how proud Levon is of her, and I'm sure she's equally as proud of him. It was truly a beautiful experience to be in the same room with them. They did a great version of "What Kind of Man Are You" They definitely delivered the goods with that one. A little while into the show, Levon switched over to acoustic guitar I think it was a Gibson, but it had a very pretty red back to it [*]. Levon held it up to show us and said, "It looks like Christmas, doesn't it." It sure felt like Christmas to me. He then joked, "Only three more payments then it's mine." They did a gorgeous rendition of "Crying Heart Blues" with Levon on guitar, and then a couple of other slow tunes. Between Levon, Amy, Sean, and Andrew, and Julia on vocals, there was such a nice layering and blending thing going on. If all that wasn't enough, Dr. John showed up and sat in on guitar and vocals. Later on Johnnie Johnson was looking for Dr. John to play some piano, but he must have left by then. Gone on a "housecall" as Levon said. Levon mentioned that Dr. John had just moved to Woodstock, and cautioned everyone that "if you spend more than two nights in Woodstock, you'll end up moving here!" I left about 1:00 AM, when it seemed like things were winding down. I'm not sure if they came out and played anymore after that. I got my car out of Levon's field without mishap. Had to gun it a little by the creek where I had bottomed out earlier. Didn't want to take any chances of getting stuck at that time of night. I guess I won't have to move to Woodstock yet, although it sure is nice country. Got home about 4:00 AM

It was really a fantastic night. They had a crew documenting everything on digital video. As such, they weren't allowing any photography, so I don't have any photos to post. I just hope that the video sees the light of day sometime, especially for those who couldn't make it to the show. I got the impression that there will be more shows in the future. Do yourself a favor, and get on over to Levon's barn!
---
[*]: The "Christmas guitar" is an accoustic Gibson "Dove" that was presented to Levon on September 19th, 2003 (although he was not present) by The Americana Music Association in Nashville, TN, as part of a Lifetime Achievement Award.

---
[History] [Members] [Library] [Discography] [Videography] [Filmography] [Pictures] [Audio Files] [Video Clips] [Tape Archive] [Concerts] [Related Artists] [Merchandise] [Guestbook] [Chat Room] [Search] [What's New?] [Main Page]
Webmaster