Please note: This shirt is now discontinued, Woodstock Records have sold all the Garth Hudson t-shirts.
Garth Hudson T-Shirt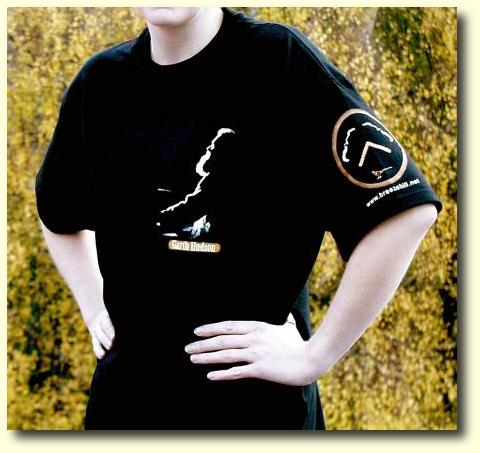 [Front/sleeve] [Front logo] [Sleeve logo] [Embroidered pheasant] [Back] [Woodstock Records]
Garth Hudson's wife Maud designed the beautiful t-shirt you see here. It was made available for purchase in October 2000 and is the first official Garth shirt. A limited number of collectors-edition shirts have an embroidered pheasant on the sleeve (they look like "little jewels", says Maud.) Short-sleeve and long-sleeve Garth Hudson shirts can be ordered from the Woodstock Records web site.
We want to thank John and Bill Scheele for the photograph from Woodstock '69. Many thanks to Chris Metze, who worked with us on the design in PhotoShop. We would like to express our thanks to Al Kent and Debbie Gardinier at Mink Ink Graphics for the great silk-screening which they did by hand. Thanks to Kate Gentile too for the beautiful little pheasant. Thanks to Annette Stavem and Gunnar Misund... AND special thanks to Quentin Ryan at Breeze Hill Records for making it all possible and to our dear friend Jan, for posting such great photos and for all the rest of the stuff that he does.
--Sincerely, Maud and Garth Hudson
---
[History] [Members] [Library] [Discography] [Videography] [Filmography] [Pictures] [Audio Files] [Video Clips] [Tape Archive] [Concerts] [Related Artists] [Merchandise] [Guestbook] [Chat Room] [Search] [What's New?] [Main Page]
Webmaster