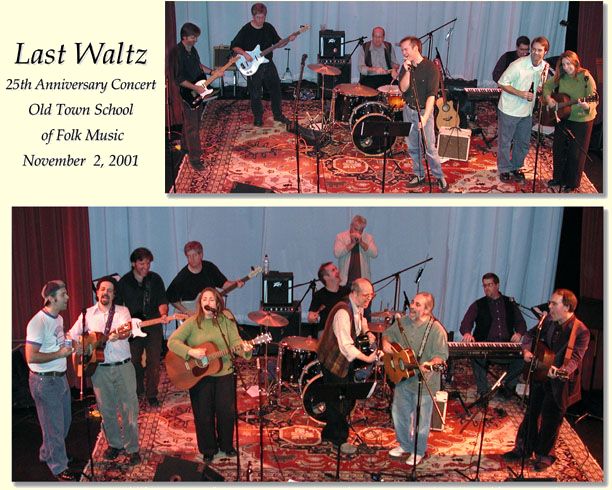 Sound samples:
So I was down at the Old Town School of Folk Music...with a few of my friends and we all enjoyed the Tribute to The Last Waltz. To give you an idea of the impression it made I will tell you that there were six of us, three intimately familiar with The Band, and three who were familiar enough to ask "Weren't these guys Jerry Garcia's back up band?"...?!?!?!?....after a brief explanation we arrived from an early thanksgiving meal, cooked by your's truly, pork tenderloin and cranberries, at the beginning of the second set.

To begin with the room always sounds great. I've only seen a few shows there but it has a tremendously warm feel to it. "Helpless" was wonderful and really set the tone for the music we heard. My companions were quickly transfixed. It was cool to watch the way the music, authoritatively played, reached out to those that both knew it and had never heard it before. The band really did a great job of staying true to the material.

The highlights for me were great versions of "...Masterpiece", "Acadian Driftwood", "Life Is A Carnival", "Further On Up The Road", "Rag Mama Rag". Many more...really very good. I thought that The Band material was done with more authority and delivered better than the other material...however "Further..", "Helpless", "Caravan" were all done great.

Our Man Bill Paige was terrific. Sang well and played guitar, mandolin, drums, and maybe some others that I didn't see. Bill's drum playing on "Caravan" was right on. Great mandolin on "Masterpiece".

Thanks for a quality night of music. A real treat. The reaction of the group I was with was unanimously "GREAT MUSIC".

--Chris, The Band guestbook, November 2001
The songs played were: The Weight, Chest Fever, Wheel's on Fire, Released, Rag Mama Rag, Dixie, King Harvest, Cripple Creek, Stage Fright, Shape I'm In, Carnival, Masterpiece, Mystery Train, Ophelia, Makes No Difference, Acadian Driftwood, Theme From Last Waltz/Evangeline, Helpless, Further on Up the Road, Caravan, You Angel You, Like a Rolling Stone, Baby Let Me Follow You Down.
---
[History] [Members] [Library] [Discography] [Videography] [Filmography] [Pictures] [Audio Files] [Video Clips] [Tape Archive] [Concerts] [Related Artists] [Merchandise] [Guestbook] [Chat Room] [Search] [What's New?] [Main Page]
Webmaster