Harvey & Ken Kubernik:
The Story of The Band - From Big Pink to The Last Waltz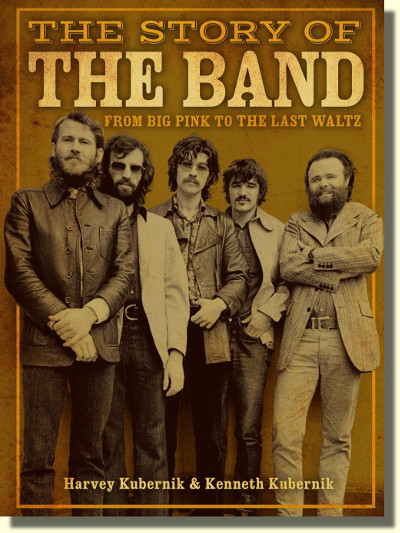 A celebration of one of the most revered groups in rock history, on the 50th anniversary of their debut album and the 40th anniversary of The Last Waltz, the legendary film of their final concert.
Acclaimed authors and music journalists Harvey Kubernik and his brother Kenneth pay tribute to The Band on two special anniversaries: the debut of their first album, Music from Big Pink, 50 years ago, and the release of Martin Scorsese's film The Last Waltz, hailed as the greatest concert movie ever made, 40 years ago. This unofficial retrospective covers everything from their collaborations with Bob Dylan through that farewell show, which took place on Thanksgiving 1976. The Story of the Band features little-known and previously unpublished interviews with members of The Band and those who worked with them and knew them -- including Ronnie Hawkins, Jerry Garcia, Andrew Loog Oldham, and Bill Graham -- as well as newly discovered memorabilia and rare and never-before-seen photographs from the finest rock photographers of the era. This is the ultimate book for all fans of The Band and their era.
--amazon.com
---
Harvey Kubernik and Ken Kubernik: The Story of The Band - From Big Pink to The Last Waltz - Sterling Publishing - 224 pages - ISBN 1454928905 - 2018
---
[History] [Members] [Library] [Discography] [Videography] [Filmography] [Pictures] [Audio Files] [Video Clips] [Tape Archive] [Concerts] [Related Artists] [Merchandise] [Guestbook] [Chat Room] [Search] [What's New?] [Main Page]
Webmaster