Robbie Robertson, Jim Guerinot, Sebastian Robertson, Jared Levine: Legends, Icons & Rebels: Music That Changed the World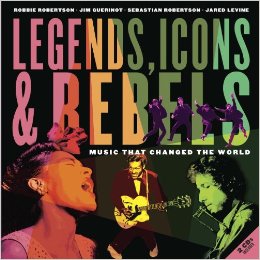 [Cover]
This beautifully constructed, intelligently written and sumptuously illustrated book/CD set might be aimed at a younger generation, but it's a wonderful package that can be enjoyed by music lovers regardless of age. Inspired and co-authored by Robbie Robertson's son Sebastian who realized that young children he was working with responded energetically to classic pop and rock songs, this oversized 12"x12" record album sized hardcover tome cherry picks 27 of the titular names that impacted music, and often cultural, history in a variety of ways.
Each gets a large, colorful and often playful two page painting by one of 15 talented illustrators followed by another two pages with a biography in large type clearly explaining why they are important. The text is occasionally bolded to highlight certain phrases (Frank Sinatra's is both "original teen idol" and "elder statesman of cool") and the four authors do a splendid job succinctly summarizing the performer's career, often delving into the hardships they had to overcome early in their lives. Each bio also has a few suggested songs to follow up with.
Obvious choices such as Elvis, the Beatles, James Brown, Bob Marley, Ray Charles and Hank Williams, show the range of music covered. Slightly more unusual selections like Nat King Cole, Ella Fitzgerald, Patsy Cline, Curtis Mayfield and Louis Jordan find the compliers digging slightly deeper to present a wide variety of talent that crosses gender, race and cultural lines. The acts are presented in no discernible order, but the layout seems to emphasize their musical differences with Joni Mitchell sandwiched between Buddy Holly and Ray Charles. There is also no explanation on why the number 27 was decided on, and sure, the predominantly American list is open to controversy (no Muddy Waters, Fats Domino or Rolling Stones?), but few will quibble with the choices that made the final cut.
Robertson pens a few pithy sentences to open each capsule and explains what the artist's music meant to him, and why. The writing is aimed at a younger audience who may be learning about many of these people for the first time. It's simple but never simplistic and along with the marvelous paintings, captures the spirit of these renowned musicians. Additionally, two CDs featuring one hit song from each performer provides audio accompaniment while you peruse the writing and images. It's a gorgeous, lovingly assembled package, created with care by people who are passionate about music. More than just a coffee table addition, it's as classy and classic as the musical legends, icons and rebels it pays tribute to.
-- Hal Horowitz, American Songwriter
Disc 1
Chuck Berry - "Johnny B. Goode"
Johnny Cash - "Get Rhythm"
Aretha Franklin - "I Say a Little Prayer"
The Beatles - "Here Comes the Sun"
Louis Armstrong - "What a Wonderful World"
Bob Marley - Three Little Birds"
Buddy Holly - "Peggy Sue"
Joni Mitchell - "The Circle Game"
Ray Charles & The Raelettes - "Hit the Road Jack"
Elvis Presley - "Hound Dog"
Curtis Mayfield & The Impressions - "People Get Ready"
Billie Holiday & Her Orchestra - "Let's Call the whole Thing Off"
Disc 2
Little Richard - "Lucille"
Hank Williams - "Jambalaya (On the Bayou)"
Frank Sinatra - "Fly Me To the Moon"
Marvin Gaye - "I Heard It Through the Grapevine"
Carole King - "So Far Away"
Sam Cooke - "Wonderful World"
Louis Jordan - "Caldonia"
The Beach Boys - "In My Room"
Ella Fitzgerald - "A-Tisket, A-Tasket"
James Brown - "I Got You (I Feel Good)"
Patsy Cline - "Crazy"
Otis Redding - "That's How Strong My Love Is"
Nat King Cole - "It's Only a Paper Moon"
Stevie Wonder - "Signed, Sealed, Delivered I'm Yours"
Bob Dylan - "Forever Young"
Robbie Robertson, Jim Guerinot, Sebastian Robertson, Jared Levine - Legends, Icons & Rebels: Music That Changed the World - 128 pages - 2013 - Tundra Books - ISBN 978-1770495715
---
[History] [Members] [Library] [Discography] [Videography] [Filmography] [Pictures] [Audio Files] [Video Clips] [Tape Archive] [Concerts] [Related Artists] [Merchandise] [Guestbook] [Chat Room] [Search] [What's New?] [Main Page]
Webmaster