Ronnie Hawkins and Peter Goddard: Ronnie Hawkins - Last of the Good Ol' Boys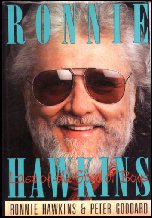 [Book Cover] [Back Cover]
Biography about the man who gathered the musicians that were to become the Band. Co-written by one of Canada's leading rock author/historians, Peter Goddard, whose other works includes the official biographies on Genesis and the Rolling Stones. The book did well at retail.
From the inner sleeve:
He's been called a legend. A rompin', stompin' good ol' boy. To John Lennon he was Sir Ronnie. To his many fans and friends he is simply The Hawk. When Ronnie Hawkins rolled into Canada from Arkansas in 1958 in a banged-up Chevy, he had already built quite a reputation singin' and brawlin' his way through some of the toughest, meanest and dirtiest honky tonks and bars the American South could offter. His buddies and fellow performers had names like Elivs Presley, Conway Twitty, Jerry Lee Lewis, Roy Orbison and Carl Perkins. Over the years that list would grow to include Bob Dylan, Elvis Costello, Kris Kristofferson, Elton John, Johnny Cash, Roy Buchanan, Gordon Lightfoot, David Foster and Robbie Robertson and the other members of The Band. That trip to Canada was the beginning of something big for Ronnie and the Canadian music scene. Now Hawkins has teamed up with rock critic Peter Goddard to write the story of those times. This is rock 'n' roll as it was meant to be played - raw provocative and downright sexy.
Ronnie Hawkins and Peter Goddard - Ronnie Hawkins - Last of the Good Ol' Boys - 1989 - Stoddard Pub, Canada - ISBN 0773753885
---
[History] [Members] [Library] [Discography] [Videography] [Filmography] [Pictures] [Audio Files] [Video Clips] [Tape Archive] [Concerts] [Related Artists] [Merchandise] [Guestbook] [Chat Room] [Search] [What's New?] [Main Page]
Webmaster