The Band Guestbook, August '96
Below are the entries in the Band guestbook from August 1996.
---
Sat Aug 31 22:36:24 MET DST 1996
andrew p. arnold
From: chattanooga, tennessee

---
Fri Aug 30 23:32:51 MET DST 1996
Ken McConnellogue
From: Greeley, Colorado


I've been a Band fan since 1970, when my big brother brought home an 8-track of the second album. Their music was, and remains, a revelation. One of my favorite things to do on a Sunday morning is to put on the Basement Tapes or Big Pink and just enjoy. I can almost picture the Band and Dylan in Big Pink, creating some of the best rock ever. Those albums seem to capture the essence of what American rock music is all about. (It's ironic that it took a group of mostly Canadians to do that.) Great web site. I've always suspected that there were lots of Band fans out there, and it's nice to here from some of them.

---
Thu Aug 29 21:34:05 MET DST 1996
Laura
From: Parma,Ohio


Groovy man Groovy!!!!!

---
Wed Aug 28 02:41:49 MET DST 1996
Marc Wajntraub
From: Skokie, IL

---
Sun Aug 25 17:31:30 MET DST 1996
Allen Calhoun
From: Nashville

---
Sun Aug 25 15:44:36 MET DST 1996
Tony Hayward
From: Ferntree Gully, Melbourne, Australia


G'day from Australia ... This is just SENSATIONAL!! I have been a big Band fan (I hate that term!) from WAAAAAY back. Keep up the good work. Just in passing ... we were in the U.S. in '94 and thought I'd try and get a copy of Levon Helm's book "Wheels On Fire"... tried in Memphis, tried in Nashville, tried in Atlanta, tried in Washington, tried in New York, FINALLY got it in good ole Medeival Chester in the Midlands of (wait for it!!!) England. Thanks for a great page.

---
Sun Aug 25 06:15:11 MET DST 1996
Kathy
From: Pennsylvania


I just saw the band two weeks ago at the gathering on the mountain in the Pocono Mountains of PA...And as usuall they were awesome...We love you guys!!! See ya again real soon...

---
Sat Aug 24 20:21:44 MET DST 1996
Van Eaton
From: Johnson City , Tn.


Love the BAND , The Music , and the pages..

---
Sat Aug 24 15:06:49 MET DST 1996
Ray Stroud
From: Malvern in England


Summer of 69 in England was special - post Sgt Pepper, I was 18. It was unusually hot, and it included the Stones Hyde Park concert etc. However, my abiding memory of that year was sitting up playing guitar with my mates all night and listening to "The Band" on the stereo. Their ability to communicate the feel of an old history and culture which a Londoner doesn't share was a testament to brilliance. Corn in the field, listen to the rice when the wind blows cross the water - hell I can see it! Now I write songs and raise a family and spend the sweltering heat of August 96 in the UK driving with the same album blasting - King Harvest has surely come!

---
Fri Aug 23 16:35:22 MET DST 1996
Jawbum4
From: New York City


Absolutly LOVE this web site. I've been a fan of The Band for all my life. it is a pleasure to find other "Band-Mates" out there. Look out Cleveland and the rest of the world! Long Live The Band.

---
Thu Aug 22 23:03:45 MET DST 1996
Keith E. Abel
From: Bluesville, USA aka Shreveport,LA
Home page: http://jewel-paula.com


Stole my sisters Big Pink album about '72, ruined from honest work from that day forward!!! Had the opportunity to help with a fund raiser for rockabilly guitar legend Fred Carter, Jr. a few months back which featured THE BAND! What a cool happening, John Anderson, 'Lonsome Bluebird' Maggie Lewis & the Thunderbolts, Tony Joe White, and numerous others. What a gas! I got to speak at length with Professor Garth and he told me that he has crafted musical tablature on the history of accordion music. It is my understanding that he is interested in someone helping him do a website, maybe POLKA.com... Fred Carter, Jr. had to have a kidney transplant and is deep, deep in debt. If anyone would like to help please e-mail me and I can hook you up with the group that is administering his fund. (I would have posted that info here, but I do not have it handy) Also, in related matters the OTHER BAND (Cate Brothers) will be in Shreveport (Mooringsport, actually! Home Of Huddie-Leadbelly-Ledbetter) on Saturday, October 26, 1996. E-mail me for ticket info! Jan, GREAT SITE...Keep it up! Diggin' the grooves and preachin' the BLUES!!! Keith E. Abel, Publicist for Jewel-Paula-Ronn Records

---
Thu Aug 22 19:25:40 MET DST 1996
Lissa Block
From: New Jersey


This is great! I love The Band and I was really happy to find out about this site! Thanks for putting it up!

---
Wed Aug 21 05:43:50 MET DST 1996
Norman Leslie
From: Fremantle, Western Australia


Great to be able to (virtually) get in touch. Been a fan from day 1 and looking forward to more new albums

---
Tue Aug 20 22:41:57 MET DST 1996
Bob Chouinard
From: Tampa, Fl


I was turned on to The Band in 1968. In 1969 I had tickets to see this tremendous group athe University of Michigan. We had car trouble and got there in time to see them do two songs. They got up and left the stage. We thought it was worth it, still. To our surprise, it was an intermission, they came out for another set. I have seen them perform several times since, most recently at Jannus Landing in St. Petersburg, Fl. in late December, 1995. They absolutely rocked the joint. Thank you for helping to keep the group alive.

---
Tue Aug 20 21:25:06 MET DST 1996
Paul Schoninger
From: Lexington KY


Hey, Jan. Hope you had a good vacation. Last week while watching TV, I'm sure I heard Robbie Robertson doing a voice over for an Isuza (sp) Trooper commerical. Later

---
Mon Aug 19 12:33:27 MET DST 1996
Charlie W.Cole
From: Sydney Australia


So Cool to see my heroes immortalised on the Web... i'm a Prof. Keyboard player and think Garth is God!... mind you.. I had a quick look at the sheet music for Rag Mama Rag and thought it lacked a bit of detail... Intro?.... no mention of the intro and outro etc.... a bit more harmonic detail would be good too .. oh well.. long live the Band.. what's left of them that is!...

---
Sun Aug 18 20:35:43 MET DST 1996
Charlie Henrickson
From: Westfield, Massachusetts USA


Really great, lots of content, great lyric pages! I have loved The Band for so long that I have a relationship with them, and it keeps growing as I hear more things in their music. Keep up the good work, Jan et. al. The singles discography is a revelation.

---
Sun Aug 18 14:43:46 MET DST 1996
Pine Bush Harvest Festival Comm.
From: Pine Bush, NY


Deepest apologies. The Band's date is Sept 28th, not the 18th. More info to come next week.

---
Sun Aug 18 09:04:37 MET DST 1996
Harvest Festival Committee
From: Pine Bush,NY


The Band will be playing a benefit concert on Sat, Sept 18th, at the Pine Bush High School. Show starts at 3:00 P.M., the Band will go on approx. 5:00 P.M. Ticket info will be announced on local radio and newspaper.

---
Sun Aug 18 02:32:20 MET DST 1996
Rodney Benefield
From: Augusta, Georgia, USA


Great! Thanks

---
Sat Aug 17 22:05:30 MET DST 1996
Sara Karwowski
From: New York
Home page: http://members.tripod.com/~StaryJane/

---
Sat Aug 17 11:59:23 MET DST 1996
helge tyrholm
From: norway


glimrende

---
Sat Aug 17 00:40:14 MET DST 1996
PABLO JAIR
From: ARGENTINA


Me encanta la banda. Envienme datos sobre ella.

---
Fri Aug 16 23:46:34 MET DST 1996
Paula Sweeney
From: Santa Cruz, CA


Love 'em...

---
Fri Aug 16 20:55:39 MET DST 1996
Angelo Ruiz
From: Brooklyn,New York


its GREAT what else can i say....THANKS

---
Fri Aug 16 00:14:59 MET DST 1996
Serge Daniloff
From: London, Ontario


You are right on Michael Segui, from Aylmer Ontario, both about Levon's personality and your comments about Robbie R. You are not alone, just read the article in the update of June 24/96 of this page. The first paragraph pretty much covers the feelings of most fans of the " refreshed " Band. Happy listening... :-)

---
Thu Aug 15 20:40:49 MET DST 1996
michael segui
From: aylmer west, ontario


I had the opportunity to hang with Levon after the Ronnie Hawkins 60th Birthday Party at Massey Hall in Toronto during January 1995. I was there with some people I know who were friends with the Hawk and the boys back when they were known as the Hawks and were playing the bars here in Ontario. Anyways, we hung out in Levon's hotel room for a few hours and I have to say that he was one of the nicest and most sincere person I have ever met. Despite what I have read elsewhere, he had absolutely no ego at all and took the time to tell me stories about Muddy and Sonny Boy once he found out that I was a big blues fan. So despite what some people claim, Levon was one of the greatest, down-to-earth guys I've ever met, he treated me great and he didn't know me from Adam! And to all those people who claim that the Band is nothing without Robbie, howcome the Band's recent work blows away anything Robbie has ever done solo?!! Maybe Robbie isn't the god everyone makes him out to be!

---
Thu Aug 15 03:36:28 MET DST 1996
Robert Bruce
From: Berrien Springs, Michigan USA


Love it! I'm one of the "next generation" of Bandfans.

---
Thu Aug 15 00:21:58 MET DST 1996
Seth Lindenfeld
From: Cranbury, NJ


Pretty cool.

---
Wed Aug 14 23:54:48 MET DST 1996
Jackie Katz
From: Rochester, NY


We see the Band whenever they're nearby: just rocked out to their show at Melody Fair in Buffalo!

---
Wed Aug 14 15:21:10 MET DST 1996
Pieter Verboven
From: Belgium


Great Pages! Keeping the roots alive. Me and my wife will be spending our honeymoon along the Missisipi end of September-beginning of October. The music of The Band was one of the major factors that influenced our decission to visit the home of Gospel, Blues and Jazz. Bless these folks, Amen! P.S. Does anyone has suggestions for places we must visit? Any live shows we could check out? Thanks.

---
Wed Aug 14 05:04:42 MET DST 1996
bud playter
From: hollywood fla

---
Tue Aug 13 20:32:41 MET DST 1996
Glenn Trueman
From: Elsah, Illinois


Very nice! I like the organization; it's easy to look around. Thank you to all who keep it together...and thanks to the Band themselves for giving us a good reason to stick with them. The Band has given us some of the very best music imaginable...I can listen to their albums over and over and over‹always get something great each time! Took the family to their last show in St. Louis during Jericho tour...the kids loved it; so did I. Has Danko's solo lp been issued on CD yet?


(Danko's 1977 solo effort Rick Danko was released on CD in 1991 as EDSEL 317. You can buy it from CDnow! and several other Internet music shops. --JH)
---
Tue Aug 13 17:16:20 MET DST 1996
Jim Suttie
From: Hatfield PA


Just came off the mountain (Big Boulder) in Blakeslee Pa. The promoters were calling it the pocono music gathering. All the bands were good but there was no question who were the "Kings of the Mountain". The "Deadheads" finally have found something to fill part of the void left by Jerry's death. The BAND was outstanding. They rocked the mountain like nobody else could and left all who witnessed it drained. Garth was HOT and Jimmy finally broke lose of that "the guy who took Robbie's place" and stepped out showed what he had. They are better now than they ever were and the music has taken on a new identity. I like it. They still can play the old stuff but the new stuff is THEM. The crowds will only get bigger as this new realization catches on. They are back on top as the Greatest US, rock and roll, tour Band of this day and age.

---
Tue Aug 13 01:23:44 MET DST 1996
Mark Sprague
From: Columbus, IN


Great web site!

---
Mon Aug 12 22:07:48 MET DST 1996
Anthony Fappiano
From: Guilford, CT USA


Cool pages...

---
Mon Aug 12 15:59:47 MET DST 1996
patrick pacific
From: laurel,mississippi


i love the band's music.my favoritealbum is the best of the band.i like up on cripple creek.if you come out with another album i'll buy it.keep playen.

---
Mon Aug 12 03:21:35 MET DST 1996
Jeff DeWitt
From: Maybrook, New York


Great band! Lots of great information. Keep it up!

---
Sun Aug 11 23:10:46 MET DST 1996
Dave Bertino
From: Walden, NY


Like it alot. Is there a list to sign on to. Just when to see the guys in Albany NY. Went back stage afterwards. Everyone seemed to be in a great mood. Levon and Rick greeted everyone, signed autographs, and chatted for a few moments. The music was good, but the venue was in the round with a rotating stage, which I didn't like.

---
Sun Aug 11 18:23:17 MET DST 1996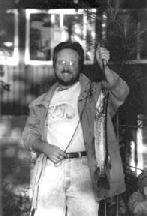 Bill Harnack
From: Buffalo, NY
Home page: http://home.earthlink.net/~ecoedit


I've now seen this amazing group of musicians four times in the Buffalo area: In December 1969 at Kleinhan's Music Hall, reticent though perfect (The Band had just been released); Robbieless at the New York Central Terminal in 1983, a charged performance with a perfect backdrop; and in 1985 at a concert I've tried to forget--months before Manuel's demise (he showed up halfway through). Last night at Melody Fair I saw Levon and the Hawks, a great band in its 90s incarnation. They did some songs by the old Band, and they were okay. But these guys are greatest with the newer stuff, which of course is the "older" stuff--rhythms so old they seem to almost skip the past 40 years and go right to the cotton fields and even Africa. A mediocre song, Crazy Mama, and a song by Buffalo's own Stan Szelest, High Price of Love, epitomized this. The new guys (Jim "Who's Robbie" Weider was phenomenal) laid down the score like workhorses, while the old guys, the Masters, painted their masterpiece, filling in the holes with still inventive signature lines. On the negative side, I agree with a previous writer about the mix and the sound--not good. And leaderless, headless Deadheads crowded the aisles, happily lost. Levon, as always, looked and sounded great. He is without doubt still the "leader" of this band that somehow, no matter how they look, seems to stay forever young.


---
Sun Aug 11 13:43:41 MET DST 1996
Marc G. McHugh
From: Swampscott, Massachusetts
Home page: http://www.gis.net/bbsn (under construction


August 11, 1996 Dear Jan, Just a brief follow-up to my 7/23/96 submission. Went to see The Band, Friday, August 9th, at the Starlight Musical Theater, in Latham, New York. While the group played their hearts out, they suffered mightily from one of the worst mixes I've ever heard. Whether it was their own doing, or the house PA will always be the question, but in this day and age of technology, no group on the scale of The Band should suffer from a poor mix. IMPORTANTLY, their playing was dynamite, and so was their song selection. I would certainly go and see them again, and hope that a proper mix would properly deliver what they were so expertly churning out on stage. MARC G. McHUGH

---
Sun Aug 11 01:58:58 MET DST 1996
Grant Porter
From: Germany / Portland OR / Croatia


Truly amazing. I want to talk with anyone interested. I met The Band recently and would like to share stories.

---
Sat Aug 10 22:16:04 MET DST 1996
Lars Pedersen
From: Pine Bush,NY


I saw the Band in Latham,NY last night (Fri.). Absolutely the best. Danko's voice was good and they got a standing ovation for "Makes No Diff." Surprised they played "Long Black Veil" (a dedication/inside joke). Everyone was in good spirits and the boys left for Buffalo after the show.

---
Sat Aug 10 01:48:48 MET DST 1996
Jeff Bornino
From: Cleveland


I'm a nineteen year old student at Miami University (Ohio). I love the Band so much that I drove home from school (four hour drive) on a school day. The concert was awesome. I caught one of Levon Helm's drunsticks. I couldn't believe they didn't do Up On Cripple Creek. However, I was glad to hear them do some of their newer songs (Back to Memphis, Remedy, Stand Up....). The trip was well worth it. I got back to school at five in the morning. The Band is the best!

---
Fri Aug 9 15:16:34 MET DST 1996
Sean Peters
From: downtown Campbelltown


oh yeh- I got me some baloney

---
Fri Aug 9 03:03:41 MET DST 1996
Foster Clark
From: New Zealand
Home page: www.niwa.cri.nz


The best page on the net!!!. As lead guitarist and singer in the "Mad Dog Marguritas" an acoustic crossover band with r&b,country and folk influences we would be better described as having major BAND influences. But it amazes me that so few people have heard of the BAND let alone any thing of their unique sound. BTW there is a sheet music album of the Basement Tapes which has all of the BAND's and Dylan's on it. I can post them if there is no copyright problems. Songs include Bessie Smith and Katie. Congratulations again on a great page. Foster Clark

---
Thu Aug 8 18:16:54 MET DST 1996
Chris Wilber
From: Schenectady ny (lived near Woodstock)


I like the site I was looking here because my dad knows Jim Weider.

---
Thu Aug 8 05:15:23 MET DST 1996
Ken Brandt
From: West Hills, California


Saw The Band several times during the early 70s, and caught up with them again recently at the House of Blues in LA. They're still great, but you can't help wonder what it would be like if Richard (may he rest in peace) and Robbie were there.

---
Wed Aug 7 07:39:25 MET DST 1996
Jeff Gledhill
From: Seattle, Washington


So glad to find your Web page! Earlier web searches had come up empty. My buddies and I have been Band lovers since the early 70's. Great to see them in concert in Seattle in May. Everything on your page looks top notch. Thank you, Jan, (Tusen Takk!) for a great job. Keep up the good work.

---
Sun Aug 4 21:05:18 MET DST 1996
Michael Wiseman
From: Brockport, NY


Jan, Great job!!! Please add more chord progressions to the "LYRICS" section. Also, fix "Rag Mamma Rag".

---
Fri Aug 2 06:07:49 MET DST 1996
Alan Shubert
From: New York


Now I finally know all the lyrics to "The Shape I'm In"! The line "Out of nine lives, i've spent seven" always had me stumped. tbanks.

---
Fri Aug 2 03:08:32 MET DST 1996
David E. Sopko
From: Somerset, New Jersey


I had my first taste of The Band when they played the Garden State Arts Center around 1970. I have been addicted ever since. Saw them together on ten different ocassions, including with Dylan on the 'Before The Flood' tour. Shook the hand of Levon once, when he played the Lone Star in NYC. They will always be the center of my musical universe! Richard, we miss you.

---
Thu Aug 1 22:58:39 MET DST 1996
Jeff Anderson
From: Prospect, Tennessee


My first acquaintance with The Band was in 1969 when I bought the brown album. Saw them in concert at the University of Alabama in 1970. You've done an excellent and incredibly thorough job on your web pages.

---
[History] [Members] [Library] [Discography] [Videography] [Filmography] [Pictures] [Audio Files] [Video Clips] [Tape Archive] [Concerts] [Related Artists] [Merchandise] [Guestbook] [Chat Room] [Search] [What's New?] [Main Page]
Webmaster