The Band Guestbook, December '96
Below are the entries in the Band guestbook from December 1996.
---
Tue Dec 31 20:49:47 MET 1996
Brian Vargo
From: San Diego, CA


A superb web page, dedicated to the greatest band North America has ever produced. I was introduced to the Band's music via my obsession with Bob Dylan, and now am quite obsessed with the Band. My own band has tried to integrate their incredible sense of dynamics and interplay into our own sound (with, as you may well imagine, varying degrees of success). I currently attend San Diego State University, where it's hard to find people my age (24) who are into the Band, so if ANYONE ever wants to chat about the group, please drop me a line (via e-mail, of course).

---
Mon Dec 30 07:00:31 MET 1996

Wayward Child (Jill Howland)
From: Memphis, TN for the moment


Hello all, Happy holidays to the extended Band family. It's been a long time since I've tapped into these WWW pages, but they look sharp as ever. Gooood on ya, Jan. Howdy Paolo, hiya Serge, man that tape of us in Canada makes me look like a bloody TERROR! (I just now got around to watching it) Too bad I look like an idiot there in Stratford. . . heh heh heh. MY MOM AND ALL HER FEDERAL GOVERNMENT COLLEGUES LOVE MY WRITING. . . Jan, put a lock on this page. Don't let my mom in. 'er else I'm gonna come knockin' on your front door needing a place to live!



What's her address? I'll send mom a printout of your articles...(JH)
---
Sun Dec 29 22:41:28 MET 1996
Endre Lånke
From: Trondheim, Norway


I only wish other bands' and artists' home pages were more like this one!

---
Sun Dec 29 18:56:14 MET 1996
Tyrholm Helge
From: Norway


Veldig bra sider

---
Fri Dec 27 17:47:02 MET 1996
Tom Corrigan
From: Cleveland, Ohio USA


Love the direct to the mind and heart approach. I will be back often. Thanks for keeping this work alive and up on the 'net.

---
Tue Dec 24 22:35:19 MET 1996
frances vandyke
From: the netherlands


the band: best band on earth..Robbie Robertson: most beautiful man in the world! Heard all there music, read Barney Hoskins book..Saw The Last Waltz so many times I can't remember! Tried to write Mr. Robertson personally concerning a painting from a famous Dutch artist who called one of his huge paintings 'Fallen Angel'!! Knowing that Robbie loves art I wanted him to know this!! No answer though!? Who can help me with a better adress or who is interested in Art which involves this famous song? Please contact me!!! Desperatly seeking Fran.

---
Tue Dec 24 04:28:05 MET 1996
Justin Maxwell
From: Hallowell, ME, USA
Home page: http://members.aol.com/dogdin/


Jan- Your page on The Band is superb. My father used to play them in our house when I was a toddler - one of my earliest memories is of singing along to "Bessie Smith." I'm now 22 and playing bass in my own band, and I owe it all to watiching Rick Danko! Thanks again!

---
Mon Dec 23 21:22:51 MET 1996
Olaf Schermaul
From: Genthin,Germany


Great pages about a great band. Thanks !!!

---
Mon Dec 23 18:44:23 MET 1996
Duncan Hackworth
From: Lincoln, Nebraska


My wife and I recently connected to the internet and I was so pleased to be able to find something on the WWW about The Band. These fellows are and always have been my favorite band. God Bless 'em all. Happy Holidays from "Jupiter Hollow".

---
Mon Dec 23 18:14:40 MET 1996

Paolo Demaria
From: Italy


To Jan and to all The Band's fans and to all my friends (you know who you are) my best wishes of Happy Xmas and Happy New Year! Serge, thanks for the new book's infos. Gonna set my compass north-west and go to a "land of snow" nearby for a while. See you in the new year!


---
Mon Dec 23 07:58:32 MET 1996
Markku Silvonen
From: Jyväskylä, Finland (The Official Country of Santa Claus.....)


Merry Xmas for all the Band fans! And remember to listen Band's christmas song 'Christmas must be tonight' from LP 'ISLANDS' tomorrow, minimum two times ....

---
Sun Dec 22 19:50:49 MET 1996
Don Groseclose
From: Knoxville, TN USA


Several cuts above most music pages I've seen. A group as wonderful as The Band deserves the best! Drop me on a desert island with "Before the Flood" and I'll be perfectly happy! Hey to all fellow Band fans...

---
Sun Dec 22 19:41:04 MET 1996
BSM
From: Walden, NY


Saw the Band 12-13-96 in Tarrytown, NY. If this had seen this wonderful group of musicians I would say it was an outstanding evening (minus an unnecessarry intrumental). The sound in the cozy Music Hall was incredible, adding a richness to an already full sound. However, this was not the first time I've seen them recently in fact it's the third, and I have to say the set has not varied much. Although the songs the do still prove they are a great band, I think they need to change some things up a bit.

---
Sat Dec 21 16:49:37 MET 1996
Serge Daniloff
From: London, Ontario, Canada


Hi Jan, Hi Band fans. A new book has just hit the bookstore shelves in Canada. It's a great new biography titled " The HAWK " the Story of Ronnie Hawkins & the Hawk, by Ian Wallis. It's crammed with a lot of never before seen photos of the early Hawks ( the future Band ). The book is published by Quarry Press Inc. P.O. Box 1061, Kingston, Ontario, K7L-4Y5, Canada. Happy Holidays.

---
Fri Dec 20 01:43:10 MET 1996
Jeffrey R. Gilbertson
From: Minnetonka, MN


I like it. The Band is great. When will they be coming to Minnesota Again?

---
Wed Dec 18 21:48:59 MET 1996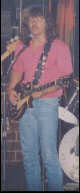 Donnie Ellis / Strange-Brew
From: Peoria, Illinois U.S.A.
Home page: http://homepage.dave-world.net/~brew1/index.html



It was nice to stumble across some old memories! I must say that the concept and contents are exellent!! I enjoyed browsing through some of your archives as well. Nothin' fancy, straight to the point! Keep up the good work! Here's to ya!! Donnie Ellis


---
Wed Dec 18 21:24:45 MET 1996
JAMES
From: ALBUQ NM


LOKING FOR OTHERS TO TRADE CONCERT RECORDINGS. I HAVE MANY MASTERS AND LOW GEN'S. THE BAND CONTINUES TO ENTERTAIN US. A BIG THANK YOU TO THEM FOR THAT. HAPPY HOLIDAYS. KEEP IN TOUCH.

---
Wed Dec 18 10:02:32 MET 1996
Jennifer Petersen
From: Sydney Australia


I read in "Across the Great Divide" that Levon had a 'large slab of meat'.Can any body verify this?. I've been a Band fan since I was a child and find everything about them facinating. Great page...Does the 'Big Pink' refer to Levon?

---
Tue Dec 17 02:02:45 MET 1996
Peter Spencer
From: New Jersey, USA

---
Mon Dec 16 22:58:34 MET 1996
Jeff DeWitt
From: Maybrook, NY


The Band had a guest guitarist during the encore of the Dec 13, 96 show in Tarrytown, NY. Does anyone know who this guy was. He had a resemblance to the lead guitarist in David Letterman's band. Just curious. Again - Happy Holidays!

---
Mon Dec 16 22:55:23 MET 1996
Jeff DeWitt
From: Maybrook, NY


I saw The Band on Friday 13 December. What a show! Rick seemed to be a little pissed about a portable fan that wasn't plugged in. I must say - Rick is looking HUGE compared to the 70s. He must have gained 75 pounds. The show was great. We ran into Butch (Bands road manager) after the show. If you know this guy, keep him in your prayers. He's on a list for a liver donor. Super guy who hooked up me and some friends with great tickets to a show in August in Latham, NY. Highlight of the concert had to be Garth. He seemed to be having a great time the whole night. He was real animated during the intro to Chest Fever. Anyway - Happy Holidays to all of The Band's fans in the world!!!!

---
Mon Dec 16 14:23:53 MET 1996
H. Horder
From: Ulster County, NY


Good stuff. Really would like to get my hands on any/all High Quality live show recordings that the boys played locally. Especially The Getaway on Rte 212 in W. Saugerties. have many non-Band shows to trade. Pls E-mail me at Howard60@AOL.com.

---
Sun Dec 15 03:52:50 MET 1996
stephen and bernadette harries
From: 92 gibson street goulburn n.s.w. australia


we listened to the music and found it very interesting.we enjoyed looking up your page on the world wide web.this is the first time we have made a comment on the web.thankyou.

---
Sun Dec 15 02:55:00 MET 1996
Mike Hagarty
From: Ottawa, Ont. & formerly Stratford Ont.


I grew up with them and was there from the beggining. Richard Manuel (Beak) and I were freinds for a number of years and used to travel to a number of gigs together. There were a lot of good times to be had back then and a lot which took place in London Ont. The Del Mar Lunch Bar was a particular favorite of Levon's for after hour dining. Any info that I may provide pertaining to one of the best and everlasting groups of our time can be obtained by E-Mail.

---
Sat Dec 14 17:18:51 MET 1996
Thomas Gustavsson
From: Stockholm, Sweden


Good to find these pages on The Band, I've been a fan of them since 1970.

---
Sat Dec 14 09:33:30 MET 1996
Lars Pedersen
From: Pine Bush,NY


Saw the Band at the Music Hall in Tarrytown,NY last night. They sounded great, although Danko had some trouble hitting the high notes (but his other notes made up for it). First time in quite a while that I've seen Rick with a mustache, looks good. Garth was kind of funny tonight, almost animated. At one point he was playing his accordian with one hand kind of shaking over his instrument as his other hand held the note, ala Robbie Robertson. He wore a little smile. The whole band put on a solid show. This is a class act not to be missed.

---
Sat Dec 14 05:31:33 MET 1996
SCOTT M. PORDON
From: PARAMUS, NJ AND DECATUR,NY


THANK YOU FOR THIS WONDERFUL PAGE. I HAVE RECEIVED A CONSIDERABLE AMOUNT OF INFO.THAT I HAD NO IDEA EXISTED !!!!!

---
Sat Dec 14 01:07:06 MET 1996
Rodger and Christine Potocki
From: New Hartford, New York
Home page: http://www.familygolf.com


The best of all time. The boys have spanned two generations of our family. Wax Museum concert in D.C. will never be forgotten by Dad and two sons. Need info on how to contact group for special booking.

---
Fri Dec 13 03:39:02 MET 1996
Jay Usyk
From: Columbia, Maryland


Always thought BIG PINK was the best album I ever had.

---
Fri Dec 13 01:15:11 MET 1996
Paul Collins Jr.
From: University of Sranton(Pa)& Albany, Ny


Thank You, The webpage is great. I once had the chance to meet Levon, at the opening of the Mass MoCA benefit. He was an absolutly outstanding individual. I have had the pleasure to see the Band 5 times and have never been let down. They continue to keep the tradition of mountain music alive. God Bless you all.

---
Thu Dec 12 22:42:21 MET 1996
JAMES A.BATTEY
From: ALBUQUERQUE, NEW MEXICO


GREAT LISTINGS. LOOKING TO TRADE TAPES, HAVE MANY. ALL BAND FOLLOWERS WELCOME ITS THE MUSIC THAT MATTERS.

---
Thu Dec 12 19:44:33 MET 1996
Tom Omberg Johansen
From: Hamar of course


Hei gamle røver, håper du har det bra. God jul og godt nyttår. Mange hilsen Tom tlf: 90036393

---
Thu Dec 12 16:12:45 MET 1996
Steve Thompson
From: Ontario, Canada


JAN I'm impressed! A big fan was a BIG understatement! I've just taken a quick look around but I will definately be back when I have more time. I'll see you on CUSEEME! Later....Steve.

---
Thu Dec 12 04:51:30 MET 1996
David Carey
From: Connecticut


I don't think the phone number listed for the Pittsfield Mass. show is correct, does anyone know where "The Studio" is located ??? Please e-mail me, thanks !!

---
Thu Dec 12 04:47:05 MET 1996
Peter Hammond
From: England. But resident in Pittsburgh for now


been a Band fan for years, ever since 'The Band' They basically introduced me to the vast tapestry of of American music. I hope they come to Pittsburgh before I go back to England.

---
Wed Dec 11 06:07:02 MET 1996
Rocky Frisco
From: Tulsa Oklahoma
Home page: http://home.earthlink.net/~rockyfrisco/


Sorry about the double entry, got dumped offline. Played next door to Levon and Ronnie at the Edison Hotel in Toronto, New Years 1959. I've always loved the Music. We opened for them in 1994 and 1996, an enormous pleasure. Hope it happens again.

---
Mon Dec 9 19:36:10 MET 1996
Allison Strukel
From: East Lansing Michigan

---
Mon Dec 9 10:51:48 MET 1996
Sean Mooney
From: San Diego


Thanks for having a site site on the Band, I think they are an ingenious group and the youth of my generation has lost most appreciation in the kind of music they offer

---
Mon Dec 9 10:08:40 MET 1996
Matthew Mackay
From: Prince Edward island, Canada


This is great. Thanks for taking the time and making the effort to do this.

---
Mon Dec 9 09:20:15 MET 1996
Paul Bancroft
From: Australia


I have been accessing the page for over 12 months and find it makes fascinating reading with useful links to a number of sites. I have been trying to get a copy of THE COMPLETE LAST WALTZ but none of our importers have heard of it or where to get a copy. Can anyone help please?

---
Sun Dec 8 20:28:05 MET 1996
David Carey
From: Connecticut


Alright concert dates in the area !! Is anyone going to the shows in either Tarrytown NY or Pittsfield MASS ??? If so let me know, maybe we can all meet !!

---
Sun Dec 8 03:38:23 MET 1996
fred belviso
From: trenton,n.j.


saw the band 9-21-96 WATERFRONT PARK trenton n.j. great show!! would'nt mind hearing from band fans!

---
Sat Dec 7 15:30:01 MET 1996
Inez Steele
From: Beverly, MA


So much fun to see . . . If I were stranded on a island, The Last Waltz is the album I'd want with me. Other bands come and go. THE BAND stays. Thanks Levon et al Inez

---
Sat Dec 7 06:07:08 MET 1996
Matt Dineen
From: Ottawa, Ontario (Canada)


Awesome!

---
Sat Dec 7 01:58:00 MET 1996
Stefanie Loxterman
From: Gallatin, Missouri


I am 26 years old and was introduced to the band by my dad, roger loxterman. They kick ass.

---
Fri Dec 6 02:04:25 MET 1996
Serge Daniloff
From: London, Ontario, Canada


Thank you Jan for the continuing great quality of your Band page. Thank you for all the hard work and time you put into this almost daily for us to enjoy FREE OF CHARGE. There is no better page devoted to any one group anywhere on the web.

---
Fri Dec 6 01:40:05 MET 1996
John Lillig
From: Chicago, IL


A group of us recently had a "20th anniversary of the Last Waltz" party here in Chicago. We watched The Last Waltz, listened to The Last Waltz, and talked about the Last Waltz. I'm curious if anyone else had similar parties. Me and my friends would be interested in knowing. Thanks. John Lillig.

---
Thu Dec 5 17:24:11 MET 1996
Sara Ouellette
From: Orwell, Vermont; attending Champlain College in Burlington, VT


I saw The Band at The Old Lantern in Charlotte, VT, on Friday, September 20. They were great! I loved them. I even got autographs! They were SO nice. I will remember that night always.

---
Thu Dec 5 15:43:10 MET 1996
Mike Cantwell
From: Florida


This was an excellent page. BTW, I saw The BAND in Philly the friday night before they went on Satarday Night Live and then did they Last Waltz soon after that, so it may in fact been the last concert before the end of it all...they were GREAT !

---
Thu Dec 5 14:22:29 MET 1996
David Kidney
From: Dundas, Ontario, Canada


This is a very good site. Filled with interesting information and attractively designed. It shows that you don't need all the glitz and glamour to be valuable much like the Band themselves. I've loved them since I saw them live in Hamilton just before "the Band" lp came out. I still love them, even enjoying "High on the Hog". I see "Danko, Andersen and Fjeld" have a second release coming in February...can't wait.

---
Thu Dec 5 01:21:31 MET 1996
Mark Steele
From: Salem, MA


I've followed The Band for years, growing up in the home of the Big Pink, Saugerties, NY.

---
Wed Dec 4 21:56:51 MET 1996
Levon McCurdy
From: Pittsburgh, Pennsylvania


I think that what you have done is simply remarkable. None of my friends knew who the Band was until I gave them extreme exposure. Whenever I would listen to them, Someone would say,"What are you listning to?" And I would say,"The Band," And they would always say."Which one?" Not anymore though. If someone asks, one of my friends answers before I get the chance to. All of your lyrics are correct and the chords are correct, your pictures are great and the articles are good. Whenever I am bored I can just flip up to my bookmarks and go to the Band page. I usually have my guitar with me though.

---
Wed Dec 4 20:25:39 MET 1996
CHARITY HARRISON
From: HOUSTON


OH MY GOD I LOVE THE BAND IVE KNOWN THEM SINCE I WAS 7 YEARS OLD. PLEASE EMAIL ME I LOVE YOU YALL JUST EMAIL ME LOVE YA....

---
Wed Dec 4 15:55:37 MET 1996
Jim Shelley
From: Cliffside Park, New Jersey

---
Wed Dec 4 09:40:28 MET 1996
Nate Dale
From: Sacramento, CA


This is a great page.. Very informative.. You might want to set up a Real Audio Feed for the audio files for speed reasons.


I might, but, with todays bandwidth, quality on RA is usually pretty bad on audio streams from overseas. I'm thinking about converting the samples to the new MPEG-3 format instead, very high compression and quality. Problem is of course that very few people yet have the software to play MPEG-3.
--JH
---
Tue Dec 3 23:49:59 MET 1996
Jungle Jim
From: Sudbury,Ontario,Canada


Excellent site. I've been a Band fan for over 20 yrs. I can't think of a band with such diverse vocals or the vast instumental talent.Keep up the

---
Tue Dec 3 16:22:47 MET 1996
Heather Upfield
From: Edinburgh, Scotland, UK


Aaaah! Takes me back a few years! Excellent pages - thank you

---
Tue Dec 3 02:07:41 MET 1996
Leah Long
From: Tacoma Washington


Great Page!!! I love the BAND!! I am writing a book on Woodstock and would like to get feedback from people about their experiences and etc... If you can't get a hold of me on e-mail write me at: Janis Peace 1506 South Prospect Street Tacoma, Washington 98405 Thank you very much!!

---
Tue Dec 3 01:12:13 MET 1996
Geir Sundet
From: Mandal, Norway
Home page: http://home.sn.no/~geirs1/


Bukowski og The Band - bra. Jeg tillater meg å sende endel folk for å høre på dem fra Baren min som åpner om kort tid. Hilsen Geir Sundet

---
Mon Dec 2 21:03:57 MET 1996
Rob Stewart
From: Kemptville, Ont. Canada


There are few bands that can get together and enjoy themselves so much that you can hear it in the richness of there music. I feel priveledged to hear these guys play and always ensure I'm in the mood to soak it all in.

---
Mon Dec 2 10:03:46 MET 1996
Bernie Anderson
From: Newcastle, UK


Great job, wonderful pages, keep it up!

---
[History] [Members] [Library] [Discography] [Videography] [Filmography] [Pictures] [Audio Files] [Video Clips] [Tape Archive] [Concerts] [Related Artists] [Merchandise] [Guestbook] [Chat Room] [Search] [What's New?] [Main Page]
Webmaster