The Band Guestbook, March '99
Below are the entries in the Band guestbook from March 1999.
---
Wed Mar 31 20:26:17 MET DST 1999
David Powell
This morning I found a website this lists a calender of events in New Orleans maintained by The Times-Picayune newspaper. Levon & Amy Helm with the Barn Burners Blues Band are listed as playing the late set at Levon's club both last night & tonight. The website is at:
http://www.nola.com/calender
I think part of the confusion relating to the Band's activities stems from the fact that the group itself doesn't seem to have a publicist to keep us informed. Thankfully Bill Paige of River North occasionally fills us in with current information.

---
Wed Mar 31 19:34:47 MET DST 1999
Bones
From: Connecticut


David P. - I agree with you about the up-in-the-air status of the current Band. It seems like it all collapsed when Levon opened his bar. They were booked for all those dates as The Band, and now they cancelled to do solo gigs. Maybe Bill Paige can tell us what happened.

---
Wed Mar 31 17:26:55 MET DST 1999
David Powell
From: Georgia


At present there seems to be no glue holding the current version of The Band together. Following the release of _Jubilation_ there's been no tour to speak of in support of the album, leaving it to whither & die on the vine. The current members have spun off in pursuit of their various side projects. There were health issue regarding Levon, but he's currently booked at his New Orleans club with daughter Amy & the Classic Blues Band. Reports of any performance at this club have been curiously absent of late. Rick continues to book solo club dates. Garth & Crowmatrix are booked with Mercury Rev. Jim Weider is performing with the Honky Tonk Gurus. All this leaves me wondering about the status of The Band. There seems to be no official word about this, a curious silence about the subject.

---
Wed Mar 31 06:00:18 MET DST 1999
Jonathan Katz
From: Columbia, MD


Bones: I had a lot of trouble with Robbie's version of "Dixie." It dragged and his voice just was not up to the song. I agree with you on Levon - nobody can do this song like him!

Peter: The 'River of Song' show had video of a live performance of Levon with the Cates and James Cotton. I think it was from a concert staged on a river boat in New Orleans a couple of years ago.

Anybody: Does anyone have the Bearsville box set? I'd love to get a dub of the Bobby Charles stuff. His 1972 albums is one of the best Band-related albums out there. For that matter, does anyone have any of his Chess recordings?

---
Wed Mar 31 03:45:05 MET DST 1999
catbalu
From: another day, another dollar....


Mr. V - Van has always reminded me of Michaelangelo: Mike tormented the church the whole time he painted the Sistine Chapel... and look what he left us with!

i think the Chieftons handle Van's "perfectionisTism" best, as far as outside influences go..... Taskmaster! Never "pleased...!" Garth, on the other hand, is the free-spirited genius who has yet to meet his match - and he doesn't even seem to care (therefore he makes anybody he plays with sound good!) Would not like to see Garth bend his will AGAIN, but if ever he should, Mr. Morrison would probably be the man who'd most appreciate him....

We just welcomed "Jelly Roll" to our clan. A baby Bassett — bottle-fed runt (a dog i can keep up with!) JR for short. New teenager named him (pleasant surprise from the jock son!)....... 2nd son "Baby Dan" has just started on the sax. Says he wants to be a "jazz man"... we are at the beginning stages therefore he is banished OUTSIDE to the sunny side of the house! got alot to aspire to..... :)

think Caledonia Mission would sound wonderful acoustically; thanks for the thought! (think also the Just Us mentioned here is da wrong guys.... oh, well...)

BTW - enjoy all the stories of where everybody's AT with family these days... what the Band was Addtionally famous for - giving a damn about their children.... A Good Thing...have A Good Day... watch the news and count your blessings...

---
Wed Mar 31 03:28:10 MET DST 1999
Spider John
From: LAD3/4


Welcome back Jon Lyness, we missed you. Be sure to ask the boys about a tour by The Band. Ask Aaron how he got the monicker Professor Louie, wiil ya?

---
Wed Mar 31 00:18:08 MET DST 1999
Pete Rivard
From: Hastings, MN


According to amazon.com, it's Werner, not Warner, as in the Star and Trib. Anyway, I'm taking a chance on it.

---
Wed Mar 31 00:00:48 MET DST 1999
Pete Rivard
From: Hastings, MN


The book review section of the Mpls Star and Tribune covered the paperback release of a book that should be of interest to the visitors of this site: Craig Warner's "A Change Is Gonna Come: Music, Race and the Soul of America." 430 pp. Plume Publishing. Anyone read this in hardback? If so, how is it?

---
Tue Mar 30 23:57:13 MET DST 1999
Peter Viney
Bones: That's why I was surprised to see it on the set list for this 'River of Song' show with the Cates. The existence of the audio clip of 'Cripple Creek' implies they got the whole show. Maybe they have small bits in the TV program rather than the album. The TV show isn't scheduled here (yet) as far as I know. It's something to look out for.
As is Garth & The Crowmatix with Mercury Rev in New York. Wish I could see them again.
Van, The Doctor & The Band: Dr John recounts a few incidents about "A Period of Transition" in "Under the Hoodoo Moon" - including Ray Parker Jnr being fired "for laughing" before he got to play a note, and a whole slew of well-known replacement guitarists being auditioned and rejected after playing their first note. Dr John found him very difficult. Garth played on the following album, "Wavelength". Van Morrison seems sure of what he wants while able to encompass creative looseness and allowing the magic unexpected moment to happen on stage. When things are going wrong he doesn't tolerate it. When I saw him on the "jazz tour" the band swung through all the jazzy stuff brilliantly, but when he did one of the rare one or two rock numbers, he was so pissed off at the drummer that he stopped singing, walked over and counted out the beat, then started again.
Garth is every musician's dream session man, but notice how often Van nowadays goes for a classic Hammond sound. I happen to feel that he's much better without long time organist Georgie Fame, who is too predictable for me, but Garth is way more inventive and varied than the keyboard sounds Van has been using recently. Van has deliberately been using a restricted palette- the man is a vocalist and creates the effect he needs to show off the voice best. On the jazz tour he didn't have a guitarist at all (though he played guitar himself a couple of times). Most of our speculation here is dreaming (which accelerates when nothing's happening much), but I wish they'd try this one out.

---
Tue Mar 30 23:13:36 MET DST 1999
Bones
From: Connecticut


To Peter Viney: I heard Levon tell Larry King in a radio interview a few years ago that "Dixie" was hard to sing. He alluded that his voice had trouble in that key. This seems unusual to me since he absolutely killed it in both The Last Waltz and SNL versions. Wow, he was great! Robbie performed the song last year on Good Morning America. Great version, but Levon's was special.

Thanks to Kevin Gilbertson for answering my question.

---
Tue Mar 30 22:52:08 MET DST 1999
Diamond Lil
From: The Web


Not sure that I agree with the first concert after Richard's death being called a "distinction", although it was indeed in St.Louis and it was purely to fulfill an obligation. I was with Rick and Blondie 2 days prior to that show, and talk was about whether or not to cancel or do what they promised to do. And being men of their word, they opted for the latter.

And btw - I saw them in April of 1986 - and my most vivid memory of that night was Richard's Yamaha on a revolviong stage, going around and around with noone there to play it. Very eerie. Very sad. Left an impression on everyone there that we won't soon forget.

---
Tue Mar 30 21:51:29 MET DST 1999
J.R.
From: Missouri


While browsing the tape archives (and trying to control my saliva), I saw that the author noted the 3/22/86 Passaic, N.J. show to be the first one subsequent to Richard Manuel's death. This is in fact not correct. I believe that distinction belongs to the Fox Theatre show in St. Louis on 3/13/86 which was opened by Buffalo Springfield Revisited and Dave Mason and featured Blondie Chaplin filling in. I had a great time there, and if anyone has any info about other shows from 3/86 ,please let me know.

---
Tue Mar 30 20:59:12 MET DST 1999
Jon Lyness
From: New York City


From the Woodstock Records web site:

"GARTH HUDSON & THE CROWMATIX and MERCURY REV will bring their show to THE BOWERY BALLROOM - NEW YORK CITY on Monday, April 19th 1999."

Can't wait!



---
Tue Mar 30 20:26:45 MET DST 1999
David Powell
From: Georgia


The April issue of National Geographic magazine has an informative article entitled "Traveling the Blue Highway", written by Charles E. Cobb, Jr. about the Mississippi Delta region and "deep" blues music. To read the text online, go to the following website:

http://www.nationalgeographic.com/media/ngm/9904/fngm/index.html

---
Tue Mar 30 20:17:38 MET DST 1999
Jeremy Reynolds
From: La Crescent, Minnesota


Howdy folks-I have been a huge fan of the Band ever since I can recall, as I grew up with my parents enjoying thier fabulous music. I have since purchased almost everything I can find to listen to (group/solo works...etc..), and am missing what I feel are 2 very key elements to my collection. If ANYONE out there has a copy of either of these (and is in need of some $), please drop a line and hopefully we can work something out. Here are the items I am looking for: (2 CDS) 1) Music From Big Pink (on Mobile Fidelity Sound Lab gold plated cd) 2)Levon helm & The RCO All-Stars (also on Mobile Fidelity Sound Lab CD-but this one is an aluminum cd) I have other music to trade if $ does not interest you. Thanks a bunch folks, I really appreciate it!! Jeremy Reynolds

---
Tue Mar 30 18:51:05 MET DST 1999
Dave Z
From: Chaska, MN


Think Dylan will ever do another record with the Band w/o Robbie? I'd love to see Danko, Dylan and Van share vocals on Acadian Driftwood.... The recent Bravo Van special had Van and Dylan singing Irish Rover which was pretty cool....I'd still like to see a wierd combo though like Garth and Prince, singing maybe a Lovesexy Genetic Method....Maybe Garth can wear the overcoat and speedo and Prince dress like a Rabbi....

---
Tue Mar 30 18:43:32 MET DST 1999
Jason Howe
From: Northern Maine


Hey tape traders. Looking for copies of newest Levon Helm and Rick Danko Solo albums. If you have these email me at zeus4life@hotmail.com. Thanks, J. Howe

---
Tue Mar 30 17:18:21 MET DST 1999
Peter Viney
Followed the link to "River of Song" where there is an audio clip of "Cripple Creek" which sounds like the same line-up as "Going Back to Memphis." plus there's this intriguing note:
This year, he is joined by James Cotton, who came up in Muddy Waters's band and became one of the trendsetting Chicago harmonica players and bandleaders, in a set that ranges from traditional blues jams to Band hits like "Up on Cripple Creek" and "The Night They Drove Old Dixie Down."
If so, this is the first known performance since TLW. Any more info anyone?

---
Tue Mar 30 17:16:21 MET DST 1999
Martin
From: Aberdeen


Hi Everyone. Performed 'The weight' and 'Stagefright' at an open mic night in town yesterday, seemed to go down well. Are there any other guitarists out there who have managed to successfully perform band tunes on an acoustic guitar? The only ones I can seem to manage are those 2, Shape I'm in, Caledonia Mission, Rueben Remus, In a Station and most of the Dylan ones. Any of the rest just have to many instrumental and/or vocal parts to be able to be performed solo. Also does anyone know the tuning Robbie uses on 'Unfaithful Servant'. I seem to remember reading somewhere that it was an open tuning of some sort but I haven't been able to figure it out yet. If anyone could provide me with the tab or even just the correct tuning I'd be grateful, cheers!

---
Tue Mar 30 13:28:56 MET DST 1999
Diamond Lil
From: The Web


Here's a question that I don't think has been asked here before. Does anyone know how Aaron got the nickname Professor Louie? Figuring that Rick probably gave it to him, but does anyone know why? Just one of those nagging little tidbits that I've forgotten to ask over the years. Thanks.

---
Tue Mar 30 05:07:44 MET DST 1999
Kevin Gilbertson
From: NE PA


Bones: According to the CD it was record on October 10, 1997. Levon's vocals are similar to his vocals on Jubilation.

---
Tue Mar 30 04:11:21 MET DST 1999
wolle
From: germany hamburg


hallo the band, wann werden wir mal ein concert von euch in germany sehen? wolle.

---
Tue Mar 30 04:04:24 MET DST 1999
wolfgang schroeder
From: germany-hamburg


hallo the band, warum geht ihr nicht in germany auf tour? eure vielen fans warten darauf! gruss wolle .

---
Tue Mar 30 03:38:46 MET DST 1999
wolfgang schroeder
From: germany


hallo the band, da ich leider nur wenig englisch kann muss ich diese zeilen in deutsch schreiben. wer kann mir sagen ob es ein buch von the band auch in deutsch gibt? gruesse alle the band fans, wolfgang aus hamburg.

---
Tue Mar 30 00:58:41 MET DST 1999
R. Berry
The following poem is submitted with all due respect for the eyes of Aaron Horwitz. The tune is the Kingsmen's "Louie, Louie." The intent is to get Aaron Horwitz to book some shows for the Crowmatix.
Louie, Looeye, oh no, weneedashow
Nahnahnahnahnahnah
Oh Louie, Looeye, oh baby, weneedashow.
Fine Crowmatix shows gettinscarce to be
Lots of people readygo and see.
You talk to the mon and hepay yourfare,
You play any place and dafans be there.
Louie, Looeye, oh no, weneedashow.
Yahyahyahyahyahyah
A Louie Looeye, oh baby, give us more danko.
That night at ten, we show up again.
Line up Eppardwhatyousay?
Elmo and Ranch and Marie stand up there.
We'll all carry Levon inawoodenchair.
A Louie Looeye, oh no, we needashow.
I say we needtaletgo.
Line up a show Louie.
LETS GO!

---
Mon Mar 29 23:43:59 MET DST 1999
David Powell
Van and The Band could be an interesting collaboration, if they could work out any creative differences. I've always wanted to hear what Garth could do with some of Van's more "atmospheric" type songs. Maybe a Van / Garth project would work better.
Peter mentioned some "issues" arising between Van & Dr. John. I've recently been listening to Van's 1977 album _A Period Of Transition_, on which Dr. John played & co-produced. Maybe they saw things differently while recording that album.

---
Mon Mar 29 23:15:24 MET DST 1999
Bones
From: Connecticut


Did anyone purchase Miss: River of Song featuring Levon and James Cotton? How is it? Did Levon record it before his throat ailment?

---
Mon Mar 29 22:55:25 MET DST 1999
Peter Viney
Thinking out Loud: It would be a dream ticket. What they share (apart from history) is that Van, like the Band, is totally genuine. He plays what he wants to play. He's also pretty stubborn … Van has produced most of his own albums over recent years, as well as John Lee Hooker. There's a compilation called "No Prima Donna" (1994) where Van produced a variety of artists doing his songs, e.g. Marianne Faithful on "Madame George" and Cassandra Wilson on "Crazy Love". The Band would be a superb collaboration. I've had the pleasure of watching Van live more than The Band for geographical reasons. "Back on Top" is superb, as ever and I've been playing it more than anything else in recent weeks. However I think the previous album "The Healing Game" ranks with his best work of all time. Dr John fans mentioned his autobiography recently where he mentions some of the …er… issues in working with the guy. But he rejects stories about him in "New Biography" (which I also think of as 'The Name Game'). As I posted last week, the lyrics must appeal to The Band. Van also has been using acoustic bass on record for three or four albums now (compare "Jubilation"). I'd prefer a collaborative effort to just a production job, but as with John Lee Hooker he seems to know where to stand back, and then joins in for a couple of numbers.

---
Mon Mar 29 20:45:24 MET DST 1999
Diamond Lil
From: The Web


Pete: Sounds like you got a great kid there. As the mom of an incredible 15 year old sax-flute-keyboard player/singer/actor....I couldn't agree with you more. Thankfully there _is_ so much going on at the High School level where music is concerned. My life consists of running to jazz band rehearsals, play rehearsals, vocal rehearsals, dance rehearsals....and even though it tires me out...I wouldn't want it any other way. Good luck to your daughter in her future. Sounds like she's got what it takes.

---
Mon Mar 29 20:24:17 MET DST 1999
I Was Thinking Out Loud
I spent the past 48 hours listening to Van Morrison's newest CD "Back On Top" It says that Van produced this by himself. I am not a Van authority; therefore I don't know how many of his works he has had total control over. My point is:
Van come back to Old Old Woodstock and produce the Band. I have't heard such a "live feel" off the floor in years. The textures are beautiful. The instrumentation is perfect. The mix is exquisite. Van...come back and take the naturally talented boys even higher. What an album that would be. Would you agree Mr. Viney?

---
Mon Mar 29 20:16:36 MET DST 1999
Pete Rivard
From: Hastings, MNN


Lil: Re your quote regarding high schoolers: My daughter is a 9th grader who plays a mean flute and piano and has been taught by her old man how to improvise, how to play freed from the charts. She sits in with me frequently when I'm gigging and takes extended leads no problem. In addition, though, she has a very impressive high school music program. This year thed music teachers got hold of several of Duke Ellington's charts and formed the concert band into a replica of Duke's big band. They played several Ellington compositions note for note, including all solos, as charted by an ex-Ellington band member apparently. Worked on them for months, broke each selection down, discussed the composition and composer's intentions. Really got deep. The concert was a smash. So there's more going on at the high school level that marching around playing "We Will Rock You", thankfully.

Now if only some teacher would turn their attention to The Band's charts. That would teach the high schoolers a little about rock 'n roll.

---
Mon Mar 29 20:02:01 MET DST 1999
Diamond Lil
From: The Web


Jan: Hudson and Hoiberg do London! What a _great_ photo!! Thanks for sharing it with all of us. It occurred to me as I was just looking at it that Garth seems to be the one original Band member who's aged the least. He looks wonderful!

Peter Viney: Know that god-awful version of "Somewhere" that you mentioned very well. Heard an incredibly talented high school kid do it this past weekend and it brought tears to my eyes. Beautiful! Nice to know there's so much talent in the next generation. Now if only they'd learn how to pick up after themselves.... :-)

---
Mon Mar 29 18:29:45 MET DST 1999
Bill Munson
From: Just Us


Rick Bell was a member of a Toronto band called Just Us group in the mid-sixties, before joining Ronnie Hawkins. They had to change their name when a US group had a hit with "Can't Grow Peaches On A Cherry Tree" - in '66 I think.

It may interest some that Just Us kept on changing their name and their lineup. They eventually moved to LA, took aboard some Americans and became Mama Lion (who are fondly remembered for their gatefold cover).

---
Mon Mar 29 17:15:07 MET DST 1999
David Powell
From: Georgia


More good news from the vinyl sidings department. Classic Records, a company specializing in audiophile quality classical, jazz & rock reissues, is releasing the Dylan / Hawks LIVE '66 album on vinyl. It comes in a 2-LP (180 gram vinyl) set with full-size booklet containing artwork & liner notes. Retail price is $60 U.S.

Minor correction Pat Brennan (I get them confused myself): Sam Phillips is married to singer, songwriter / producer T-Bone Burnett. Singer, songwriter / producer Don Dixon is married to the talented singer / songwriter Marti Jones. I don't know if any of them did a version of "Cool".

---
Mon Mar 29 16:31:01 MET DST 1999
Charlie Young
From: Down in Old Virginny


Kevin: the Amos Garrett connection is from the Butterfield Better Days era (more of a Woodstock-Bearsville connection than anything else). catbalu: Just Us sounds familiar, though I was in the DC area and NYC during the time you talk about.

---
Mon Mar 29 15:12:53 MET DST 1999
Virgil Caine
From: Glasgow, Scotland.


Could some-one please put some guitar tab on the web-sites.The sheet music is really helpful, but some of guitar solos by Robbie Robertson are too hard to figureout.

---
Mon Mar 29 08:31:05 MET DST 1999
catbalu
From: Richamond VA past....


Charlie Young - do you by chance remember a blues band from the Fan fronted by Dennis Folley back in the 70's - early 80s - called Just Us? fronted for Taj Mahal a time or two....

---
Mon Mar 29 05:26:01 MET DST 1999
Kevin
From: Pittsburgh


Charlie Young, what's the connection between Amos Garrett and The Band? Alway's liked his work from Crowell's "Voila, An American Dream" to Maria's "Midnight at the Oasis". The only connection I know of is the Homespun video.

---
Mon Mar 29 04:31:50 MET DST 1999
Charlie Young
From: Down in Old Virginny


There was some talk here recently about recent recordings which might be considered "Band-like" and I shied away. I think that's why I spend so much time at this site and hardly visit any others; there ain't none like The Band. HOWEVER: there is a recent CD I bought two weeks ago and can't stop listening (something I miss about the days "when the music mattered"). This CD does feature some cohorts of The Band including Howard Johnson, Snooky Young and Amos Garrett. Also prominent is the almost Garth-like accordian of the great John Magnie (formerly of the Subdudes). Anyway, the disc is called "The Secret Handshake" and it's mostly a bunch of very old blues and gospel songs and a few originals by Geoff Muldaur. There are definite echoes of New Orleans and The Band. I don't think anyone here would be disappointed.

---
Mon Mar 29 04:19:11 MET DST 1999
Phil
From: Ca


I meant for each line to be seperate but I obviously don't have a clue.

---
Mon Mar 29 03:53:12 MET DST 1999
Phil
From: Ca


Now so much time has gone right on by I never thought I could be so wrong Then one night I was drink'en and think'en In the bottom of the glass I could see Bessie's face so strong...chourus This verse is in the Basement Tapes sheet music book as the last verse. Just some trivia for fun.

---
Mon Mar 29 03:34:38 MET DST 1999
April Fool
From: New Orleans


Rick didnt keep away from Marie, Ragtime; that's why the boys ended their tour prematurely. He said- "Crazy Bout You Baby", "I Finally Got You". She said- "Poor Little Fool". He said, little?- I'm "300LBS." He said how's about a "Milk Cow Boogie"? She said "Don't Ya Tell Louie". He said "That's Alright", he's busy with the "Java Blues". Enuf. Off to the "Great Beyond" :-)

---
Mon Mar 29 00:12:42 MET DST 1999
Ragtime
LIL:
Re West Side Story: I'm sure mr. Danko would do a far better job than José Carreras who maltreated "Somewhere" on CD. This was under Lennie's own direction, mind you! But Rick should keep away from "Maria"...

---
Mon Mar 29 00:04:44 MET DST 1999
Bones
From: Connecticut


Thanks to Bill Paige for his post about Rick and "The First Waltz". It sounds like it was a great show. Please keep us informed on the boys.

It looks like the Robbie/Dreamworks relationship has begun. I went to see the movie "Forces of Nature" this weekend, and I noticed that Robbie was in the credits as Creative Music Consultant.

---
Sun Mar 28 21:22:26 MET DST 1999
Peter Viney
From: again


My own query, post-script: There are out -takes from "Bobby Charles" on 'The Bearsville Box Set" - Rosie, Homemade Songs, New Mexico + an alternate Small Town Talk. I wonder if these are the extra tracks?

---
Sun Mar 28 19:42:23 MET DST 1999
Peter Viney
Bobby Charles: I saw the cover art was added today, I remembered seeing an advert last week for "Bobby Charles" album "with extra tracks". Does anyone know what these are? I already have it on vinyl and CD. The 1988 'See for Miles' CD is called "Small town talk" and has no extra tracks. This appears to be a new release.

---
Sun Mar 28 19:08:44 MET DST 1999
Pat Brennan
From: USA


A lot of noise about TLW here in Chicago after the Nick Tremulis sponsered benefit at the Metro. I didn't go for a variety of reasons, and reviews didn't mention Rick very much--tended to harp on hometown hero Billy Corgan and his father singing together. BTW, Corgan's dad--according to eyewitness sourses--blew the boy away. I remember the dad from some 70's local bands and he was a great player. Same eyewitness said Rick sounded great and looked huge. Re: West Side Story; didn't singer Sam Phillips producer husband Don Dixon do a versions of "Cool" from WSS? I recall liking it but the memory is vague.

---
Sun Mar 28 14:59:19 MET DST 1999
Peter Viney
Lil: interesting concept. Now you've written out the words I just keep hearing P.J. Proby's overwrought version (There's a pa-lace for ussss some-a-where-a, pa-lace for uss …) Anyone remember that? Will have to put on the OST album and clear my mind back to the original.

---
Sun Mar 28 14:39:27 MET DST 1999
Diamond Lil
From: The Web


Mornin everyone. Still humming West Side Story tunes here, and it occurs to me that Rick Danko would probably do and outstanding job on the tune "Somewhere" from that musical. Can almost hear it now.

There's a time for us, somewhere a time for us....hold my hand and we're halfway there...hold my hand and I'll take you there...somewhere......

Must be something about the passion and emotion in his voice. Rick does Broadway..what a concept.

And lastly, a personal note to my son, "Snowboy". I'm soooo proud of you, and I know dad would be too. Thanks for a great weekend. Love You :-)

---
Sun Mar 28 08:52:12 MET DST 1999
greg johnston
From: albuquerque, new mexico, usa


I have a photo of The Band I made in 1971. It was in St.Paul, Minnesota, the first time I saw them.

---
Sun Mar 28 05:29:41 MET DST 1999
Bummed
From: The Great North


I am sick and tired shelling out cash to see bands that dont "do it" for me. I need a BAND fix. A sweaty juke joint; an insect filled outdoor gig. A bad night with the boys is better than the crap that is out there. Robby made me sick to my stomache at the R & R Hall of Fame. Clapton always blew me away; that night was no different. Hurray back boys; please? A Fan

---
Sun Mar 28 04:21:10 MET DST 1999
Blind Willie McTell
Sundog,
It was spring 1995 and back there wasn't a lot on the net. But Jan's page was there.

---
Sun Mar 28 01:25:05 MET 1999
JOHN CASSARINO
From: RUTLAND VT


WE AS BAND FANS NEED TO SEE THE FELLAS ROCK AND ROLL AGAIN. I AM BEGGING THEM PLEASE WE NEED YOUR MUSIC

---
Sat Mar 27 21:41:43 MET 1999
Just Wondering
Levon seems well enough to be playing with the Barn Burners and Crowmatix. Rick is off doing his shows. Garth is off in England with Randy. I hear Rick Bell is back in Toronto doing sessions. Question? If they can all play separately, why not together as The Band? Something must have gone down after New Year's.

---
Sat Mar 27 21:40:03 MET 1999
Freddy Fishstick
From: Key West


Listening to Bob Dylan Live 66 "One to Many Mornings" with that big "behind" from Rick. Well friends and neighbors I am happy to report that Barnesandnoble.com website has Hoskyns Across the Great Divide in paperback @ 6.99. Just ordered mine. Tell them FF sent you and maybe they'll send me some plane tickets to Havana to see Rick & Co. open for Jimmy. Just kiddin!

---
Sat Mar 27 21:29:43 MET 1999
Diamond Lil
From: The Web


Just want to wish Rick and Aaron a good show at Joyous Lake tonight. Can't make it myself...spending the evening back on the west side with the folks, the kids, the sharks and the jets. Proud mom here this weekend.

Sundog: to answer your question..if this site wasn't on the net...don't think I would be either. I've found things here that I never could've gotten anywhere else. More than the music. Much more. Thanks Jan.

Freddy Fishstick: Semi intrigued by this mysterious newcomer. Dylan fan? Or am I fishing in the wrong pond?

---
Sat Mar 27 20:51:51 MET 1999
Freddy Fishstick
From: Jericho


This a welcome to a newcomer to this site. In fact he ain't here yet, but I trust that he will be. He's a man with stones of marble, a true Rocker of the Ages. He was at Watkins Glen and nearly had some Big Vanilla from Howard Johnson at The Academy of Music in 1971/2. I hear he missedthe show to play a double bm or somesuch. Anyhow, welcoming you in advance, I trust life will imitate art and we will share this music, in its present and past form soon.

---
Sat Mar 27 19:52:03 MET 1999
Mitt Stampler
From: Way, way down the crazy river
Home page


Did anyone tape Robbie? Would love to get a copy for the beloved spouse's Easter basket, though Lord knows then I'd have to watch it. But hey, I might learn something--at least, that was what my dad used to say about anything I really didn't want to do. (That, and the line "no time is wasted if you learn something from it." He was wrong on that, though I'd like to think he meant well--some time is wasted no matter how much you learn from it.) On a lighter note, for all you Jimmy Buffett fans out there: Came home Friday night after a long day in marketing to find Zeke (a/k/a Whirlwind Dreamer) and the beloved goddaughter playing some very involved game with Beanie babies. One of the Beanies is a beautiful parrot named Jabber. I didn't pay much attention to them until Whirlwind said something about Jabber needing some "stuff." Huh? "Yeah," Whirlwind says, "He got into drugs while he was following around Buffett concerts." Stupid me--I asked how Jabber became a Buffett fan. Whirlwind looks at me like I'm a really big idiot and says, "Of course, Mitt-Mitt, he's a Parrot-head." Someone, not me, is letting these kids watch way too much TV. Last week I got worried because I noticed that Whirlwind had checked out "To the Limit" (the new Eagles bio) from the library. I told a coworker that I wasn't sure an adolescent should be reading about Don Henley's wild oats. The coworker just shrugged and said, "Hell, I'd be glad just to have my kids read a book.) One line that my dad did have right: How you see the show depends on where you sit. I think I'll go pretend to fish until happy hour. Cheers!

---
Sat Mar 27 19:46:50 MET 1999
Ragtime
Thanks for the blessing, Ilkka

---
Sat Mar 27 18:34:40 MET 1999
Tim(SUNDOG)Corcoran
From: Madison, Wisconsin
Home page


HI GANG!!! Please help me with this... Now, heaven forbid, if there was no Band web site(this one)what would me your NEXT pick, or your FAVORITE web site, I'll start with my first choice and it would have to be Bob Dylan.com or second, The Grateful Dead- Dead.net.com...This would be nice to see all of your other interest.Thanks!

---
Sat Mar 27 17:52:27 MET 1999
Matt Deneen
From: Cumberland, Maryland


I want to know if the Band is out on tour this Summer to support the new album.

---
Sat Mar 27 15:18:38 MET 1999
FYI
From: Upstate NY


Just a quick reminder that Rick Danko and Prof Louie are playing tonight (Sat, March 27th) at Joyous Lake in Woodstock. Tom Pacheco opens at 9:30. Tix are $15. Phone is (914) 679-0367.

---
Sat Mar 27 15:17:00 MET 1999
Don Pugatch
From: Roswell, Ga


Lastest news for anyone interested, is that John Hiatt did have surgery, and was successful. He is on the mend, and should be starting to record and tour in the summer. Question for MP3 fans, have not had luck finding Band tunes on any pages, any help would be appreciated.

---
Sat Mar 27 12:30:33 MET 1999
Freddy Fishstick
From: Havana Daydreamin


I missed that Coast City Bus to Havana, so JW I may have to take the train. Come Monday your musical horizons will expand. Look for the new album in late May.

---
Sat Mar 27 12:25:17 MET 1999
Ilkka
Home page
Re. PETE RIVARD - banjo
*The Night...Old Dixie* and other songs which you play with a 5 string banjo could have sounded even better with that instrument. I'm sure that Helm and Danko could be great banjo pickers after a rehearsal of fifteen minutes or so. What about a 4 string in *Across The Great Divide* or *To Kingdom Come*! - Well, banjo is for me something which comes out behind the closet after a bier (or two), so I'm not an expert.
A personal reflection - The people who immigrated from these woods to 'Ameriikka' settled down in Minnesota (where you come from). They became miners and loggers. That's why we up here have special feelings for Minnesota.
A personal reflection #2 - It's geat to see Ragtime back in here, isn't it!

---
Sat Mar 27 12:25:05 MET 1999
J.Croce
From: The Brokerage


A Letter From Don McLean While trying to put the entertainment together for the upcoming "Gathering" in Philadelphia, we were lucky enough to contact Don McLean. Don attended Villanova University with Jim, and often speaks about him during his performances, so we thought we would extend an invitation to him to attend the "Gathering." Unfortunately, he is not able to make it, but he was kind enough to contribute some words about his memories of Jim. Here is the letter we received from Mr. McLean.

---
Sat Mar 27 12:04:42 MET 1999
J.Croce
From: The Brokerage


Hey Catbalu

If you are really interested in the Croce Mclean connection checkout www.timeinabottle.com As far as The Brokerage, its a small comedy club/bar in Bellmore Long Island. Rick appears there annually.

---
Sat Mar 27 11:49:23 MET 1999
Ragtime
From: the tall grass


Mike McAuley:

Correction! The compilation CD "The Shape I'm In" is NOT In Your Local Record Shop in Texas, since it seems to be a European release only.

---
Sat Mar 27 04:29:36 MET 1999
catbalu
From: Doesn't take long to get behind in here


Hey J. Croce! I guess not only are you kind and good-lookin' but you're smart, too. i didn't know that about McClean/Croce. But's it's very nice to know. Thanks, and please pardon my hermitness-as-often-as-possible self, but i've never heard of the Brokerage. Would love to hear about your place, if you are ever so inclined :)

i've gone in search of Tom Waits...... BTW - Jerry "Boogie" McCain's new CD is due out sometime in April, he says. His backup band is Stevie Rays' very fine Double Trouble. Our BD Dave says they sound great. I'm very happy for these guys and Rick's and Levon's "second childhood." This new generation of young people seem pretty straight-forward and appreciative. Good company. It's spring!

for all who responded to my plea for help with the "communication situation", thanks, too. truly appreciate your time. have a good day, ya'll, and make a day good.

---
Sat Mar 27 03:28:50 MET 1999
justin
From: flint, mi


dave: i think robbie favored those amps too. i haven't seen the last waltz i some time, but i seem to remmber him running that rig. it's funny 'cause on those first couple band albums he sounds like he's using either a princeton or one of those old twin reverbs. anybody got the skinny on that one?

---
Sat Mar 27 01:16:38 MET 1999
Ragtime
From: the loneliest time a-day


Mike McAuley: "Twilight" is also on the compilation CD "The Shape I'm In" (The Very Best Of The Band) - NOW In Your Local Record Shop. It was originally released 1975 as a single coupled to "Acadian Driftwood" in the US & to "The Weight" in the UK. Probably very hard to find nowadays.

---
Fri Mar 26 22:48:34 MET 1999
Little Brother
From: around Philly, PA


Thanks for listing the John Prine site, Charlie. I had to check out his statement; I agree that it would be nice to get something similar from Levon.

One reason I immediately scoped out the statement was because for a second there I thought you were telling us that Ol' John had issued an anti-cigarette statement. I feared you were encouraging more Celebrity Role Model scolding. Ever since David Crosby and John Phillips became Poster Children for the Clean & Sober, I've loathed such approaches.

---
Fri Mar 26 22:18:45 MET 1999
Charlie Young
From: Down in Old Virginny


John Prine recently released a statement explaining his absence from performing over the last year or so; he had surgery early last year removing a cancerous tumor from his throat ("taking a portion of my neck"), followed by radiation therapy. Like George Harrison's similar battle, it looks like John won. Cigarettes still suck, though. I wish Levon would issue some sort of similar statement to his fans to help stop the confusion here. Prine's full statement may be read at www.jpshrine.org

---
Fri Mar 26 22:06:41 MET 1999
Dixie Chicken
From: Down in Dixieland...


Speaking of OTHER instruments (besides Fender electric guitars): does anyone know the scoop on the "high school and peck horns" with which John Simon is credited on the Brown Album? I always figured it was an inside joke...

---
Fri Mar 26 22:00:46 MET 1999
Mike McAuley
From: Houston, TX


I would like to find where the single "Twilight" is available besides on the "Best of the Band" lp. Also, how about some tour dates?

---
Fri Mar 26 21:46:31 MET 1999
Little Brother
From: around Philly, PA


I agree with Pete Rivard about the banjo; it's a good bet that the musician-rich clans like the Helms and Dankos would've included banjo players somewhere. C'est la vie. I also agree with his comment on "rudimentary" fiddle/mandolin.

Great touches, but I always wondered just how much melody Rick could manage. His featured fiddling was more in the nature of hook, line, and sinker...

---
Fri Mar 26 20:44:19 MET 1999
Pete Rivard
From: Hastings, MN


All this guitar talk recalls Carl Perkins quote in that A &E Band bio concerning some of the tough joints he used to play--"I just loved those solid body guitars. You could take 'em off, hit someone over the head with it, and it wouldn't even go out of tune."

---
Fri Mar 26 20:32:49 MET 1999
David Powell
Justin: With Leo Fender's guitar designs I guess the old axiom (excuse the pun) rings true; "If it ain't broke, don't fix it!" Just look at how many others are making what are essentially knock-off copies of his guitars. Man, I envy your Bassman reissue. That's one of the amps that Mike Bloomfield used to favor.

---
Fri Mar 26 20:03:14 MET 1999
justin
From: flint, mi


interesting stuff on fender gear! i just recently purchases another strat and am constantly amazed that a guitar that was designed almost 50 yrs. ago can be used for so many various musical styles ( and eras) with its basic format and design essentially unchanged. the only gripe i've got with the basic stratocaster is the tremolo bar ( i usually have mine blocked off, or, in the case of my new axe, it came from the factory w/o a tremolo ). i'm also fond of fender amps. i'm currently playing on a bassman reissue. 4/10in. speakers, sued ox-blood tweed covering... the whole nine yards. i refuse to mess w/ its gorgeous tone by sticking a fuzz box on it (just crank that sucker up!!) i suggest a toast to leo fender!

---
Fri Mar 26 17:33:31 MET 1999
Pete Rivard
From: Hastings, MN


Illka: Are you referring to "Dixie", "Dear Old Dixie", or "The Night They Drove Ol' Dixie Down"?

I've always wondered that the banjo never figured in any of the Band's work. The only conclusion I've arrived at is that, like the pedal steel, no Band member ever mastered it to the extent that they could use it. And that's a little hard to believe, given the real rudimentary fiddle and mandolin touches they've added from time to time. Anyway, it never stopped me from serving up "Cripple Creek", "Ophelia", "When You Awake" and even "Stage Fright" on the 5-string.

---
Fri Mar 26 17:12:34 MET 1999
Ilkka
Home page
PETE! - Another Banjo Man, at least!
Pick up your banjo, listen to the 'Old Dixie', let that Am - C really moan. Wouldn't it have sounded just great?!

---
Fri Mar 26 17:10:10 MET 1999
PETE RIVARD
From: HASTINGS, MN


David Powell: You're right on about the weight of the Tele compared to the Les Paul. Also, for those of us without huge hands, the Tele neck is thin and fast.

Now the Fender banjo I've got is another thing entireley. As one of my musician buddy's exclaimed the first time he picked it up, "Son of a b----, Rivard, this thing's heavier than my Les Paul!" Fortunately, because I'm switching between the 5-string ,the Tele, and an accordion onstage, I'm less prone to back spasms than a Les Paul player.

---
Fri Mar 26 17:07:16 MET 1999
Bill Paige
From: River North
Home page


I had the pleasure of having lunch yesterday with Rick Danko and Aaron Hurwitz, who were in Chicago for "The First Waltz" concert, benefitting Neon Street, a not-for-profit that helps homeless teens. Both were in good spirits and obviously happy to be participating in a very worthy cause, organized by Chicago's own Nicholas Tremulis as "a night for celebrating American music, in all its forms."

The NT band stayed on stage all night, playing songs from Nick's new album, some of which had a decidedly N'awlins swamp-stomp/R&B feel. Basic set-up (gtrs, bass, drums, keys) augmented by tasty fiddle and pedal steel work by two talented accompanists). Each new original (more or less) was interrupted a "guest artist" performance -- Lonnie Brooks and Sugar Blue; Robbie Fulks; Blondie Chaplin; Sammy Llanas and Bob Griffin of the BoDeans; Alejandro Escovedo; Ivan Neville; Jon Langford; Sir Mack Rice (or is is Cermak?), who wrote "Mustang Sally" and "I'll Take You There" (great versions performed!); Rick Nielsen and NT doing a great version of Cheap Trick's "Downed"; Billy Corgan Jr. and Sr. on "Rollin' and Tumblin'"; Sonia Dada (a great local/vocal band) and, of course, Danko. End of the show featured Rick on acoustic guitar and the Professor on keys doing "Book Faded Brown," then Robbie Fulks returned for "Dixie," Langford for "Rag" and a rousing "The Weight," with various people taking individual verses and solos.

Beautiful sounds all night long. This was a very unique, and if you will allow me, a very Chicago event. No egos -- just great music for music's sake. The event was filmed and is supposed to be released by the end of summer. Will try to post the particulars of that when they become available.

For the person who asked about how Corgan and Danko sounded together, that didn't happen. Strangely, Billy did not return to the stage for "The Weight," although everyone else did!



---
Fri Mar 26 16:12:04 MET 1999
David Powell
From: Georgia


Bones: I'm not sure when Robertson switched from a Tele to a Strat as his main stage guitar, since I only got to see the Band a few times playing live down here in Georgia. Maybe someone else, more familiar with this, can tell us. I'm sure that somewhere along the line, early on, he must have picked one up. When they played here in late 1969 his was using a Tele. The cover pictures from 1972's _Rock Of Ages_ show him playing a newer model Tele that had a Humbucking pickup. When I saw them again, on the Before the Flood tour with Dylan, he was playing a Strat.

One of the early Tele-pioneers was James Burton, who as a teenager played the classic lead riff on Dale Hawkins's "Susie Q." Burton became known for his string-bending style and his ability to play a fast barrage of notes, which became known as "chicken picking." Back in those days, guitar strings were made in only heavy gauges, making them difficult to bend in order to raise the pitch of the notes. Burton and some of the other Southern players discovered that they could substitute lighter gauge banjo strings, allowing thinner, unwound ones for the first three high strings. This enabled them to achieve both country-style, pedal steel-like bends and bluesy notes raised up several pitches with ease. Fred Carter, Roy Buchanan and Robertson picked up on this technique. When I first started playing, we used a variation of this technique. We used a high E string for both the first two strings, moved the B, G, D & A strings up one, and dropped the heavy E sixth. Of course we busted a lot of strings trying to tune up, but that was the price we had to pay. Eventually companies like Ernie Ball with their "Super Slinky" strings, Fender, Gibson and others would start making sets of lighter gauge strings, making it easier for guitar players everywhere.

---
Fri Mar 26 15:52:55 MET 1999
Matt Davison
From: Rancho Palos Verdes, California


"MAKING A NOISE IN THE WORLD." This is where it has to be. If you're not making a noise in the world, you're just taking up space. Whether you make a noise about the injustices going on in Big Mountain, Arizona, against Dine' elders, or the injustice that goes on in corporate America against the impoverished. If you know it's happening and you don't make a noise, you're an accomplice. Robbie nailed it with this track, and if the 60's come around again, this should be its anthem. Mitakuye Oyasin!

---
Fri Mar 26 15:24:16 MET 1999
Chris
From: Cincinnati


How was the show last night? I would love to know how Billy Corgan and Rick sounded together.

---
Fri Mar 26 14:47:21 MET 1999
Scott Brown
From: Denver... soon to be in Kansas City


I wanted to add a note of thanks to Rick Danko and Levon Helm and Garth for helping me pull through the last couple of months. You guys are like my brothers in arms.. If Levon is reading this, I have a 1961 old Ludwig 4 piece CLub Date drum set.. It would be an honor for you to play it sir.. Rick, Thanks for being an influence on singing.. You are too cool... Garth.... What I would give to have 1/100 of your talent on keyboards.. Thanks guys.. I hope I can see you in concert... Scott

---
Fri Mar 26 14:44:12 MET 1999
Ben Pike
From: Cleveland Tx.


Hey, does anybody have a copy of the Aug 29, 1976 show listed in the tape Archive? Drop me a line, maybe we can swap something......

---
Fri Mar 26 14:37:00 MET 1999
Just Wonderin'
From: Texas


Does anyone happen to know where I might find the Libby Titus lp that the boys played on. Also I've been looking for the "Hirth from Earth" lp forever! Thanks!

---
Fri Mar 26 08:12:01 MET 1999
Jens Magnus
From: Norway


Pete Rivard. Yes, I do agree, not only Name Game, but several songs from the latest Van-album make me think of Sam Cooke. Name game sound a lot like What a wonderful world. Also another major radio hit from this album reminds me of late mr Cooke; an excellent singer. However, Van makes his songs sound unique, and of course he has had some inspiration from Cooke. Haven't we all?

---
Fri Mar 26 02:44:38 MET 1999
Dr. Freud
From: Vienna (home of SAUSAGES)


Sometimes a guitar is just a guitar; other times it's a big, fat phallic symbol!

---
Fri Mar 26 02:40:00 MET 1999
Uncle Ben
From: Lake Charles


"...I'll bring over my Fender, and play ALL NIGHT for you..."

---
Fri Mar 26 02:02:58 MET 1999
Paul Godfrey
Oops...sorry bout that ;-( Interesting thoughts re Fender. Always wanted a Tele. Did own a Fender Electric 12 string back in the late 60's. I believe it was based on a Fender Bassman and certainly was as heavy. It was stolen in Saint John, New Brunswick and surfaced in the mid 80's in Kitchener, Ontario. I used the insurance money to purchase a used Gibson acoustic 12 string B-45. It probably belongs to the 50's or 60's. Does anyone know where I might be able to trace the serial number to find out its age?

---
Fri Mar 26 01:55:44 MET 1999
Paul Godfrey
---
Thu Mar 25 22:59:23 MET 1999
Bones
From: Connecticut


To David Powell: When did Robbie switch from his old Tele to the Stratocaster? And what is that funky guitar that Bill Dillon made for Robbie that he played on "Somewhere Down the Crazy River" ? Did You enjoy his playing at the Hall of Fame?

---
Thu Mar 25 20:36:08 MET 1999
David Powell
I neglected to mention another Tele-pioneer, Mr. Steve Cropper. Memphis session man supreme, member of Booker T & the MGs, songwriting collaborator with Otis Redding, and of course, a Blues Brother.

---
Thu Mar 25 20:28:46 MET 1999
David Powell
From: Georgia


Pete, you reminded me of another attribute of the Telecaster; it's relatively light in weight. This is especially critical for professional musicians who play night after night, standing onstage with a guitar strapped across their shoulder. In the early '50s when the Tele was first introduced, most electric guitars were heavy, hollow-bodied designs. In contrast, another guitar that has remained popular for several decades is the Gibson Les Paul. This solid block of wood, known for it's incredible tone & sustain qualities, is so heavy that only those with strong backs & shoulders should wear it for any extended lengths of time.

Leo Fender introduced his first solid-body guitar in 1948. It was named the Esquire. It had a single pickup and no reinforcing truss rod in the neck. Fender soon improved on that by designing a new guitar with two pickups and a truss rod. This was introduced around 1950 and was called the Broadcaster. That name caused Fender some trouble when they received word from the Fred Gretsch Manufacturing Co. that the name infringed Gretsch's registered trademark for that company's Broadkaster model drums. So in early 1951, Fender changed the name from Broadcaster to Telecaster.

The Telecaster soon became a mainstay in the hands of such pioneers as Buck Owens, Don Rich, James Burton, Roy Buchanan, Robbie Robertson, and many others.

The present day Fender company recently announced that a limited edition Leo Fender Commemorative Broadcaster will be made. Fifty instruments will be reproduced by Fender's Custom Shop according to Leo Fender's original design and using 1950 materials. Cooperation from BBE Sound and Fred Gretsch Enterprises will once again allow the use of the Broadcaster name.

---
Thu Mar 25 19:04:46 MET 1999
Pete Rivard
From: Hastings, MN


I had a friend attend South by Southwest recently in Austin, TX. He came back talking about Mercury Rev, and the swirly, Garth Hudson type keyboard playing. Can anyone give me a 50 words or less bio on this band

. Also a comment on Van Morison's song "Name Game". Does that opening sound like classic Booker T and the MG's or what. Telecaster and Hammond

. Which brings us back to Leo Fender. I play a Tele through a Fender Princeton Chorus amp. It ain't tubes, but it also doesn't destroy my back when loading and unloading. I also play a Fender Concertone banjo, circa 1972, when the famous Gibson Mastertone had really begun to suffer in quality, simpler inlay, mediocre tone, etc. The Concertone was one of THE high end five-strings of the time, and players like Bernie Leadon and John Hartford played it.

---
Thu Mar 25 17:01:18 MET 1999
Chris Furmanski
From: chelsea,michigan


Great web site,does anyone out there have a tape of the banmd at woodstock in 69 and would be willing to trade.I have tapes of the doors and the who and some CSNY.please e-mail me

---
Thu Mar 25 15:52:27 MET 1999
Old-timer
Finally got a copy of Levon Helm's autobiography. It is much better than that other book from the English guy. I don't know who is right or wrong in the Robertson-thing, though. Anyway, this book is a must for all Band heads. And thanks for this great web site.

---
Wed Mar 24 18:55:52 MET 1999
John Donabie
From: Ontario


Yes David...tis the lovely Sally herself; but you already knew that. That would make a great Rock & Roll trivia question. Much like who are the faces in the tree bark behind Dylan on the John Wesley Harding cover.

---
Wed Mar 24 18:46:40 MET 1999
David Powell
From: Georgia


It has been announced that Mercury Rev will be among the opening acts for the summer tour of Athens, Georgia based R.E.M. The tour begins Aug. 9th at the Greek in L.A. Mercury Rev will open on the first leg of the tour through Aug. 17. Haven't seen the complete list of dates yet; unfortunately other group(s) will be opening for them when they play here in Atlanta.

Speaking of Georgia-based acts, it was nice to see Curtis Mayfield (who now lives in the Atlanta area) inducted individually into the Rock & Roll Hall of Fame. His solo contributions to music, after leaving the Impressions, are quite significant. Mr. Mayfield's ability to convey real life truths within a beautifully-crafted, three minute song is unique. It's no wonder that Bob Dylan is among his admirers. When Dylan posed for the picture on the cover of _Bringing It All Back Home_, among the LPs pictured by his side was the Impressions' _Keep On Pushin'_ album. Also included were albums by Robert Johnson, Lotte Lenya (Mrs. Kurt Weil), and Eric von Schmidt. Sitting in the background, cooling smoking a cigarette, could that be Sally Grossman?

---
Wed Mar 24 17:22:37 MET 1999
Scott Brown
From: Denver Co


I just wanted to say that I am a huge fan of the Band and its nice to reconnect with them.. I was 9 When the classic brown album came out and was 11 when Cahoots was released. I just recently purchased "The Last Waltz" on VHS.. I would love to meet Levon or Rick or find out if they plan to play any dates either here in Denver or my soon to be new home of Kansas City Mo.. I am a musician myself and co-own a recording studio and would love to talk to them about music and recording and stuff.. They by far are the greatest band in the world...

---
Wed Mar 24 17:19:56 MET 1999
Peter Viney
Thanks Bill for more info about a great song. P.P. Arnold is an ex-Ikette who had two UK hits with Cat Stevens' "First Cut" and Chip Taylor's "Angel of The Morning" (Chip Taylor's latest album features Garth & Rick.) Arnold was backed by The Nice (Keith Emerson etc) on tour. She recorded with members of The Small Faces and sings on their "Tin Soldier". Her albums 'First Lady of Immediate" and "Kafunta" exist on a 2 on 1 as well as most of them being on "The P.P. Arnold Collection." She was an American based in England, and her songs evoke London 1967 as well as anything else for me (well, with Whiter Shade of Pale and Purple Haze). I know she's obscure in North America, but she is worth seeking out. This goes back to our "Walk Away Renée" discussion a couple of weeks back. P.P. is a case where the cover trounced the Cat Stevens original.

---
Wed Mar 24 16:09:35 MET 1999
Bill Munson
From: Toronto


Peter Viney mentioned PP Arnold's hit, "The First Cut Is The Deepest". Here, the song was not a hit at all - by anyone - until an early '70s remake of the Cat Stevens original version by John Donabie's former CKFH colleague, Keith Hampshire. The highlight of that recording is the soaring arrangement by the late Gord Fleming, who is of interest to this site for several reasons:
his brother Paul is our official artist
he played the Garth Hudson role in the great Toronto sub-Hawks group, David Clayton-Thomas and the Shays.
he, like our guys, played on one of John Hammond's Atlantic LPs
he, with fellow ex-Shay Fred Keeler, was a member of the Bearsville recording artist Jericho, whose LP can be found in the discography section of this site (mainly because they thank Garth Hudson for the use of his leslie).
---
Wed Mar 24 12:51:25 MET 1999
Ilkka
Home page
Re: PAUL
A German guy named REINHARD has posted a nice story about his pilgrimage to 'The Big Pink'. Go to Guestbook archives: Feb 7 and 8. You'll find directions there too - in a real pathfinder style.

---
Wed Mar 24 04:52:08 MET 1999
Mark Nuckles
From: Mississippi County, Arkansas


This is a very good site. I have enjoyed it.

---
Wed Mar 24 01:21:59 MET 1999
Kevin
From: Pittsburgh


Paul, Go to www.mapsonus.com, plan route, type in your home address to start, and type in "2188 Stoll Road, Saugerties, NY 12477" for the end address.

---
Tue Mar 23 23:20:28 MET 1999
David Powell
Bones: Recently National Public Radio interviewed Emmylou, Linda & Dolly in conjunction with the release of Trio II. Although all three seemed enthusiastic about the project, from their remarks I got the impression that it had been held up until Dolly could find time to work it in her schedule. All three expressed pleasure about working together; it seems something special happens when their different voices blend together. Emmylou, based in Nashville's hotbed of songwriters, is the one who seems to keep up with gathering new material to work on. Linda has become an accomplished producer in addition to being a fine singer. Together the two of them evidently worked on a lot of material while waiting on Dolly to come around, so maybe they decided to use some of the surplus for a duets album.

---
Tue Mar 23 21:29:55 MET 1999
Bones
From: Connecticut


To David Powell: Great post! It was great to get a bit of a history lesson on the guitar. It is interesting about an Emmylou/Linda duets record. I had heard for years that the two of them were furious at Dolly for acting like such a diva when they recorded. Sounds like there may be some truth to it.

To Twilight: Although Eric Clapton is not in the Hall of Fame as a solo artist, he is eligible, for it has been over 25 years since his first solo recording. Also, Robbie is not on the board of the Hall of Fame. He is not even on the Nominating Committee; however, he does have the ear of many who are on the board. Robbie is on the Induction Dinner Production Committee along with Jann Wenner, Ahmet Ertegun, Paul Shaffer and about 15 others. He also serves as a music consultant.

---
Tue Mar 23 19:46:06 MET 1999
Paul pearman
From: IL


Im headed to upper New York this summer, and wanted to visit Big Pink. I could use some good directions. Thanks

---
Tue Mar 23 19:34:48 MET 1999
David Powell
From: Georgia


I caught the replay of VH-1's broadcast of the Rock & Roll Hall Of Fame ceremonies. One would think that former inductee Leo Fender was smiling down on the affair. There were Bonnie Raitt, Eric Clapton & Robbie Robertson sporting their Fender Stratocasters, Pops Staples with his Telecaster, and the Boss, Bruuuce, with his Broadcaster. Clips of Del Shannon and Curtis Mayfield also revealed the use of Fenders.

The late Eldon Shamblin played guitar with inductee Bob Wills's Texas Playboys for many years. Shamblin, who Rolling Stone once called the world's greatist rhythm guitarist, was one of the first muscians, along with Buddy Holly, to use Leo Fender's Stratocaster. Mr. Fender's guitars are known for their bright "biting" sound, which can cut through the other layers of instruments played in any music ensemble. His Strat model, with its three pickups, offered more of a variety of tone selection, than the workhorse Telecaster. When Fender introduced the Tele in 1948 it was originally called the Broadcaster and it was one of the first solid-body guitars in production. It was simple, no frills, inexpensive, virtually indestructible and produced that distinctive biting tone that could cut like a knife on blues, country, rock or whatever music was being played. Leo Fender's tube guitar amplifiers and his electric Precision bass also set standards, with the "P" bass becoming a mainstay in rock as well as jazz. So when Robbie Robertson let loose with a solo the other night, on that stage crowded with other musicians, it was that distinctive Fender tone that allowed him to be heard.

Good news for fans of Last Waltz veteran Emmylou Harris--Billboard Online has announced that she and Linda Ronstadt have signed a deal with Asylum to release an album of duets. Emmylou, Linda & Dolly Parton's recently released second Trio album is still on the charts. The Emmylou / Linda duet album is scheduled for release in early summer, with a possible tour to follow.

---
Tue Mar 23 17:58:40 MET 1999
Jonathan Katz
From: Columbia, MD


Does anyone know anything about Matt McConville? I heard an ad for a local appearance of his that had [I presume] his rendition of "Get Up Jake" in the background.

---
Tue Mar 23 16:58:31 MET 1999
Steve Waters
From: Lost Highway Band


I just enjoy the music. The songs work in just about any environment, country, blues, rock. It is often said that imitation is the ultimate form of flattery. I guess that's so because we enjoy doing the music. Would love to hear when they will be in the DC area. Steve Waters, LHB

---
Tue Mar 23 13:16:53 MET 1999
Tom
From: Woodstock Records
Home page


Woodstock,NY 3/22/99 - I just returned from a benefit concert for Woodstock local musician "GIZMO". A packed show at the Joyous Lake on a Monday night. Gizmo has been a fixture on the local scene for many years, playing with many of the locals including The Band's Randy Ciarlante,Rick Danko and Levon Helm over time. Many of the Woodstock alumni showed to support to Gizmo whose house was damaged in a fire a few weeks ago. Including : Levon Helm, (who drummed flawlessly) Johnny Average, Joe Beesmer, Chris Zaloom, John Esposito, Beki Brindle, Tom Pacheco and many more. Levon looked like a happy kid playing shuffles and blues standards while Johnny Average burned (no pun) down the house with a hot "Summertime Blues". Levon had a smile on his face the whole time... Then a hot "Willie and the Hand Jive"... It was refreshing to see the tribe supporting one their own...including some of the "elders". Peace from Woodstock! Tom/Woodstock Records

---
Tue Mar 23 08:42:06 MET 1999
Ilkka
Home page
HEJ MARIA! - Och välkommen. Hoppas att Du blir kvar, ni tjejer är ju i minoriteten här!
(This was a wellcoming in Swedish.)

---
Tue Mar 23 08:14:24 MET 1999
Maria
From: Sälen, Sweden


Hi there! This is Sweden calling! I´ve listened to your music and I have to say that I simply love it! It´s really great music!! Thanks!

---
Tue Mar 23 03:52:53 MET 1999
Charlie Young
From: Down in Old Virginny


Clapton's not in the Rock'n'Roll Hall of Fame on his own yet (next year?). To see the list, go to: http://www.rockhall.com/ and click on "hear inductees." I'm curious to hear comments from the group here about the esssay found there about The Band (and the fact that the illustration is of This Band).

---
Tue Mar 23 03:26:58 MET 1999
Twilight
I have to say I really enjoyed the RRHOF induction. The jam is usually a mess - but always worth checking out. When I heard "People Get Ready", i went down to the music room and dug up the Basement Tapes version. I don't have a great copy, but hearing Dylan sing it - wonderful. I then turned on the Rod Stewart/Jeff Beck version - it has its moments. I went down to Tower and bought the Impressions version - what a treat. I thought Robbie played well, and I thought Clapton was great. For all of you RR conspiracy theorists, maybe Clapton was taking a back seat to Robbie because Robbie has a lot more years between him and the Hall of Fame. He'll be eligable in the year 2012. Of course, since he's on the board, he'll probably get in sooner..... ha!ha! Does anyone know if Clapton is in the HOF for his solo work?

---
Tue Mar 23 00:29:24 MET 1999
Dexy
I also thought it interesting that Clapton took so few solos during the Rock Hall jam. I'm not the Eric expert many of you are, but it appears to me that he is almost unbelievably reticent (sp?) about his superstardom and exhaulted status. I recall reading once about how he has always allowed George Harrison to treat him like "a little brother" -- he and his band backed Harrison's Japan tour as "George Harrison and the Eric Clapton Band" or something. His reverence for The Band is open -- the story about how he hung around "hoping to be invited" into the group, etc. And last week at the jam, while Bono, Dion, Chris Isaak and other talented but lesser artists took center stage, God was nearly in the background playing chords while the man who wrote his favorite songs played lead. In another interview, Clapton once talked about how he related to Manuel because of his personality. Jeez, sorry, I'm not a psycho-therapist, and have never met the man, but he sure doesn't act like he believes he is the World's Greatest Guitar God.

---
Tue Mar 23 00:07:12 MET 1999
Ragtime
Diamond Lil: Hi! The Flying Dutchman's NOT on the reef. Not stung by a snake either. Well, I was listening to lots of non-Band related music lately (which is my actual job). So: no such thing for me as the RRHOF, but my wheels on fire brought me to Bernard Haitink's 70th birthday celebration. Bit of name dropping from my part... :-)

---
Mon Mar 22 22:37:14 MET 1999
Potsy
From: Weedstock


Richard and Co. sound fantastic on Country Boy.Speaking of Croce does anyone know where I can find his version of Country Boy I heard a piece of it on a Vh1 portrait. Stripped down it sounded very nice. Also I haven't been able to locate the Bobby Blue Bland song song Marcus talks about in Mystery Train, It's my Life or something? Is this song available on disc? I thought Mac looked especially loose the other night. Maybe he has been to the doctor recently, or he might have had a few glasses of wine. I thought it was great seeing him up there with Robbie. It was a great show everything considered but I must admit that my eyes were drawn to Paul. It looked as though he may have been lifted by the experience. It is a shame that he and Linda couldn't share it together. As for RR., he may have lost a step, but he can still make hairs stand on end.

---
Mon Mar 22 22:23:58 MET 1999
Bones
From: Connecticut


To David Powell: It looked like Robbie was playing a black and white Strat, but I could not tell from where I was sitting(maybe they showed it on TV). Robbie's gold Strat from the Last Waltz is actually on display at the Hall of Fame in Cleveland.

To Dave Z: George and Ringo were not there. Julian came as Paul's guest from what I was told. There were a lot of artists there that did not go on stage: Jimmy Page, Busta Rhymes, Natalie Cole, Nancy Wilson of Heart, Adam Duritz of Counting Crows, Lou Reed, and David Byrne of Talking Heads. Those are just the ones I can remember. I'm sure there were more.

To Bumbles: I think Sir Paul was fine. Although he often comes across as silly, he seemed to be in great spirits and good voice.

To Mattk: I thought Robbie's first solo on "Blue Suede Shoes" was my favorite. I love it when he gets that sustained wailing noise. Also, I thought his "rockabilly" rhythm on that song was right on. I agree with you on "People Get Ready" though. In my opinion, no one plays Mayfield better than Robbie. I wish that VH-1 spotlighted him when he started that song. Many people might not have realized that it was him.

---
Mon Mar 22 21:47:32 MET 1999
Peter Viney
Extra: The Ab Fab version of TWOT was indeed a new version by Julie Driscoll with Adrian Edmonson (from The Young Ones, who is also Jennifer Saunder's husband). The original 1968 UK hit was Julie Driscoll with Brian Auger & The Trinity. Julie Driscoll refused permission for the release of the Ab Fab cut as the B-side of a French & Saunders charity single - which was a hit.
For the special, broadcast in the UK on November 6th & 7th 1996 'TWOF' was re-recorded again by P.P. Arnold & Marianne Faithful. P.P. Arnold had huge British hits in the 60s with 'First Cut Is The Deepest' (a song murdered by Rod Stewart) and 'Angel of The Morning'. She also looked (and still looks) magnificent. There was talk of this version being released but I never found it.

---
Mon Mar 22 20:20:19 MET 1999
the Ragman
From: Times Square


Listening to Nick Lowe today. He's a songwriter that our boys should maybe take a look at. Have they ever done any music written by an Englishman? Van don't count!

---
Mon Mar 22 19:50:12 MET 1999
MattK
From: maryland


Trikywu: I agree that it was totally chaotic on stage, however, from a musicalogical standpoint, I was disappointed in his playing, particularly on "Blue Suede Shoes." Clapton's playing on the blues stuff was (as always) top flight. I guess I was kind of bummed that Robbie did not rock the house on that number vis-a-vis "Further on Up the Road" where I think RR completely smokes Eric's solo. Again, I thought RR played beautifully on "let it be" and "people get ready."

---
Mon Mar 22 19:01:40 MET 1999
Bill Munson
From: Toronto


Thank you David Powell. With your info in mind I found the following in Jan's discography on this site:

"Julie Driscoll recorded "This Wheel's on Fire" again in the early '90s together with Adrian Edmonson, as the theme to the massively successful award-winning BBC 1992-1995 TV series Absolutely Fabulous."

I've always loved the Driscoll/Auger version of "Season of the Witch".

---
Mon Mar 22 17:38:05 MET 1999
David Powell
From: Georgia


Bill Munson: I believe the version of "This Wheel's On fire" used on the Ab Fab t.v. series was recorded by Julie Driscoll & Brian Auger Trinity.

---
Mon Mar 22 17:09:18 MET 1999
Trikywu
From: New YorM


MattK - Interesting point you made about Robbie's playing at the RRHOF. Robbie wasn't weak - I believe it was the chaos of all those incredible people being on the boards at the same time. Paul Schaffer was amazing in holding it together - but there were some moments of confusion there. Perhaps Robbie was caught up in that whirlwind.

---
Mon Mar 22 16:51:46 MET 1999
Bill Munson
From: Toronto


A couple things:

1) Whose version of "Wheels On Fire" is the theme music for the Absolutely Fabulous TV series?

2) This is hardly news, but here's a quote from an article on John Hammond in the Fall '98 issue of Blues Scene Quarterly magazine:

"The first band I worked with was in 1964. I had been playing a lot of gigs in Toronto, and I met a group called Levon and the Hawks. They were Ronnie Hawkins' band, and they left Ronnie. They were happening in Toronto at the Concord Tavern. I used to go between my shows to go hear them. We became real good friends, and we recorded an album called So Many Roads. And from then, all my other recordings with bands all kind of stemmed from my experience of recording with Levon and Robbie and those guys, who are so good, so professional."

---
Mon Mar 22 13:05:10 MET 1999
Diamond Lil
From: The Web


Aah....morning coffee and jubilation...what a nice way to start this rainy and windy day. Book Faded Brown, Bound By Love, and (for you Uncle Hangover) Don't Wait. Yeah..it's not The Band as they used to be, but after 25 years...it's good to know that Rick, Garth, and Levon still "keep on keepin on".

Ragtime: You still riding that bike? Where'd you go? Pedal in this direction and park it here for awhile, will ya? :-)

J Croce: Guess The Brokerage has given us alot. You got a name, and we got photographs and memories of times worth saving in a bottle. Thank you for your time..you've been so much more than kind....(and you can keep the dime)....which is only fair since I kept the 5K :-)

---
Mon Mar 22 03:04:14 MET 1999
Tracy
From: the den


I simply loved the RRHOF this year. It was really rocking! Last year's was a dud! Robbie was fantastic on guitar, only better on "People Get Ready" and "Let It Be." I noticed that nobody could really catch up to Sir Paul with "Blue Suede Shoes." Robbie seemed like he was the only guitarist willing to do the solos. Clapton was on stage and Bonnie Raitt was too but she did very little. Gotta give Robertson credit for taking on the bulk load of the solo's jams.

If you really liked Clapton and D'angelo's version of "I've Been Tryin'," you should pick up the CD "Tribute To Curtis Mayfield" Eric does a great job with a high register on "You Must Believe Me."

Paul didn't look like he was on anything. I think he was getting high off of life and is finally trying to move on with his life. He lost his companion close to a year ago and wanted share the award with his "baby." After all they were nearly inseparable and his spark of energy could have been because he knew she was with him (in spirit) and he rocked like any new inductee should. It felt like Bill Graham was there too, since the last time they had any jam that large was before Graham's passing. So let's just say, "HAIL! HAIL! ROCK AND ROLL!!"

On a side note: None of the RRHOF inductions have made it to tape, unless you search around at record conventions. I did manage to get the '93 inductions with Robbie, John Fogerty, and Bruce Springsteen doing Creedance Clearwater Revival songs (REALLY GOOD!) and the entire performance of "The Weight" from the '94 inductions. Still looking for the entire '94 induction ceremonies as it is.

Tracy

---
Mon Mar 22 02:41:30 MET 1999
Tim(SUNDOG)Corcoran
From: Mad City, Wisconsin, America's JerryLand
Home page


NICE TO SEE ROBBIE ROBERTSON ON VH1 WITH ALL THE BIG WHEELS IN THE MUSIC BIZZ. HE LOOKED SO HAPPY AND PLAYED SO WELL, BUT I DIDN'T LIKE THE SUIT HE WAS WEARING, JUST NOT HIS LOOK, BUT WHAT DO I KNOW... WAY TO GO ROBBIE!!!

---
Mon Mar 22 00:46:28 MET 1999
J. Croce
From: The Brokerage


Hey Catbalu: I just read that Don MClean attended Villanova with Croce & often speaks about him during performances. Guess your mention of MClean after Jim was no coinkydink. I have heard both Rick & Don perform the Rivers of Babylon.

---
Sun Mar 21 23:07:28 MET 1999
J.Croce
From: The Brokerage


Catbalu

Yes, I am a fan of Jim Croce. I took this pseudonym a year ago after Rick Danko noted the resemblance I bore to Jim and told a mutual friend. His remark was made after a show at the Brokerage. No offense intended as regards the nutcase reference. If we weren't all crazy we would go insane.

---
Sun Mar 21 20:25:38 MET 1999
John Donabie
From: Toronto


TO KEVIN GILBERTSON;

Yes Kevin...you are right... and the first person who has ever made the connection. I once posted on this site about that interview. Ben didn't know anything about the Canadian roots of The Band (i.e.) where they were from in Ontario etc. I tried to be helpful and was a little miffed when he called me a Dylan Groupie. It was probably my exuberance that day of seeing Bob & The Band together for the first time since tour '66.

Thanks for remembering.

---
Sun Mar 21 17:50:29 MET 1999
Chris D.
From: South Jersey


I went to see Steve Earle perform with The Del McCoury band last week in Philly and what a great show it was.I could'nt help but wonder if any of The Band has ever worked with either of these acts.With that mountain sound,mandolins and all it would really be something special.Oh well, just a thought.Have a great Sunday Band Fans and remember to give thanks.Sometimes all we have is music and memories but usually that will be enough.

---
Sun Mar 21 15:56:01 MET 1999
Bonnie Hinton
From: Arkansas


Really like your site. Just started listening to Robbie Robertson music over the last few years.... Am learning more about past history all the time from sites like this. His music speaks to my soul~ Saw video taped from Sunday Morning show and it was super--about going on journey back to his roots. Am wanting to know if copies available anywhere? Thanks for the site...Bonnie

---
Sun Mar 21 14:16:37 MET 1999
Peter Viney
From: Cyprus Avenue


A few lines from "New Biography" by Van Morrison from "Back On Top" :

See you've got the new biography

Where did they get the info from? Same as before, some so-called friends

Who claim to have known me then

How come they've got such good memories?

And I can't even remember last week?

Got to question where they're coming from

What knowledge of me is it that they speak?

AND LATER:

Reinvented all the stories they knew

Give them all a different slant

What is it that they're really looking for?

Just a hobby on the internet.

He also mentions earlier that "they're not on my wavelength" which I take to be a not very covert reference to what is a high quality and well-written magazine, "Wavelength" with mainly good-looking contributors (OK, OK, I admit I've written for it). No, I haven't wandered on to the wrong site. I'm just sure that any members of The Band listening to it will nod their heads firmly and say "Right on, Van. You tell them!" As to whether Van is right to have a go at his loyal fanbase is another question, but we Van fans would think he was losing his edge if he didn't.

---
Sun Mar 21 03:26:09 MET 1999
catbalu
From: the wake (The Dead)


It is only fitting that Mr. Cato should end his public career with work concerning James Joyce.... My favorite trivia about Joyce is his father's comments upon hearing he'd married a woman named Annie Barnacle: "She'll never leave him." (thanks again, Mr. Donabie)

The visual artist takes the utmost lowest seat. we do not speak (and Delphinadea protect us from the Aristotleans when we try).... we merely try to "see what is said" and take those who can't "there" with color and style..... Some, like Mr. Cato, were fortunate enought to be surrounded by appreciative admirers, even if only for a while....

If I EVER figure out how to do an "underlined thing" ya'll can get to, or how to post a picture, i will gladly take you to a fine little place.... nothing big in the world of man (as you might expect) from a peach among strawberries. just pieces to add to our generation's thought. we are fading too fast... at any rate, i have one question: J. Croce: what made you give yourself that nickname (being a Jim Croce fan, i wonder) ...... and on behalf of all the nutcases in the world, i have a quote from a Don McClean song to offer you: "I make other people nervous, Guess that's why they laugh at me. To me, my life's a 3-ring circus and i get to watch for free."

BTW - to all Bandhead parents, my new teenager made the state Olympic Development soccer team today. He's a young Viking (like his dad) in the making... and i'm proud.

job well done, Mr. Cato. good to give it a rest now.

---
Sun Mar 21 02:51:12 MET 1999
Charlie Young
From: Down in Old Virginny


John: thanks for posting the Bob Cato obit. There was a mysterious tribute posted here for him back on February 13th by someone who posted only as "$" and sounded a lot like JRR. It's good to see solid information from a relaible source (such as the NY TIMES) posted here rather than the sort of rumor and speculation recently spread regarding someone's sobriety at the Rock Hall Induction. It's typical drivel, rampant on the Internet. I hope these same people someday get the oppurtunity to make their first major public performance following the horrific death of their companion of 30 years.

---
Sun Mar 21 02:48:12 MET 1999
Kevin Gilbertson
From: NE PA


I tracked down a hardcover copy of Knockin on Dylans Door, the 74 Tour.

Is the John Donabie that is mentioned in the book the same one who posts to this Guestbook?

Does anyone know if a video exists of the Band's induction to the Hall of Fame? There are few clips in the Robbie Robertson video, Going Home. Was wondering if a more complete version was ever released.

Thanks

---
Sun Mar 21 00:45:25 MET 1999
john donabie
JUST THOUGHT I WOULD PUT IN MR. CATO'S FULL OBIT
GRAMMY-WINNING GRAPHIC ARTIST BOB CATO OBIT
New York Times News Service
March 20, 1999
NEW YORK -- Bob Cato, a ground-breaking graphic designer who helped turn the record album cover into an important form of contemporary art, died Friday at New York Hospital in Manhattan. He was 75.
The cause was complications of Alzheimer's disease, said his wife, Kate Jennings. In 10 years as an art director and vice president of creative services for CBS-Columbia Records, Mr. Cato created or supervised some of the most memorable record-album covers of the 1960s. It was his idea to put the work of the underground illustrator R. Crumb on Janis Joplin's "Cheap Thrills." Some covers featured his own photography, including Miles Davis' "Miles" album. And he employed influential painters, designers and photographers for other covers, among them Andy Warhol and Robert Rauschenberg.
For his cover designs, Mr. Cato was awarded two Grammys by the National Academy of Recording Arts and Sciences. They were for Barbra Streisand's "People" (1964) and for "Bob Dylan's Greatest Hits" (1967). In 1997, the recording academy awarded Mr. Cato its President's Merit Award. Mr. Cato was born in New Orleans. At 15, on a family trip to Mexico City, he met and began studying art with painters Pablo O'Higgins and Jose Clemente Orozco. After World War II, during which Mr. Cato, a Quaker, was imprisoned as a conscientious objector, he moved to Chicago, where he studied briefly under Bauhaus designer Laszlo Moholy-Nagy. In 1960, he began his association with the recording industry, at CBS/Columbia Records, remaining there for a decade. After short stints at McCall's magazine and at Revlon, he returned to the music business, as vice president for creative services at United Artists Records and Films in Los Angeles. Mr. Cato devoted much of his last 10 years of work to fine art, photography and producing books, including "Joyce Images" (1994), a collection of photos and art devoted to James Joyce.

---
Sat Mar 20 22:52:08 MET 1999
Guido Marenco
From: Italy


great great across the great divide

---
Sat Mar 20 21:43:12 MET 1999
J.Croce
From: The Brokerage


Correction to my last post. Harry Dean Stanton wasn't the nutcase - "Hey Superstar" in The Longest Yard. I think it was Charles Tyner. Harry Dean did play a character called "Cotton Harry" with Levon in Steven Seagal's The Fire Down Below. The latter is from the review of Levon's Mexicali Chili at the Cafe. The title's all yours son.

---
Sat Mar 20 21:23:32 MET 1999
Pat Brennan
From: USA


Sad about Bob Cato; a life well spent. The boys get a nice mention in VH-1's Eric Clapton special that's airing right now along with a clip of "Further" from TLW.

---
Sat Mar 20 21:09:49 MET 1999
Donald Joseph
From: In Mourning


Bob Cato died yesterday 19 Mar. The designer of every Band album save Big Pink (I mean That Band, & I'm including Last Waltz even though Ed Thrasher headed the graphics on that & Bob was "creative consultant."

Today's (Sat.) Chicago Trib., sec. 1 p. 25, contains Bob's obit. He was 75 & died in NY of Alzheimer's. The obit does not mention The Band -- it mentions "Cheap Thrills" by Janis, & it says Bob won 2 Grammies for Babs Strisand's "People" & Zimmie's Greatest Hits. He got turned on to art on a trip to Mexico at age 15 where he met O'Higgins & Orozco.

The obit is at the bottom of the page & Bob gets "billed" below 4 other obits.

Adios, Amigo.

---
Sat Mar 20 20:37:12 MET 1999
Pearman
From: Generation X :(


I bought Jubilation the other day and really enjoyed it. It is better than anything else being put out right now, but yet got little attention. What can I expect from the music industry of today, i mean I'll look at the top ten albums and sulk. "Book Faded Brown" and "Bound by Love" are great. Thanks (The 19 year old Band fan) PP

---
Sat Mar 20 20:25:37 MET 1999
J. Croce
From: The Brokerage


Some random thoughts as I listen to HOTH and read its liner notes. The Band thanked C.W.Gatlin, soon to be the Jubilation inducing co-star of "High Cotton" and actor/singer Harry Dean Stanton. The latter played a nutcase in The Longest Yard. I recently heard him and George Jones on Burt Reynolds TNT show doing their cover of "Bartender's Blues". That tune is a favorite of Rick's, which was written as few here know by James Taylor. Back to Memphis, I mean HOTH. Okay, it aint the Brown Album or Big Pink or Stagefright. What the hell, its still worth a lot of listens. Richard's "She Knows" alone is worth the price of a fun ticket. Now will someone confirm my suspicions that inside the oinker on the cover is the old Plenipotentiary hisself?

---
Sat Mar 20 15:29:17 MET 1999
Peter Viney
Dave Z: Both Jan & I posted reports of the Garth & Crowmatix gig on March 2nd and they're in the archives. We planned to expand it and hope to do so soon. But there was no drunkeness and debauchery to report!
---
Sat Mar 20 14:50:08 MET 1999
tom izzo
From: waterbury ct


David P: Thanks for the review of the the new Tom Waits album. I envy you and your advanced copy. I'm marking the days till the official release. In the meantime I await my mail order copy of Chuck E. Wiess' cd. Sitting here listening to The Beat Farmers (Tales Of The New West) and seem to remember an interview with the late great Country Dick Montana who mentioned The Band as an early influence. Does anyone recall this interview or know of any other connection between these two bands?

---
Sat Mar 20 05:54:15 MET 1999
catbalu
From: Dear Knowledgable Computer Bandheads


A German journalist friend here in the US is having macintosh/internet connection problems due to a German system/american provider (?) "Communication Situation." His wife is calling him "The German" so...... i think he has had enough of the good old "do-it-yourself" computer maintenance. Can anyone offer some suggestions.... Mr. Viney?..... Jan?..... No local help for this one. (And yes, this is truly about the music.) I've told him about this site, how very fine it is... Would appreciate some words from the wise (.....NOW DON'T go sending me to a more appropriate website..... kids in there not talking computer, and anywhere else like that, i tend to get lost....)

Enjoyed Mr. Donabie's and Lil's windows into the past..... As for NO connections here, mine are of artists and writers who lived in the Quarter – drawn in by the smell and sound of the river – old images from the 70s...... New Orleans is all over The Band music, just as is Acadian Driftwood...

Wish i could have been at the awards ceremony. doubt i could have eaten either....

---
Sat Mar 20 01:34:55 MET 1999
Freddy Fishstick
From: Sag Harbor


Thanks to Gallant pelham for the head's up on "Great Beyond". In all the time I seen & heard Professor Louie, I never made the Boz Scaggs connection.

Thanks to the Real Dancing Bear for the Buffett/Allman Brothers connection- Jimmy's soon to be released album has Jack Pearson on slide guitar.

Finally to JW, somewhere in New Jersey. Welcome to Asbury Park my friend. I trust the Boss is kicking major ass tonite. Imagine if Levon wear up to a duet on A/C! Anyhow, can't wait for your review/setlist. Goodnite friends & neighbors. :-) Best to the precious jeweled one.

---
Sat Mar 20 00:18:22 MET 1999
wyatt
From: Nashville


For Levon,Rick and Garth ,If you are in Nashville and want to play some music contact me.

---
Fri Mar 19 23:57:40 MET 1999
Bobbi638
From: Jupiter, Fl


Bumbles - actually, I also thought his daughter's shirt was pretty interesting. Even though you find the awards tedious, wasn't "I Been Trying" worth it?

---
Fri Mar 19 23:08:26 MET 1999
Bumbles
From: Rainbow Road


All the Hall of Fame chatter is the usual creepily obsessive tedium, and no one's addressed the one issue I find interesting. For someone who won't watch television even to satisfy his own curiosity: was McCartney very drunk or otherwise intoxicated? Everyone who's mentioned the ceremonies to me indicates he was, but the papers give not a hint, not even references to a 'cold' or 'flu.' Opinions please. Reckless and indiscreet substance abuse provide the link to 'our boys' (and to their 'old buddies,' for that matter).

---
Fri Mar 19 23:03:56 MET 1999
Dave Z
From: Chaska, MN


I feel like I have been hoodoo-ed first by Jan/Viney (Did the Garth concert trip really take place? What are the ugly details of drunkedness and satisfaction of otherworldly desires.) and now Donabie (The Story?). Oh well, I am gonna go try to find a golf driving range without snow on it.

---
Fri Mar 19 22:52:57 MET 1999
Ragtime
---
Fri Mar 19 22:47:58 MET 1999
john donabie
My last post is strange isn't it. It included my opening line and my closing line and took everything out in the middle. Well I had a great story to tell...maybe another time.

This happened because you entered <P. instead of the correct HTML code <P> when you tried to create a paragraph (i.e., you entered a "dot" instead of "greater-than" character.) The browser treats all the following text as a tag, hiding the content, until it reaches another > character. Your entry below has been corrected.
--JH
---
Fri Mar 19 22:43:22 MET 1999
john donabie
This is not name dropping. For those of you who know me you know that interviews and radio are my living.
I interviewed Julian Lennon this afternoon and though it has nothing to do with The Band, I just wanted to mention what a wonderful and grounded person he is. For someone who has been in the spotlight since he was born..what a great guy. Yoko Ono should be ashamed of herself. Julian is currently having to buy back artifacts of his own father that Yoko auctioned off. As he said today.."it's amazing that I have to use my dad's own money to buy back his past." Julian is having to use his inheritance to do so. What a wonderful man and again..shame on Yoko Ono. I wish nothing but the best for Julian. Anybody who still has the time to write on his new Cd "I luv you mum" is ok with me.
Thank you for the diversion.

---
Fri Mar 19 22:37:06 MET 1999
MattK
From: Maryland


I'm going to regret this I'm sure, but did anyone feel that Robbie was pretty weak on the more rock-and-roll tunes? I thought he positively sucked on "Blue Suede Shoes" and was marginally better on "What I Say."

Before start flaming, remember that I'm a very pro-Robbie guy, so I'm not looking to bash him. I just don't think he was comfortable at all on those songs, which surprised me as he spent so much of his youth playing in that style.

I did think he played marvelously on both "People Get Ready" and "Let it Be." Seems like overtime RR has gotten more at home in soul than in rock and roll and the blues, at least as guitar player.

Again, I absolutely love his playing, and I'm not looking to bash. It's just an observation, and I'm wondering if anyone else noticed that or if I should check my dosage.

On a sidenote, I thought the Clapton/D'Angelo duet on 'I'm Trying' is one of the coolest things I've ever heard Eric do, vocally. It was a beautiful compliment to D'Angelo's fuller voice. It gave me shivers, really...

Matt

---
Fri Mar 19 22:10:32 MET 1999
David Powell
Dave Z: glad you enjoyed the N'Awlins stuff. I guess I got carried away, but I've always felt that there was a strong New Orleans connection in the music of The Band. When Robertson recorded his _Storyville_ homage, you notice that he recruited various Nevilles, Meters & Wardell Quezegue to help out. On "Go Back To Your Woods," he's even got two Mardi Gras "Indian chiefs" singing back-up.
Bones: thanks for the report. I missed the VH-1 telecast but hope to catch the re-run after reading your review. By the way, what guitar was Robertson using, the usual Strat?

---
Fri Mar 19 21:19:03 MET 1999
Dave Z
From: Chaska, MN


David P: Thanks for the whole N.O. thing. I just picked up a copy of "Under a HooDoo Moon" from the library.

Bones: Was George Harrison or Ringo Starr in attendance? I saw a quick pan to Julian Lennon in the crowd. I am guessing they weren't or they would have been up on stage.

---
Fri Mar 19 20:34:51 MET 1999
The Dancing Bear
From: Old Old Woodstock


Hey Freddie Fishstick: You should have been there. ALLMAN BROTHERS BAND Beacon Theater March 18, 1999 Set 1: True Gravity Ain't Wastin' Time No More You Don't Love Me Good Times Dimples Midnight Rider Good Clean Fun Blue Sky Intermission -- Betty Boop Cartoon Set 2: Seven Turns (Acoustic) Melissa (Acoustic) JJ's Alley Trouble No More Change My Way of Living Soulshine End of the Line Back Where it All Begins In Memory of Elizabeth Reed-->Percussion Solo-->Bass Solo-->In Memory of Elizabeth Reed Encore: No One to Run With

---
Fri Mar 19 20:18:43 MET 1999
Lo and Behold......Paul Pearman
From: Illinois


Just a comment on a Band/Pink Floyd connection or mystery. I was thinking the other day about how the Band played in Roger Waters' 1990 Wall show in Berlin. Does anyone find it strange that Waters broke floyd up, thought that the name Pink Floyd was done, but Gilmour won the right to use the name in court and continues to use the name. Robbie thought the Band was done after the last waltz but they regroup without him. Then Roger who is still pissed about his band regrouping invites another band who left Robbie behind. Just a strange occurence, sorry if I confused anyone peace paul p the 19 year old band fan

---
Fri Mar 19 20:17:32 MET 1999
Bones
From: Connecticut


Some last thoughts on the Hall of Fame: I didn't realize until after the show what a nice group of Last Waltz alumni were there(Robbie,Clapton,Neil and the Staples). All those guys seemed so happy seeing each other again. I spent so much time looking at my heroes that I did not touch what looked like a wonderful meal. Listening to Robbie hit those high-pinched guitar licks again was thrilling.

He is such an emotional guitar player, which may be the reason why he does not like to tour. It really takes a lot out of him. He was exhausted after the show, but very satisfied that it turned out to be such a special evening.

---
Fri Mar 19 18:48:09 MET 1999
Ilkka
Home page
RE: MARTIN - ABOUT 'THE WEIGHT'
I have listened my vinyl copy from 1968 and you are right: the organ is there. In fact that is one of the best parts in this song, something I always wanted to imitate with my harp. That's the way the wind is whining in these woods. - So, good news for you, you are not losing your sanity!

---
Fri Mar 19 18:44:37 MET 1999
Indy
Bones: Thank you! Haven't been in the guest book for a while 'cause it tends to get UGLY sometimes. It's great to know that you had such a wonderful experience meeting one of my favorite musicians. I was surprised to see RR take so many solos on the VH1 show and loved every minute of it -- wish there were more....

---
Fri Mar 19 18:29:45 MET 1999
Peter Viney
Martin: I'd always assumed the organ at approx 3m20s - 3m30s was deliberate and just supposed to be there - on the other verses it's replaced by the background voice. It's as present on the original CD as the Japanese remaster. It is rather system dependent. It's very present on my office system, which has satellite speakers and a bass unit (which is where I listen most). On the real hi-fi system with better speakers it is lost a bit more in the fuller sound, which is probably why it's clearer to you on phones. The bit at the second from last verse is more prominent on the remaster, but the whine at the end is more prominent on the original CD. I'd score quality in this order: 1) Japanese remaster CD, 2) original 1968 vinyl, 3) original CD. The remastered vinyl is due from EMI any day (is this what you have?), and on 'The Band' I'd place the vinyl first.
I saw it as an example of The Band's taste and economy - they allowed spaces or for an instrument to be there just for a few bars. That's what sets them apart from those groups who seem to feel everyone should be earning their pay all the time. As to why they chose to accent the last but one verse differently, I've no idea. One right out of nowhere, follows from your query but takes the opposite view. Say they had the "humming" voice on all the verses except this one - it sounds so natural & presumably was happening at the time. Maybe they then felt the need to get a similar effect on the one verse without it and decided to use organ as they couldn't get the voice to match? Or more likely it's yet another example of their subtle production. But I never saw it as an accident.
Donald: Now that Sir Paul's status has the ultimate confirmation - Robbie playing with him - I will no longer mind being called Lord Beatle Jnr :-) It gives new possibilities for the old ultimate supergroup game, which I'm not going to play because they've already got a name and line-up, The Band.

---
Fri Mar 19 16:22:38 MET 1999
David Powell
From: Georgia


"Got to get behind a mule in the morning and plow..." I received an advance promo copy of the new Tom Waits album _Mule Variations_, courtesy of an old friend who works in the "bidness." Sixteen great new songs, running over 70 minutes, written & produced by Waits along with his wife, Kathleen Brennan. The album, recorded in a studio converted from a chicken coop, is scheduled to be released April 27 by Epitaph Records. Let me tell you, in one word, this album is awesome.

The promo CD doesn't have any booklet or liner notes, but I tracked down some details elsewhere. Yes there is a connection with The Band; both John Hammond and the great bluesman / harp player Charlie Musselwhite are among the accompanying musicians. Also lending a hand are guitarist Marc Ribot, bassists Larry Taylor, Greg Cohen & Les Claypool (from Primus), Ralph Carney on sax, drummer Stephen Hodges, banjo / guitarist Joe Gore, and guitarist Smokey Hormel (formerly with Beck). The familiar growl of Waits's voice is still present, along with the penchant for the off-beat, as he melds gut-bucket blues, Tin Pan Alley, avant-garde, hipster rap, old time folk, Las Vegas nightclub jazz and hard rock into a distinctive urban soundscape. This time round there are more hints of delta blues, and sandwiched in between the harder-edged material are some songs that tear at the heartstrings. With this album, Waits has crafted a fine balance between the absurd & the sentimental. Songtitles include "Big In Japan, Lowside Of The Road, Hold On, Get Behind The Mule, House Where Nobody Lives, Cold Water, Pony, What's He Building?, Black Market Baby, Eyeball Kid, Picture In A Frame, Chocolate Jesus, Georgia Lee, Filipino Box Spring Hog, Take It With Me, and Come On Up To The House."

In my mind, Waits once again proves that he's one of the most original & finest songwriters around today. Even though we're still in the first quarter of 1999, I dare to say that this album will be at the top of my list of the year's best. Hell, this one's already made it onto my top ten best albums of all time. The next time that The Band goes into the studio to record, they should look to Tom Waits, especially this group of songs, for material.

In closing, let me just quote the opening verse of the haunting "Georgia Lee," one of the stand-out cuts from _Mule Variations_:

"Cold was the night / And hard was the ground / They found her in a small grove of trees / And lonesome was the place / Where Georgia was found / She's too young to be out on the streets / Why wasn't God watching? / Why wasn't God listening? / Why wasn't God there? / For Georgia Lee."

---
Fri Mar 19 13:10:35 MET 1999
Martin
From: Aberdeen


Just made an interesting discovery after purchasing a vinyl copy of 'big pink'. On several live versions of 'The Weight', notably the Woodstock version, Richard plays an electric organ part that is not present on the studio version, or so I thought. Listening to the studio version on headphones, the same organ part is barely audible on the descending A,G#,F#,E,D chord sequence just before the last verse, and also on the last few bars of the song. At the end of the track where the last piano chord fades out there is also the faint whine of a sustained organ chord fading out too. There are 3 possible explanations for this: Number 1: I'm going insane and am starting to 'hear things' that aren't there Number 2: An organ part was recorded on a seperate track but muted out during the final mixdown for some reason and what I'm hearing is accidental bleed through from that track. This is unlikely because to the best of my knowledge 'big pink' was recorded on 4-track, and it's unlikely that the organ would have had a track of it's own. The fact that the same can be heard on my CD copy also makes this unlikely, as any bleed through would surely have been corrected during digital mastering. Number 3: Is most likely. In Levon's book, John Simon mentions that for one of the tracks on 'big pink'(can't remember which one offhand)Levon had to go back into the studio to rerecord the snare drum part after it had failed to come through loud enough on the original. It's possible that a similar thing occurred with the organ for 'the Weight', and that they either couldn't be bothered redoing it, or thought that it sounded better without it and decided to leave it out completely. I've always thought it odd that the weight was apparently the only track on big pink where Richard isn't playing anything, now it appears he did, if my ears aren't decieving me. Please confirm I'm not losing my sanity and give it a listen, You'll need to listen carefully on headphones at the places I've mentioned, If I'm right, it's odd that it's never been mentioned in interviews, but then, perhaps not, given what little we know of what actually went on in the studio for the first few albums. Look forward to reading your comments.

---
Fri Mar 19 10:07:55 MET 1999
Patric
From: Down South In New South Wales


Any Levon lovers or Band collectors will be interested to know an Australian record company [ Raven Records] has just released a Levon "Best Of" CD, It has a pic' of Levon plucked off The Last Waltz on the front.Havent a song-list but goes from The Weight through to Atlantic City with hopefully a few rareties thrown in.Notes are by Glenn.A.Baker, noted rock historian and former "Rock Brain Of The Universe", that title could easily be misconstrued but he's an excellent writer.Songs include writings by RR[ surprise,surprise!!] , Dylan,Al Green and Allen Toussaint.

---
Fri Mar 19 04:58:29 MET 1999
Phil
From: Ca


Bones: Thanks for the behind the scenes report. I enjoyed the VH1 show but you made it even better. It's always a rare treat to see anything by any (former or current) member of THE BAND.

---
Fri Mar 19 04:37:38 MET 1999
Tracy
From: the den


Wow! Congrats, Bones! I'm a bit jealous of you. Lucky, lucky lucky man! You got a picture taken with him and got to talk with him. :::sigh!::: I wish they wouldn't edit the shows. Really I wish that VH-1 would have aired the '94 inductions. How did you manage to get tickets to the show in the first place? I've heard they are quite expensive. Tracy juuuuuuuuuust curious

---
Fri Mar 19 03:55:26 MET 1999
Little John Tyler
Don't know if this answers Wolfgang's question(s) or not, but Levon is headed back to New Orleans tomorrow for an extended tour of duty at his Club and Cafe. He'll be taking along with him the members of a Poughkeepsie NY/Hudson Valley-based blues band, Pat Shea & the Eldorado Kings, with whom he's been playing in some small local clubs in recent weeks. He even had their harp player join him on stage last week at the Bardavon Opera House for a number when Levon & the Barn Burners opened for the Muddy Waters Tribute Band. At any rate, Levon's been enjoying getting back to his blues roots so much lately, and playing drums with these young fellas, that he's installing them as the house band (probably renaming them; possbly as the Barn Burners) at Levon's Club for the next few months, and plans to record some with them in the summer back at his home studio in Woodstock. Good luck to Levon and to the Eldorado Kings.

---
Fri Mar 19 02:51:04 MET 1999
wolfgang
From: germany


wer kann mir sagen, ob the band noch mal in germany ein concet geben?please levon!

---
Fri Mar 19 02:48:40 MET 1999
wolfgang
From: germany


wer kann mir sagen, ob the band noch mal in germany ein concet geben?please levon!

---
Fri Mar 19 02:28:53 MET 1999
wolfgang schroeder
From: germany,hamburg


hallo the band, next concert in germany? please levon !!!! Grusse von wolle aus hamburg.

---
Fri Mar 19 02:19:54 MET 1999
Wolfgang Schröder
From: Germany,hamburg


Hallo liebe Leute, warum kommen the band zwecks concert gebens nicht auch nach Deutschland? zuletzt war the band 1996 in deutschland ! Please come on Levon and play the blues in Hamburg!!!!

---
Fri Mar 19 02:02:13 MET 1999
Wolfgang Schröder
From: Germany


Hallo liebe Leute, warum kommen the band zwecks concert gebens nicht auch nach Deutschland? zuletzt war the band 1996 in deutschland ! Please come on Levon and play the blues!!!

---
Thu Mar 18 22:41:36 MET 1999
Bones
From: Connecticut


I thought that VH-1 actually did a pretty good job of showing the highlights of the Hall of Fame last night. They edited every single speech from presenters and inductees, but that's okay. Chris Isaak did have one funny line about Bob Wills: "If I had any talent whatsoever, I would have ripped him off more". Robbie had a few more solos than they showed. At one point during "People Get Ready", Robbie was taking a solo, but most people couldn't see him because he was hiding in the back with Clapton. Bono went over and put his arm around Robbie and pushed him to the front of the stage.

They edited all of the Jam session songs, but they did it very smoothly. They did not show Springsteen and the E street play "Backstreets" which was great. Robbie was seated next to his old buddy Clapton, and they seemed to be having a great time. Needless to say, my dinner table was in the far back.

It was interesting to see how much more excited Robbie and Eric were when the Staples were playing as opposed to Springsteen and Joel. Also, the unsung hero in all of this is Paul Shaffer. He is so busy trying to create order out of chaos in those jam sessions. It really is amazing.

---
Thu Mar 18 21:32:50 MET 1999
John donabie
I just wanted to make a note of the following announcement that I just received from The Blues Foundation.
"The Blues Foundation has just learned that Lillian Shedd McMurry died last night of a massive heart attack." Mrs. McMurry was an extraordinary lady, and we were thrilled to honor her with induction into the Blues Hall of Fame in 1998 for her groundbreaking work with her label Trumpet Records. She was a charming person, a true Southern lady, who never seemed to cease to be amazed at the adulation paid to her work. She told great stories, and was always a pleasure to be around. Bruce Iglauer of Alligator Records referred to her as his hero. Following is our Hall of Fame tribute to Mrs. McMurry. We will miss her.
Just wanted to pass this on for the Blues Lovers. Trumpet Records did so much for the blues.

---
Thu Mar 18 20:58:39 MET 1999
Bill Munson
From: Toronto


Interesting how the New Orleans crowd mentioned here of late has Band - or at least Woodstock tie-ins. Bobby Charles, Allen Toussaint, Dr John and Ronnie Barron (Butterfield's Better Days). I'm reminded how my first thought on hearing Clifton Chenier for the first time (either the red or the blue Arhoolie LP) was something like, "wow, so that's where the Band got its sound".

---
Thu Mar 18 19:17:31 MET 1999
Ben Pike
From: Cleveland Tx


Bandlike, but not well Bandliked dept: When the Clapton album "Another Ticket" came out the Rolling Stone critic said it sounds like Bob Dylan and the Band. I would say thats true maybe of the title tune, and this mostly ignored record was better than a lot of the ones Clapton put out. Including the interesting if flakey "No Reason To Cry."

---
Thu Mar 18 19:02:45 MET 1999
David Powell
Postscript on the music of New Orleans:
One of the many, many cultural phenomenons of New Orleans is the sight of a parade of African-American & other citizens dressed up American Indians. It's something akin to a hoodoo, bacchanalian version of a Philadelphia "Mummers" parade. Groups, mainly from different neighborhoods, called "crews" compete against each other to see who can come up with the most elaborate & ourageous indian-style costumes.
Working year-round, the crews get together on occasions to parade around in their beaded finery. Of course you can't have a parade in the Crescent City without music, so the distinctive rhythms of the various marching crews add to the gumbo mix that is N'Awlins.
This is the origin of the many "indian" references in the songs of New Orleans, such as "Big Chief." Naturally, the chief is the head of his crew. The term "spyboy," recently adopted by Emmylou Harris's band, also derives from this practice. Each crew sends out a spyboy to spy & play tricks on their rival crews.
"Needless" to say, please excuse the Freudian-slip in my earlier Dr. John review. (Sorry Doctor, but as you revealed in your book, junko partners are part of the story.) And yes, it's "Little Liza (with an 'a') Jane." As you all can probably tell, my postings are usually off the top of my head and not written out ahead of time.

---
Thu Mar 18 16:37:08 MET 1999
Dexy
This coming from an unabashed Levon fan -- Yesterday got in the mail my copy of No Reason To Cry, purchased based on info from this site. Got some great stuff, especially the Danko duet, the hit (Farewell Old Friend) and others. But Robbie's guitar on the Dylan duet is an absolute killer, truly fantastic, and so recognizable. Then, last night at the Rock Hall ceremony, he did it again. What an incredible stylist, and I agree his narration was right on the mark. Finally, though, how about the deference all those egos showed McCartney -- Bruce, Billy, Bono, Robbie, et.al.? And Paul lived up to it, too. Looked good, sounded good, especially for a nearly-60-year-old Fab.

---
Thu Mar 18 16:08:06 MET 1999
David Powell
From: Georgia


VINYL SIDINGS: DR. JOHN

"My spyboy told your spyboy / sittin' on the biyo

My spyboy told your spyboy / gonna set your tail on fiyo"

--from "Iko Iko" by James Crawford (originally recorded by Sugar Boy & The Cane Cutters in the early '50s)

Mac Rebennack, Dr. John, released several fine albums on Atco / Atlantic, including _Gris Gris_ (which Donald Joseph mentioned) and the following two landmark LPs. In 1972 he released _Gumbo_, which he described in the liner notes as "...a picture of the music New Orleans people listen to, a combination of Dixieland, Rock and Roll and Funk. The origin of Funk is New Orleans, coming out of Mardi Gras music: your 2-4 beat with compounded rhythms and syncopations added on. this album is basic good-time New Orleans blues and stomp music with a little Dixieland jazz and some Spanish rhumba blues." Needles to say, this is Dr. John at his best.

Backed by the cream of Crescent City's best musicians, produced by Jerry Wexler & Harold Battiste, the Doctor takes us on a trip through the streets of N'Awlins. Songs include "Iko Iko, Blow Wind Blow, Big Chief, Somebody Changed The Lock, Mess Around, Junko Partner, Stack-A-Lee, (Professor Longhair's) Tipitina, Those Lonely Nights, a Huey Smith Medley, and a joyful sing-along version of Little Liz Jane."

In 1973, Dr John followed-up with the album _In The Right Place_. With this LP he kicked things up a notch by adding a blend of more contemporary sounds to his spicy gumbo mix. Produced by Allen Toussaint (who also sings & plays various instruments) and accompanied the incredible Meters, Dr. John brings the N'Awlins funk forward into the '70s & beyond.

This album yielded a minor radio hit at the time with "Right Place Wrong Time". Who else but the good Doctor, with his thick N'Awlins patois, could get away with singing the line "I had the right vein, but it must've been the wrong arm," on American Bandstand! The album also features the original version of "Such A Night," which he later performed with The Band at The Last Waltz. The infectious grooves laid down by Leo Nocentelli, Art Neville, George Porter & Joseph Modeliste are a hard act to follow, but as we all know, Levon & the boys proved up to the task.

Both of the aforementioned LPs, although not too common, can still be found in used record stores. I recently ran across copies of Gumbo (for $5) and Right Place (for $4), both in pretty good shape. The Alligator record label reissued Gumbo on LP in the late '80s. For the analog-challenged, you're in luck! Mobile Fidelity issued a gold CD version containing both albums on a single disc, two for the price of one. Let me tell you, for a CD, it has great, smooth sound. If you don't already have these albums, go out & find them brothers & sisters. They'll set your thangs on fi-yo.

---
Thu Mar 18 15:46:03 MET 1999
Da Boss
From: Asbury Park Convention Center (rehearsing)


OK, so I stole a rhyme or two from Robbie. Big deal. You guys didn't mention that the E Street Band's basic instrumental line-up (piano, organ, drums, bass, Tele/Stratocaster with frequent sax and accordian) is about as close as possible to that of The Band. So sue me...

---
Thu Mar 18 09:53:23 MET 1999
Ben Pike
From: Cleveland Tx


Don Joe.... that drumming was on the album.......

---
Thu Mar 18 06:44:54 MET 1999
Charlie Young
From: Down in Old Virginny


The R'n'R Hall Induction jams were an interesting demonstration that RR can still play a mean lead guitar (and with Clapton on stage). Robbie was a good narrator, too. Maybe he can help the Hall get out of debt this year. One final point on the Springsteen-Band connection was brought up by a DJ friend of mine who interviewed Bruce in 1974 and asked about the similarity of "Spirit in the Night" to Peter Viney's least favorite Robertson composition, "The Moon Struck One." Bruce said he didn't know the song but compare his: "Hazy Davy got really hurt/he ran into the lake in just his socks and a shirt/me and Crazy Janey was makin' love in the dirt" to The Band's earlier,"Little John was stung by a snake over by the lake/and it looks like he's really, really hurt/he was lyin' in the dirt." Listening to the songs back-to-back makes me wonder if there wasn't at least an unconscious "borrowing" going on, but why borrow from a weak song? But, of course, the same song makes effective use of two characters (Crazy Janey and her "mission man") borrowed from one of the great poets of the century, William Butler Yeats.

---
Thu Mar 18 05:53:54 MET 1999
Donald Joseph
From: Illinois


Paul Godfrey: Chicago's WXRT played "Tura Lura Lural" tonight, dedicating it to St.Paddy & naming Richard by name. Sweet.

Donabie: Whew!

David Powell: This morning I listened to "Gris-Gris." I was struck by how, while on the surface "Gris-Gris" sounds like a N'awlins take on psychedelia, it has aged amazingly well -- it IS NOT dated, even though it's a classic outgrowth of '60's wierdness, & was received so at the time. Now isn't that Dr. a genius?

Personal to Cliff Scott: I exaggerate not. Check the archives. It's sobering. (And hey -- I've got no ax to grind -- I wasn't even involved, nor was I ever a particular target.)

Viney: Thought-provoking query, yours, re reviews describing l.p.'s as "Band-like." My wife has noted that anyone who describes something as "Band-like" is (a) wrong, and (b) not really too into The Band. I think she's right. That said, however, the last l.p. I heard described as "Band-like" in a review was "Mermaid Ave.," last year's Billy Bragg/Wilco project adding new music to recently-unearthed Woody Guthrie lyrics. About the 5th or 6th time I listened to the album I realized its spirit and tone -- if not its sound -- is indeed eerily reminiscent of the "Basement Tapes."

On the "Last Waltz" CD, after "I Shall Be Released," there's a little drum coda that came from the post-show jam. I don't remember this drum bit on the original 3-l.p. record set, & my turntable is on the fritz so I can't check. Was this added to the CD, or is my mem'ry not serving me well?

I'm surprised there's so little talk of this "First Waltz" show in Chi. next week (for which I'll be out of town). It's being promoted as in the spirit of its "namesake" (are they legally precluded from saying "TLW"?). If I were available, I'd travel quite a ways to catch Rick in this show, which includes Mavis Staples [a/k/a "The Voice"] & others.

I'm glad to hear there're other Waits fans among us. Tom Waits for no man.

---
Thu Mar 18 05:12:21 MET 1999
BILL KOELLING
From: CHICAGO

---
Thu Mar 18 05:00:57 MET 1999
Yellow T. Tavern
From: Cavalry


Who among us doesn't?

---
Thu Mar 18 04:41:31 MET 1999
Kelly S. Ford
From: Horse Artillery


Gen. Stuart ("Beauty"): I loved Dixie, too.

---
Thu Mar 18 03:41:03 MET 1999
General Jeb Stuart
From: Patrick County, Virginia


Pelham, I've been looking all over for you since the night they drove old Dixie down.

---
Thu Mar 18 03:33:32 MET 1999
Pat Brennan
From: USA


Seemingly like almost everyone else here, I was a sidekick on a radio show in the late 80's-early 90's here in Chicago. We had all kinds of great guests, and since the show was somewhat surreal, we got them to do strange things. I used a sampler to create a bunch of chickens clucking away to the blues. Then we got Junior Wells, Charlie Musselwhite, Sugar Blue, and others to play along. It's quite a weird tape. Junior got into it and made his harp sound like a chicken. Anyway, the point. Dr. John came on once and we got him a piano. Now I play assorted keyboards, but that's like sitting next to God. But there I am, watching the good Doctor play, sitting next to him on the piano bench. I recall him tearing up "Black Widow" and he played it in E flat minor. A friend of maine had roadied for him in the NightTripper days and actually scored the guitar gig when the main guy got sick and Doc heard my friend playing at soundcheck. If you got it, check out "The Sun, The Moon and Herbs" album. Lead Guitar: Tommy Ferrone (last name misspelled in the credits); rhythm guitar: Eric Clapton. Need;ess to say, Tommy had some stories. He was Jerry Butler's musical guy for a while then gave it up.

---
Thu Mar 18 03:26:11 MET 1999
The Gallant Pelham
From: Anniston, Alabama


FREDDY: That song was sung by Prof. Louie Hurwitz.

---
Thu Mar 18 02:12:30 MET 1999
Freddy Fishstick
From: Sag Harbor


Just listened to Levon Helm & The Crowmatix Souvenir Vol 1. Not high on my list. Levon got no business covering Java Blues. I did enjoy the last track- "Great Beyond". The lead vocal sounds exactly like Boz Scaggs. Can any of my fellow Bandheads tell me whether its Tom (I'm all alone) Malone?

---
Thu Mar 18 01:32:38 MET 1999
Paul Godfrey
Tura-Lura-Lural (That's An Irish Lullaby) Van Morrison & Richard Manuel from The Last Waltz. Happy St. Paddy's Day everybody!

---
Thu Mar 18 00:01:31 MET 1999
Potsy
From: Weedstock


Although I enjoy all of it, for me the Band's music doesn't have the same magic as it did on the recordings after The Band Album. I think it is because a lot of the humor left with Stagefright. I'm aware of exceptions, but none of them can touch; Ferdinand, OJ blues, Yazoo, Long Distance, We can Talk, Caledonia Mission, Cripple Creek, Jawbone, Look out Cleveland and Rag Mama, to name a few. You can hear it in the voices, they had a relaxed quality, almost like it came easy for them. I've never heard a group except maybe the Beatles that had such uncanny timing. I wonder if the pressures of Fame started to haunt them? By the way has anybody else heard a new version of Life is a Carnival featuring contributibutions from RR., Levon and Rick. I heard it on the radio yesterday but didn't catch the name of the group.

---
Wed Mar 17 23:48:04 MET 1999
Dexy
Bones -- great stuff, please do tell more when you have time. Sounds like you had a great seat -- behind Shaffer?

---
Wed Mar 17 22:14:48 MET 1999
Bones
From: Connecticut


I had the thrilling pleasure to spend Monday night at the Rock and Roll Hall of Fame Induction dinner. WOW! I got my picture taken with Robbie, and he could not have been any nicer to me and my wife. I think I surprised him by congratulating him for winning a Juno last week, and I also told him that Acadian Driftwood was one of my favorites. He smiled and thanked me and told me that it was one of his favorites too.

The show itself was incredible. I'm not sure what VH-1 will show, but here are three of my highlights: 1) Eric Clapton and D'Angelo duetting on Mayfield's "Keep On Trying" 2) Paul McCartney, Robbie Robertson and Eric Clapton on Perkins' "Blue Suede Shoes" where Paul sang a verse then Robbie took a solo then Paul sang another verse and Clapton would do the second solo. 3) Paul, Robbie and everyone played on "Let it Be" to end the evening with everyone egging Robbie to play one last solo. Chris Isaak and Dion kind of bowed to Robbie while Paul had his arm around him as he played one last solo. For a Band fan like myself, it was an amazing moment.

I may return later and tell you about the events that took place which did not make it on the TV show.

---
Wed Mar 17 18:48:18 MET 1999
D.P.
Whoops. Forgive the typos. I didn't mean to confuse Richard Penniman with his evil brother Keith. Must have been hoodooed.

---
Wed Mar 17 18:26:23 MET 1999
David Powell
More on Dr. John: In 1961 an accident altered Mac Rebennack's career. As he recalled in his autobiography, _Under A Hoodoo Moon_, he was on tour with his band in Jacksonville, Florida on Christmas Eve. He found his singer Ronnie Barron getting pistol-whipped by a motel owner. Seems the guy caught Ronnie with his old lady. When Mac attempted to wrestle the gun out of the guy's hand, it went off, leaving the ring finger on the Mac's left (guitar-fretting) hand "hanging by a thread."
Following reconstructive surgery & therapy, Mac switched to the piano, honing his chops by playing in strip joints in the French Quarter of New Orleans. He also began singing and working on a stage act. While studying New Orleans history, Mac learned about a spiritual leader known as Dr. John who was busted in the 1840s running a voodoo operation & whorehouse with a women named Pauline Rebennack, who Mac thought may have been a relative of his. In 1967 Mac adopted the stage name "Dr. John" along with outrageous, voodoo-inspired costumes, grease-paint & pouches of gris-gris dust. Thus he joined a long line of eccentric N'Awlins piano front men such as Professor Longhair and James Booker (and don't forget Little Richards, who recorded many of his early hits in the Crescent City). Many have sung about Johnny Conqueroot, monkey's paws & mojo hands, but only a few such as the Doctor have actually carried them around on stage.

---
Wed Mar 17 16:55:13 MET 1999
Tracy
From: the den
Home page


David P: There is yet another link between Beck and Robertson. Terry Bozio, one of Beck's friend's ended up doing the drumming for "Broken Arrow."

MattK and all: You should really check out my page's video section and tell me if you are interested in anything. Lots of stuff and I will include the other various performances by The Band and solo appearances as soon as I can. Matt, thanks for the information on the RRHOF inductions.

After listening to some great solo work that Robbie did as a session player and Richard's contribution of "River Of Tears" on Bonnie Raitt's album, I have to ask anyone, why didn't Richard persue a solo career. An excellent voice like that should have never gone to waste. Much too soon gone. Tracy

---
Wed Mar 17 16:32:47 MET 1999
Peter Viney
There is a clip of amateur video of Springsteen jamming with the Levon Helm All-Stars at the Stone Pony in 1988, doing "Up On Cripple Creek" and "Lucille". Jim Weider and Stan Szeleste are in the band. The picture focuses on Springsteen's shirt back most of the time. As expected, Springsteen was word-perfect on Cripple Creek. Don't have it to check, but I made notes.
Ben, I get corrected at least once a week, which is great because that's how you learn. What I meant was they haven't done "Strawberry Wine" since 1971-ish. The Hollywood Bowl version is on "Crossing The Great Divide" too. It's also on the bootleg "Royal Albert Rags" from London, UK in 1971 and Rotterdam tapes from the same year.
---
Wed Mar 17 16:26:57 MET 1999
mattk
From: maryland


VH-1 Notes

I contacted VH-1 about their schedule and the Behind the Music special. VH-1 informs me that they WON'T be airing it before the first week in April (which is apparently how far in advance they schedule those programs). I'm told I'm not the first to ask, and they are sending requests to their scheduling mucky mucks. You can join in the letter writing program by sending an e-mail to:

VHWEBSHOW@aol.com

Hall of Fame on VH-1

According to chatter on Robbie's Capitol site, RR DID perform in the jam on Monday night. Apparently CNN has featured a shot of the jam with him solo-ing for the last couple days. VH-1 is airing highlights tonight. Check local listings...

Cheers

Matt

---
Wed Mar 17 16:12:28 MET 1999
Jan H.
From: Halden, Norway


This guestbook will be unattended for a few days. Leaving with fingers crossed.

---
Wed Mar 17 15:49:44 MET 1999
David Powell
From: Georgia


If you like guitar, there's reason to rejoice. Jeff Beck has just released his first new album in many a year, _Who Else!_ (Epic). Who else but The Mr. Beck could evoke the spirits of Roy Buchanan, Frank Zappa & Jimi Hendrix with a set of eleven instrumentals. But make no mistake about it, he's his own unique, individualistic self when it comes to the fretboard. There's no one else like him around, from snarling growls of blues to mellow jazz tones to stratospheric shrieks and back again. There is an indirect Band connection. One of the musicians appearing on _Who Else_ is Manu Katche, who played drums on many of the songs on Robbie Robertson's first solo album, including "Fallen Angel."

I've been listening to a lot to Mac Rebennck, a.k.a. Dr. John, lately. Amazingly, he was primarily a guitarist early in his career, playing sessions at Cosimo Matassa's studio in the '50s, accompanying artists such as Huey "Piano" Smith, Lee Allen, Eddie Bo, and Paul Gayten.

In an interview with Bill Milkowski in the May 1997 issue of _Fi_ magazine, he recalled some advice he got from Allen Toussaint. "He taught me to watch the piano player on a session. I always set up playing guitar where I could watch the piano player to make sure what the chords was. We was only recording one track, so there wasn't no fix back then. When we finished cutting the song, it was over. So watching the piano player was a good thing for me to learn how to play on the date--but it was also a good thing for me to learn how to play piano. Allen was way more than anybody else--so far ahead of his time. And because he could do Huey Smith and Fess (Professor Longhair) and James Booker, he was the most valublest guy in the studio." (More on the good Doctor later)

---
Wed Mar 17 14:58:01 MET 1999
Ben Pike
From: Cleveland Tx.


The Band And The Boss: A) Atlantic City. B) When Bruce put out "The Wild, The Innocent, and the etc.( still his most interesting album, and maybe his best) many critics listed The Band as an influence. See "Wild Billy's Circus Story."

---
Wed Mar 17 11:07:27 MET 1999
Ilkka
From: not Sibirien, THANK GOD!


Sorry to disturb you so soon .- The Friend Of Order in me wants to say that it was more likely 10 000 KILOMETRES, not miles as I said in the previous post.

---
Wed Mar 17 10:23:59 MET 1999
Ilkka
Home page
Bruce Springsteen in Hall Of Fame.
Has he any connections to The Band? - I have a video recording of the Woody Guthrie/Leadbelly program which came in the Swedish Television for some years ago. Springsteen is singing in a way that was Band alike, and RR is the speaker in this program with Dylan, Little Richard, John Mellencamp, Emmylou Harris and others.
I hope that the MTV/VHS-1 interview with RR will be transcribed. I was lying in a cheap motelroom in a hands of pneumonia 10 000 miles away from my home and can't remember not much of what I saw and heard.
Re: John Donabie - The DIVERSITY makes this GB unique. Let's hope that it will remain here.

---
Wed Mar 17 05:21:03 MET 1999
Charlie Young
From: On the Road in Virginia Beach


Diamond Lil: I love that story about Rip (Rick) and the Van Winkles. I can imagine Danko doing a great job on that Joe Jackson song. "Sleeping" would have been appropriate, too. I just caught the end of a Van Morrison documentary on Bravo cable on a hotel TV. Does anyone know the source of this, and/or if it's available on video?

---
Wed Mar 17 04:30:53 MET 1999
Jonathan Katz
From: Columbia, MD


Diamond Lil: In browsing through a used record store the other day I say a song on what I recall was an Artie Traum lp [I looked through about a gazillion lps so it might have been a "Woodstock" pickup band or something completely different] called "Diamond Lil." Any connections?

BTW: The version of LARS on "New York Stories" mentioned in my previous post appears to be the same as "Before The Flood." Bummer :-(

The Robbie version of "Xmas" on "Scrooged" is interesting - but I like the "Islands" version better.

---
Wed Mar 17 03:04:10 MET 1999
Spider John
From: LAD3/4 time


Lil, I'm thinking of Bromberg plus 2, JW& wife, me, you & Carol K. Gonna get the ducats this Saturday.

---
Wed Mar 17 02:14:53 MET 1999
Diamond Lil
From: The Web


After just reading the rodents post about different touring names, it reminded me of something that happened several years ago at an upstate new york club. It might've been The Chance in Poughkeepsie, but I really don't remember.

Anyhow, the opening band (whoever they were) didn't show, so Rick came out onstage with a few other people and "opened" the show as "Rip and the Van Winkles". Did a few tunes (one of which was "Sunday Papers" by Joe Jackson), left the stage, and came right back out as Rick Danko, headlining act. I remember thinking it was pretty funny at the time. Still do actually. Rick always did, and still does, have a great sense of humor :-)

---
Wed Mar 17 01:26:32 MET 1999
Plaintive Cry of a Tortured Rodent
From: The Woods


When are the "Curmudgeons" (with former touring members of the Band Jim Eppard and Mike Dunn) playing again? How about the Crows? The Crabs? The Crowmatix? The Band?

---
Tue Mar 16 22:46:02 MET 1999
Ben Pike
From: Cleveland Tx


If I may add the link(I shoulda been in that Python thang) Waits did some recording with Garth for one of those great Island albums, but didn't use the stuff. And Matt, while I think Left Bank owns "Renee"; I have always though Pirates was one monster of an album. In a good way. And how bout me correcting Vinny? I bet few have lived to tell the tale......

---
Tue Mar 16 20:51:17 MET 1999
David Powell
Correction: Tom Waits's new label is Epitaph, not Epigraph. It seems that both he & Levon have both recently expressed their displeasure regarding the big recording labels. Waits recorded on Asylum for many years & left because they wouldn't release his album "swordfishtrombones." He then recorded for Chris Blackwell's Island label before Blackwell sold out to the conglomerates. Repercussions are still being felt following Seagram's recent acquisition of the Polygram labels. I don't know what deal The Band had with Sony several years ago when Sony passed on their album. When a major label fronts an artist money up front to record, the artist often gets screwed twice if the label refuses to release the recording. He then has to buy back the master before he can shop it around on another label.

---
Tue Mar 16 20:46:49 MET 1999
Peter Viney
Post-script: The first album I remember being described as "Band-like" was "His Band & Street Choir" by Van Morrison. Actually there are tracks on "Moondance" that fit the description better.

---
Tue Mar 16 18:59:32 MET 1999
Bill Munson
From: Toronto


Lightfoot and Richard Manuel both appeared on "Tears Are Not Enough" (the Canadian famine-relief record). And then there's the Cathy Smith connection.

---
Tue Mar 16 18:55:53 MET 1999
Peter Viney
I've always been a sucker for reviews that say an artist sounds like The Band. And I've made some great discoveries as a result - Link Wray of the Wray's Shack 3-Track era, Mordecai Jones (produced by Link Wray), then years later Blue Rodeo, The Hooters and Mercury Rev. Thing is, they're not always that Band-like. Latest candidates are The Tractors "Farmers In A Changing World" - good album, you get Scotty Moore & crew, but I wouldn't call it Band-like in spite of a great but short "Mystery Train". And The Gourds "Ghosts of Hallelujah". Haven't heard it enough to judge. Has anyone else bought on the same sort of review? And was the album indeed Band-like? I'm discounting albums with Band involvement like "Bobby Charles", "Largo" and Tom Pachecho's "Woodstock Winter." Reviewers are beginning to use "Band-like" to describe whole swathes of music. e.g. Steve Wynn in The Sunday Times on the Gourds: "Cajun tunes filtered through the kaleidoscopic cosmic American lens of The Band." (Sorry?)

---
Tue Mar 16 17:44:44 MET 1999
John Donabie
From: Heads in Toronto; but Soul's in The South


I was very disappointed again this year; when Cosimo Matassa was not inducted into the Rock and Roll Hall of Fame. Robbie; who is on the board should get on this soon; before we lose him. To help induct Cosimo write: Rock and Roll Hall of Fame Foundation, 1290 Avenue of the Americas, New York, NY 10104

For those who don't know..there would be no Little Richard, Fats Domino, Shirley & Lee, AAron Neville etc. without Cosimo. He had the first recording studio in New Orleans and was the man behind the controls on every major recording session. All those wonderful Imperial and Specialty recordings.

Cosimo now runs a supermarket in New Orleans. He is getting on in age. For the Non-Performer category he has to come in. Now that George Martin has arrived for his British sound..perhaps now the richness of New Orleans music can be celebrated. Robbie always talks about his love of New Orleans...Your on the board Robbie...cast your vote. I have included a little about the man if you don't mind indulging me one time.

BackTalk with Cosimo Matassa (excerpts from August OffBeat feature) by Todd Mouton

Some of the best-known records made at Cosimo Matassa's studio used their own language to express the simple pleasures of living. Song's like Huey "Piano" Smith & The Clowns' "Don't You Just Know It," Little Richard's "Tutti Frutti," Jessie Hill's "Ooh Poo Pah Doo" and Sugar Boy Crawford's "Jock-A-Mo" featured phonetic vocalizations some might call nonsense lyrics.

"Those are celebration songs," Matassa explained, speaking from the cluttered office of his family's French Quarter grocery store. "You can imagine children or adults dancing and skipping, finger popping. All of 'em move -- that's the central thing with all of those songs. Some of 'em are totally child-like, but they were expressions of joy. These were expressions of emotion, you can't reject those. They get too analytical about the records. And most stuff isn't that cerebral -- it's visceral." Like those recordings, 72-year-old Matassa is focused on the here and now. He's chipper, filled with energy, and he speaks about his life in New Orleans music matter-of-factly and without fanfare.

Which is surprising, considering the fact that he's arguably the greatest live sound recorder in history. He describes himself as a former studio owner and sound engineer, not a record producer. To begin with, the "producer" label didn't exist when Matassa opened his doors at the corner of Rampart and Dumaine streets, the intersection Professor Longhair sings of in the second-line anthem "Mardi Gras In New Orleans." Matassa was the man behind the knobs for landmark New Orleans rhythm and blues sessions from 1945 to 1969, and, like a studio photographer, the young owner/engineer was contracted to capture the best sides of his numerous clients. In the process, he created a string of one and two-hit wonders, and his studio, the first in Louisiana, became a launching pad for the lengthy careers of artists like Fats Domino, Aaron Neville, Irma Thomas and Earl King. At various locations over the years, Cosimo's studio was the place where musicians like Allen Toussaint, Dave Bartholomew and Dr. John matched soulful bass and horn lines with emotive vocals and distinctive snippets of piano and percussion. Over the course of a late morning interview, Matassa's affection for certain songs and performers emerged as he answered questions on a wide range of topics.

I came up in an Italian family here in New Orleans, downtown in the French Quarter. Because of the economics of the times, people did not, could not, afford to go out and sit down and pay money and tell somebody "entertain me." They entertained themselves.

So what you had were house parties, all of the family celebrations you can imagine. The fact that people in New Orleans danced -- that's one way you entertain yourself, you dance. So bands were oriented to people dancing. There was a lot of music in New Orleans. There were parties to raise rent, parties to get somebody out of jail, parties to pay the light bill. I didn't find music to be a unique part of life, separate from life. It was part of everyday living.

Your father owned a neighborhood grocery store and bar, the latter of which was segregated. My father's arrangement was kind of unique. He made an arch in the wall between the two (bars) and put the phone booth there with two doors on it. So there was much more interaction than there would be ordinarily. There was a jukebox on either side, so on the one side, I heard the popular tunes of the day, I heard some hillbilly, some Dixieland jazz. On the other side I heard blues, the things the black audience liked and played. And I also heard things like Ellington.

Your studio didn't recognize a color barrier. There were a lot of fine uptown folks that always referred to my studio as the "nigger" studio, which it wasn't. I did a lot of white guys. But some people focused on that, which was how they focused on it in their lives. But I never let them bother me, and my relatives and friends never did, and all my black friends obviously didn't. In fact, in the really early days, my studio was one of the few places that a black musician could meet his white girlfriend and not worry about the police coming in. But nobody said anything about that, it just happened.

You've said you tried to make yourself invisible in the recording process. How so? What I did was I walked out in the studio and listened, came back in the control room and tried to make what I heard in there sound like what I heard in the studio. Frozen performances is what we're doin', and you want to be accurate.

But you weren't a producer? I would lay claim to some contribution, but it was varied and it went from everything from nothing to a whole lot. We were there to present what was being done in the studio. We were there to do what the record company and the A&R (artist & repertoire) guy and the bandleader and the singer and the arranger felt they were trying to do. We were facilitators, not producers. And I always tried to have that happen.

What's most important in a record? Transmission. Of emotions. If it can transmit enough emotion that you enjoy it, you have this pleasurable experience, this vicarious thrill. Then you'll spend your money for it. It could be a hat or a record. It doesn't really make a whole lot of difference.

So what's the secret? If you transmit an emotion to the listener, it's a good record. It's gonna be a successful record. Now, having said that, how you measure it, I don't know. How you predict it, I have not a clue. Because it happens, and everybody's aware of it, you know, it's fundamental. And yet totally evasive. I don't think there are any standards. I don't think there's a person that exists that has the magic touch. I just happened to be around at the right time in the right place. I hung in there through the good times and the bad, 'cause I loved it. It was a great way to make a living, let me tell ya. Just to be around then was a great time. (But) there was no sense of history. Nobody ever felt like we were producing great art.

Maybe that was your secret. You can go out and buy a $100 recorder (today) and get quality that we would have killed for. And the facility of it, everything just works. Back then everything had to be played with and screwed with one way or another. If you talk to (songwriter/bandleader/producer) Dave Bartholomew, he'd tell you that it was "O.J.T.," on-the-job training. We learned as we went. New Orleans was not exactly a pillar of technology. There wasn't any place I could go to somebody else's studio and learn something.

Is there anyone you would have liked to work with but never had the chance? Somebody I would liked to have recorded and never did was Mahalia Jackson. I admired her voice and her work tremendously.

You mentioned Allen Toussaint as someone who was really creative in the studio. Probably more than any other person that I've ever known or worked with, he would use fairly ordinary people, not necessarily the very best of anybody, but it was like a challenge to him to create something. I used to kid him, I used to say he could make a chicken out of a feather and a wishbone. And really he did. And he did it over and over and over again, just amazingly so. He could match a song to a singer, he could match an arrangement to a song and a singer, and he could work it out. He would simplify it and drop things and change things and make it work. Sometimes, with artists like Fats Domino, changing a single note in the bass line would create a new song. If you change something that's fundamental, you get a fundamental result.

You worked with some of the most talented artists in the history of recorded music. When asked to name a "most valuable player," you nominated drummer Earl Palmer. Early on, jukebox operators were a major source of phonograph record sales. And one of the things they liked was short records. So it got to be that you aimed at doing a record two minutes and ten seconds, not three minutes and twenty seconds. We were doing a session once and the thing was just a few seconds too long. And the guy says, "Can we do it a little shorter?" And Earl Palmer figuratively wound a clock key on his foot and said "How much shorter you want it?" He said "three seconds." Let me tell you, three seconds he took off. It was like 2:23, it came to 2:20. This was a phenomenal percussionist, I mean this guy was great.

Any impressions of the music industry today? I'm for being free and unfettered, but I'm appalled, really, at the attitude of some musicians. It's almost like they're there to entertain themselves and that's unfortunate, because that lack of discipline, I think, hurts 'em more than it helps 'em.

Are you ever nostalgic for the old days? I'm enthusiastic about life. It was a marvelous life. To get paid to listen to all that great music, and over so long a time. I enjoyed it thoroughly, I don't have any complaints. If you had to put something on my tombstone it'd be "no regrets." Good times, bad times, but hell, it was all fun.

---
Tue Mar 16 17:41:19 MET 1999
Paul Godfrey
Dave Z re: Gordon Lightfoot. You will note a photo with Ronnie Hawkins, Levon Helm and Gordon Lightfoot at a party at the Beverley Hills in Toronto. I believe the photo is on Ronnie's site. Levon makes mention concerning his contemporaries at the time when he played with Ronnie as the Hawks on Yonge Street in Toronto and of course Gordon was playing the coffee houses. Names like Ian and Sylvia and Gordon appear in an interview I did with Levon for a radio show that became known as "The Last Waltz Remembered." Still unpacking the moving boxes, but when I find the tape I will be glad to transcribe Levon's feelings toward his peer group at the time.

---
Tue Mar 16 16:49:21 MET 1999
Dave Z
From: Chaska, MN


Just wondering if any of the Band members ever collaborated or played live with Gordon Lightfoot? I would have thought that Garth could have added something special to his tunes. Plus they are all famous Canadians. Anybody out there have a take or even an opinion on this?

---
Tue Mar 16 16:28:04 MET 1999
Martin
From: Aberdeen


Hi everyone. I'm attempting to compile a band live/sessionography from big pink'67 through to the last Waltz, which I hope to make available once it's semi finished. I'm using the info in the tape archive, bootlegs and hoskyn's and Levon's book to try and piece it together. If anyone has any extra info on gigs/studio dates that they think might be useful, please get in touch. Cheers.

---
Tue Mar 16 16:10:47 MET 1999
David Powell
MattK---Waits chose to sign with the L.A.-based indie label Epigraph, known primarily for its punk-rock releases, in order to escape "the plantation system of the music business," according to Billboard magazine. Impressed by the people who run the label, Waits says "Epigraph is rare for being owned and operated by musicians. They have good taste and a load of enthusiasm, plus they're nice people. And they gave me a brand-new Cadillac, of course." Now there's a musician who has his priorities straight.

---
Tue Mar 16 15:55:08 MET 1999
Dexy
The documentary in question is indeed the same one that appeared on A&E. It was available on video even before that, as "The Band: The Authorized Video" or something (I have it, but it's loaned out). Includes excellent interviews w/George H., Ringo and Clapton among others. No new interviews w/Robbie, although there is at least one clip of him from TLW and plenty of studio and live performance clips. Lots of recent Rick and Levon and little Garth. It's probably three years old now. Interesting sidelight -- I saw an interview w/Rick from a TV column somewhere at the time A&E ran it. He appeared to be not completely happy with the product, because there was too much Robbie! He said he was tired of giving him publicity since he'd been out of The Band for so long. Interesting, because the piece is good, but very obviously from Levon and Rick's point of view. In all, though, a pretty comprehensive and well-done bio, narrated by Harry Dean Stanton.

---
Tue Mar 16 15:51:11 MET 1999
Jonathan Katz
From: Columbia, MD


The best thing about the Chuck E. Weiss album is the quote from Willie Dixon on the outside sheet. It goes something like this: "That Jewish kid with the big head sure can play." I had an opportunity to visit my favorite used record store yesterday and picked up two soundtracks: "Scrooged" and "New York Stories." Does anyone know if LARS is the "Before The Flood" version? Saw snippets on the morning talk shows of the R&R HOF induction, with RR in the background. Looked like everyone had fun. Anyone know any more?

---
Tue Mar 16 15:45:05 MET 1999
MattK
From: Maryland


New Tom Waits? Yipee! I hope he's on an indie by choice, though...

---
Tue Mar 16 15:23:19 MET 1999
David Powell
From: Georgia


The March/April edition of Experience Hendrix magazine has an interview with photographer Elliott Landy. Also included are several of his great photos---Jimi Hendrix Experience at the Fillmore East in 1968, The Fugs in concert at the Anderson Theater, Janis Joplin at the Newport Folk Festival, Chuck Berry at the Fillmore East, Jim Morrison, Bob Dylan at the piano at his Byrdcliff Home in Woodstock 1968, and a full-page version of The Band posing by a vintage Hudson auto ( the "Hudson on Hudson" photo which also appears in Levon's book). Landy briefly discusses the good personal & working relationships that he enjoyed with Dylan and The Band. Later this year Landy plans to release a new book about his relationship with Dylan, with photographs included.

In light of recent talk here about Rickie Lee Jones & Tom Waits, let me just mention that a new album from Mr. Waits will be released later this month. It's entitled _Mule Variations_, on the indie Epigraph label.

---
Tue Mar 16 14:40:05 MET 1999
Cliff Scott
From: Idaho


D. Joseph - ...any case that forces you to exaggerate and distort facts.

---
Tue Mar 16 14:11:45 MET 1999
Erik
From: Toronto


Hi, I like the lay out and there is a lot of information available here. I am interested in trading tapes, actually I'm a little disappointed by the gossipy-to-snide nature of most of the postings, but anyone in to live tapes, feel free to e-mail me. I have several band tapes not listed in these tape archives (64,66 & 74), a bunch are low generation. Please get back to me, I really want old Band tapes (pre-reunions), tons of other music too, trades only, no cd-r's available.

---
Tue Mar 16 05:37:26 MET 1999
Tim(SUNDOG)Corcoran
From: Mad City
Home page


"HAPPY '59TH BRITHDAY PHIL LESH" of THE GRATEFUL DEAD and THE OTHER ONES".

---
Tue Mar 16 05:36:18 MET 1999
Donald Joseph
From: Chicago


This talk of Ricky Lee Jones prompts me to ask whether any of you have the new Chuck E. Weiss album. It's a keeper.

Cliff Scott: Yes. But what "case"?

---
Mon Mar 15 23:28:44 MET 1999
Ragtime
Repeated request:
My dear compatriot Hans van den Berk: yesterday you pointed us to your nice John Martyn (John Who?) website. Unfortunately I'm not able to open your clip of the week (John Martyn & Levon Helm singing "Rock, Salt & Nails") due to "Error #23: URL not valid". Would like to hear "our" Levon" singing along with "your" John. What's wrong?

---
Mon Mar 15 23:27:16 MET 1999
mattk
From: maryland


RE: Band Documentary

What was the title of the A/E program the documentary appeard on (e.g. "Biography")? I'll circle my TV Guide...

Matt

---
Mon Mar 15 22:58:16 MET 1999
Pete Rivard
From: Hastings, MN


Diamond Lil: Yes.

---
Mon Mar 15 22:44:37 MET 1999
Diamond Lil
From: The Web


Pete: The documentary I just saw started out with Levon and Jim on stools, facing each other, singing a very bluesy tune (the name of which escapes me). It also ended that same way. Is it the same one that you have taped from A&E?

---
Mon Mar 15 22:27:17 MET 1999
Pete Rivard
From: Hastings, MN


Luke in Ft. Washington: I'm a 1971 graduate of Upper Dublin H.S. and can quote the lyrics of the school song from memory, unless it's been updated. Any chance you now work, or ever did work, in the digital prepress industry? I wonder if we know each other. You don't play the recorder, by any chance? I used to cut last period study hall in '70 and '71 and walk home from school singing whole sides of Band albums. Turned out I was schooling myself in songwriting, just didn't know it at the time.

---
Mon Mar 15 22:06:57 MET 1999
Pete Rivard
From: Hastings, MN


That documentary mentioned by Diamond Lil sounds like the A&E cable documentary on the Band that starts out with the current config doing "Remedy". If that is the show, I've got it taped. Send any requests to my email address. I also have rediscovered a bootleg cassette of the Band, c. 1975, captured by an acquaintance who has some sort of hat with stereo mikes sewn into the sweatband. I think he said it's a New Orleans gig. The sound is borderline awful, but some of you more intense collectors might have some interest in it.

---
Mon Mar 15 21:22:05 MET 1999
MattK
From: Maryland


The Rickie version of "Walk Away Renee" is from the EP "Girl Under Her Volcano." I only have the vinyl on this (which I've owned since it first came out in 1983).

I'll give credit for the Four Tops version, but I really HATE the Lefte Bank version. Rickie's take is much more forlorn and more like a jazz ballad. To my mind, it holds it's own with the Four Tops, in and apples vs. oranges kinda way.

"Girl Under Her Volcano," btw, is a fantastic recording. It features mostly covers of 60s R/B and jazz recordings. It's one of the saddest albums I've ever heard. Absolutely beautiful.

GUHV, marks the end of what many (me included) feel was Rickie's best work, spanning 2 1/2 albums: "Rickie Lee Jones," "Pirates" and GUHV (which is made up of live stuff and out-takes for Pirates). Of particular interest (to me) are wonderful versions of Billy Strayhorn's "Lush Life," the standard "My Funny Valentine," "Walk Away Renee" and an improbable version of "Something Cool" which had its day in the 1950s with versions by June Christy (among others). There is also a fantastic song written by Tom Waits, "Rainbow Sleeves," which (when you realize it was recorded at the end of RLJ and Waits' love affair) comes off as a heart rending goodbye as you will hear. Interestingly, there is a Band tie-in as this song is on the "King of Comedy" soundtrack.

My biggest frustation is that GUHV is only available as a cassette in the US. There is a Japanese import of the CD, but last I checked, it was a breezy $50 (for an EP, for chrissakes). However, if you have the $6 to drop next time you are at CDNow.com, I think many folks here would be pleased (yes, ok, her version of "Under the Board Walk is a bit weak).

My usual 2 cents--a dime with hot air and inflation...

Cheers

Matt

---
Mon Mar 15 19:59:41 MET 1999
Ian
I missed The Band documentary! Does anyone know when it will be rebroadcast? Or, (better yet) did anyone tape it? Maybe that person could sell/trade a copy for me? Thanks.

---
Mon Mar 15 19:13:08 MET 1999
Per Vik
From: Austevoll,Norway
Home Page

Is there anyone out there in the world who know Leo Gillespie? can anyone get me some music of him?

---
Mon Mar 15 18:04:55 MET 1999
Diamond Lil
From: The Web


Was real nice to come home from my trip to see such positive posts about both Rick's and Levon's shows.

Don't know if anyone else in the metro NY area caught the Band documentary that was on tv Saturday night, but I really enjoyed it. Was nice to see the narration done by Levon and Rick for a change too. Puts a whole different perspective on things I think. Was kind of nice to be away for the a few days and still have that old familiar warmth of The Band. Made the hotel room feel just a little bit like home.

And speaking of home...after several days on the road with the munchkins...I'm clicking my heels here and repeating over and over..."there's no place like home".... :-)

---
Mon Mar 15 15:56:03 MET 1999
David Powell
From: Georgia


Sundog--I think the answer to your question about dylan's "4th Time Around" is that he was looking for his Norwegian wood. Dave Z--Northern Exposure closed out with Iris Dement's song "Our Town" which can be found on her Warner Bros. album _Infamous Angel_.

I was finally able to get a hold of a copy of Mercury Rev's _Deserter's Songs_; well, better late than never. With its quirky vocals, interesting word play and wonderful orchestrations, it reminds me of Van Dyke Parks and the High Llamas.

I was also impressed with the warmth & depth of the recording itself. Mercury Rev seem to be among a handful of artists, in this age of digital recording, who are trying to recapture the sound of the analog era. Several of the songs on the CD even recreate the sound of LP surface noise & scratches. According to the liner notes, the album was recorded on 35 mm magnetic film.

In the mid '50s, the Command and Mercury record companies, began using 35 mm magnetic film equipment for audio recording. (Incidentally, the back cover of _Deserter's Songs_ copies the distinctive "STEREO 35MM" logo used by the Command label.) 35 mm film offers several advantages as compared to conventional recording tape. The recording width of film is almost three times that of conventional one-half inch tape, allowing more space for each channel in stereo recording and eliminating the danger of "cross talk" between tracks. Film recorders, like those made by Westek, had three tracks, allowing left & right stereo channels and a middle track for added front to back depth. Film's faster rate of recording speed (18 ips), closed-loop path and low impedence head assembly allow for better transient response & extended frequency range. In addition, with 35 mm there is no tape hiss; background noise is reduced to a minimum. Since film is steadily guided across the recording head by sprockets, there is no tape speed flutter. Also, the 5 mil thickness of film, against 1.5 mils for tape, means less danger of "bleed-through" in storage.

It is interesting to note that the classical recordings released in the mid to late '50s on the Mercury "Living Presence" record label are still prized by audiophile collectors as among the finest recordings ever made. In this age of cold, harsh digital recordings, it's nice to see a group like Mercury Rev going back to tried & true methods of analog audio recording. I wonder what actually inspired the name of the group?

---
Mon Mar 15 13:19:03 MET 1999
Scott Duncan
From: Snowbound in Ct.


I also was at the Bardavon show and generally agree on your view of the show except your take on Margolin. The MWTB is true to Muddy's sound but they are laid back and I feel Bob's playing gave alittle contrast. The barn burners sounded great and Weider and Jimmey V. trading licks was like guitar clinic . Dem boys got some chops. The one thing lacking that night was crowd participation. I almost felt out of place hootin and hollarin. Sunday I drove up to Northhampton Ma. and caught the MWTB's last show. The crowd was into it and the band responded. Jerry Portnoy even smiled. After the show the band signed a drawing I did of Muddy Waters. Great guys! By the way... Didn't Levon look like he was having a blast on Sat.. Hope to see summer Band tour.Maybe if all the guestbook Bandfans concentrate real hard we can send a message to the boys that we need to see them together soon! Scott

---
Mon Mar 15 11:04:16 MET 1999
Peter Viney
GONZO (that's the label): At last! A new Band-Jimmy Buffett connection. I've never mentioned Buffett, as my only experience was buying a shirt from his shop off the I-192 near Orlando many years ago. There is a wonderful new series of CDs called "Songbooks" where writers and artists make a personal selection. They're heavily illustrated and designed to sell in bookstores as well as record stores. I guessed the Hunter S. Thompson one would show impeccable taste. Well, how about The Weight + Buffet on "Why Don't We Get Drunk" (and Howlin Wolf, Robert Mitchum, Flaco Jiminez, Lou Reed, Jefferson Airplane, Warren Zevon, Lyle Lovett, Norman Greenbaum, Tanya Tucker, Allman Bros, Don McClean), It ends with Herbie Mann's "Battle Hymn of the Republic."
Also Chip Taylor's "Seven Days in May" (featuring Garth & Rick) is already released in Europe. Not only that, you get a free Rounder 14 track sampler with it.

---
Mon Mar 15 06:19:17 MET 1999
Pat Brennan
From: USA


Ben, I'm sorry for the imprecision. "Monstrous" was a compliment when referring to Ricky Lee Jones' version of Walk Away Renee. And, Strawberry Wine is definitely on Hollywood Bowl.

---
Mon Mar 15 00:59:56 MET 1999
Ben Pike
From: Cleveland Tx


Sorry Don Joe, I got you mixed up with somebody else. I for some reason always get to thinkin it's serge that runs the cite! What the hey, there both Vikings. Now Vinny, I'm just working off the top of my head, but I think the boys did Strawberry Wine at the Hollywood bowl. Don't hold me to that one. And Pat, sue me, but I kinda like Rikki Lee's "walk away" , but I would agree the original is way best.

---
Mon Mar 15 00:30:00 MET 1999
greg
From: columbus


little john: let whoever throw a fit. i dig set lists, that's why i asked. thanks again!

---
Mon Mar 15 00:21:00 MET 1999
Little John Tyler
From: Same House Next Door


Greg From Columbus:

Aside from Strawberry Wine, the Barn Burners did nothing from the "standard" Band canon. Lots of traditional 8-bar blues numbers, One song from the Muddy Waters Woodstock sessions that Levon & Garth played on back in '76, and "New Orleans Boogie" from Jim Weider & The Honky Tonk Gurus CD "Bigfoot." Don't want to turn this post into a set list. You--know-who may be reading, and I'd hate to rouse him from his self-imposed retirement from the Guestbook. It's been so peaceful here lately.

CROW:

Your point about Calvin Jones' bass playing and singing are well-taken Sorry I overlooked him in my previous post's "mini-review." Margolin did overplay; you're right. He'd have benefitted from a bit of "Eppardian" taste and restraint.

---
Mon Mar 15 00:07:31 MET 1999
Cliff Scott
From: Idaho


Mr Joseph sounds like a lawyer pleading his case. Could it be that he is one?

---
Sun Mar 14 23:22:34 MET 1999
greg
From: columbus


little john: thanks for the barn burners review. aside from s. wine, what other tunes did they do?

---
Sun Mar 14 18:35:49 MET 1999
the crow
From: poughkeepsie


I was also @ the bardavon show and must take exception to the comments describing the Water's band as " tired". They put on a great show for more than an hour & a half, then came back for a well deserved encore. Bob Margolin played some excellent slide guitar, although he tended to overplay somewhat, just my opinion. Would've liked to have heard Junior step out a little more but the defining moment for me was Calvin " Fuzz" Jones. His bass playing was impeccable and that voice ! The barnburners laid down a solid set and Jimmy Vivino did an admirable job of fronting the group. I agree that Levon looks ( and sounds ) better than He has in a while. Hopefully He's on the mend and we can all look forward to some real Levon Helm shows in the near future.

---
Sun Mar 14 17:31:44 MET 1999
Peter Viney
So good to hear something positive and also current in Little John Tyler's review. Always wondered why they didn't do "Strawberry Wine" live. Great to here the news that it's back!

---
Sun Mar 14 16:55:07 MET 1999
Little John Tyler
From: The House Next Door


Levon Helm & the Barn Burners nearly burned down the stately old Bardavon 1869 Opera House in Poughkeepsie NY last night, playing an hour-long warm-up set for The Muddy Waters Tribute band. Levon & Co.'s enthusiasm and intensity simply stole the show from their aged (and frankly, tired) counterparts who had to follow them onstage, unfortunately.

Levon looked great and healthy, clean-shaven and younger than I've seen him in years. He was in great spirits. His voice bore the after-effects of whatever has been ailing him, and he did no singing, but spoke to the audience a bit, with warmth and humor through the hoarseness.

Weider and Ciarlante provided superb support, along with bassist Mike Dunn of the Crowmatix, but the revelation of the evening was Guitarist/Pianist/Singer Jimmy Vivino of the Conan O'Brien show band, who took lead vocals on every number and was simply powerful. A real highlight for me was his bluesy rendition of "Strawberry Wine" off of Stage Fright. ("Here's a song written by Mr. Levon Helm...")

Levon spent the whole set at his drum kit, and just loved performing before a full house again, it was plain to see. (probably 900-1,000 people)

The Waters Band had its moments, especially when 85year old Pinetop Perkins joined them for the final 3 or 4 numbers of the night, and during drummer "Big Eyes" Smith's vocals on I'm a Man. Good guitar licks were contributed regularly by Luther "Guitar Junior" Johnson and especially Bob Margolin. But the overall effect was "another night, another town, another show, what are we gonna do later?" There's nothing more disconcerting to me than a performer who yawns and looks at his watch while in concert. Waters Band frontman/harmonica player Jerry Portnoy did lots of both.

---
Sun Mar 14 15:19:38 MET 1999
Tim(SUNDOG)Corcoran
From: Mad City
Home page


Whats New, there's also a good picture of *MARIANNE FAITHFUL* with *MERL SAUNDERS*. Click this homepage to get there. Thats JAN for that Whats New, I'll have to get that CD!!!

---
Sun Mar 14 15:17:07 MET 1999
Ragtime
Hans van den Berk: ik probeerde je "clip of the week" te beluisteren, maar kreeg alleen de boodschap "error". Is de URL correct?

---
Sun Mar 14 15:10:23 MET 1999
Tim(SUNDOG)Corcoran
From: WHERE *MERL SAUNDERS* IS JAM'N 04/11/99
Home page


Threre's a song by *BOB DYLYAN* on the BLONDE on BLONDE LP. called "4th Time Around". If your lucky enough to have this gem, put that one song on and listen to it and the meaning that Bob is trying to get across. Now that you've heard it, WHAT DOES HE MEAN BY: "So I put my hands in my pocket and FELT with my thumb? BTW, its better with headphones. Have YOU ever felt like THAT???

---
Sun Mar 14 14:22:40 MET 1999
Peter Viney
DAVE Z. Baby Don't Do It: Though The Band is "the white" version, it is more "primal" and "urgent" than Marvin Gaye's. As Phil says, Marvin's is cooler and smoother, but Marvin has an effortless intensity. As on "Lovin You Is Sweeter Than Ever" I miss the finger clickin' / hand clapping / tambourine tapping atmosphere that Motown did so well in The Band versions.
My first thought was "Oh, this must be on at least a dozen Motown compilations …" but it isn't. Nor is it on single volume Marvin Gaye collections. It's on the box set "The Master 1961-1985", and reluctant as I am to mention a 4CD set as the source, this is a superb collection. Most of the original Gaye albums were re-issued cheaply a few years ago on CD, and this was on "How Sweet It Is To Be Loved By You" (January 1965). If you're looking for vinyl, the three LP "Anthology" has it. Also look for the budget compilations that have the second level of hits rather than the first.
The song was an A-side and a US#27 "pop" hit in September 1964. Marvin was on a good run with this just preceding "How Sweet it Is". I had the single and I was very familiar with the Marvin Gaye version long before I heard The Band version, which maybe confirms my theory about the first one you hear. I'll also add that I am a long-term Marvin Gaye fan, dating back to "Can I Get a Witness". And for UK readers that means I had a scooter and a parka jacket in 1964.
As for "It's all Over Now, Baby Blue?", which version? I'll take the Dylan original over the Them version anyday. I heard the Dylan first. There's a pretty dreadful bootleg 1993 Dublin version by Van & Dylan (with Bono, Chrissie Hynde & others). Van's 1998 "Just Like A Woman" was superb and I reckon he'd do "Baby Blue" justice now.

---
Sun Mar 14 14:17:19 MET 1999
Hans van den Berk
From: Holland
Home page


From 14 to 21 march, you can hear a Band related song on my Clip of the week page. Levon Helm sings with John Martyn in 'Rock, salt and nails.'

---
Sun Mar 14 13:43:52 MET 1999
Sean Jockel
Does anyone have information about the band's 1990 album that the bone heads at CBS rejected. Are tapes from this album in circulation? I saw the track listing but don't recoginize many of the tunes. Are any of these originals? I have checked dozens of tape trading web sites and only see the same live recordings over & over again. Is there a boot cd of these sessions around?

---
Sun Mar 14 09:42:02 MET 1999
Ilkka
Home page
UNSCIENTIFIC GUESTBOOK STATISTICS
Statistics I've got from Geocities indicates that this GB has many FIRST TIME visitors (or those who have come back after a break). Assuming that only a minority of this kind of visitors open my *Visit Card* page I have estimated that there are 500-1000 visitors of this category here in a month. - Guestbook is popular and there seems to be many to recruit.

---
Sun Mar 14 04:52:13 MET 1999
Donald Joseph
Then again, my 8-yr.-old IS the son of Donald Joseph.
Maybe the name of this concert won't mean much to your average turn-of-the-century MTV-addled rock fan.

---
Sun Mar 14 04:45:03 MET 1999
Donald Joseph
From: Land of "The 1st Waltz"


This "The 1st Waltz" concert really is for real. I heard a d.j. discuss it on WXRT today, & I heard an ad for it also on 'XRT. It's billed as an 'XRT show. The d.j. made a big deal about Smashing Pumpkin Billy Corgan & his dad playing (to which I say "so what?"). The 'XRT hype does NOT play up the show as a tribute to The Band -- they just list all the guests, with Ricky's name appearing in the middle.

BUT: My 8-yr.-old boy heard the ad and said "Dad! We have that video!" I had to say "no, son, that's 'The LAST Waltz." The point is, though, that my 8-yr.-old made the connection instantly, so maybe billing the show as "The 1st Waltz" will resonate as a Band-deal, even if this Corgan guy's dad gets higher billing than Rick.

The show is a benefit for a local charity & tix cost $30 ($5 more than The LAST Waltz, not inflation-adjusted.) I'll have to miss it, as I'll be ion Europe.

On the ad, although they didn't make any explicit Band reference (other than the show's title & including Rick's name), they did have a Garth organ solo playing in the background.

Those of you defending Serge are to be credited for your Christian turning of the other cheek. I'll try to be as forgiving. I have stuck in my mind some horrid attacks he made on others (not me, thank God) some months back -- I remember distinctly he flamed someone at his office computer (someone who had posted his work e-mail). This person pleaded on the Guestbook for Serge to stop -- he felt his job was threatened. I remember others whom Serge flamed by e-mail, spewing unspeakable obscenities (according to the victims' subsequent Guestbook accounts). The victims posted pleadings for peace.

This is why I've never posted my e-mail address: I'm concerned about one guy who doesn't know where the line is. Those forgiving souls among you are to be lauded for your kindness, but there's another line: The line between kindness and opening yourself up to becoming a victim of an attack.

I'm explaining myself only so you understand my prior posts. If you think I'm exaggerating what went down in months past (I think this stuff peaked in Spring or Summer '98, if my memory serves me well), then go into the archives & read for yourself. It's sobering.

---
Sun Mar 14 04:06:36 MET 1999
Phil
From: Ca


Dave Z: You may or may not be surprised. Lets just say it's a bit smoother(than the Bands) . By the the way, it was a B side for Marvin Gaye, of what I can't remember. My single of it (Bought out of curiousity by the Band's version) was stolen. I'm sure it must be on some compilation though. Maybe Viney could help?

---
Sun Mar 14 02:41:19 MET 1999
Dave Z
From: Chaska, MN


Peter Viney: Since you're listening to Van, What about "It's All Over Now Baby Blue"? Do you like Dylan's or Van's (i.e. Them) version better? I think I am going have to track down the Motown version of "Don't Do It" because I can't envision a more primal version than the Band's. Even if they are white guys.

Someone mentioned Iris De Ment (spelling?) earlier. I agree with your post. I also come here to get ideas for new music to listen to. My apologies to Donabie and others but I just don't expect to hear the stuff I am looking for on the radio in Mpls. Heck, they swap formats so often I can't even keep track of whether a station is playing country alternative or classical anymore.... So was Iris De Ment the lady who sang the closing song to Northern Exposure's last episode?.... I think I also may buy Largo too after reading another guestbook recommendation.

---
Sun Mar 14 01:46:37 MET 1999
THE DANCING BEAR
From: OLD OLD WOODSTOCK


CONGRATULATIONS TO MICH AND MAZAL TOV TO HER FAMILY AS SHE CELEBRATES HER BAT-MITZVAH. RICK, LEVON, GARTH AND THE BOYS.

---
Sun Mar 14 00:06:32 MET 1999
Ragtime
...(insert Garth's Lowrey organ now)...

---
Sat Mar 13 23:49:17 MET 1999
Ragtime
From: a former regular poster


Just checked the archives & found out how repetitious this all is. Litterally all has been said before. Even I lost my usual good humour for a while & forgot my "Think Before You Post Ragtime" motto. Wish I hadn't.

Well said Donabie, you're a wise man...

---
Sat Mar 13 22:51:41 MET 1999
Pat Brennan
From: Just south of Canada


Flaming seems to be a harsh reality of the internet. I don't think closing the Guestbook down will relieve us of it. It will simply pick up after the GB reopens. Of course, when you think of the Levon/Robbie "feud" and the emotions that has engendered, it's not surprising that our little world here has its share of disagreements. It's part of life. Heck, John D, I'd miss ya pally.

---
Sat Mar 13 22:41:17 MET 1999
John Donabie
From: Toronto...where it all began....er maybe London


I've been reading the likes of Jo Jo White...Mrs. Amused....the fake Levon piece etc etc etc.

Maybe it's time to shut this guestbook down. It's becoming a place for middle aged kids to hang out. The music of The Band is secondary and an insult to them. I for one am going to observe for awhile and see what happens. David Powell is one of the main reasons I stay on this site. I wish he would write a book. He brings sanity and a feeling of center. I always love it after a number of hate posts, David just jumps in with no mention of what has come before and hits us with a great musical post. All these other cheap shots at Serge, Viney and others is bull.

I once remember a teacher of mine; after having one hell of a day dealing with us said, " We may live in a democracy...but not in this classroom. Here it's a dictatorship and I'm in charge!" Is this what this site has become? We all come here apparently; for different reasons. If you do not tolerate others..what's to happen? When I read a fake Levon piece a Jo Jo White piece or DJ placing bets when Serge will come back (intimidation)..I find that more offensive than anything. Last year Serge and I had a few words; but if your an adult you get em out, let them go and later you restore a dialogue. They're only words folks.....remember sticks and stones etc. It's called being an adult.

Then again I'm a Canadian eh? Always the peacemakers. Let's get back to something substantial. Flame away Jo Jo..& by the way, just for the record, I'll take the pictures any day. Like King Curtis once said....one dash of Viney plus one pinch of Powell plus a garnish of Serge....Now Beat...Well. (insert sax solo here) Did King say that? I feel like some Memphis Soul Stew via Le Coq Dor.

---
Sat Mar 13 22:13:20 MET 1999
Uncle Hangover
From: Austin, TX


Can we get back to the music now? If you want to address Serge or Viney or Munson or Donabie or Jan anyone else with personal messages, then use e-mail. Guestbooks and newsgroups and such are not for personal messages and arguing, ok?

---
Sat Mar 13 22:02:43 MET 1999
Lil' Abner
From: Dogpatch


Isn't Jo Jo White just the kind of gal you'd be proud to bring home to mama. I hope it's a gal. Got some soap from mammy's kitch'n fer her and wash out her mouth. Bet her mama's proud

---
Sat Mar 13 21:49:07 MET 1999
Neutral Gear
From: USA


JO JO WHITE: I am no Serge fan, but I have to "call" you on that last post. I never heard Serge say anything about setlists being of "utmost importance." In fact, I think he said the opposite.Last week he was giving us (the people who read the guestbook) ideas on what we could talk about, etc. It's not WHAT Serge says as much as the WAY he says it. He's very aggressive and insulting to anyone he disagrees with. BUT----he doesn't deserve bad treatment any more than you or I. He's done nothing wrong (at least not YET) today, so why is there this anti-Serge movement suddenly floating around?

If we want the guestbook to be kinder, we have to start with fair treatment for everyone, including Serge.

---
Sat Mar 13 21:01:14 MET 1999
Jo Jo White
From: Boston


What a whiner this Serge is. He is always complaining about people voicing opinion's, but then he tells us that , in his opinion set lists are of utmost importance. Well maybe for some it is, but personally I couldn't care less. As for his photos, they are interesting but if seeing another one of his pictures means we have to deal with more of his bullshit, then I'd like to tell Sergio to keep em and shove them up his stinkin opinion hole. This guestbook kicks ass because of people like Viney, Powell and Joseph, losing one of them would be a shame, losing you would be a blessing. But you've already proven youself as a LIAR once, chances are we haven't smelled the last of you.

---
Sat Mar 13 20:28:29 MET 1999
Mrs. Amused
From: The Waters of Oblivion


Serge will be back on April 1. Betcha one US buck. My husband is gone for good, though. Say, it ain't so, Serge...gotta go sew my long, black veil...

---
Sat Mar 13 20:07:07 MET 1999
Pat Brennan
From: USA


I thought I'd mention that Ricky Lee Jones did a monstrous version of Walk Away Renee on an EP some years back.

---
Sat Mar 13 19:02:03 MET 1999
Donald Joseph
From: Just back from Minn.


No lamentations over Serge's yet-again "adieu" from the Guestbook! Why not place on-line bets over when he'll be back? I'll start: I predict Serge's next post on April 25, 1999. Let's see who can come closest.

Pat Brennan: Great post (3/11).

Ben Pike: Great post (3/11), too. But was "glorifying kenny [sic] Starr" an allusion to ME? I hope not. I hate that ass-hole. He actually blew me off at a cloctail party once (no joke). He's a rude little bastard. Also he's a hypocrite because he's the most political animal in the jungle, yet he pretends he's above politics. You NEVER read a pro-Starr comment from my keyboard!

Bumbles: "Endless, malodorous blasts of wind"? Ouch!

Has anyone else noticed that the horn riff which opens "You See Me" off Jubilation is a direct lift from "One More Cup of Coffee" by Paul (Canadian, Letterman-sideman) Shaeffer?

Rod: Yes, the tape hiss behind the piano intro to "River Hymn" is radically different from the background tape noise in the rest of the tune. I, as well, always find this jarring.

Chris L.: Since you asked, my opinion on Buffett is he's ok -- I once caught his act where it was meant to be caught, in Florida. But I never bought into the Cincinnati faux-Florida parrothead schtik. I do respect Jimmy as a songwriter, performer & wiley businessman. I used to play "Volcano" on my college radio show a lot. But he's a tad "lite" for my tastes.

---
Sat Mar 13 18:47:09 MET 1999
Charlie Young
From: Down in Old Virginny


The Band is mentioned a few times in the latest revised edition of an amzingly well-researched book by British author Johnny Rogan: THE BYRDS, TIMELESS FLIGHT REVISITED. Although not yet published in the US, the book may be ordered from www.musicmachine.com (they say it is their best-selling book right now). This edition is a 735 page hardcover and contains considerably more information than the old edition listed on Amazon UK. The most chilling part of the book mentions how many of Byrd Gene Clark's "immediate circle also died prematurely, all within a short space of time." The author refers to Richard Manuel as a "drinking buddy" of Clark's and goes on to mention that his friends Harry Nilsson, Nicky Hopkins, Jesse Ed Davis, Thomas Jefferson Kaye and Gary Usher all died during that period. Sounds like a case for Oliver Stone...

---
Sat Mar 13 18:39:48 MET 1999
Kevin Gilbertson
From: NE PA


If anyone owns a copy of the CD, "Live at the Hollywood Bowl", please EMail me or reply here. Is your copy a CDr?

I recently aquired the CD version (originally a Vinyl bootleg) and it's actually a CDr. I'm trying to determine if all the CD versions floating around are CDr's.

Thanks.

---
Sat Mar 13 17:56:04 MET 1999
Peter Viney
Thanks Ilkka and Bill, and the e-mail correspondents too. I would never have thought of "Out of the Blue" as among the first 50 Band songs to come to mind, but I'd be wrong for Canada. Strangely enough I got into the car this morning and pushed that "ON" button on the stereo just as 'Rag Mama Rag' was starting. Didn't remember having a Band CD in as I've been switching between Van Morrison & The Cate Bros all week, then realized it was BBC Radio 2. First time I've heard The Band on BBC Radio in years, and it's the track that was their biggest British hit.
With a lot of long-established artists the record companies churn out collections which mainly recycle the same few tracks. A large body of work gets reduced to those few tracks.
"Walk Away Renee" illustrates something too (and I'd agree with Bill that Rick Danko could do a fine version of this). Is the first version of a song that you get into - whether it's the original or not - going to stick as the definitive one? It's not always true, but it happens a lot.

---
Sat Mar 13 12:11:27 MET 1999
Ilkka
Home page
Please notice that English is only my language #4. Don't put the single words under the microscope.
Re: PETER VINEY - ABOUT THE OTHER COUNTRIES
Finland in the sixties (where I spent my early years) was not behind The Iron Curtain. Records could be bought and influences came freely from England and the US. Broadcasting was in the hand of the government, as it was in other Nordic Countries. Well-meaningly, I should say, in a BBC style. Very little pop or rock in TV or radio - 45 minutes a week actually. If you happened to be in your Grandma's kitchen just then, well that was the place to get your weekly dose of the music you desired. On the other hand, the quality was so high that you don't come even close to that nowadays when the air is full of commercial broadcasting. - But, sadly enough: The Band was overshadowed by Bob Dylan.
There was a band with their own material which surprised the audience in the festivals by playing nothing but The Band covers. It is only a coincidence but the name of that band was - WIGWAM. (What a *perfect* opportunity to an unserios rock historic to make an after-reconstruction of the name and RR's career!)
BTW The Finnish rock journalist, represented here in the Library section, is a serious guy who has all these years payd a tribute to The Band.
The important political aspects were discussed here before the Christmas.
The Band was in Finland in a rock/blues festival a couple of years ago. I'm afraid, it was a fiasko.
I can't say not much about Sweden. I just checked the leading web store: The Band is only found under the name Dylan (Before The Flood) but the Albert Hall CD is sold even in the market nearby. - How about New Zealand, the land with same geography, social system and size? Let's hear about it!
And now the prize to you who took your time to read this. In case you meet a nice girl or a boy (like me ... eh) in Finland it is good to have that great opening line. (Jan! As you know those funny points over some letters can't be done without HTML codes - let's keep the fingers crossed now...)
Do you like The Band? =
Pidätkö The Band -yhtyeestä?
Not much statistics after all, Peter!

---
Sat Mar 13 05:25:45 MET 1999
Tim(SUNDOG)Corcoran
From: Mad City
Home page


Hey Levon, Go out yonder, PEACE in the valley, come down town, have a rumble in da alley, ooooooooooh you don't knooow the shape i'm in....

---
Sat Mar 13 05:11:59 MET 1999
Rob Friedland
From: Montebello, NY


Just got back from seeing Danko at the Turning Point in Piermont NY. Enjoyable show as always. Ophelia, Book Faded Brown, Blind Willie McTell were standouts. Aaron was an appreciated backbone of the performance, and Rick was happy to be back at the club. I took my wife who had not seen him since 1989 at the Pursuit of Happiness in Liberty NY and she almost had a better time than I did.It's a tiny little room maybe a hundred people, the best way to see Danko.

---
Sat Mar 13 04:55:00 MET 1999
Paul Godfrey
Yes Bill is wrong John. You had 26 listeners and I was number 26 wondering how a country boy from north of Peterborough could ever break the Toronto market. Lookin' back the Hawk had more to do with my arrival down Yonge Street and over to CFTR then many might imagine. My license plate is just a number but yours tells the real story. Luckily I escaped the stills and got to tell a few tall tales and Ronnie led to Levon and still another Levon and a whole music world was waiting for us in San Francisco. Well so much for a glass of wine and a Friday night. It may have been the Last Waltz but the dance isn't over yet.

---
Sat Mar 13 02:05:08 MET 1999
John Donabie
Ah C'mon Bill Munson. We had at least 25 listeners. Seriously Bill brought back a bittersweet memory. My claim to fame in this crazy business of radio in Toronto is that Donabie was The Band guy on the radio. I tried to break every single from 1969 though 1979; but the reality is that The Band were not a singles act. The FM revolution (underground...freeform) whatever you call it; was a saviour for The Band. It's also interesting that in musical history books Bob Dylan is a mega star. In reality he only had a few hits. Once again Dylan was not a singles artist. To this day though I will meet old listeners and they'll say..Oh yeh...your The Band guy. I guess that's why I am now in News-Talk radio. Music radio doesn't do much for me anymore. "LESSSSS TALK & MUCH MORRRRRRRE MUSIC." Echoes of Bill Drake.

---
Sat Mar 13 01:50:21 MET 1999
tom izzo
From: waterbury ct


Sorry... I almost forgot. JAN: As I said before: If you're ever in New England..you got a home. Peace: Tom and Marianne

---
Sat Mar 13 01:39:30 MET 1999
tom izzo
From: ct


Oops: Thank you Jan!!!!!! As I said before ,if you are ever in New England you have a home. Peace:Tom

---
Sat Mar 13 01:32:31 MET 1999
tom izzo
From: waterbury ct.


BANDFANS: PLEASE remember it's the MUSIC...the MAGIC of THE BAND that we all log on and express our thoughts on one of the most influential musical ensembles ever. LORD knows they have influenced my playing in so many ways I couldn't even begin to give thanks.Guitar,slide, harp,songwriting and on and on.It grieves me when I log on and find fellow fans commenting about grammatical errors, personal zings etc.. that have been posted. Oh well... I do go on don't I? Anyway... Hope to see some of you ladies and gentlemen tomorrow night at the Barvadon. It's looking like it's gonna be a kick a** show!!!! Scott,Karen,Marianne, and myself will be there.I'm so excited my teeth itch!!!! Stop by!! Row K seat 6 Peace to all: Tom Izzo

---
Sat Mar 13 00:59:03 MET 1999
Mitt Stampler
From: where every little thing counts
Home page


Like I've said before, I've heard of folks having a case of the Mondays, but never the Fridays. Slightly bad taste...am I alone in thinking this? I'm just going to listen to "Live at Watkins Glen" and suck back the Redi-Whip can till I get the sour taste out of my mouth. Les: Pencil-whipped, among other things. But I'd sensed trouble sometime last fall (perhaps it had something to do with the fact that my colleagues were disappearing like Soviet dissidents in the night, not to mention the numerous requests to attend "training meetings" that I left ignored) and applied to law school. I had a very brief interview with a bottom-feeder dean who whose job it was to interview candidates. She asked me what kind of law I was interested in, and I figured that she probably had thirty-five other prospective lawyers sitting in her office that day who either said that they wanted to be the next Vincent Bugliosi or who mumbled something about "justice," meaning that they wanted to do tax law in NYC. I said that due to a lifelong interest in shipping regulations, I wanted to be a maritime lawyer. She actually looked up from her legal pad for the first time in the interview and asked "Why?" I told the truth, which is almost always a mistake: "Because I love to fish." I don't think I impressed her, but I know she remembered me: I got in. Peace, and my advice to all--Don't go see "Wing Commander," it was dreadful. Freddie Prinze Sr.'s son deserved a better movie--Geez, I miss "Chico and the Man," and it went off the air the year I was born.

---
Sat Mar 13 00:18:39 MET 1999
Just Sittin' Here Wonderin'
From: Outta the blue


Ok Jan, who's impersonating Levon? Expose him/her RIGHT NOW!!!

---
Fri Mar 12 23:50:13 MET 1999
Les Thierolf
From: Kansas City, MO


Yeehaa! Basketball tournament again! Just checking to see if you're paying attention. I did't do the basketball rant last year at this time but it did make me laugh and got me to thinking about how I had thought for the last year that Ryan Robertson of the Kansas Jayhawks bore a striking resemblance to our Robbie Robertson. Ryan is a 6'5" guard. Of course, Robbie has only been a Robertson for 40-50 years. Ryan is from St. Charles, Missouri in the St.Louis area. He was the Missouri basketball player of the year and when he chose to go to MO's archrival Kansas the state went nuts. Everytime he touches the ball when KU played at MU he has been booed. Ryan is an academic all-american, a good interview and by all accounts a pretty good guy. In exactly two hours Ryan Robertson and the Kansas Jayhawks play Evansville in New Orleans! Robertson stay of Decatur Street.

In the same issue of the St.Louis Post-Dispatch that I was reading about Ryan I glanced at a story on the Missouri Tigers women's team. Their big star was Julie Helm. Julie is from Indiana and a large family with several athletes in it. The article said she didn't want to be involved in the basketball-crazed Indiana scene so decided to go to the more laid-back Columbia, Missouri. As a junior this year she led the Tigers in scoring. There was a picture in the article and she looked like a strawberry-blonde/Scotch-Irish cousin of Levon? I would also bet she is as tall or taller than Levon.

In dropping-off my daughter at school in Liberty, Missouri (Jessie James country) I have been inundated with local mayorial campaign signs. The incumbent mayor is Steve Hawkins! His challenger - Jim Robertson! Arghh! Everywhere I go are signs for Hawkins or Robertson. What is the election for - best 'Leader of The Band'.

Les.

p.s. Mitt S. re: the job deal. As my favorite musician from Arkansas says (not Roger Clinton) "Girl, I believe you've been pencil-whipped."

---
Fri Mar 12 23:48:32 MET 1999
Joe
From: London


Sorry Freddy: I showed my ignorance. I thought Jimmy Buffett was a wind up. I'll check him out (specially after the recommendation from diamond Lil: incidentally I always think of WS Walcott MS 'cos of the diamonds in her teeth)Can you explain the Limey Pie crack please? I'm curious not mad!

Thanks Lars for the tip ref Largo too. I guess one of my motivations to access this site is to find out what new music people who love the Band are listening to, so I can find new stuff (The Band died with Richard: and IMHO the only one with any hint of a soul (black) voice). I'm not saying the trivia or Vineyesque arcane stuff is wrong or anything; it seems pointless to me: so sorry to anyone who may have taken offence. Nice to see some new contributors too! PS Anyone into Iris De ment? How about Massive Attack: the top band now!!!

---
Fri Mar 12 22:19:16 MET 1999
Bill Munson
From: Toronto


I agree with Ragtime. The Left Banke's version, the original as we all now agree, is the definitive version. I can't imagine how anyone could think otherwise. I also agree that it sticks out from the rest of the Four Tops' work - or at least from the other hits. Both versions get played on oldies radio around here, and while the LB's sounds as lovely and delicate as ever, the FT's is really excessive. (Didn't Billy Bragg include a snippet in his song, "Levi Stubbs' Tears"?) But not as excessive as Levi's immortal "Eat Me" number in Little Shop of Horrors. I bet Rick Danko'd do a helluva job of Walk Away Renee.

I think I, if not all Torontonians or Canadians, tend to see "The Weight" and maybe the intro "Chest Fever" as THE Band songs. "Up On Cripple Creek" and "Out Of The Blue" were the only radio hits that I remember (on my favourite stations anyway). Cripple Creek was top 10 in Toronto, I believe, but "Rag Mama Rag" did nothing.

"The Weight" is now played on the local oldies station as if it was a hit, but I don't think it was when it was released. John Donabie, bless his heart, did his best to make "The Shape I'm In" a hit on his declining top 30 station in the early '70s (just before he jumped ship to FM radio), but CKFH had only about 17 listeners. I guess it's of some note that "The Stones That I Throw" did quite well on the Toronto charts, outselling almost all of the Band's records. And even "Uh Uh Uh" made some charts around here.

---
Fri Mar 12 21:55:21 MET 1999
Peter Viney
From: Department of Excessive Statistics


Walk Away Renee shines a light on different national perceptions. At the knowledge level, I was aware of The Lefte Bank 1966 original (US #5) compared to The Four Tops 1968 version (US #14). But at the visceral level, it's a Four Tops song to me because they had the UK hit (UK #3) while the original didn't chart here. And when Levi Stubbs gets hold of a song, it stays held. No competition. (Ditto If I Were a Carpenter).

This leads me to The Band. Their biggest UK chart place confirmed Levon's predictions of a hit - Rag Mama Rag got to #16 (US #57). The Weight is next at UK #21 (US #63). On the face of it, Somewhere Down The Crazy River did better than either (UK #15). Not that a 1980s bestseller shifted as many copies as a late 60s bestseller. In the US, their biggest chartings were Up On Cripple Creek (US #25) and Don't Do It (US #34). As I posted earlier, The Weight was a hit for three other artists in the USA and on no less than 5 hit albums (Aretha, Supremes + Temptations, Big Pink, Jackie DeShannon, Easy Rider OST by The Smith). So it sold way more as a composition.

Compilations and passing time colour our vision too. A British audience would recognise The Weight as The Band's defining song, not Rag Mama Rag. With the high availability of so many Motown compilations, there must be a lot more copies of The Four Tops "Walk Away Renee" in circulation in 1999 than of the original. Having said that, I haven't heard the Lefte Bank version in at least 30 years. Will seek it out.

The point (at last) is how do Band perceptions / hits differ in other countries? What about Canada? Norway? The Netherlands? Australia? New Zealand? Germany? Oh, and RR too.

---
Fri Mar 12 21:43:15 MET 1999
Rod (again)
From: N.Z


The guitar RR plays at the end of TLW is a Gibson Harp guitar from the 1920s. It is a very rare instrument that as 12 extra base strings - 1 for each key. I think they were used by mandolin bands which number of unusual instruments including harp guitars and mando-cellos.I remember seeing a picture of one of these bands. They had a gigantic bass guitar which seemed to be modeled on the Gibson 0 series range.

Anyway, I'd give my right arm to own a harp guitar.

---
Fri Mar 12 21:38:55 MET 1999
The Man from U.N.C.L.E.
What a day! A friend told me about "Jubilation" this morning, so I got that one. Great to hear the boys again. The first two tracks are dynamite! Then I saw the URL in the booklet and found this site! Now it's three hours later and I still have only scratched to surface here! What a wonderful find! Now ... who has got a copy of those Gold Star sessions? I've been looking for rhose for decades! Please answer in this forum, I have bad vibes on giving out my e-mail address. Who the heck built this site by the way? It's incredible!

---
Fri Mar 12 21:29:53 MET 1999
Rod
From: N.Z


Little Brother: I agree with your ying and yang comment.

Peter V: I once read an interview with Robbie in which he was talking about some movie he was planning to make. His comment was something like "and it won't be about some guy who goes down to the river and gets stung by a snake"."Moon Struck One" is a great title though, just a pity about the song. To me it sounds like GH is playing piano on "Talking Out Loud" in a very New Orleanish Moondog Matinee style. The intro to "The River Hymn" sounds like it was a bit Garth added on after the song was recorded. Something sounds funny the moment he finishes playing and Levon comes in. RM probably played piano on the rest of the track. But I could be wrong.

---
Fri Mar 12 20:32:10 MET 1999
tom izzo
From: waterbury ct


I think I saw Robbie playing a rather large instrument once that was part guitar and part lute. Believe it was called..........a big galute. sorry...peace: Tom

---
Fri Mar 12 20:06:22 MET 1999
Ragtime
Walk Away Renee was a Left Bank original. What's more: I always considered it an odd-one-out in the Four Tops repertoire. Uncharacteristic Motown stuff. But what do I know...

---
Fri Mar 12 19:27:29 MET 1999
Bill Munson
From: Toronto


Really enjoyed the Garth Hudson interview, especially the nice description of Richard Manuel's contributions to the songmaking process. I wonder if the tabla player cited as an influence would have been the Bengali Baul guy?

On another note, I thought the Left Banke, not the Four Tops, did the original "Walk Away Renee". Wasn't it written by group-leader / cult hero (and later founder of the group Stories), Michael Brown?

---
Fri Mar 12 19:00:58 MET 1999
Charlie Young
From: Down in Old Virginny


Paul Godfrey: I once read that "The Boxer" took over 200 hours of studio time to complete, so your story sounds right. I wonder if Zimmy took as much as two hours recording his version:) A Dylan-Simon concert could be great; no two songwriters have made more money stealing public domain melodies and calling them their own than Bob and Paul. That's one thing Robbie never did, unless some of his Native American stuff "borrows" aboriginal tunes.

---
Fri Mar 12 18:06:13 MET 1999
justin
From: flint, mi


scott: wonderful comments, do you guys play anywhere? there is something about a crowded bar (whose patrons are completely juiced) and band tunes. you must feel the rush once you kick into "cripple creek" or "look out cleaveland". the sound. the fury. the unmitigated power of good music played at a volume that could rival a 747 taking off. quite possibly a religious experience. good times and good jamming to you!

---
Fri Mar 12 18:01:01 MET 1999
Peter Viney
Following the Paul Simon link, one song on Peter Yarrow's album "That's Enough For Me', "Groundhog" was written and produced by Paul Simon with a credit of 'special help from Robbie Robertson. Levon Helm, and Garth Hudson.'
Diamond Lil: Have a great vacation.

---
Fri Mar 12 17:37:15 MET 1999
justin
From: flint, Mi, baybeee!!!


THIS SITE KICKS TOTAL ASS!!! , since you wonderful folk have so recently been obsessing over danko's 6 string bass maybe you could help me out. what is JRR playing at the end of TLW? if i rember correctley, it had multiple necks (but didn't resemble your average double-neck a'la jimmey page) thanks!!!

---
Fri Mar 12 17:28:47 MET 1999
Paul Godfrey
Ben P. There is a link to Simon & Garfunkel and the Band....well sort of. Fred Carter Jr. of Levon's RCO All-Star Band played the :08 second intro to the "Boxer." He was so intent on getting it right...he practised it (all 8 seconds) for more than 12 hours before laying down the track.

---
Fri Mar 12 16:03:11 MET 1999
David Powell
From: Georgia


Following up on Paul Godfrey's post on the evolution of a song--- A piece of music or a great song is not created & frozen in stone, to be exhibited in a vacuum. Music is a living & breathing thing, growing with each time it is played. In the proper hands, each new interpretation breathes new life into a song. The wonderful thing about music, also, is that it goes beyond its literal form as created, taking on new meanings for each listener. Take a great album like _The Band_ and think about the first time you heard it. When you go back & play it now, each song has grown in meaning for you over repeated listenings. In addition, those of us who were fortunate to have heard the Band perform the songs live, have those memories that further embelish the beauty of the music.

Don P.-- the title of Van's new album says it all, _Back On Top_. Once again he's achieved a nice balance between the rhythmic groove & the meditative. Pee Wee Ellis on sax rules!

---
Fri Mar 12 15:14:31 MET 1999
Ben Pike
From: Cleveland Tx


I for one, love the idea of Bob touring with Paul Simon. To see these old rivals team up could be both tense and touching(maybe they'll do "The Boxer?!) . Now if we could just get Levon and Robbie...... Had some fun in the library, allthough the new peice on Levon is sad to say the least. Wish we could get Ralph Gleason's original review of the brown album in there. Only saw that once...... Had some fun in the

---
Fri Mar 12 12:17:05 MET 1999
Diamond Lil
From: The Web


Going out of town for a few days with my 7 year old and 9 year old (which means I'll probably need a vacation _after_ the vacation!) Figuring on Rock of Ages, Jubliation, and DFA for travelling tunes (little people know all the words to "Bottle of Wine".....hmmm...go figure:-)

Spider John: See ya Saturday. Promise to tailgate...err....drive.....carefully :-)

Tracy: Thanks for posting that nice tribute to Richard.

Charlie Hawker: Have yourself a peaceful weekend and keep smiling. Love You:-)

---
Fri Mar 12 05:58:42 MET 1999
Tracy
From: the den


I found a moving tribute to Richard in my articles/scrapbook. Pleas enjoy this and maybe we can keep this in mind. This comes from the late great Jesse Ed Davis in Rolling Stone in '86.

When Richard Manuel and I were both seventeen, we were already seasoned road dogs. He, of course, played with Ronnie Hawkins and the Hawks, while I picked with Conway Twitty. He always had a ready song or a timely laugh...Much later, as a couselor for the American Indian Free Clinic, I tried to get across the idea that suicide is a permanent solution to a temporary problem. I'm gonna miss you, "Beak." You made the music really mean something to me.

---
Fri Mar 12 04:00:39 MET 1999
Scott Duncan
From: Central Ct.


Just got home from a jam session at my buddy Tom Izzo's house. We decided to work on some acoustic versions of Atlantic City,Up on Cripple Creek and the Weight. Tom on guitar and lead vocals, his wife Marianne on harmony and myself on mandolin and harmony.(I even got Levon's mandolin intro to the Weight down).... What a great time!! I don't know how many of you Guestbook Viewers are closet musicians,but playing the boy's songs can be quite a powerful rush. Saturday night we're going to N.Y. to catch the Muddy Waters Tribute Band and Levon and the Barn Burners. I hope Levon will sit in with MWTB and do his number from the CD. See Ya There......

---
Fri Mar 12 03:53:32 MET 1999
Don Pugatch
From: Roswell, Ga


David, keep on ranting, at least your rants are constructive. E mail me , lost you address. Need to get back to doing the taco circuit again. Anyone out there picked up Van's new CD. Local fish wrapper here claims it's a winner, a B+. Comments?

---
Fri Mar 12 02:49:21 MET 1999
Paul Godfrey
D.C. Like Mitt says...please share your stories. You and I come closer daily to a time when we shall be released. Most who read what you have to say will not respond here, but take away a memory or a smile that especially Richard never minded passing on to brighten someones day.

---
Fri Mar 12 02:39:56 MET 1999
catbalu
From: "A touch of gray seems to suit you anyway...."


What great posts and conversation in here, now.... like the sun's come out, showing that every silver lining has..... i'm with DaveZ and David Powell....... Hopefully, Mr. V, RR will tire of being the Chief of Chiefs and remember when. Have no doubt Levon's fortitude got them through some lean times (as his chile takes no prisoners) and oh how Garth's talent deserves to take a higher seat. And Rick, what a sincere soul shines in his smile. Sorry, predominantly male middle-agers, so i'm a mother (of boys, like i've said, and they love themselves, let me tell you). God give me strength..... i'm gonna be...... "sepia tinged" often, and proud of it. Just like the 4 hawks this past weekend - and i say only four as the other was hovering in the shapes of the clouds - brought the gentle breeze to lift them higher. What peace thoughts of a guardian angel bring, the one who knows.... BTW - speaking of the old (well, not THAT old) passing down to the new (well, not all THAT new)... glad George Jones is still with us. Have listened to him and Elvis Costello all week..... did anyone else see the two together on, I believe, Austin City Limits? What respect, each for the other: " 'i will survive' when i'm gone".... glad some of you others know children are listening..... have a good evening.

---
Fri Mar 12 02:22:20 MET 1999
Charlie Young
From: Down in Old Virginny


The "Tribute to The Band" show with Rick in Chicago reminds me of the Byrds tribute tour he participated in back in the '80s. It's funny to hear this news now, because just yesterday I was thinking it odd that there has been not tribute album for The Band. Today I bought Artie Traum's new CD (described in Jan's incredibly complete discography on this site) and I was impressed with several things. First, the track accompanied by The Band, "Yankee Swamp," is the best track on this collection of instrumentals. With Garth, Levon, Rick and Jim Weider (on DOBRO!), Artie Traum adds a great lead guitar which reminds me at times of the late guitar genius Danny Gatton. I was surprised that Artie, not Jim, played the lead. Garth almost steals the show on organ a couple of times. Other great guests on the disc include John Sebastian, Bela Fleck, David Grisman, Sam Bush and Tony Levin.

---
Fri Mar 12 02:17:30 MET 1999
Gunnar Heldebro
From: Living in Montreal, Qc but originally from Kiruna Sweden


Wow This is quite a site. I was hit by THE BAND in the early seventies and haven't really recovered from that. Hopefully I never will. Even though I like all kinds of music The Band will forever be THE BAND for me. Regards, Gunnar

---
Fri Mar 12 00:55:10 MET 1999
Paul Godfrey
Music appreciation. Had a number of opportunities to sit in on many a class over the years. Marc Cohen relates to Elvis and the Delta Blues in Walking In Memphis. Robbie gets into that groove so often with his southern influences that took him down that Road with Levon and Ronnie Hawkins and others he came into contact with along the way. Consider how a song can take on so many twists and turns. Consider, "Moving On" by Hank Snow...then put it in the hands of Ray Charles for his country almost jazz approach. From there the song moved on to the Rolling Stones and all out rock n' roll. A great song will always be a great song especially in the hands of a great Band.

---
Fri Mar 12 00:29:58 MET 1999
Paul P
From: central IL


I was at a local record store and spotted two rare releases if anyone is interested. One was a Japanese release of stage fright and the other had a white cover but no song list and was titled "Whatcha want mama". Any info would be great or if interested i will purchase and trade for some live band tapes

---
Fri Mar 12 00:00:54 MET 1999
Dexy
Thanks Peter.

---
Thu Mar 11 23:35:47 MET 1999
Peter Viney
P.S. I',m aware that the only "Lovin You" in the grooves is a live version. I meant you had to be there.

---
Thu Mar 11 23:30:22 MET 1999
Peter Viney
David: great suggestion re/ RR and DreamWorks. Garth's instrumental music is so atmospheric that he would be a huge asset to any director. And songs from Jubilation. If only.
Can blue men sing the whites? An old chestnut we haven't rehearsed here (until now). If you look at what the Band said about "Moondog Matinee", they were never trying to replace or better the originals, just to show how diverse songs could be incorporated in a set and stamped with their individual style. Remember, none of those songs - "Baby Don't Do It," "Loving You Is Sweeter Than Ever", "Slippin & Slidin"- ever made it to studio albums. They were strictly live numbers. I still recall the thrill of them hitting "Loving You" at Wembley in 1974. I tried a test today. I love Motown as in car-music. Tried switching to The Band's versions after a batch of Motown - it doesn't fit. The Four Tops & Marvin Gaye do these songs better BUT that's not to say the Band versions are not highly enjoyable in a Band set. They do hit their own groove. I mean, I like Vonda Shepherd doing "Walk Away Renee". Of course the Four Tops original walks away with the accolades, but as a bar band version paying tribute to Motown with great economy of instrumentation, her version is fun. Fine stuff. But actually my favourite "Slippin & Slidin" is the Buddy Holly one, where it sounds like the record is slippin' and slidin' itself. Yes, of course The Hawks & The Band could play the blues as well as anyone. They could do Ray Charles & Bobby Bland and at least equal the originals. (In fact I prefer Richard's versions). Lee Dorsey? Getting very close. Levon was quoted as saying they could play Lee Dorsey better than anyone except Lee Dorsey. True. The Motown stuff? Not on the evidence in the grooves, but truly wonderful live.
P.S. Check out The Cate Bros "Struck A Vein". There's a groove.

---
Thu Mar 11 23:03:26 MET 1999
Bill Paige
From: River North Records
Home page


I saw one passing reference to Rick Danko's upcoming visit to Chicago (I sure hope he let's me take him to dinner!), and thought ya'll would like a bit more info . . .

The show dubbed "The First Waltz," is March 25 at Metro, a benefit for NEON STREET, which is a homeless youth organization serving 600-700 12-to-21-year-olds each year.

Organized by one of Chicago's best rock 'n' soul performers, Nicholas Tremulis, the show will feature guests Danko, Billy Corgan (Smashing Pumpkins), Sugar Blue, BoDeans (Sammy and Bob only), Lonnie Brooks, Blondie Chaplin, Robbie Fulks, Alejandro Escovedo, Jon Langford (Waco Brothers, Skull Orchard), Rick Nielsen (Cheap Trick), Sir Mack Rice (author of "Mustang Sally"), Sonia Dada and Mavis Staples.

From today's Chicago Tribune:

"Several of the more prolific songwriters, though, are using the event to pay homage to The Band, which introduced Americana into the realm of rock on such classic records as 'Music From Big Pink.' Langford will apply his suggestive Welsh brogue to the baudy (sic) 'Rag Mama Rag.' Fulks will lend his twang to 'The Night They Drove Old Dixie Down,' and Corgan, in addition to performing with his father in public for the first time, has asked to sing a verse of 'The Weight.'

"Danko sees this admiration as a form of passing the torch. 'We've been influenced by a lot of good people in our life,' he observes. 'I'm honored and thrilled to pass those influences along. We're like transmitters.'"

# # #



---
Thu Mar 11 22:30:05 MET 1999
Luke
From: Ft. Wash, PA


Pete Rivard: I live in Fort Washington, PA. No,Grendel's Lair is not there any more, but the Khyber Pass is.

---
Thu Mar 11 22:24:26 MET 1999
Bones
From: Connecticut


Some people in here were discussing whether Robbie was going to induct either Curtis Mayfield or the Staple Singers this Monday at the Hall of Fame. Early word(or rumor if you will) is that Clapton is going to induct Curtis and Lauryn Hill the Staples. I was also told that Bono was going to induct Springsteen. Maybe Robbie helped line all this up, who knows.

To Serge/Peter: Gentlemen, please let it go.

---
Thu Mar 11 21:12:29 MET 1999
John Donabie
Bumbles...I don't remember Serge ever mentioning Carl Mathers in the guest book. I know Paul Godfrey did. Carl was a wonderful guy...so full of life.

---
Thu Mar 11 19:43:57 MET 1999
Chris
From: Cincinnati


I heard some interesting news about a Bob Dylan summer tour. There is talk of a tour with Paul Simon. WWW.Rollingstone.com has the entire story. One more thing, I am a Buffett fan. I was curious about Donald Josephs feelings toward his music? You used to be a Cincinnati resident.

---
Thu Mar 11 19:40:22 MET 1999
Little Brother
From: around Philly, PA


--I second Mitt's emotion re: DC, come back and tell us your stories. I don't claim My Two Cents (sorry, Kent Brockman) amount to much more than taking a turn on-stage on karaoke night. I don't know if I spelled "karaoke" correctly, and won't bother to check because I'm sure someone will correct me. In English, I hope, especially if an etymology is included

So I'd much rather hear someone's first-hand reminiscences of Richard or any other Band member than settle for this low-level-- um, typing.

--By the way, I agree with the comments after my blather about The Band's predominantly white audience. I sure don't need to be reminded that the boys harvested pure "soul" accessible to anyone who zones in, past and present. True, also, that they were never a "pop" act. "Pop", which I translate as "music lite", by definition means mass market/broad appeal. The Band's music was/is too sophisticated for that. More power to them! Obviously there have been discriminating fans of every color along the way.

-- Interesting comment about JRR using his position to throw some opportunities to his former mates. The closest I'll come to using this as a backhand approach to grind the Robbie/Levon double-bladed axe is to say that no matter how you judge that, it doesn't bode well for Robbie reaching out. Whether from abiding affection or guilt, if Levon's attitude is even half as intense as what's been reported, it would be the better part of valor for Robbie to avoid (re)entangling alliances. Too much risk of pulling the Gordian knot of bitterness and resentment even tighter!

Personally, I wonder most about Robbie and Garth. Without denigrating the backbone rhythm section, those two were the yin and yang of The Band's creative output. The Storyville Wordsmith and Honey Boy! Instrumentally, a sublime duo within the whole. Listen to a song I don't recall being mentioned on this site: "I'm Saved". And every live track from 1966 with Dylan through "Before the Flood". I promise not to say "synergy" again. There are moments when they seem to double notes, then counterpoint; I always wonder if they worked all that stuff out, a la Zappa, or it just flowed intuitively.

Anyway, given their (relatively) even-tempered personalities, I wonder how the two of them could leave that incredible artistic intimacy behind? To me, that's more provocative than the Robbie/Levon fault line! I'd gladly stop wasting so much space here to make room for reliable insights into this rift...

---
Thu Mar 11 19:06:10 MET 1999
jck
From: washington, d.c.


Dave Z: Now here's a question we can get together on. In a fair fight Levon's chile would certainly take no prisoners-except Robbie's girl would throw the match, steal the purse and leave her stuck in the mud for years...

---
Thu Mar 11 18:18:44 MET 1999
David Powell
From: Georgia


"Don't look back..." Saichel Paige said it first, before that guy named dylan ran with it. Yes I afraid Serge is right; the Band as we once knew it is no more. The four remaining original members do indeed have their side projects. The only problem, at least for me, is that it doesn't look like I'll get to see any of them performing live down in my neck of the woods any time soon.

The name Jimmy Buffett continues to pop up here all the time. Another performer whose newer work doesn't get any radio airplay, but still continues to tour, successfully I might add. But here's the rub--the difference between Buffett and the various Band contingents is that he's got a major corporate sponsorship backing his tours, i.e. Corona beer. All he has to do is ask his fans to wash down their cheeseburgers in paradise with that over-priced Mexican swill. I guess that's okay for some, as long as they can enjoy the music; anyway all the major acts are doing the corporate route nowadays, from the Stones on down.

It looks as though J.R. Robertson, with his new deal at DreamWorks, has been dealt the upper hand once again. The carny in him knows its a crapshoot, but in order to win, you have to play the game. Listen, you don't have to trust the corporate suits, just make sure you get all the fine print regarding money & points spelled out up front. Pay attention to the fine details.

Speaking of DreamWorks, it looks as though their about to become a major player in the music, as well as the motion picture field. They've already got a foothold in Nashville, and they brought aboard two of the best in Mo Ostin & Lenny Waronker, who spent many years at Warner Brothers. Long time WB artist Randy Newman has already signed on with DreamWorks, and many more will probably follow.

So here's the deal-- Mr. J.R. Robertson needs to mend some fences, so to speak, and maybe spread some wealth among his former Band members. First thing he should do is sign up Garth for some soundtrack projects for DreamWorks. Next, he needs to get the SKG boys to place some songs off of _Jubilation_ on the soundtracks of some upcoming motion pictures. Finally, it he can get them to stop kicking & screaming, he should help get Levon, Rick & the rest of the group signed up with the DreamWorks music label. That's just my opinion, so I'll end my rant for today.

---
Thu Mar 11 18:12:24 MET 1999
Ilkka
From: Grandma's kitchen
Home page


A very serious question - that of DIAMOND LIL'S identity. I have some information that she is in reality my Grandm-- .... Hi Grandma, what are you doing here? No! No! Hands off from the 'puter, help...!

---
Thu Mar 11 18:03:13 MET 1999
Dave Z
From: Chaska


Ben Pike: Here's to hoping a new generation drops some cigarette butts on top of the Band's old ones as they discuss the music and stories in that bar of Rod's choice, long after the last cahoot is dead and gone. And hopefully, Robbie will fan the flame for the next generation via some Dreamworks.

Surge/Viney: If Levon's daughter would mudwrestle Robbie's best daughter (determined of course by a wildcard match at Levon's bar), who do you think would win?

Peter/Serge: My apologies. Thanks both for "sharing" your pics, articles, experience and insights.... It adds to my positive experience of listening to the all the music, even if a little mud gets slung.

---
Thu Mar 11 17:57:44 MET 1999
Peter Viney
Dexy, I wasn't ignoring your question. Jan and Lee were there longer than I was, but I didn't hear anything that adds to the general state of knowledge. It was generally upbeat and optimistic.

---
Thu Mar 11 16:22:18 MET 1999
Mike
From: N.J.


Lil- I always thought of the lines from the David Bromburg tune when I saw your posts. "So sing your songs and sip your champagne-Dance your dance with Diamond Lil- You don't have to pay the piper- Just have him put it on the bill." Very true poetry and always seemed to speak to the fate of the Band. Ah well.

---
Thu Mar 11 15:17:48 MET 1999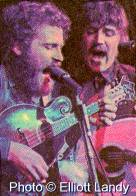 Jan H.
Martin,
I guess you are referring to this photo? They did a few numbers like "Little Birdies" with just vocals and mandolin/guitars (at e.g. Woodstock). Must be from one of those.


---
Thu Mar 11 15:15:38 MET 1999
John Donabie
Thanks for the reply Diamond Lil. It wasn't until after I posted that I read back and saw what you meant. By the way Mr. Donabie is my dad. Please call me John. Just thought you might have been named after Diamond Helm. Thanks for getting back. Say hi to Buck if you see him.

---
Thu Mar 11 14:07:37 MET 1999
Martin
From: Aberdeen


Can any clear up this little oddity? On the gatefold vinyl issue of the brown album there is a small photo on the far right in the middle. The photo looks to be taken from a gig. Levon is singing and playing mandolin, but Rick is playing what looks very much like an acoustic guitar. If it is an acoustic guitar, who was playing bass?

---
Thu Mar 11 11:36:46 MET 1999
Diamond Lil
From: The Web


Mr. Donabie: The "balance of power" I was referring to was borrowed if you will from one or two posts previous to mine. I happen to agree 100% that _Jan_ has the only power around here, but it seems that some folks keep forgetting that. I appreciate the contributions of everyone here, but I really think it's time for the nastiness to stop. It also seems unfortunate to me that some of the most unpleasant people in here are sometimes the ones with the most to offer.

As far as my name goes..of course you're allowed to be curious. I use Diamond Lil because it's a name that was bestowed upon me by a very close friend and I like it. It is, btw, taken right out of a Jimmy Buffett tune for those of you who don't know. It's a name I'm comfortable with and have been posting under for awhile now. And for what it's worth, there are several people on this site who know who I am because I chose to tell them. But for now, I'd rather just be "Diamond Lil" here.

Smile Jan:-)

---
Thu Mar 11 10:37:01 MET 1999
Rod
From: N.Z


We have been picking over cigarette butts for a long time. It's always been a dream of mine to sit in a pub all night discussing Band trivia with another Band freak (there aren't any others I've met in New Zealand). Well until that day comes this guest book is the next best thing.

---
Thu Mar 11 09:50:34 MET 1999
Ben Pike
From: Cleveland Tx


No offence Ilkka. I thank that "Hour Of The Wolf" is an underrated masterpeice. But Serge, I REMEMBERED what I wanted to say. Around 72 the Band got a little write up in Vouge(!). They used an Avadon photo like the back of Cahoots, but instead of having their eyes closed, they are cutting up, making faces. I bet a lot of people havent seen that, and if you could get it that would be a fun thing to have on the site.......

---
Thu Mar 11 08:25:06 MET 1999
Ilkka
From: Imgmar Bergman land (Ben!)


To my Guestbook friends:

Gone to the Stampler's

---
Thu Mar 11 08:00:34 MET 1999
Ben Pike
From: Cleveland Tx.


Whhheeeooooooo. Lot's of bad blood round these parts these days. Well sure, I'll mix it up with any neoconservative rube who starts glorifying kenny Starr, but I always did see the room as a place for musical fellowship. I never even took it personal when Serge would delete me, I mean he can't follow what's going on with Clinton up there in Ingmar Bergman land or wherever the heck he lives. I think there are two reasons for the bad blood. First off, when it comes to the Band, lets face it, we're picking up cigerette butts after the last round up. It's over. There's nothing else getting isued, that studio version of "Don't Do It" will only live in most of our imaginations. And Second...ahh....oops, I can't remmeber. Must be getting old. But don't you think we could be a little nicer, just for old times sake? At least we made it back to the rockin' chair.......

---
Thu Mar 11 05:03:52 MET 1999
Paul Godfrey
So many thanks for Ruth Albert Spencer's Richard Manuel story. The past became the present for a few shining moments. Thank you again as I enter the land of ZZZZ's.

---
Thu Mar 11 04:41:11 MET 1999
jck
From: washington, d.c.


Sure is nice to see Mr. Joseph really extending himself in his valiant and continued efforts to be civil...Someone please explain: is all the personal nastiness here some sort of cockeyed tribute to the interpersonal shitstorms of most longtime bands? This would be a truly a great playground if not for a few ever-present bullies.

---
Thu Mar 11 04:33:32 MET 1999
Pat Brennan
From: USA


If someone missed out on the Band because the music didn't correspond with what they were supposed to be listening to, it's their tough luck. "Don't Do It" is a great rendition of a standard soul song. I know plenty of musicians, black and white, that love that groove and wish they had it. If someone doesn't like it, there are probably some other issues at work. One of the beauties of the Band is the great ammount of Black music that informs their work. Obvious reference points are "Don't Do It," "Loving You Is Sweeter..," "Georgia," and "Share Your Love." There's the inside out Bo Diddly beat of "Mystery Train," the choir of "River Hymn," Allen Toussaint, even the semi-disco beats from NLSC (dare I say it!!). Richard said it perfectly: he played soul music. As far as gender goes here, I can speak with some authority. When I first started posting here, some people thought I was a woman. There were a couple of sexist remarks directed my way which I found quite humorous. The women who post here provide equally pithy and entertaining submissions as any of the men. There also seems to be a steady number of younger posters who inevitably remark that their friends don't get their fascination with The Band. That's because the group never was and will never be commercial entity. An acquired taste, I suppose. However, there's nothing wrong with being a middle-aged white male. Just as long as you act like a teenager, everything will be fine.

---
Thu Mar 11 04:11:57 MET 1999
John John
Paul I lost your e-mail address. Could you send me a private one so I can get you back in the address book? Thanks

---
Thu Mar 11 04:09:38 MET 1999
Paul Godfrey
Hear Here John-John!

---
Thu Mar 11 04:08:28 MET 1999
John Donabie
Diamond Lil...I'm just curious. I repeat, just curious. Why is it that you don't go by your real name here. Not that there's anything wrong with that. Just curious. Thanks.

---
Thu Mar 11 04:01:34 MET 1999
John Donabie
Lil....What do you mean by "the balance of power?" I thought Jan was the power here.

---
Thu Mar 11 03:06:27 MET 1999
Diamond Lil
From: The Web


The balance of power in here seems awfully lopsided if you ask me. And of course, noone did. Maybe we all should just turn up the MUSIC.

Joe from London: Jimmy Buffett fan here and proud of it. Music that makes you feel good. What could be better than that?

Anyone been to No lately? What's happening at Levon's club? Haven't seen any posts about it for awhile. Thanks.

---
Thu Mar 11 03:01:09 MET 1999
Freddy Fishstick
From: Sag Harbor


Joe from London

Courtesy of Jimmy Buffett (note the two ts) . From the album A White Sportcoat & a Pink Crustacean

Then he went to England, played the piano And married an actress named Kim They had a fine life, she was a good wife And bore him a young son named Jim .

Thanks for the plug. How's the Key limey pie your way anywho?

---
Thu Mar 11 02:54:07 MET 1999
Bumbles
From: Beyond the Blue Horizon


SERGE: "Balance of power"? If any group qualifies as powerless, the queerly obsessive denizens of this guestbook do. That includes you and your incomparable collection of "Cocaine" Carl Mathers memorabilia, D. Joseph's endless, malodorous blasts of wind, and Mr. Viney's excrutiatingly prim and pointless exegeses of the Band's entire oeuvre.

---
Thu Mar 11 01:47:00 MET 1999
Tim(SUNDOG)Corcoran
From: Mad City, "AMERICA'S JERRYLAND"
Home page


Good point ROBERT hunter/JERRY garcia. DON'T FORGET TO TAKE YOUR BRASS RING TO SERGE!

---
Thu Mar 11 00:13:00 MET 1999
Lars
From: Upstate NY


JOE: I heard about "Largo" on this site. A lot of rave reviews were given for this cd, so I went out and bought it. It was one of the best buys I made this year. The songs seemed to grow on me (with a couple of exceptions) and I have Largo in my cd player right now. I love it.

---
Thu Mar 11 00:00:59 MET 1999
Robert & Jerry
From: Northern California


"...please don't dominate the raps, Jack, if you've got nothing new to say..."

---
Wed Mar 10 23:58:23 MET 1999
Zimmy
From: Tarantula City, FL, USA


"...the great sayings have all been said; the great books have all been written..."

---
Wed Mar 10 23:32:32 MET 1999
Serge
Not to be outdone our esteemed scholar Viney had to stick his two cents' worth about the Fender Bass VI, providing us with a shopping list of brits who have used one. This is after he ridiculed me with his " Don't forget the serial numbers " nonesense when I proposed to offer what I knew, and had access to..(he or his buddy the no name mouthpiece ). Now Viney prefaces his last entry with that same idiotic phrase. As if it were a half hearted apology for having stepped all over his own dick.
Joe: I have tried to inject some balance of power in this guestbook. I cannot accomplish that. I know that now. Not with people with nothing to offer impersonating, and turning this into a game. Besides, there is no more "Band" I am afraid. There are four former members doing their own thing. And they are good things. Good luck to them all. Stick to discussing their new ventures. The old things have all been said before. There's nothing left. Let the Band we knew be a warm memory. I'm tired of the whole merry-go-round here. Au revoir.

---
Wed Mar 10 23:09:51 MET 1999
Dave Z
From: Chaska, MN


Little Brother: Re: Lily white audience question. Did the Band capture significant market share in any market in their heyday of the 70's? I always thought they were considered somewhat of an underground type of sound that definitely wasn't mainstream. So if they are maybe not even capturing a large share of a "lily white" market, which you would think would be their market judging by appearance only, then why would you expect them to crossover and capture a large share of the black market or any market for that matter? Could we be seeing this with Robbie in the 90's? If you consider that most people maybe spend too much time looking in the mirror, then it's probably not a reach to guess that white guys who dig the music of black guys maybe don't fit into the white mainstream, and vice versa.

---
Wed Mar 10 23:04:31 MET 1999
Pete Rivard
From: Hastings, MN


Little brother: I grew up outside of Philly in a town called Ambler. Played in a band called American Standard, which was more or less a bluegrass ensemble, but was as much influenced by Motown and the Philly Sound of the 60's and 70's as it was Bill Monroe. We once played a party near Drexel U. where we were the only three white faces in the room, opening up for a funk band. I didn't know if we were going to get laughed off the stage or just politely ignored, but we actually went over pretty well. Maybe it was the Fats Domino and Taj Mahal covers in our set, but I like to think it was that our music had enough reference points to R&B and blues to keep everyone interested. In fact, I once got edged out of placing in th etop three in a banjo contest in West Virginia. The judges said my style was "a little too uptown" for their taste. They gave me 4th place out of about 16 or 17 players, so I didn't feel too bad. Anyway, I hear Ray Charles in every Richard vocal, and certainly plenty of Delta in Levon.

Is Grendel's Lair still there on South Street, or the Khyber Pass Pub on 2nd? I saw the Band play the Spectrum in '76 or '77 with the Chris Hillman Band opening up. I was waaaaaaayy back, but had a fine pair of binoculars.

---
Wed Mar 10 23:01:58 MET 1999
Joe
From: London


Peace...

The history of the Band has surely always been periods of wildness interspersed with harmony: why should "their" website be any different? Egos always get in the way. I think it's a pity that it seems from the GB entries that so many potential contributors are put off by the regulars who hog it. I don't want to pick on anyone, but the same old names aren't afraid to bore/interest us from their deep seams of trivia. Who in the hell is interested in Jimmy Buffet anyway: sorry Freddy Fishtank.

No-one owns the Band and it's a free environment (so long as we don't criticise sacred cows: e.g. the Great American constitution..just joking). Let's face it: we're all clinging on to what seems an ever decreasing amount of new Band material: some of us resort to retreading the old arguments (RR v levon), others buy the Japanese CDs with slightly different cuts, or sound balances and other show off their knowledge of trivia. i'm sure no-one here would have bought Mercury rev unless Levon and garth had appeared.

what I'm trying to say is can we have a little more democracy and allow people to say what they want without flaming or exclusion by a self appointed clique. Isn't the right of free speech written somewhere.....?

Catbalu: nice to hear from a fan of Harvest Moon. Anyone: is Largo worth buying (leaving aside 2 tracks that is?) PS someone just realised this is a white, middle-aged (mainly) male sight !!!!

---
Wed Mar 10 22:47:45 MET 1999
Mr. K. Horse
From: Hopefully on my way to Sun Valley


As the days grow longer and still no band dates out of the New O. arena it becomes increasingly more unclear as to the real reasons behind the lack of visibilty; could it be yet another outbreak of will versus ego between Rick and Levon? Hey boys "life is short, eternity is long, lets give the loyal fans what they want.. BEFORE ITS TOO DAMN LATE!

---
Wed Mar 10 22:47:28 MET 1999
Mitt Stampler
From: the world as I found it
Home page


DC--I'd love to hear whatever stories you have to tell--that's why I come here :) If you want, come post them in my guestbook! In the 2 weeks of its existence, not one flame war yet :) Give it time!

---
Wed Mar 10 22:30:46 MET 1999
Peter Viney
Without going into serial numbers :-), I'm sure Eric Haydock of The Hollies played six string bass. There were a few about in the mid-60s, but they were obviously harder to pluck with fingers rather than plectrum. I just can't remember but one English band of that era had two bass players - one on six string bass and one on conventional four string. This is a highly unusual line-up. Two drummers, OK. Two bass players? Anyone recall who they were?
Van Morrison "Back On Top" is yet another gem in an unmatched run by any major artist. Van really has it sussed about composing, touring and surviving at the top.

---
Wed Mar 10 22:30:39 MET 1999
DC
Did anyone who visits this room happen to attend the 1st or 2nd Annual Blue Jean Bash during the Clinton inaugural activities in DC? I attended both and have some trivia to share with anyone who is interested. I have been debating whether or not to share my large collection of one-of-a-kind items with this page because, well, its just so uncomfortably angry in here. Those of us who have had the pleasure to share company with The Band, before and after, (more on that later) know that they are kind, loving men who don't harbor the angst that is rampant here. I have some stories to share about Richard and failed to do so last week because this was not a comfortable place to be and I didn't know if I would be crucified or complimented. I suppose that I will just continue reading what others write and take the temperature at a later time. Please, for the sake of The Band, lose the anger.

---
Wed Mar 10 22:28:11 MET 1999
Tim(SUNDOG)Corcoran
From: Where Mad City WELCOMES MERL SAUNDERS April 11th.
Home page


We always heard it the same, we just heard it from a different point of view, Tangled up in blue!

---
Wed Mar 10 21:58:43 MET 1999
Bones
From: Connecticut


To Tracy: Thanks for the article. Also, about your post on Levin, I know you enjoyed his performance backing Robbie on Saturday Night Live in 1988. What are those prongs he is playing with? He looks like Freddie from Nightmare on Elm Street.

---
Wed Mar 10 21:11:32 MET 1999
Little Brother
From: around Philly, PA


Well, there haven't been a flood of objections to Donald Joseph's recent point that the Band's audience is lily-white. Given my usual take from the Wayback Machine:

First of all, it's no accident that the Band offered "The Honkies" or "The Crackers" to Capitol Records as names for their group. They, at least, weren't under any illusions about being a crossover band.

Except for a couple of postings finding the pre-Stagefright albums "overrated", Band fans/writers/critics universally admire the magical qualities of "Big Pink" and "The Band". But the lyrical themes and musical textures and overall uniqueness seem somehow more available to, well, a white audience. That's a long way to go to make a circle, eh? As Don Joe implied, even if general PC hysteria has subsided some, it's still hard to make any statements that can't be interpreted as meaning something worse. All I mean here, for instance, is that I'd hardly expect African-Americans (or a black audience, once a correct description) to appreciate, say, "The Night They Drove Old Dixie Down".

The story about their day with Sonny Boy Williamson (told in TLW, and in more detail in Levon's book) speaks to this weird contradiction: The Band members were/are anything BUT segregated musically and personally. But you can ignore, transcend, or otherwise bypass racial division and still not produce music that'll do the same.

For what it's worth, I once brought a tape of "Rock of Ages" to an office to play during (relaxed) overtime. My unit, predominantly African-American, found the horn section interesting. But the reaction to "Don't Do It" was OVERWHELMINGLY one of amused derision that a bunch of country-rockin' white boys would even bother covering Motown tunes. I'm not trying to prove anything by all this; it's just a rumination inspired by Mr. Joseph's "discuss!"

---
Wed Mar 10 20:23:36 MET 1999
Dexy
Jan and/or Viney: Before Jan's return, I had asked whether either of you had the opportunity ask Garth, Randy or Jim about future Band appearances and activities -- how Levon and Rick are doing, etc? Of course, you may have had the opportunity but passed, I suppose. Anyway, did either of you hear anything along those lines?

---
Wed Mar 10 19:39:29 MET 1999
Jack Rudy
From: minnisota


"THE LAST WALTZ"

---
Wed Mar 10 17:56:43 MET 1999
R. Wall
From: CT


Bill Munson: The Bengali Bauls At Big Pink liner notes would be a great addition to the page for that album on this site. Please share them with the rest of us who don't have a copy. It's a tough one to find. Perhaps you could e-mail the notes to Jan. Thanks.

---
Wed Mar 10 17:19:47 MET 1999
Bill Munson
From: Toronto


Now that someone has mentioned Charles Lloyd, I thought I'd say that I was listening to the wonderful Bengali Bauls LP on the weekend. I was struck by how interesting the liner notes (uncredited, but seemingly by Alfred Aronowitz) are. They talk about the LP being done in the days when the Band was still practising almost daily with Dylan, and how Charles Lloyd had dropped by that day to jam. And on and on.

---
Wed Mar 10 17:15:27 MET 1999
Serge
MATTK: please Email me. I have great info. on Garth's horns. I don't want to use up valuable space here, so Viney and Joseph will have plenty of room for their scholarly discussions.

---
Wed Mar 10 16:04:21 MET 1999
MattK
From: Maryland


DJ: You addressed a section of a previous post to me. In it, you characterized my dialogue with Serge on Soprano Saxes as "sucking up." I took offense to the characterization of the dialogue and the implications that characterization to my motives in posting. Neither was acceptable, so responded directly and with measure...I did not flame. This is what happens when you mistake being provocative with being obnoxious. I've tried to engage you in meaningful discussion, I guess my only mistake is hoping that treating you maturely would provoke you to respond in kind. Clearly that's impossible. I'm done with you Donald. If you are part of a group thread that I'm on, so be it, but I will not respond to you directly again, it's not worth the energy, and it's too damn disruptive.

For once, I suggest you act like a big boy and do the same. Move on.

Matt

---
Wed Mar 10 15:40:14 MET 1999
David Powell
From: Georgia


Garth's playing, whether it be on keyboards, sax or accordion, to me has a hard to describe, other-worldly quality. I recently read that critic Whitney Balliet, writing in the _New Yorker_ magazine back in the '50s, once described jazz as improvised music containing "the sound of surprise." I think that's a perfect description of Garth's sound.

Regarding guitarist Marc Ribot-- A good sample of his playing with Tom Waits can be found on the album _Beautiful Maladies / The Island Years_. This single-CD compilation contains 23 songs, over 70 minutes, of the distinctive music of Mr. Waits & friends, culled from his recent albums on the Island label.

---
Wed Mar 10 13:26:24 MET 1999
Ilkka
ABOUT THE LENINGRAD COWBOYS #2
The band has gone from the music industry to the beer industry. If you Guestbook old-timers ever come to these woods, go to some local tavern, order a *Cowboy* and say that Ilkka pays. - They have own vodka, too, but that is reserved for The Webmaster only!

---
Wed Mar 10 10:14:31 MET 1999
Peter Viney
Donald: You're right about "bellman" and "bellboy". In 1990s school textbooks you go overboard trying to avoid both - people phone "The Bell Captain" to avoid it. "Bellhop" is also considered perjorative. In Japan, the "bell person" can be a 5 foot tall 17 year old girl, who gets upset if you won't let her carry your 30 kilo case. But in 71 it was bellboy or bellhop. Bellman is definitely a PC adaptation, brought in to combat both racism ("boy" for an adult was often racist) and ageism, then retired because it was gender-marked! In the UK, it's just "porter". I reckon RR was trying to give the impression of how decrepit this hotel is. Even the house dick's been fired, and the bellman has retired for the night, but also "retired" because he's about 70. He might have thought "man" was more appropriate anyway - he's been quoted recently about how he was called "Redboy" as a racist epithet, so might have changed it on his own.
Thanks for confirming what I thought about "video". I looked up "cahoots". The definitions resonate: The Shorter Oxford gives it as "cahoot" singular, now usually plural, "origin unknown. Early 19th century, USA" Well, they didn't look in Websters which gives it as "cahoot" (usually plural) from French "cahute" hut, cabin, modified (probably by the influence by cabane) of "hutte". The meanings are given as (1) partnership (2) collusion, connivance, secret agreement - "officials in cahoots with the underworld." The only examples given have "in cahoots". Isn't it a great word? Now I know it's singular I think I'll change the name of my partnership to "cahoot" - it will confound the tax gatherers.
Anyone as interested as this in language should get hold of Bill Bryson's "Made in America" - the best book on American English. It's a pity we can't ask him. I was present at a talk where everyone was discussing "MacJob" and whether Douglas Coupland invented the word in "Generation X". Bryson immediately said, "No. Kansas City Star (or whatever)" and gave the year!

---
Wed Mar 10 09:36:16 MET 1999
Ilkka
From: the crazy woods
Home page


6 STRING BASS DISCUSSION

The Russian 3(!) string bass balalaika was used by the Finnish cult band *Leningrad Cowboys* - the lousest band in the history of the rock music. (The definition used by kind permission of their record company.)

---
Wed Mar 10 08:54:11 MET 1999
Donald Joseph
(corrected version)
Viney: Re your excellent Cahoots article: The record raises 3 word usage issues that've always intrigued me, 2 of which you touch on.
1. Title is "Cahoots," "Smoke Signal" has "brothers join[ing] in cahoots," and "Little John was my cohort." Wassup with that? I once read a review that said the best thing about "Cahoots" is its title. I think that review pointed out the word "cahoots" is never used in English except following the preposition "in" -- yet the review noted "Cahoots" is a superior title to the more obvious "In Cahoots."
2. I agree the word "video" was not in common parlance in 1971 (esp. stateside). Indeed, I 1st heard the record in the late '70's, and I knew "video" only as an adjective (e.g., "video screen," "video tape"), not as a noun. I wondered: Whassup with that?
3. "Bellman has retired": In this age of political correctness -- "chairperson," "server" or "waitperson," "police officer" for "policeman" (what do you say for "fireman"?), "bellman" fits right in -- not everyone who works in a hotel helping with the bags is a kid, & "bellboy" nowadays smacks of ageism. (Ageism is illegal in the states & Canada now -- but was NOTyet illegal in '71.) But in the '70's this word "bellman" jumped out at me as silly -- the word then was "bellboy," and "bellman" is NOT used to complete a rhyme in the song.
The irony: While Cahoots' theme is old-stuff-lost, the disc introduced 2 words ("video" & "bellman") that were not to enter the common parlance for years into the future. O.E.D. citators take note!
Excueeze me, Serge -- it's o.k. now to return to deconstructing the logrythms of serial numbers on a 40-year-old bass guitar.

---
Wed Mar 10 07:46:31 MET 1999
Donald Joseph
From: Chicago, used to be Cincinnati


Tim: Thanks! I actually own the Marianne Faithful video with Ribot & Garth -- I'd buried it before ever watching it through. I'll disinter it. And I'd forgotton how directly Marc is connected to the Band: The performance on this video is a direct link -- hence I stress again my recommendation to the rest of you all to check out the "Cubanos Postizos" album.

Right now I'm listening to Ribot's guest work on Aterciopelados's new "Caribe Atomico" album -- I'll bet not a single one of you has ever even heard OF (let alone heard) the Colombian power-pop duo Aterciopelados. But now I can say they are Band connected, to wit: Aterciopelados/Ribot/Garth.

MattK: My, touchy, aren't we! And a tad egotistical, I might add. MattK, I don't think in my last post I addressed more that 3 words directly to you. Yet you come off claiming I was "ascribing motives" to you, I was "hit[ting]" you for "constructive criticism" (huh?), & I was "bicker[ing]," apparantly with you. You remeind me of Carly Simon's vision of Warren Beatty: I'll be you think this post is about you, don't you?, don't you?, don't you?

Sorry, MattK, it's just that we don't spend enough time thinking about you to be slamming you.

Yes, Serge, that last "we" speaks for all of us, including even you. I DO purport to speak for you.

Lars: Check the record: No one (save Serge) said a negative word re your bottle of Grand Marnier. I believe I get credit for being the 1st to come to your defense. You didn't ignite a controversy. You simply set off Serge. Join the club. (By the way, you're in good company with your Grand Marnier tribute. Jan a year ago said what you did -- Serge's fantastical, unsupported allegations of apocropha notwithstanding.)

Pat Brennan: My bad luck on timing of Chi.-related Band events continues. I missed "Don't Look Back" for a Buddy Guy show, & now I'll have to miss Danko due to a prior-scheduled trip to Europe. Damn! But the odds'll be in my favor next time.

---
Wed Mar 10 04:45:26 MET 1999
johnny divine
From: wichita falls, texas


this is a great site for a great band-THANKS and thanks for including hirth martinez on these pages-he's a great artist and a fine fellow

---
Wed Mar 10 04:35:43 MET 1999
Pat Brennan
From: USA


Donnie Jo, pray tell? Heck, fella, I made it up. Any other questions? Re: Fallen Angel. Hoskyns quotes Robbie as saying the song isn't "about Richard. It's more writen for him, like a little prayer. It's just some things I never got to say to him." That seems to answer that thread. When Robbie's first album came out, I read in a number of places that some of the images that Robbie had developed for his Works project made it into Fallen Angel; "Lay a flower in the snow" being one of the lines quoted most often. BTW, Rick is playing Chicago March 25 at the Metro in an AIDS clinic benefit. Believe it or not, he's sharing the stage with, among others, Billy Corgan.

---
Wed Mar 10 03:56:48 MET 1999
catbalu
From: About time


phil!, if i were as close as you, i'd try so hard to be there BECAUSE: you knew what Rick was playin' (instead of a guit-jo) – AND knowing the respect between the two, like family, i'd be..... adding to my own personal legacy... Otherwise, what are they living for? after losing joe dimaggio and all, who will take that rose to her gravesite now... it's the Mitts, the new teenager, the daughter of Ragtime (it's all the glory.) i'm going to bed. goodnight, you realistic ones. and god bless the idealistic ones.... this was almost a "chat" phil. and i enjoyed it. thank you. about time.

---
Wed Mar 10 03:30:15 MET 1999
Phil
From: Ca


Neil Young!

---
Wed Mar 10 03:29:39 MET 1999
Jonathan Katz
From: Columbia, MD [snowed in]


Tracy: Thanks for typing the RM interview. Good timing so close to the aniversary of his passing - his upbeat demeanor[sp?] was refreshing. Please do the others! This is what is so great about this site - it is a place to get material not readily available. The recent postings of various articles [thanks to all that worked on these] have enriched this site and helped me better understand why the Band touches something in us all. On a specific note: Peter Viney - I think that "Volcano" is purposefully singular in texture. The music goes with the singular dimension to the singer's passion. This is much the same as "It Makes No Difference." These two songs are bookends for a relationship gone sour.

---
Wed Mar 10 03:26:26 MET 1999
Catbalu
From: damn, and i drop so many, many hints.... all the time...


Phil, as Bumbles would say, he is "Closer than you Think"....

---
Wed Mar 10 03:21:03 MET 1999
Phil
From: Ca


Catbalu: Ry Cooder ?

---
Wed Mar 10 03:10:12 MET 1999
Barry
From: Bathurst


Where did Dan Blood go? Dan, I used to enjoy your posts, come back. Long Live The Band.

---
Wed Mar 10 03:08:35 MET 1999
J.Gopher
From: A hole near you


this is about smoke and sweat and beats.

and the radio tuned to static.

Redboy forever!

---
Wed Mar 10 03:01:21 MET 1999
catbalu
From: Al La Glory


mitt, well, gee, i guess that makes me feel like Beth and that i should start a "Dazed and Confused" fan club! (never met a Paper Girl before) - not that the guestbook would ADD TO THAT. BTW - a request to contribute to a Neil Young fan has gone ingored. Keep in mind, Neil is on a very fine tour right now...... doesn't hurt to take a cake to a new neighbor, ya'll. Think, as Lars is saying, no disrespect is intentional. (show some manners, here, Serge, dont pick on me - i got something to email to you if you won't yell. otherwise, i might go......... existential.......). and, to ALL you hardtails – if you were at my southern home, i'd say, you boys wanna fight take it outside. supper will be ready in 20 minutes – get it over with............ (glad some of the gentler souls have come out from behind the trees) where's Ragtime and Mike?...... what, no guit-jo? guess who plays one....

---
Wed Mar 10 02:30:28 MET 1999
Mitt Stampler
PS--Sure hope those pics didn't load, they're pretty unwieldy. They're on my site for whoever's interested, which is hopefully no one :) Peace! Post-post-script--Lars, I don't like sweet drinks (I'm a gin drinker myself) but I thought toasting Richard was a nice idea all the same. Peace!

---
Wed Mar 10 02:26:22 MET 1999
Mitt Stampler
From: caught in the moonlight
Home page


yee-ha, there's some folks in a mood. Reminds me of home, which is why I married young, not that I'd necessarily recommend that course of action. Well said, Lars--I've got a messy house, a job that's a trial, etc. etc. I like checking in here to hear the stories...a healthy dose of disagreement is fine but hey, aren't we all fans :-)? I'm married to someone who thinks "Contact" is right up there with Sergeant Pepper and somehow we haven't killed each other yet. Just got off the phone from referring a screaming match between 2 of my siblings who can't seem to leave each other be...geez. I might as well just watch "Melrose Place" reruns. Still hoping to catch Rick Danko's show--you never know when they might just decide to stop touring. PS--Want to thank Ragtime, Mattk, Viney, Tim, Illka, Catbalu, and everyone else who came to my homepage and signed my Guestbook--made me feel on top of the world to see all those names, all you great folks :). Added a few things since you've been by, most notably pics. It ought to clear up one area of confusion. Cat, thanks for the compliment about being a good son. My dad agreed--just one little detail: I'm a girl. Go figure....

---
Wed Mar 10 01:56:22 MET 1999
Diamond Lil
From: The Web


Lars: Know what? The majority of people in here did _not_ take offense at your post last week. I myself thought it was nice. We all grieve differently, and we all remember differently. I think the important thing here is that we all remember Richard in our own ways. Noone should have to answer to anyone when it comes to showing honest feelings and emotions. Yes, this is just my opinion..but I'd be really surprised if I was the only one who felt this way.

I think the appeal of The Band (besides the music of course) is the fact that the members are real, down to earth people. That makes it easy to care about them and in some ways identify with them on certain levels. I think when we lost Richard, the majority of us felt like we lost not only a talented singer and musician, but a friend as well. Maybe that's why all the bitterness showed up here in the past week or so. Yes, time does heal the pain..but the loss is always felt.

I really hope we can all put this past week behind us now. Thanks for listening.

---
Wed Mar 10 00:53:17 MET 1999
Tracy
From: the den


MattK: I agree about Levin being one of the best bassists. Another one would have to be Klaus Voorhman (session bassist for John Lennon, Carly Simon, etc. There is a great CD out called "Plus From Us." They are recordings of artists from Peter Gabriel's "US" album. Tony Levin does a nice intrumental called "Lone Bear." Usually you can find this under "World Music," in the record stores. Hey Jan! I'm working on the other interviews by Ruth Albert Spencer. Glad a lot of people liked the one on Richard. Very good interview! Plus I'll see what else I can dig up. Tracy

---
Wed Mar 10 00:33:08 MET 1999
Lars Pedersen
From: Pine Bush, NY


Last week at this time this guestbook seemed to be riding along pretty well. Then I made an entry where I mentioned we had played a jam centering on Richard Manuel's music. I put a bottle of Grand Marnier on the mantle before we started. It reminded me of Richard, we were playing on the 13th anniversary of his death.

We meant no disrespect, we actually thought we were honoring him by remembering his music. That was the main feeling in that room last Thursday, that we all still love Band music. But offense was taken, and I see now that it probably would have been wiser not to mention it.

This bitter fight has to stop. We have jobs and families to raise and no one should have to go through all the bad feeling this guestbook has gone through recently. I check in here and people aren't enjoying the music. No one's talking about how great the Honky Tonk Gurus sound- getting better every day. Levon's on the mend and is playing in Po'keepsie next Sat. with his Barn Burners. Jim Eppard and Mike Dunn have a band called the Retro Rockets that people drive for hours to see. Rick Danko's voice sounds better than ever and we should be grateful for that. And Garth just played in England, heard it was a great show.

We are living in a Golden Age. Right now we can listen to some great music from some really nice people. If the venues are too far for you, the cds are available. These guys are playing, but it's hard to hear them over the din.

---
Tue Mar 9 22:51:30 MET 1999
Pete Rivard
From: Hastings, MN


Jan,

What tips do you have for keeping little color pix down to a minimum. I've been saving them as RGB jpeg files at lowest quality, in Photoshop, and they still are larger than what's spec'd as acceptable. Thanks.

---
Tue Mar 9 22:40:09 MET 1999
Pete Rivard
From: Hastings, MN


David Powell: I've always thought that The Weight and Tupelo Honey were uncannily similar, and I've seen at least one local performer do a Tupelo Honey/Crazy Love medley. I've got this old 1929 Hohner 3-row button accordian that I use onstage for both The Weight and Tupelo Honey, and I have to work to get those two pieces to sound at least a little different. That 1-3m-4-1 chord progression is a classic.

---
Tue Mar 9 22:28:42 MET 1999
Crazy Chester
If there's any Band asses to kiss...
Pucker up buttercup.

---
Tue Mar 9 21:58:59 MET 1999
Bones
From: Connecticut


To Donabie: Thanks for posting about Robbie winning a Juno award. Fantastic! I am surprised that he wasn't there. I hope I see him next Monday night at the Induction dinner. The only person who has been mentioned thus far is Elton John, who will be there to induct Dusty Springfield.

---
Tue Mar 9 21:35:22 MET 1999
Peter Viney
Martin: Good, back to the music. Think you're pretty near right. There's a snatch of Lonesome Suzie from Winterland (6/69). Holy Cow was done in Chicago on the 74 tour. Ain't Got No Home was done in November 1986 at the Lone Star Café at least. Can't trace a live Volcano but I have an odd feeling that it might exist. Could be wrong. There's some great stuff ton the list though.
Whoever (was it Phil? This stuff gets archived so fast I can't keep up - I'd hardly read General Wayne's essential piece when it sailed back into the archive): Washington DC 1976 is heavily bootlegged. There are three (different) King Biscuit Radio Show CDs at high prices with adverts. One track differs each time. Worth getting in any version if only for "The Genetic Method" - the guy is a genius. The best known bootlegs are "Live in Washinton (sic)" which features that Franco-German drummer "Le Von Helm" (sic) and there's "Ophelia". Happy hunting.

---
Tue Mar 9 21:02:31 MET 1999
mattk
From: HTML Stupidity


Hmmm, my code was good, but somehow the guestbook broke up the closing of my link tag in the previous tag and kinda fubar'd my message as a giant link. Problem isn't fatal as it rectifies itself by the next post.

Still, I apologize for the goof, Jan. While I'm removing the egg from my face, feel free to give me a swift kick.

Matt

---
Tue Mar 9 21:01:55 MET 1999
Butch
From: You know


Why don't y'all get a life! And kiss my band ass!

---
Tue Mar 9 20:54:42 MET 1999
MattK
From: Maryland


Basses, bassists and Woodstock, NY:

An interesting aside to the bass discussion: One of my favorite bass players in the world is Tony Levin. Levin is best known for his work with King Crimson as well as Peter Gabriel (Levin plays bass on "Fallen Angel," I believe).

Levin is a very interesting and as diverse a musician a you'll find. Not only is he one of the top session musicians in the world, but he also is one of the most in-demand musicians in the progressive, avant-whatever scene. He also owns and operates his own studio at his home in Woodstock, NY--Papa Bear records.

Levin has a nice site for Papa Bear at www.papabear.com. It features links to Papa Bear recordings, links to Tony's favorite collaborators' sites, as well as a road diary which he updates weekly covering issues from his obsession with exotic coffee, techno toys, in addition to commentary on who he is working with currently (right now, he's touring with Seal).

If you get a chance, check it out. Not a strong Band hook there, but worth a gander none-the-less.

matt

---
Tue Mar 9 20:48:25 MET 1999
Jake
From: Pennington, NJ


My wife and I are headed up to Woodstock next weekend (March 18,19). Anybody got any hints or must- sees to pass on ?

---
Tue Mar 9 20:33:32 MET 1999
tim
From: pittsburgh


tracy: thank you thank you thank you for posting the spencer interview with rm. makes me wish ruth had just transcribed the mulit-hour conversation. what a great guy he must've been. donald joseph: i too think mr. ribot is one of the most innovative, exciting guitarists around. check him out, playing with mr. garth on the video of marianne faithfull's concert at st. anne's in nyc "blazing away". the interplay between those two is remarkable!

---
Tue Mar 9 20:20:43 MET 1999
Phil
From: Ca


Now that everyones so into the Fender Bass VI, along with Jack Bruce it seems the Beatles favored this bass too. You can see George playing one in the Hey Jude video and John in the Let It Be film. John also said "thats me on six string bass on Back In The USSR" in his 1970 Rolling Stone interview. Fascinating stuff, no ?

---
Tue Mar 9 20:01:02 MET 1999
David Powell
Serge, I almost forgot but Jack Bruce was a proponent of the six-string bass. Trained as a classical cellist, he later learned to play the double bass before going to the electric Fender VI while playing with Graham Bond, John Mayall & Cream. He also favored the regular four-string Gibson SG-type when playing live.

---
Tue Mar 9 19:44:07 MET 1999
Martin
From: Aberdeen


Hi All! Just out of Curiosity, I have compiled a list of band tracks from Big Pink through to NLSC that to the best of my knowledge were never performed live. Corrections Welcome Lonesome Suzie, Whispering Pines, Jawbone, Sleeping, Daniel and the Sacred Harp, Last of the Blacksmiths, Where do we go from Here?, 4% Pantomime, The Moon Struck One, Thinkin Out Loud, Volcano, The River Hymn, Ain't got no Home, Holy Cow(possibly), The Promised Land, The Great Pretender, I'm Ready, A Change is Gonna Come, Hobo Jungle, Jupiter Hollow and Rags and Bones.

---
Tue Mar 9 18:52:03 MET 1999
Ilkka
From: the woods
Home page


The literature freak in me wants to read Peter's analysis and the bass guitarist in me wants to see that photograph!

Let's get back to the business.

---
Tue Mar 9 18:43:29 MET 1999
David Powell
Re: Guitar heroes Roy Buchanan, Robbie Robertson and Jimi Hendrix. It's interesting to note that, in one capacity or another, Robertson, Hendrix & Duane Allman all played with John Hammond (Jr.). On the subject of Hendrix, MCA under license from the Hendrix family, has just issued the latest in their series of releases, HENDRIX / LIVE AT THE FILLMORE EAST. This two-disc set contains 16 songs taped live on New Year's Eve & New Year's Day 1969-1970 during Hendrix's four concerts with the Band Of Gypsys (Buddy Miles & Billy Cox). This is a must have album, containing some of the most incredible live guitar solos ever recorded in pristine sound. It is available in both the CD and 180 gram heavy vinyl LP formats. For details check out the Experience Hendrix website at:
http://www.jimi-hendrix.com

---
Tue Mar 9 18:26:08 MET 1999
Leo Fender
From: (In association with Peter Viney)


Mr Daniloff: please make sure to photograph the serial number of this bass. Pls describe the pick ups. Silver or brass? Pls list serial numbers of Hawks equipment circa 1963. With more wonderful photos if possible. Of serial plates, please. Also explain how Hawks put PA columns behind the vocal mics, just a little back so they could hear overtones, and didn't get feedback.Pls explain why they had this unique problem in 1963 that the sound went forward. Please list bands that had monitors in 1963. Pls photograph the serial numbers. Don't forget the serial numbers.

Sure beats talking about 25 year old recordings.

---
Tue Mar 9 18:19:40 MET 1999
mattk
From: Maryland


Aretha, Race and The Weight

Interesting thread...I don't know, however, if I buy Wexler's sentiments on the Aretha version. A goodly number of people are aware of Aretha's version even before The Bands--yes, there are many people (I've met 'em) who think it's Aretha's tune. Nothing new here, Aretha usually takes command of the tunes she sings--imagine how many people think "Respect" is her tune as well. Fact is, Aretha's appeal as a POP entity is probably broader than The Band's. Before y'all start to slam me, I know they were a superstar band in the '70s, but Aretha has had the opportunity to appeal directly to subsequent generations as well as cultures. The Band, like it or not, is viewed as a revival project as opposed to newly relevant in their reconstituted form. I'm not saying it's fair, but it is out there as a popular belief.

On a second note, I'm also wondering about the Staples version of The Weight (not TLW's version, but a 'Staples Only' version--I think it's on "Soul Folk in Action," but I need to check). Was it ever released as a single? I heard this version long before their LTW version, and frankly, it's my favorite. Given the fact that RR has said the Staples helped inspire it, makes this an easy leap. It does, however fly in the face of Wexler's comments about the viability of the song amongst African Americans. The Staples version is outstanding and firmly rooted in Black culture (gospel).

Perhaps Aretha's version would be deemed more effective as a gospel treatment instead of the R/B feel it ended up with. Ironically, other than Mavis, I don't know too many women as equipped to give this a gospel feel, than Aretha--her gospel stuff is outstanding (btw, for a real mind blower, check out Mavis and Aretha on "Oh Happy Day" from One Lord, One Faith, One Baptism --which is out of print, but the single is available on some compilations I believe).

Cheers

matt

---
Tue Mar 9 17:26:51 MET 1999
Serge
MattK: Thanks. I am still digging into the soprano sax story, now that you got me going :)
David P. you are right. I just found out from the guy who now owns this six string baby that it's indeed used primarily in studio work. He is going to give me a photo of it and I'll post it. We'll see what it looks like after 35 years. PHIL form Ca, you are absolutely correct. It is called the Fender Bass VI. Not too imaginative a name, but...
I am afraid that I wouldn't hire Donald Joseph ( or whatever the missing surname is ) for what we call here "j-walking". He is incapable of retaining information for very long. Then ends up distorting what has been said. Small wonder his biggest admirer here is the confused fellow with multiple names, and probably personalities to match.

---
Tue Mar 9 16:24:46 MET 1999
Tim(SUNDOG)Corcoran
From: Madison, Wisconsin
Home page


Donald, way to go! Oh,I'm very sorry, is that SUCK'N up to you? Please Viney, I just had too!

---
Tue Mar 9 16:14:02 MET 1999
David Powell
From: Georgia


On the subject of "The Weight"-- have you ever noticed the similarities, chord structure wise, between Van Morrison's "Crazy Love" (released in 1970) with that of "The Weight" (released two years earlier)?

Six string bass guitars are still used in session work, especially in Nashville. Check out Steve Earle's _Guitar Town_ album.

As to Mr. Joseph's, Esq. interjection of the subject of race. I think it has more to do with the listening preferences of the particular audiences, rather than the music itself. Of course the present day hip hop culture will consider the Band's music to be "old school honky music." So what. If they don't want to embrace different kinds of music, that's their loss.

---
Tue Mar 9 15:13:09 MET 1999
MattK
From: Maryland


DJ: My admonishment to Serge to tone down the name-calling does not exclude enjoining him in constructive conversation. Changing topics, focusing on The Band instead of guestbook personalities is exactly the goal, at least for me--I don't care what Serge thinks of Peter Viney or what you think of Serge or myself--I can go elsewhere for validation and abuse.

That said, if Serge wishes to join me in a discussion of Garth's sax playing or the development of the curved soprano, I'm only going to encourage him. Someday, I'd like to do the same with you...but I'm not optimistic.

Once again, I ask you to please stop ascribing motives to me. You do not know me or know why I say what I say.

This is the first time in 9 years on the internet that I've been hit for having constructive conversations. If you want something else, go watch Jenny Jones, I have better things to do than bicker.

Matt

---
Tue Mar 9 11:27:46 MET 1999
Serge
Mouthpiece: I did address the entry of a year ago. I said that it was NOT legit. I know that for a fact, so drop it. If you want proof, enter your Email address. Don't cower in the dark and occasionally come out with your pompous, a la Viney, dispensations to various parties on this site. The analyzing of a recording, which had been previously done on site on several occasions, is to me a dumb exercise. I don't need Viney or you to tell me continually what you like or don't like. I don't give a rat's ass. If you're going to use French words in your futile attempt at giving your entries some class and and give us all the impression that you're an intellect, learn to spell them. You're back to "Oevure" (sic) again. I think I've slapped you around for that one previously. You don't seem to retain information well. I pity your customers.

---
Tue Mar 9 09:36:40 MET 1999
Peter Viney
Charles Lloyd: See Levon's autobiography p161. John Simon describes co--producing "Of course of Course" in 1965 with Tony Williams on drums, Ron Carter on bass & Gabor Szabo on guitar. Lloyd introduced Robertson to John Simon. John Simon says, "So Robbie came to the studio and we cut this track called Third Floor Richard … that's how I met Robbie." From this, it has been assumed that Robbie plays on the track, but he isn't credited on the cover and the guitar doesn't sound like him. It could be that he was simply inspirational by his presence. Does anyone know? I've never turned up the album, and I was sent the track on the end of another tape. I've just been looking but can't find it to confirm or change my thoughts of about three years ago!
Donald: Thanks for your concern. Yes, I think I'd better retract the offer as there is a little or large "dig" in my direction in every post. I'll try to ignore this desire to continue the argument. The point about "The Weight" and Aretha is more interesting. I hadn't heard the Wexler quotes before. I noted the chart action by cover versions in my article on the site. I'll cut and paste the section:
Music From Big Pink's initial success was, in retrospect, surprisingly modest for an album which frequently appears in lists of the Top 100 Rock Albums of All Time. It got to #30 in the US charts while the single, The Weight, written by Robbie Robertson, reached only #63. Other artists had more sucess with covering The Weight. Versions by Jackie DeShannon (US #55, 1968), Aretha Franklin (US #19, April 1969, featuring Duane Allman on guitar), The Supremes with The Temptations (US #46, September 1969) all charted. Significantly for both royalties and for general public awareness, the Diana Ross and The Supremes With The Temptations' album from which the single was taken reached US #2 and the Aretha Franklin album, Soul 69, reached US #15. The Weight was also heard on the soundtrack of the Peter Fonda / Dennis Hopper film Easy Rider in 1969, which in turn spawned a successful soundtrack album (US # 6 in October 1969 and 41 weeks on the chart).
Aretha's follow up to "The Weight" was "Share Your Love" - an odd link. As to Donald's wider question I have no idea. Just thought I'd increase the statistics behind the debate.

---
Tue Mar 9 07:58:50 MET 1999
Donald Joseph
From: still good old No. Ill. U.S.A.


Just listened to Aretha Franklin's cover of "The Weight," Duane Allman on guitar -- nice artifact from her 1970 "This Girl's In Love with You" l.p. But lest we Band fans get too cocky with our Staples-influenced boys having penned a tune which crossed over for the Queen of Soul, let me quote verbatim from the liner notes to the c.d. re-release of this classic 'Retha album:

"At producer Jerry Wexler's suggestion, Aretha recorded a blues-tinged version of "The Weight," a 1968 pop hit [sic] for the rock group The Band, written by one of the group's lead singers [sic], Robbie Robertson. Wexler admitted in hindsight that choosing the song for Aretha may have been a mistake: 'I was trying to make a bridge over to the "flower children"; I bitterly regret having done "The Weight" with her. The song is totally incomprehensible to her basic rhythm & blues constituency. Aretha cannot have a big hit unless it is also a hit with her black audience. It's got to be both, so this is where commercial stupidity and greed got the upper hand with me.' Although it wasn't a giant hit when released as a single in March '69, "The Weight" did manage to make it to the #3 slot on the R&B chart. Even with its prior success for The Band, it went as far as #19 on Billboard's Hot 100, although one can conjecture that its chart rise may have been based more on airplay than on sales."

[Jan: This is a legit quote & might be interesting to add within sight of the "Cover Artists Do Band Tunes" cite to 'Retha's cover of "The Weight" on the site.]

Here's a fertile topic for discussion: The above quote points out what for us on the Band Guestbook is an almost-unbreachable taboo: The Band is a lily-white act. You're only slightl;y more likely to find a black at a Band show than at a Branch Davidian reunion party. Discuss.

---
Tue Mar 9 07:24:30 MET 1999
Donald Joseph
From: No. Ill., USA


Serge, my merely-legal-trained mind can't appreciate the razor-fine distinctions you make in your self-usurped role as Guestbook chief-of-police. Let's see if I have this down: "Analysis of 25-year-old-recordings--BAD; discussion of 6-string-bass-playing in the early '60's--GOOD"?

MattK: Your naieve beseeching of Serge to tone it down (a few days back, before your recent suck-up note) betrays you're no student of the Guestbook archives: When the gloves come off, Serge makes his recent exchanges sound like the purring of a pussycat [Viney: Forgive the mixed metaphor]. Serge hasn't let rip lately. Viney, have you retracted your recent offer to treat Serge to a beer? If not, pls. bring an armed chaperone.

Serge, if you're going to flame me for this, in your posting pls. address what you have not yet confronted: Jan's hommage a year ago to Grand Marnier/Richard, in light of your recent flame on that precise topic. Don't be like Clinton & ignore in your public remarks the topic of controversy.

Now, on to Hiatt: I obviously agree "Slow Turning" is kick-ass -- but come on: Most Band fans already know Hiatt's oevure well. Stop preaching to the choir! If we're going to stray from the Band, let's get some new blood, like the recent excellent Steve Earle post (I've added "Mountain" to my "BUY" list because of that post).

Here's a try: How many of you are into Marc Ribot? I saw him live Sat., & he's one of the most innovative guitarists alive--very Robbie-like, in that he forgoes guitar-god solos in favor of unique sounds you don't hear from anyone else. His new trip (new album & shows) is with the "Cubanos Postizos": Cuban-inspired instrumental guitar from Ribot, the same the weird guitar genius behind Tom Waits & Elvis Costello's good albums -- sort of a Garth of guitar. Anyone interested in how Robbie would've sounded if he'd been born into Garth's family -- and had Cuban instead of Indian blood -- will die for Ribot's Cuban album. Also, Ribot shows how gifted guitarists who don't sing well should vocalize: Very sparingly. RR knew this when he did what may be his solo masterpiece, the Carny soundtrack.

Note: Ribot is usually categorized in the "Jazz" section of record stores. I for one despise jazz. Ribot isn't jazz, he's innovative guitar -- so hold your nose, walk into the "Jazz" section, & pluck out his "Cubanos" l.p.

Pat Brennan: How, pray tell, do you know what "images" make up the Works project? Other than that it's an aborted Moondog-period idea, I know nothing. If you do, what do you know & how do you know it?

Been Around Enough to Know: Your thesis of being around famous people is intriguing. Did you happen to catch "The Simpsons" on Sun.? It was on your precise topic -- I swear! Homer won -- then sold out -- the friendship & respect of Kim Bassinger, Alec Baldwin, & Ron Howard (all voiced by themselves, of course). Great stuff!

Alternate Opinion: Yes!

Donabie (re "respect" vs. "excitement"): Yes! Yes!

Mitt: For your own sake, man, can the Chez Whiz.

No one mentioned the current Rolling Stone mag., where they ask guitar heroes to name their own personal guitar mentors. Robbie mentions Roy Buchanan -- apparantly as an entree for RR to spin tales involving himself, the Hawk, & Roy. There's also a piece where Robbie tells how Hendrix taught him how to string a guitar. But no one mentions Robbie as HIS OWN guitar hero.

---
Tue Mar 9 03:39:57 MET 1999
Paul Godfrey
Garth is a Wizard!

---
Tue Mar 9 03:37:53 MET 1999
t. reizes
From: albany, ny


Hey, nice page. Was wondering if you had any contact info for Rick Danko or his sound tech. I gave them my master off of the board at the wamboozy festival in september 1998. The sound tech thanked me for running the tape and swore he would mail it and an autographed copy of Rick's new album to me. I said I din't need anything in return except my tape. I'm sure te cat just lost my address or something like that. He said I could contact him via the web at Rick's official site, but I could never get the page to come up. I would like very much to get the tape back as it had some other bands on it and was the only recording made at the festival. Any help would be appreciated. Thanks alot. peace, tr BTW, Any body have any killer early Band on DAT? I have the schweet Dylan and the Band Oakland Col. 1974 for trade.

---
Tue Mar 9 03:34:43 MET 1999
Phil
From: Ca


I beleive that instrument was the 'Fender Bass VI'.

---
Tue Mar 9 02:47:52 MET 1999
catbalu
From: another storm coming


Serge, was it a guit-jo? (6-string contraption, looks like a cross between a banjo and a 6-string guitar, except with 6 strings)....

---
Tue Mar 9 01:50:22 MET 1999
Serge
Still rollin': see there are other avenues and things to discuss, than set lists ( which I never understood the need of ) or age old boooooring reviews of ooold recordings, and the rest of it.. How about you bass players...? How do you think Danko sounded with that six string contraption back in the early Hawks with Ronnie? Are they still in existence? Does anyone have one? I will soon OCR scan an old Garth interview from a mag. dedicated to keybords. I 'd like all Garth admirers to realize how far ahead of his time Garth was by 1980. It's mindboggling. ( Is that two G's mr.Viney? )

---
Tue Mar 9 00:57:35 MET 1999
brian white
From: virginia


We bought tickets to a Band show in the summer of 97. They were unable to appear and the promoter promised to bring them back when possible. Will they ever appear together as the Band again? Please e-mail with current status. Seems like they are only doing the solo thing lately. Have seen them many times and it is always a great show. Thanks BLW BlwMbc@hotmail.com

---
Tue Mar 9 00:47:41 MET 1999
mattk
From: maryland


Serge, thanks for the great note. I thought I typed BEchet, but I did not, I see. oops. I did that at work.

My source is not complete, certainly, and you are of course right about hearing yourself better. The source is a big poster I used to have in college and a couple of videos I've seen--nothing anectdotal or textural, unfortunately.

The thing that sucks about straight models is the micing (which goes to your point about hearing yourself). On a straight model, one is tempted to shove the horn up the bell, but you lose the ambient tones for the sax and it's a very thin, oboe-like sound then. Properly, you mic a soprano abover the right or left hand. Even with monitors, however, this is tough in a rock band as the stage volume is so high.

The intonation thing is a killer to. Curved models are hard to get in tune.

and yes, given the engineering of the sax, bending it by accident does not work. They're born that way.

Matt

---
Tue Mar 9 00:31:22 MET 1999
Serge
This one is for Matt K: I'm on a roll eh, Gee you are right, Garth's soprano sax IS curved. It didn't just get run over by a bus and got bent out of shape, it WAS built that way. Sorry...:) You could be right, BUT I have just about everything of Sidney ( and by the way it's "BECHET" )'s recordings available, mainly because of my French background. :) I have an extensive library of books on Jazz, from Buddy Bolden to Sun Ra and beyond. I have never ever seen a pic. of Sidney with a curved soprano, in books, lp's or cd covers. Please tell me where you got that one. Even Johnny Hodges ( of Ellington's band ) started on soprano, and always a straight one. The curved shape of course, let's the player hear himself better. Garth told me that. Monitor speakers are a modern phenomenon. ( By the way, check out how the early Hawks worked, look at the photos. Two column speakers, one on each side of the stage, preferably a little to the rear so as to at least hear overtones. The rest was "I hope it's all coming out nicely up front". I'll check Bechet's biography. Interesting point. Now it bothers me. When was it curved? In the factory? Or was it an accident, like Dizzy's trumpet. Maybe Garth can answer that one. One thing I know, Bechet didn't build them, he just played them.

---
Tue Mar 9 00:00:47 MET 1999
Bill Hutchinson
From: New Jersey


Would anyone know if The Band's Washington DC show of 12/12/75,broadcast on King Bisquit will ever be available to the masses.Ihave a cassette and I've just about worn it out.Also any word on any other releases from the Basement.I bet there's miles of tape tucked away in Garth's sock drawer.

---
Mon Mar 8 23:58:51 MET 1999
Serge
Thank you Jan. I am tired of the pissing contests here. But as Mr. Donabie says, let's not get into a mushy, kissy banter, and overworked reviews of 25 year old recordings. I personally do not need anyone to tell me what I have just listened to, and whether I should like it or not. It's all a waste of keystrokes. Reviews of concerts, who did what, when and how is sort of interesting. A description of a visual and aural experience is perhaps worthwhile for those who were not there. As opposed to the perpetual analyzing of every note and word of a recorded piece, that may sound different to one by the minute, depending on the mood of the individual, not to speak of opinions. I personally do not give a damn' what a Viney thinks of a recording. If it gives me a goose bump great. I don't need to check with anyone if it's ok. I will repeat an old saying again: Opinions about ANYTHING are like rectums (I cleaned up). Everyone has one. And some of them stink!

---
Mon Mar 8 23:35:56 MET 1999
MattK
From: Maryland


Scanning the archives...

Lil: Read a post from December regarding what Garth plays on TLW (It Makes No Difference). It is in fact a soprano that Garth plays--it's called a "curved soprano."

Popularly, the curved soprano sax traces it's legacy back to Sidney Bichet--father of the jazz soprano. The straight model became more the soprano of choice after Coltrane popularized it in the early sixties. Originally, all saxes came in straight and curved variations (including the alto, tenor, baritone and even bass saxes).

The curved model has real problems with intonation--high notes (above high C to the palm keys) are very difficult to keep in tune on the curved soprano. The curved model is more comfortable for some as it's physically closer to the other horns.

On Garth's sax playing. I was never a huge fan of his playing until I got Moondog, then I changed my thinking. Garth plays sax similairly to the keyboards: just left of center enough to sound "off" but very inventive and even exotic in approach. Now, after reading both Jan's and Viney's comments about their encounters with Garth last week, the man is clearly a scholar on the history of the horn, and it seems as though he is becoming more and more dedicated to exploring the possibilities of the sax.

On a side note, I'm interested to hear from anyone familiar with the Charles Lloyd album "Of Course, Of Course." It appears that this is the most traditional jazz work by a Band member (RR). I'm curious what anyone thinks of "Third Floor Richard" which purportedly features an uncredited Robbie. (yes Viney, I'm looking at you, Work Song boy).

Cheers

Matt

---
Mon Mar 8 22:46:31 MET 1999
Jan H.
From: Halden, Norway


This is really a personal message to Lee Gabites, 'cause your e-mail server is up s**t creek:

The John Simon article will be on the site tomorrow or on Wednesday. I scanned the CD booklets today (they're on their way back to you). Hope your flu is better, btw. I haven't heard from Aaaron or Garth, got one e-mail from Tom, though.

I kind of agree with Uncle H., btw. You can stick the "respect" up youknowwhere, bit I am pretty' tired of flame-wars. I've seen this on the net for about 15 years now, and it's pretty pointless. Even if you're sure you are right you can never win.

---
Mon Mar 8 22:37:38 MET 1999
Little Brother
From: around Philly, PA


This site is TOO MUCH! My Internet PC scavenging pickings have gotten slim lately, so I went into the archives to try to catch up. It's like that "Twilight Zone" episode where Burgess Meredith plays a bookworm who goes way down in the basement stacks of a public library. When he comes up, there's been some kind of holocaust-- books and pieces of library scattered everywhere.

Anyway, Pat Brennan (I think), you're right about the Garth/George Martin parallel. They were both Honeyboys in their way. I picked John Simon because I was coming at it from a perspective of Paul as the musical innovator and Mr. Martin in the booth. I have a lot of sympathy for John's role as the "sixth Band member".

---
Mon Mar 8 22:17:07 MET 1999
David Powell
As a follow-up to John Donabie's post regarding Hiatt & Cooder. They later reunited with Jim Keltner & Nick Lowe as a short-lived group under the name "Little Village" & recorded an album by the same name. The name comes from a famous altercation between Sonny Boy Williamson (Rice Miller) and Chess Records mogul Leonard Chess. Chess was producing a session for Sonny Boy, and following a false start on one of the songs, Chess asked Sonny Boy what the name of the song was. The ever cantankerous Sonny Boy replied "Little Village, motherf****r", or something to that effect. When Chess questioned the relevance of that title, Sonny Boy retorted, "Well you can call it your momma if you want" and so on. This whole dialogue was captured on tape, becoming famous as bottleg copies circulated. Chess Records later released an official version, complete with a parental warning sticker, on an album entitled _Bummer Road_. Not much relevance to this present forum, but I thought I'd inject a little humour here today.

---
Mon Mar 8 21:50:32 MET 1999
The Oval Office
From: Wash, DC


PRES. CLINTON: Gen Wayne, it's been a long time. You know Gen Powell, of course.

GEN WAYNE: General.

GEN POWELL: General, you look very fit. Very tan. That R&R in Haiti must have picked you up.

WAYNE: Um....to a point, yes it did. But seven months of holding up in a girls' dorm was enough for me. Know what I mean, Mr. President?

CLINTON: (cough)....um, so you are ready to resume your duties, General?

WAYNE: Affirmative. I understand our adversary has risen to power again, and all I'm asking for is two gung-ho squadrons and two thousand marines, along with the 24th Mech, and I can control this situation in a week.

POWELL: A week?

WAYNE: All right, then, skip the 24th, give me two regiments of green berets and a couple of Air Canada jets. I can do it in five days.

POWELL: 5 DAYS!?!

WAYNE: Allrightallrightallright....give me one platoon with Gopher on point and I'll have the enemy neutralized by dawn.

POWELL: General, are you saying you can overthrow Saddam in one night?

WAYNE:........Saddam?

CLINTON: Who did you think we were talking about, General?

---
Mon Mar 8 21:40:18 MET 1999
Diamond Lil
From: The Web


As I constantly tell my 3 children, C'mon kids - play nice :-)

---
Mon Mar 8 21:20:20 MET 1999
Bumbles
From: High & Outside


DONABIE: I second that emotion. Enjoy the break from the routine myself. These two are a well-matched pair. Viney seems to have the edge in youth (relatively) and speed, but I think pure nasty puts Serge over the top.

---
Mon Mar 8 20:51:28 MET 1999
Pete Long
From: London UK
Home page


I realise that many of you may feel that this is an inappropriate post for this forum and I therefore apologise in advance. I am the author of a book detailing Neil Young's concert performances which I am currently revising and for some time now I have been trying to track down a tape of the Band's performance on 3/18/84 at The Catalyst in Santa Cruz where Neil guests on encores. I would be most grateful to hear from anyone who has a copy of this tape as it would be an invaluable aid to my research. Many thanks.

---
Mon Mar 8 20:48:22 MET 1999
Peter Viney
Uncle H: fair point, but we have already. And they're unprintable.And BTW, I'm not the one calling names. Not yet anyway.

---
Mon Mar 8 20:39:51 MET 1999
donabie
Just one more thing. If I see the line "show some respect for Jan" one more time, I'm gonna puke. We all respect Jan for the site he has given us and he's a big boy. If he doesn't like something he'll tell us. I for one like a little excitement. It beats "I just listened to Jublilation for the millionth time" and I'm feeling all syrupy inside. Ooh Baby Baby

---
Mon Mar 8 20:38:59 MET 1999
Martin
From: Aberdeen


VINEY- Re your 'cahoots' article, are you sure it isn't a double bass that Rick plays on 'Thinkin out Loud'? Sounds like it to me, but I could be wrong.

---
Mon Mar 8 20:34:03 MET 1999
DONABIE
I would like to add something to David Powell's piece on Hiatt. Many of you Cooder fans remember that John Hiatt used to tour with Ry in the early days. He was backup and featured as well.
FANTASY CONCERT:
I would love to see RY COODER, JOHN HIATT, TERRY EVANS, BOBBY KING AND WILLY GREEN JR. TOUR ONE MORE TIME!!!!
You could have Spooner Oldham and Garth Hudson on keyboards. Jim Keltner & Levon Helm on drums and Ricky Danko on Bass. Look Out Cleveland!!

---
Mon Mar 8 20:31:15 MET 1999
Uncle H.
From: TX


Viney and Daniloff: This arguing does not belong her. Show some respect for Jan and the rest of us and move to e-mail, will you? Thanks.

---
Mon Mar 8 19:47:43 MET 1999
Serge
Well, just listen to that pompous nerd. He's in charge of the Guestbook now, and dying to know what I know. A new pontificator. The mouthpiece has retired. Long live Viney, the typist.

---
Mon Mar 8 19:27:17 MET 1999
Peter Viney
Hey, now. Hey, now. When I said yesterday that we should avoid forgeries, I genuinely meant it. But I'd like to add that we could equally avoid witch hunts and accusations. And how does anyone know who was responsible? There were a whole slew of offensive posts with pseudonyms last year, and we never sought to hunt out the identity of the posters. I can only think of one poster from The Netherlands, and he contributes a great deal of enthusiasm, pleasant good humour and knowledge to the site. So let bygones be bygones. Let's get back to the positive stuff today. David Powell's info on John Hiatt; Tracy's work on the Richard interview.

---
Mon Mar 8 18:31:28 MET 1999
Charlie Young
From: Down in Old Virginny


Rod from New Mexicoe: thanks for the review of Levon's drum video. I'll order it. David: I'm with you on John Hiatt. I've seen him in concert a couple of times recently, and he and his band are in a league with Dylan and The Band, circa '66, but with more humor, less intensity. BTW, Leon Russell is on a tour of small clubs right now (check the full list on www.pollstar.com); see him while you can. Leon has health problems, but he still has the old magic.

---
Mon Mar 8 16:27:43 MET 1999
David Powell
From: Georgia


VINYL SIDING: JOHN HIATT

On the recent Band album, John Hiatt contributed the wonderful song "Bound By Love" on which he sang along with Rick. In 1987 Hiatt released his masterpiece, _Bring The Family_, which he recorded with Ry Cooder, Jim Keltner & Nick Lowe. His follow-up album, _Slow Turning_, was released the next year on A&M. I recently acquired an LP copy of that album for $3.00 and it is an amazing gem of a recording.

On _Slow Turning_, Hiatt is accompanied by his band, The Goners, feauturing Sonny Landreth on slide guitar. Rhythm ace James Hooker guests on Hammond B-3 along with former Eagle & Burrito Bro Bernie Leadon on mandolin, banjo & guitar. In addition to his strong, soulful voice, Hiatt's strength lies in his songwriting ability, both of which are on full display throughout this album of all original material. From the raucus romp of "Tennessee Plates" to the gentle celebration of his baby daughter, "Georgia Rae," and the possibilities of life ahead. Other highlights include "Drive South," "Trudy And Dave," "Slow Turning," and "Paper Thin." Hiatt's songs are honest slices of real life, filled with both joy and pain. When he sings, there's no holding back; he sings it like he means it and lived it.

What makes _Slow Turning_ even more appealing on vinyl is the excellent production work. Produced by Glyn Johns, engineered by Larry Hirsch, and mastered by Doug Sax at The Mastering Lab, this album, like _Bring The Family_, is a warm, natural sounding recording. Vinyl copies of both these albums, released on A&M, can still be found in used record stores. CD versions are also available for the analog challenged. In addition, Mobile Fidelity issued a limited number of gold CD and 200 gram vinyl copies of _Bring The Family_ which are both now sadly out of print. However, MoFi has just released a gold CD version of _Slow Turning_, mastered with their near-analog sounding proprietary GAIN II system.

---
Mon Mar 8 16:03:18 MET 1999
Serge
From: (again)


Forgot to mention that I'd like to dump on the Dutch moron who impersonated me on this forum. That person is not only a coward hiding in anonimity, but is also a useless entity here, with nothing to offer. He should stick to picking tulips, or with any luck he'll ride his bicycle straight into a fast revolving windmill.

---
Mon Mar 8 14:52:21 MET 1999
John Donabie
Last night at The Juno Awards (Canada's Grammy's) Robbie Robertson won for Best Aboriginal Album. He was not there to accept.

---
Mon Mar 8 14:43:05 MET 1999
Serge
Rod from NZ: I only dump on idiocies... such as your last sentence.

---
Mon Mar 8 13:43:35 MET 1999
Ilkka
Home page
COL
Check Library - Net Resources.

---
Mon Mar 8 12:31:01 MET 1999
Col
From: Canberra ACT Australia


This is a great website. You are to be congratulated. Enjoyed the chords for some songs to. If the artists have their own home pages it would be good to have links to them. The site has a solid look and feel about it.

---
Mon Mar 8 12:19:50 MET 1999
Ophelia
From: Meråker, Norway ( the cold north)


God help me...er someone else.. When I saw the news yesterday I realised that my time is running out... The members of the Band is old they might die before I have met them.... You know, Stanley Kubrick is already dead!!!! WHAT SHALL I DO? Well they are not that old.. God bless The Band! ( Robbie and Richard too!)

---
Mon Mar 8 09:54:15 MET 1999
Peter Viney
Alternate opinion: phew! Bet you really loved "Contact from the Underworld of Red Boy" though.
Many, many thanks to Tracy for typing out the Richard Manuel interview.

---
Mon Mar 8 08:18:02 MET 1999
Rod
From: N.Z


Charlie Young: I'm not a drummer but I found Levons drumming video really good. Found out alot of useful things for drum machine programing (I can almost hear Levon cussing) and musicianship in general. Rick's bass video is not really in the same league and probably not a good place for would be bass players to start.

That article on RM was great. He seemed so positive.

Good to see the real Serge back dumping on every one else.

---
Mon Mar 8 05:57:36 MET 1999
Alternate opinion
From: Mississippi Mills


When RR was just released, a well meaning but naive friend insisted that I listen to his copy. While reading the notes, I saw the dedication of "Fallen Angel" to Richard and could not wait to hear the track. What a disappointment. It was definitely the nadir of an otherwise dismal work. Although I couldn't possibly have the insight that JRR would have into Richard, the song made absolutely no sense to me. Still doesn't. Can't help but think the whole dedication thing was an afterthought. Having read the recent postings regarding the song, it seems a lot like the fable of the Emperor's robes. From what little I know of RR, the song appears to be autobiographical.

---
Mon Mar 8 03:28:42 MET 1999
Charlie Young
From: Down in Old Virginny


Rick Danko's "Electric Bass Techniques" video is on sale this month in the Homespun tapes catalog. I've seen this tape and learned a lot, even though I'm no musician, just a fan. I especially enjoyed the section on the fretless instrument he used on "Stagefright." Levon Helm's drumming video is also on sale and it features several songs with the current line-up. Has anyone seen this to know if it's worthwhile for rhythm-less non-musicians like me? The company's web address is: http://www.homespuntapes.com

---
Mon Mar 8 00:49:52 MET 1999
Diamond Lil
From: The Web


Hmmm....just noticed that there's um..numerous posts below me from the web. Just want to make it clear that it is not my web. On my web, we only hit the submit button once. Smile Jan..it could be worse....all 26 of those entries coulda been _italicized_! :-)


Lil, I don't want to know what that guy did to his mouse to set that new record in multiple postings of the same entry ... --JH
---
Mon Mar 8 00:43:58 MET 1999
Diamond Lil
From: The Web


Thanks Jan for posting (and Tracey for typing) the Ruth Albert Spencer interview with Richard Manuel. For a few brief, magical moments - it felt as if Richard was here, speaking and joking in the way that only Richard could. I never knew that he once had tears in his eyes when listening to a tape of himself singing "Georgia". I thought I was the only one.....



---
Mon Mar 8 00:09:43 MET 1999
Been Around Enough to Know
From: the web


I've been reading this guestbook for sometime but haven't felt the need to speak out until now. Some of you are having a hard time understanding Serge's anger and although I don't know him personally, here is my take on it.

Over the years, I have been blessed to be able to call some well know people friend. However the first rule of being a true friend to these people is NEVER selling them out. This requires building a level of trust that may take years to do. Always this trust remains fragile as most have already been hurt by friends and even family who have sold information, photos, etc. for profit. In this incredible age of information, very little is sacred.

Serge, in a previous post indicated that he had promised Levon that he would never try to profit from his pictures. Then one winds up in a book (without his permission). This one incident could be enough to seriously damage the years of trust and friendship. I pray this is not the case for Serge. After all it is very difficult to explain or apologize when your calls aren't being taken.

Just my 5 cents worth.

---
Sun Mar 7 23:03:56 MET 1999
J.Croce
From: The Brokerage


Correction to Concert information. Jim Weider & The Honky Tonk Gurus are appearing at the fabulous Towne Crier on Saturday April 3rd and not the 4th as shown. Got the mailing right here. Thanks to Jan for the Ruth Spencer/ Richard interview. For Bruce & anybody else @ The Bottom Line last nite; did Rick mention the progress on the new DFA album. I notice Eric Andersen appeared at that venue the nite before. Trust Ed Kaercher remains a Friend of the Devil. Hey Rick, Sip the Wine, not the Heinekens. :-)

---
Sun Mar 7 22:56:36 MET 1999
J.Croce
From: The Brokerage


For those in Metro NYC. Channel 13 March 13 9:30PM- The Band- "their Music & the stories behind it". A MetroArts/Thirteen Salute to Rock & Roll. Actually the salute starts Monday nite. Yeah baby!

---
Sun Mar 7 22:50:38 MET 1999
John Donabie
Wish Capitol or One-Way or some re-issue label would release on CD Happy & Artie Traum's album with "Goin' Down The Road To See Bessie." Great version and a favorite piece of vinyl of mine.

---
Sun Mar 7 20:56:07 MET 1999
Bruce
From: New York City


(long time visitor, first time posting) Caught Rick's show at the Bottom Line last night (the early show). He was joined by "the professor" and Ed Kaercher and later on by the Kings in Disguise (the opening act). Songlist (order is questionable) Book Faded Brown (this was classic Rick, excellent version, with much more emotion than on Jubilation), Blind Willie McTell (also top notch). Twilight w Ed K., One More Shot, Ed. K singing Going to Carolina, Four Winds Blow (the Prof.), Wheel's On fire (great but tuning problems hurt this one), the rest were all with Kings in Disguise (Crazy Mama, Stage Fright, The Weight, and Shape I'm In as an encore. Rick sounded great last nite but he seemed very frustrated with the sound and his guitar (he stopped using his after the 3rd or fourth song and picked up one belonging to the opening act. In a nutshell, it started out very strong but sound problems and too many musicians on stage hurt the show. Rick would have been better off with just the Prof and maybe the opening act for an encore.(just my opinion). One last note, Rick was comical as always (at one point he took a sip of a Heineken and said "don't tell my wife". I'm no doctor but Rick's weight has to be a cause for concern. You could here him breathing (w/o the mike from 10-15 ft away. Judging from other postings i am not alone in this belief.

---
Sun Mar 7 19:00:29 MET 1999
HBOGAEV
From: Bucks County, Pennsylvania US Earth


Love to come to the guestbook and archives every once in a while to catch up on the running arguments, commentary, and musical/lyrical criticism. Re: which album is "better" than the others, my 2 cents sez anything prior to 1973 is better than anything else (eg: before 1960 or before/after "the flood"?). But, when it comes down to it, what a terrible waste of time to sit at a computer keyboard and debate this BS. Only excuse - there is nothing to do outside, mom, and I have my ten stack CD player full of Muddy Waters, Hank Williams, Miles Davis, Allen Toussaint, Jerry Lee Lewis, Lee Morgan, Bill Monroe and the Bluegrass Boys, Louis Armstrong (and Jordan), "Get Yer Leeds Lungs Out", and live Van Morrison from 1993

---
Sun Mar 7 18:58:43 MET 1999
The Ragman
From: NYC


Missed Rick at the Bottom Line. Anybody see him? Nothing in the paper today.

---
Sun Mar 7 18:54:59 MET 1999
Martin
From: Aberdeen


KEITH R- sorry, no Carny soundtrack in my possesion at the moment. If I acquire a copy in the near future, then I'll post a note in the guestbook

---
Sun Mar 7 18:53:15 MET 1999
MattK
From: Maryland


Mitt and Peter. Agree completely. I suppose we could go to some sort of secret society-type thing, but the handshakes get me all confused.

Seems like a basic level of courtesy and honesty have both been undermined in the last week. I feel worst for Jan. Poor guy goes away for a couple days, and everyone loses their mind.

Folks, we can all disagree and argue 'till the cows come home, but lets keep if civil and PLEASE lets keep it honest...

Matt

---
Sun Mar 7 18:29:23 MET 1999
catbalu
From: "We always did feel the same, we just started from a different point of view...."


The Hawks put on quite a show yesterday afternoon. Done up in their sepia best, they drew quite a crowd, knowing they were on top of the world..... All four of them, wings outstretched just coasting on a light early-spring breeze...... I thank you too, Matt K, for the detour. Puts things in perspective....... Charley in old Virginny, found Clarence "Gatemouth" Brown for $4.99 yesterday. also got a quick listen to Steve Earle's new one and an old one by Chris Whatley (1991). both sounded very fine. will add them to my repertoire (after April 15). every day's a new day...... Speakin of Levon the actor, which one was it that he played a trucker? i remember the same delighted amusement at that one-of-a-kind voice coming through the tv.

---
Sun Mar 7 17:52:32 MET 1999
Tim(SUNDOG)Corcoran
From: Madison, Wisconsin
Home page


MATTK: THANKS FOR THE DETOUR TO MARCH 1998, ALOT OF NICE POSTS FOR RICHARD MANUAL, KINDA HARD TO TAKE, ALSO, YOU DID MAKE YOUR POINT, PLUS THANKS TO YOU I GOT TO CHECK OUT A BAND CALLED "CRAZY FINGERS", A DEAD TRIBUTE BAND- HEY,FAITH HAD IT MATT!!! Peace, Tim(SUNDOG)Corcoran.

---
Sun Mar 7 16:27:49 MET 1999
Mitt Stampler
From: Snowy River
Home page


Viney--I say the words "well said" a lot, but that was quite well said. There's a lot of talented writers on this site, which I like to think motivates me to write better...the same way Stallone really was okay in "Cop Land" when he had to act along with Robert de Niro and Harvey Keitel. So...forget the flamers and keep talking. Hope we don't go to passwords--Whirlwind Dreamer will never figure 'em out. Thanks to everyone who visited my site--my guestbook tripled in size! Keep coming back!

---
Sun Mar 7 13:40:20 MET 1999
Peter Viney
From: Poole, UK


This site is open, wide-ranging and a treasure to preserve, thanks to Jan. This deserves respect. We have our battles, but we should observe a basic honesty. Posting things anonymously is fine, lots of good reasons for it. Flaming, for one. Posting something that purports to come from someone else is a different matter. I refer to the apologetic "Serge" post late yesterday which was apparently a forgery. It convinced me enough to intend posting a "Don't go" message. I was about to do so earlier when I saw the rebuttal. The consequences of this sort of thing can be seen on the new Capitol Records RR bulletin board. Apart from the anally-retentive IBM / PC style corporate layout with its unpleasant Microsoft-style branches, there is a lock. (As you've just guessed I've used Macs since 1985) You have to register before you post. You don't have to use your real name, but there are passwords and your e-mail address is locked onto to the message - not that you have to display it, but it can be traced with no hassle by the site managers. So you can't post in anyone else's name. I'd hate to see this kind of thing here, and one look will convince you of the vastly superior architecture here, but what happens if people forge other people's names?

---
Sun Mar 7 11:47:36 MET 1999
Mattk
From: Maryland


Sorry, Serge, they're right.

March 1998 archive. You can see for yourself.

Previously you mentioned that people "don't know." Can you elaborate? If there's information we need to understand your anger, please share it. I'm trying hard to understand where your anger is coming form, and failing mightly. Please advise.

---
Sun Mar 7 10:56:49 MET 1999
Ragtime
From: the echo


BigOk98 from Kansas: you felt ignored? Well, ask us a question or tell us something about The Band & we'll come running to be at your service...

---
Sun Mar 7 07:49:15 MET 1999
Sebastian
From: Berkeley, CA


Regarding whether or not "Fallen Angel" is about Richard...in the VH1 special, Robbie says that he had already started recording the track when he heard of Richard's death, but it sounds like it wasn't finished. It seems possible that he went back and re-wrote the lyrics and re-did the vocals, assuming he had even recorded the vocals yet. There was evidently alot of re-recording on that album. It seems possible that this was done on "Fallen Angel". I mean, the lyrics HAVE to be about Richard, don't they?

---
Sun Mar 7 07:47:46 MET 1999
Phil
From: Ca


Diamond Lil: Concerning your "separate note" -'Some folks' think it's make believe - 'other folks' ain't so naive - (about this whole mess...) Keep on keeping them honest.

---
Sun Mar 7 06:31:16 MET 1999
gripper
From: middlebugh,ny


nice site,nostalgic.i have never felt the "realness" of song as rick danko sang the times i saw him ,he is(was?) the real thing! venues-tigers pub:clifton park,ny(twice),also saw levon there. tinker st cafe,woodstock ,woodstock alive., saratoga-several places. did any of u c these shows?-e-mail me.

---
Sun Mar 7 04:09:52 MET 1999
Paul Godfrey
Diamond Lil...yes I caught it in a movie theatre and was delighfully surprised, so much so that I made sure I sat thru the credits to be certain I was not hearing things

---
Sun Mar 7 02:18:11 MET 1999
BigOk98
From: kansas


Thanks all for making my visit here a pleasant one, (highly acceptable to the mind) Thank you so much for making me feel so welcome!

---
Sun Mar 7 02:04:03 MET 1999
Diamond Lil
From: The Web


Don't know if this has been mentioned in the guestbook before, but did anyone know that "Stuff You Gotta Watch" (yes..The Band version) is one of the songs in a movie called "Little Big League"? My kids were watching it earlier and imagine my surprise when I heard Levon's voice coming through the tv!

On a seperate note, seems to me that maybe some folks in here need to be reminded that ALL of us are guests on this site. Think Jan deserves alot better than what's going on in here now.

And for what it's worth Jan, welcome home! :-)

---
Sun Mar 7 01:45:35 MET 1999
Bigok98
From: Kansas


Is there an echo in here? hello, hello, o hell!

---
Sun Mar 7 01:40:17 MET 1999
Bigok98
From: Kansas


What the heck are you talking about? Does anything really go on here?

---
Sun Mar 7 01:05:38 MET 1999
Cleopatra
Hey Serge: Denial is a river in egypt.

---
Sun Mar 7 00:56:34 MET 1999
Serge
That entry last year was NOT Jan's. Trust me...I know. Stop being a shit disturber. You're as sad aspecimen as Joseph and the goof from Pine Bush NY. You know nothing.

---
Sun Mar 7 00:06:13 MET 1999
BigOk98
From: Kansas


Love the Band, Love the Site, don't care too much for the chat room, Does any one ever go there? And hopefully more than one of The Band's fans have Netscape. Oh well maybe someday, it will work with explorer.

---
Sun Mar 7 00:00:16 MET 1999
I couldn't resist .....
From: the archives


Serge, check the archives before you type. Does that sound familiar????????

---
Sat Mar 6 23:50:02 MET 1999
bigok98
From: Kansas

---
Sat Mar 6 22:59:05 MET 1999
Twilight
Just got new speakers - listening to the boys and it's just wonderful. Leon Handcrafted speakers in Ann Arbor - nice kids with a great gallary - worth a look if your ever in town. I'm listening to "Daniel and the..." it's never sounded so magical. Regarding Robbie - does anyone remember the Playboy review of his first album? I remember it being a bit negative - and then the writer (Griel Marcus? Dave Marsh? Robert Cristiggau?)retracted his comments in the next issue. I was amazed! A friend of mmine hung out with the band in Germany in about 1970. He was in the army and he said a few of the germans thought they were hillbillies. He also mentioned that it was obvious that in many ways that Leovn was the attitude. Listening to Cripple Creek - he does have style and attitude. I hope levon's pain isn't about money. Money has never solved more problems than it has created - period.

---
Sat Mar 6 22:55:04 MET 1999
Serge
The last entry using me name is not from me. The buffoon has my Email wrong to bbot. I doubt the Jan entry is genuine also. He's not that crude. But I am tired of the pissing contests here, especially with people who DON'T KNOW.

---
Sat Mar 6 22:24:06 MET 1999
Mitt Stampler
From: where they lay flowers in the snow
Home page


Cat: well said, as always, and too true. Just got back from seeing "Office Space" and found my godchildren have been running amok with my iMac. Think I may just go fishing, despite the fact that it's snowing, and pretend to let them raid my stash of Cheez Whiz and Ritz crackers. Take that, you junk-food flamers! Whirlwind Dreamer's real name is Zeke, and he's 12 (13 in April) and took his nom de Guestbook from a movie called Powwow Highway, wqhich I highly recommend (even it does feature music by JRR himself, including Fallen Angel.) They grow up so fast...still remember when Zeke didn't act exactly like a character from South Park. He came to live with us for 2 years when I was in grad school, and at night he always seemed to wander in while I was doing the dinner dishes and knocking back Jack and Coke. I had an old tape of Big Pink that I always listened to while scrubbing, and Zeke'd say "Whatcha doin', Mitt-Mitt?" and since I was pretty sure he didn't know, I'd always tell him to stay and keep me company. I'd wash and he'd dry and sing along, and maybe it was just the JD that makes the memory of a little kid singing "and you know that we shall meet again if your memory serves you well" seem so disconcerting... Serge, Viney, Don Joseph and other august members of the Band Bar--feel free to come sign my guestbook. No, it's not a Band site, just a place where I post my scribblings, but since they're mostly about crime, it might cheer you up :) Anyway, the site's harmless, so drop in and try to ignore the pictures of JRR plastered all over.

---
Sat Mar 6 21:32:05 MET 1999
Rod
RR once said, in Rolling Stone I think, that he wrote Fallen Angel as a hymn for RM. So like the others I think this song must have been written after RMs passing. It may well have neen bases around an earlier idea - and remember Martin Page gets a co-credit . Beautiful song though.
Was that last post from Serge really from Serge ? Seems a bit out of character.

---
Sat Mar 6 21:15:33 MET 1999
Pat Brennan
From: USA


lie water=lye water, i.e. soapy water.

---
Sat Mar 6 20:08:14 MET 1999
Observation
From: My easy chair


Well well, it looks as if our friend Serge has quite a dilemma on his hands. Looks like he'll either have to put JAN in his place too, or else admit that he's nothing more than a hypocrite. Stay tuned.

---
Sat Mar 6 20:06:20 MET 1999
Serge
From: London, Ontario


Sorry. I meant well, but now I have gone too far. Sometimes I can't control myself. Please ignore me if I am in such a mood. I'll try to stay out of here for the next few weeks.

---
Sat Mar 6 20:02:15 MET 1999
Lars
From: NY


The snowflakes are falling, you can hear them hiss as they fall down from the Catskills. Ground is getting white. But this is just a storm, it will pass. Soon the storm will be over and the sun's warmth will bring on the daffodils. And we will listen to the Band and look out at the buds and tulips. The storm doesn't touch what really matters.

---
Sat Mar 6 19:46:29 MET 1999
...And I can't believe it
Dragging the guy who runs this place into the middle of this juvenile argument? Go ahead Serge - blast Jan now. This is all pretty damn sickening.

---
Sat Mar 6 19:27:58 MET 1999
I Couldn't Resist
From: the archives


Wed Mar 4 16:45:04 MET 1998 Jan Høiberg From: Halden, Norway E-mail: Jan.Hoiberg@hiof.no Home page: http://gyda.hiof.no/~hoiberg/ Tonight's menu: A bottle of Grand Marnier and my Richard compilation tape, starting with those incredible performances with the Hawks in '63 and ending with "Country Boy" and "Before I Grow Too Old" from the Lone Star Cafe in '86. Rest in peace, Richard Manuel.

---
Sat Mar 6 18:48:17 MET 1999
Pat Brennan
From: USA


As has been mentioned before on the site, some of the images from Fallen Angel date back to the mid-70's and Robbie's Works project. Perhaps this played into his explanation of the song's meaning.

---
Sat Mar 6 18:23:55 MET 1999
Mattk
From: Maryland


Viney and Lil. Wonderful thoughts on Fallen Angel. I agree with your feelings on the lyrics--I find them incredibly moving. I was somewhat surprised when Lil informed me of RR's comments about writing the song. I agre that it is either an insane coincidence or there's more of Richard in the song than RR will cop to. RR is such an odd man. One of the reasons I tend to land in his court so often is his candor on his creative process. The fact that he could claim, easily, that the song was written for Richard, and yet doesn't--because, perhaps (yes conjecture again) the concept or the changes or the skeleton of the song came to him beforehand. Either that, or he lost someone else he loved--clearly this is a song of loss and mourning.

Serge, I love your photos, and am grateful to you for providing such an incredible resource to this site and its users. However, that does not give you the right to be abusive. I agree that DJ's comments are totally crude, and your phlame somewhat justified there.

However, the vitriol you consistently spew at anyone who disagrees with you is proving disruptive, and plain mean. Whatever your rage issues are, please work them out elsewhere. If you wish to criticize, please keep it constructive and refrain from the name-calling. I'm sure you'd never accept adolescent behavior from your children. You can set a better example by remaining constructive instead of spreading bad blood. If bile is to your taste, then feel free to confine it your personal life. I for one, can live without it.

Matt

---
Sat Mar 6 17:39:44 MET 1999
catbalu
From: counting my blessings


What a good great mischievious day yesterday was. Labored long and hard all week and earned the right to mess with people!!!! and i did. catch any fish, Ikka?..... am now the owner of a new office..... thinking about the little things to be thankful for, memories of the boys when they were small peeking around the corner of their door, wanting to be rocked just a little bit longer; old friends sitting around the fire at the bluff, making music that echoed through the valley; learning to can and to tat with my mother; driving the tractor while my father threw down the hay for the cattle. thankful for the long memory and gift of imagination. don't intend to ask for anything more - just about to walk down to the falls with my too-quickly growing sons. nothing lasts forever.... "things that i love - go to it." it will change your mind.

---
Sat Mar 6 16:54:38 MET 1999
Kieron
From: England


after gaining access to the internet this was one of the first pages that i chose to visit. i'm impressed by the quality and content of this site and i am sure that i will be back to visit in the not so near future.

---
Sat Mar 6 16:51:09 MET 1999
Whirlwind Dreamer
From: the crazy river
Home page


Hi everyone! I'm Mitt Stampler's godson and I stay with them a lot. You have a great page. I spent last night reading the archives and Mitt's right, you have lots of fun. I will have to look again! When You Awake is my favorite song. What is lie water? Well, talk to you later. Mitt says hi. They went to the movies.

---
Sat Mar 6 16:20:17 MET 1999
Tim(SUNDOG)Corcoran
From: Madison, Wisconsin
Home page


Everyone leave Serge alone... He's having a senior's moment!

---
Sat Mar 6 15:10:22 MET 1999
Serge
Viney: there's nothing "kneejerk" about pointing out the idiocy of someone's action, who then brags about it. I guess you find nothing wrong with the disrespect that was displayed, and then endorsed by the mouthpiece. You must still be in a euphoric state from going to a concert. You should climb on the bike behind your pedal pushing buddy, and keep repeating " I will not type drivel for the sake of typing". 100 times.

---
Sat Mar 6 14:34:25 MET 1999
Peter Viney
Diamond Lil: Yes, it's all in there, isn't it?
I don't believe it's all for nothing
It's not just written in the sand
Sometimes I thought you felt too much
And you crossed into the shadow land
Then "You gotta play the hand that's dealt you, that's what the old man always said" - I always think that has to be Ronnie Hawkins. And "all the tears, all the rage …" has to refer to "Tears of Rage" the first song on their first album, with music written by Richard, sung by Richard. And the rest, "In my dream I lost a friend … Come down Gabriel and blow your horn, Cause someday we will meet again," And finally:
If you're out there can you touch me
Can you see me? I don't know
If you're out there can you reach me?
Lay a flower in the snow.
And at the end it says "For Richard Manuel". And "Keyboards: Garth Hudson". I think Robbie paid his respects with love and sincerity, combining beautiful musical and lyrical elements. Sixteen-odd years together. Richard turned to Robbie when he needed lyrics for his songs. How anyone can judge this friendship from a distance beats me. Anyhow, I'll continue to listen to it, especially at this time of the year.

---
Sat Mar 6 12:42:50 MET 1999
Diamond Lil
From: The Web


Peter Viney: I really have to agree with you, even though RR said that Fallen Angel was already written and dedicated to Richard as an afterthought. *Imagine Italics here --> :-) "All the tears, all the rage, all the blues in the night" really _says_ Richard, doesn't it? Perhaps you're right when you say that Richard was the influence for the song from the start. Kind of eerie though when you think about it.

Just thinking out loud here, but what a wonderful tribute if would've been if RR had actually shown up and sung that....

---
Sat Mar 6 12:08:01 MET 1999
Ragtime
After playing Music From Big Pink this morning (always rewarding) I proceeded to Jubilation again after quite a while. And YES: it stands the test of time. It managed to bring back happy memories from last fall. Well, it is an autumnal collection of songs. Nostalgia already! I enjoyed it.

---
Sat Mar 6 10:25:18 MET 1999
Ragtime
From: back from biking


My on-bike mantra was short & refreshing. When my feet where cycling it said ... serge ... serge ... serge ... and look: the images of a nasty & bullying little boy disappeared.

---
Sat Mar 6 10:12:27 MET 1999
Peter Viney
MattK & Diamond Lil: Yes, I got a transcript of that bit of the VH1 interview. But if you read the words of Fallen Angel, and listen to the melody you have to disbelieve him, at least in part. He may have had the song idea, and bits of lyrics before, but that doesn't mean he didn't adjust it, or that it wasn't about Richard subconciously. Robbie is my favourite songwriter (sorry Paul Simon, Bob Marley, Dylan, Van, John & Sir Paul … you all came close). Paul Godfrey said tellingly in the Guestbook a couple of days ago, "Everything you want or need to know about J. Robbie Robertson is all in his words and music." So, I'm judging by the music and the words, not by gossip and rumor about stuff that's private and personal. And after I read some of the tributes to Richard on the Guestbook, I went and sat and listened to "Fallen Angel" and it's either weird synchronicity or Robbie was "dissembling". I find it to be a sincere and moving tribute.
Serge: Here's a mantra for you to chant to yourself this weekend. Close your eyes, breathe deeply and try saying it about fifty times: Hoskyns …Hoskyns … Robertson … The Bells … Hoskyns … Pedersen … Joseph … Viney … Sundog …Brennan …Catbalu … Luis … Hoskyns … Robertson. You see if you do it long enough these simple names will cease to cause these alarming kneejerk reactions. Soon they'll just be sounds, simple movements of air, and you won't get these aggressive turns. You might even be able to get them right without childish wordplay.

---
Sat Mar 6 07:33:53 MET 1999
Ragtime
Gone biking

---
Sat Mar 6 07:25:20 MET 1999
Ilkka
RE: JUST WONDERING
No ladies, no music, not even HTML. It's not fun here anymore.
Gone fishing.

---
Sat Mar 6 06:12:41 MET 1999
Serge
Now here's another fine specimen with another great contibution to the site and who's not quite sure what to call himself, sticking up for his buddy in his lame way. Must be awful not to be able to put together two intelligent sentences. Poor sap.

---
Sat Mar 6 05:08:36 MET 1999
Tim(SUNDOG)Corcoran
From: Mad City, USA
Home page


Gee, I love this guest book, bitch, bitch, bitch! Can't you all get a grip? JAN, don't you wish you could be where you were a few daze ago?

---
Sat Mar 6 03:57:34 MET 1999
Diamond Lil
From: The Web


Donald Joseph: Can't for the life of me figure out why you feel the need to be crude in order to give your opinion. It's neither amusing nor entertaining. I'd skip your posts altogether, except you seem like a relatively intelligent man who just really needs to find a more suitable way with words at times. I'd like to suggest that the only person who really knows what killed Richard was Richard, and out of respect for his memory and those closest to him, maybe it should just be left at that.

---
Sat Mar 6 02:47:07 MET 1999
Freddy Fishstick
From: Decatur Street


Just disembarked from Levon's Cafe. Think I had one too many Hurricanes. All of a sudden

CHEESEBURGER IN PARADISE $6.95 Served just like the song says and topped with grated cheddar cheese. Comes with fries and Kosher dill pickle. add bacon .75 add sauteed mushrooms .75 substitute Monterey Jack or Swiss .25 add grilled onions .50 add avocado .75 add BBQ .25 add chili .75

---
Sat Mar 6 02:34:11 MET 1999
Serge
And flaming you need Doanld, and I'm "gonna". How did you manage to become a lawyer with such an analytical mind? You must be chasing ambulances all day, and it's affecting your reasoning. Lenny Bruce did not die from drug use, he cracked his head falling off the toilet he was sitting on while shooting up.

---
Sat Mar 6 02:22:23 MET 1999
Reuben Remus
From: BigPinkus


Anybody who's ever been to Rick's live shows knows he usually performs at temperatures well in excess of 103 degrees. Diamond Lil has personally clocked Rick in @ 105. Robbie's just not a tough hombre; guy gets StageFright. Tells ya how the road will get ya. Swipes at flies. Hangs out with Neil Diamond. Geez Louise! Let's move on to another subject, eh? The Tie that Binds is missing a beautiful song from American Hero- Violet Eyes. How's about a setlist from Eric Andersen @ The Bottom Line tonite @ Rick tomorrow?

---
Sat Mar 6 02:05:30 MET 1999
Lars Pedersen
From: Upstate NY


SERGE: I never meant that we were glorifying Richard's drinking problem at last night's jam. We were playing the music that Richard sang, we were concentrating on that. That little bottle just sat there as a reminder of how much we all love Richard.

---
Sat Mar 6 02:01:23 MET 1999
Donald Joseph
From: The Land of Snow


Mitt: Tell your goddaughter we ARE playing. The only one of us for whom this is remotely like work is Jan.

Serge: My, what a cheerful comment! There was nothing wrong with toasting Richard in that way: People do drugs at Hendrix & Morrison's grave sites, don't they? And alcohol didn't kill Richard, a belt did. I wore a belt today. Are you gonna flame ME??

(I bet the answer to that question is "yes.")

---
Sat Mar 6 01:29:59 MET 1999
Freddy Fishstick
From: Sag Harbor


Hey Buddy Bear

Please confirm that the Allman Brothers neither opened for Jimmy nor covered Cheeseburger in Paradise.

---
Sat Mar 6 01:21:55 MET 1999
THE DANCING BEAR
From: OLD OLD WOODSTOCK


ALLMAN BROTHERS BAND -- OPENING NITE @ THE BEACON: And what a night it was...this bodes very well for a smokin' run this year. Here's the setlist... Set I Don't Want You No More--> Ain't My Cross To Bear Don't Keep Me Wondering Good Times I'm Not Crying Statesboro Blues Blackhearted Woman J.J.'s Alley Intermission (including a Betty Boop cartoon) Set II Seven Turns (Acoustic) Melissa (Acoustic) Sailing Across the Devil's Sea Blue Sky Leave My Blues at Home Les Brers - Drum & Bass Solos Revival Encores: Dreams Ramblin' Man Whipping Post

---
Sat Mar 6 00:34:07 MET 1999
Lee
Jan, Have got a bad case of the flu but that bottle of Loitens Aquavit is sure helping to beat the buzz from my head. You are a gentleman.
Hope the photos come out okay. We'll see.
If anyone gets to see reviews of the London show, whether it be for Garth or Mercury Rev, please post here or email me.

---
Sat Mar 6 00:22:18 MET 1999
Mitt Stampler
From: further along, I'll know all about it
Home page


Just got home from work (end of my first week in the marketing dept., and it isn't so bad except that I have to dress decently) and was hoping to find some more Richard memories...I hear the obnoxious expression "Someone's got a bad case of the Mondays" constantly but this is the first time I've seen it on a Friday in the guestbook. I think I might just head out to the movies and catch "Carrie II: The Rage." :) Mr. Joseph: Hey, I was a naive, stupid 23 year old when I signed those! (Now I'm a naive, stupid 27 year old--such is progress :)) I didn't think people lived to be 27 in those days. Actually, after re-reading the agreements they're not as dire as they appeared--it seems you can't hold title to a person's brain, at least not yet. Give it time, I guess... Catbalu: Me, I'm an optimist, and I want to believe (shades of Fox Mulder) that if they were brothers once, they'll be brothers again. I've never had any fight with a friend so bad that a simple "i'm sorry" and an offer of absinthe wasn't enough to patch it up...My goddaughter is looking over my shoulder as I type, and she says, "Why don't they just forget about it and go play?" the wisdom of first-graders...Maybe it's silly, but I want to hope that I'll see them again on stage someday. Peace, Levon and Robbie--

---
Fri Mar 5 22:43:03 MET 1999
mattk
From: maryland


D*mn, Lil, you sure know how to take the wind out of a guys sails ; ). Obviously this IS new to me. Keep waiting to see the VH-1 special. I'm getting sick of seeing the Bee Gees and John Cougar Mellencamp over and over and over and over and over...

---
Fri Mar 5 22:39:32 MET 1999
Serge
L'ARSE REDERSEN: That was a very intelligent thing to do!? Glorifying the booze that was partially instrumental in Beak's demise. You show a lot of class, and are as dumb as I always figured you were. I wouldn't brag about your stupidity. By the way Grand Marinier does NOT exist. Marinier means fisherman. Marnier is a liqueur.
Charlie Young: you are welcome.

---
Fri Mar 5 22:36:21 MET 1999
Pete Rivard
From: Hastings, MN


For anyone interested in original indie-label material with a decided Band influence, check the Rivertown Rats CD at Malt-O-Media.com.

---
Fri Mar 5 22:21:02 MET 1999
JH
Pete,
The drill is:
Be sure that you insert a valid URL for the picture you want to include, in the field for "photo" in the "sign the guestbook" page. This means you have to include the whole addres, with http:// and all.
Use a small photo, preferrably less than 5K.
Our Danish friend below here broke both the above rules, like about 98 percent of all people posting pics here do. And as usual, yours truly corrected the URL, took a a local copy of the pic and resized/compressed it.

---
Fri Mar 5 22:12:02 MET 1999
Keith Reehl
From: NJ.


Hello MARTIN, Your in luck if you own the Carny soundtrack. I will gladly make a trade with you. I own a very good amount of Band live stuff that would make for a great 90 minute tape. My Email is down so if you are interested leave a note here and I'll post my address for you. I never miss an entry. I love the dynamics of this place. Thanks everyone, Potsy

---
Fri Mar 5 22:09:59 MET 1999
Diamond Lil
From: The Web


Matt K: Not getting into this discussion, but think you should know that Robbie did _not_ write "Fallen Angel" for Richard. It was already written Richard died. Yes, my source for this information is a most reliable one. Robbie said it _himself_ on the recent VH1 special.

---
Fri Mar 5 22:05:59 MET 1999
Pete Rivard
From: Hastings, MN


What is the drill, please, for linking a picture along with the message?

---
Fri Mar 5 22:00:45 MET 1999
MattK
From: Maryland


Folks, ya know...

Ah hell, those of you who honestly believe that RR blew off the funeral because he's callous, unfeeling or just too selfish...you really need to go re-read the lyrics to Fallen Angel.

Go here: Fallen Angel Lyrics

---
Fri Mar 5 21:42:41 MET 1999
mattk
From: maryland


The Lovin' Spoonful deserves to be in more than Curtis Mayfield? Excuse me?

Oh yes, let's debate that one...please...how did you come up with that one?

I believe the bulk of the RR album was recorded in late '86, though RR had 10 years to write the material...good question though.

matt

---
Fri Mar 5 21:14:23 MET 1999
catbalu
From: It can be cruel what seems so kind


Peter Viney, "Only in Amurica" as my dear British friend would say......

took the day off and saw a commercial that caught my attention, background music being "its the time... and the season.... for loving...... for tampax?????!!! ...... so, like has been said------ Robbie, please come home if you change your mind (and yes, i hear Garth, along the line of French Girls, playing Red Boy, with Levon saying, "I can take that bullet --- You All that i love, lay low, we'll get there.") and Rick sayin', make it happen, if you can i'm with you.... otherwise, please, give it a rest, i'm tired....

IT is tired, i have no doubt.... Will be inquiring into this latest pronouncement of The Last Waltz heading South. I'll find out and will share.... but for those few sacred moments of close-ups of my "sexy young men" gracing the tv, i let that time stand still and don't care.... as they are priceless.

---
Fri Mar 5 20:29:14 MET 1999
Rod
From: N.Z


Lucrecia on NLSC ? I don't think so.

The Levon / Robbie / funeral thing: I'm sure RR would have liked to be at the funeral. Maybe he was sick or as others have suggested didn't want to provoke a scene or was sickened by the nature / causes of RMs death

I was wondering where RRs first solo album fits in here. I'm sure if RM was alive he would have been on the album (as he was on Between Trains, and Tom Petty's album.) Does anyone know when the tracks on RR were recorded? I suspect that RM was hoping the origianl Band would record again and that news of RR's solo album killed that dream.

---
Fri Mar 5 19:57:32 MET 1999
Ciaran Broomhead
From: Derbyshire England


I would just like to congratulate you on constructing a top page about a top band. my interest grew from my obsession with Dylan. after hooking upto the internet this was one of the first pages i was on, apart from dylan and captain beefhart. once more great page justified by the subject of a beutiful band of excellant musicians

---
Fri Mar 5 19:10:42 MET 1999

Christoffer Dall Jørgensen
From: Denmark
Home page


Nice page. Really I'm a Bob Dylan fan, but I'm beginning to listen to The Band as well. I''m only 15 years old, and I have never met a person on my own age, who has the same music interests as me - a shame for them. I've enjoyed visiting this page.


---
Fri Mar 5 19:09:16 MET 1999
The Ragman
Listening to Shawn Colvin's cover of Twilight. Wonderful.

---
Fri Mar 5 19:07:42 MET 1999
David Powell
One might add that the albums DUSTY IN MEMPHIS and THE BAND, both released in 1969, still remain as two of the best albums ever made. At a time when most rock artists followed the psychedelic road to San Francisco, Dusty and The Band crossed paths on the way to Memphis.

---
Fri Mar 5 19:02:32 MET 1999
Just Wondering
I fascinated that Jan's last wish before we went away was NO HTML and behave yourself. He leaves and the kids come out to play. Show some respect for the owner of this site.

---
Fri Mar 5 18:57:56 MET 1999
Ilkka
Now I understand why I shouldn't play with HTML tags. Sorry! ... I have Norwegian garage doors and Norwegian gas in the tank of my car ... I'll do anything!

---
Fri Mar 5 18:47:23 MET 1999
Ilkka
From: the snowy Swedish countryside
Home page


Diamond Lil

Thank You for Your post of Richard's memory service. Tiny flakes of Your snowball flew in here over the Atlantic Ocean.

---
Fri Mar 5 18:40:36 MET 1999
Ragtime
From: delayed spaceships


Private e-mails from some Band guestbook friends wandered through the spheres for many many days before landing safely in the low countries. I don't know whether this is a problem at my end or a common phenomenon?

---
Fri Mar 5 18:12:09 MET 1999
Bumbles
From: En Route


PAT BRENNAN: The D. Springfield connection to The Band is that Griel Marcus reviewed "Dusty in Memphis" in Rolling Stone when that album was originally released.

---
Fri Mar 5 16:54:59 MET 1999
Charlie Young
From: Down in Old Virginny


David: thanks for the Kinky info. Pat: sure there's a Band connection to Dusty Springfield. Her brother, "Buffalo" Springfield played with Canadian legend Neil Young (who WILL tour with CS&N this summer). And we all know Neil's an old buddy of The Band. Seriously, I have nothing against Dusty Springfied or Curtis Mayfield, but I think the Lovin' Spoonful derserve induction in the hall as much as those two. No wonder the Rock'n'Roll Hall of Fame is nearly bankrupt and had to hire an exec from Marvel Comics (who did go bankrupt) to help save 'em from sinking.

---
Fri Mar 5 16:20:26 MET 1999
David Powell
From: Georgia


Kinky Friedman's 1976 album _Lasso From El Paso_ is scheduled to be released on compact disc in the U.S. by the Varese Vintage label on March 9. Originally recorded on the Epic label, it was previously available only on LP and as a French import CD. The album features involvement by members of the Band and various musicians associated at the time with Dylan's Rolling Thunder Review. See Jan's discography section elsewhere at this site for details on this album.

---
Fri Mar 5 14:35:06 MET 1999
Lars Pedersen
From: Upstate NY


We are fortunate to have three Band related shows in the area tomorrow night, March 6th. As listed in the concert section of this site, Rick Danko is playing in NYC at the Bottom Line. Also, the Honky Tonk Gurus are playing at Bodle's Opera House in Chester, NY. The phone no. is (914) 469-4595. Finally, Jim Eppard and Mike Dunn's "Retro Rockets" are playing in Conn. at the Georgetown Saloon. Phone: (203) 544-8003.

I met with some friends for a jam last night, March 4th. Before we started, I put a small bottle of Grand Marinier on the mantle, right behind our bass player. Only the guitar player picked up on it's significance (Richard's favorite drink sitting there on the 13th anniversary of his death). We finished the night with "I Shall Be Released."

---
Fri Mar 5 08:12:02 MET 1999
Ragtime
Donald Joseph:
MY theory? I don't remember having any theory at all...

---
Fri Mar 5 07:15:15 MET 1999
Donald Joseph
From: Chi-town


JCK: Jeez! I'll certainly try to be civil. I must be more strident than I intend. I try to be nice & I'm quick to decry incivility in others. But read what I actually said -- I only said we have a right to speculate & ask what went down. Many of you -- you, MattK, Reuben Remus -- provided thought-provoking speculation, just as I had sought. For all I knew, Serge or someone was going to come out with some real facts. Jake & I were in good faith asking a question; I, at least, did NOT mean to imply I already knew the answer & I just wanted to rub Robbie's face in his no-show. I like Robbie & I hoped one of you knucleheads had a good explanation. Some of you offered some intriguing theories which I'd never considered.

I don't know why you guys assume I'm a Robbie basher. I must not be posting long enough posts to explain myself. If a gun were to my head & I had to chose sides in the feud, I might well pick Robbie -- I think his silence has been more gentlemanly. No one had a right to force him to stay in a rock band that he felt was played out after 16 years. And I believe he, like Manilow, really did "write the songs." Plus his post-TLW albums are superior to the 3 This Band records, if not as strong as the '77 Danko l.p. & the 1st 2 Levon outings. So MattK, I'm NOT "hell bent on making RR a villian." As Travis Bickle said: You talkin' to me?

My original point was we do have a right to speculate, & even those of you who were nasty to me were speculating -- so you guys proved my point in spite of yourselves. I didn't mean to be uncivil to Mike Carrico, but I do think Carrico was being uncivil to Jake H., & I stuck up for Jake's right to probe Robbie's very public statement about his claimed flu. Geez--you guys slam me for doing what Baba Wawa gets paid millions for!

Viney: Yes, please, I'd LOVE to see a note from Robbie's doctor, if he went to one. My question was: "Did he?"

Ragman & those of you who speculated Robbie stayed home so as not to make a scene: In'85, I for one (a naieve but dedicated follower of Band gossip) did not know a thing about the feud yet. I don't think the feud had yet matured; if it had it wasn't something reporters were onto. We were only 8 years after Robbie's guest spot on Levon's RCO l.p. Levon was NOT bashing Robbie in the press yet, & Levon's book was 8 yrs. in the future. Even if there was bad blood, if Robbie had shown up at the funeral, sat in a different pew from Levon & used his sickness as an excuse not to perform, I suspect there'd've been absolutely no fireworks. In fact, I think Robbie's no-show contributed to causing the feud: Levon has raised it several times, I believe, to paint Robbie as uncaring & too good for the others. And Ragtime, if your theory's right, it means these guys' explanations that flus prevent flying are a load of b.s.; Robbie's flu was a lie/exaggeration to the press, per your thesis.

Mitt: If you think non-disclosure agreements are latter-day indentured servitude, I advise you never to sign a non-compete.

---
Fri Mar 5 05:02:26 MET 1999
Pat Brennan
From: USA


Ruben Remus: Big Pinkus? Very funny. Where'd ya hear that? Dusty Springfield had almost no connection to the Band. But what a singer and producer. The boxed set that came out a couple of years ago is very impressive. Another sad passing.

---
Fri Mar 5 04:39:20 MET 1999
Blind Willie McTell
Flying with a cold/flu.
In June 1990, I was on a short flight from Toronto to Ottawa with a head cold, I nearly blew out my right ear drum during the descent. The second time was on a flight from Toronto to Heathrow, we started descending with the Irish coast on the horizon. It hurts like hell, and I always chew gum and swallow during landings. I fly 3 or 4 times a year. Imagine touring with a Band and getting on and off planes all the time.

---
Fri Mar 5 04:10:45 MET 1999
Reuben Remus
From: BigPinkus


Hey MattK

Now maybe I aint no doctor but I flu in March once. Had me strapped in that plane and it was very windy and the plane was rockin. You old land grubber you, stickin up for Mr. JR Robertson. Why dont you have that Frank Pembleton feller get old Robbie in the box and we can settle this thing for once. I think Robbie just figured he wasn't welcome at the funeral. And you know something friends & neighbors, he was probably right.

---
Fri Mar 5 03:56:49 MET 1999
Bob L.
From: northern new jersey


Love all your music guys and hope to get the chance to see you play again reall soon

---
Fri Mar 5 02:49:00 MET 1999
mattk
From: maryland


Barry: I hesitated to include Canadians in that comment. I guess I just kinda hoped you wouldn't need to know what "going postal" meant.

Jake: No flu in March? Funny. Half my office is out. One person has spent the last two days trapped in FLA due to a sinus infection--which is preventing them from flying home (and missing his son's second birthday).

Paul: Amen

---
Fri Mar 5 02:05:28 MET 1999
Big Jim
From: Columbus, OH


I just bought The Band Live at the New Orleans Jazz Festival on DVD. I liked it alot and it was worth the $20 I paid for it at Best Buy.

---
Fri Mar 5 01:25:50 MET 1999
Paul Godfrey
Everything you want or need to know about J. Robbie Robertson is all in his words and music.

---
Fri Mar 5 01:20:15 MET 1999
Barry H
Hey Matt,(and this is not an attack but a clarification) as a Canadian I'd just like to say we have heard of "Going Postal", believe it or not we are overwhelmed with American News and Culture. In fact, sometimes it's really to tell our two cultures apart. It's funny but the Band really represents that mix of cultures. Of course, if given the choice of a Canadian party vs an American one, I'd have to go with the Canadians, more beer and more hockey, eh.

---
Fri Mar 5 01:17:33 MET 1999
Mike Carrico
From: a buick six


Donald Joseph - I'm quite aware of the public record regarding Robbie's absence from Richard's funeral. None of that tells us what is in his heart though. I am not defending Robbie's decision, but rather his right to some measure of privacy, regardless of his public figure status, about an intensely personal matter. It's certainly none of my business.

However, if you are comfortable sitting in judgement based upon the existing public record, then by all means judge away. I respectfully decline to join you.

And now( he said hopefully), back to the music...

---
Fri Mar 5 01:16:52 MET 1999
Jake Holman
From: San Pablo


Robbie's "flu" excuse ranks right up there with 'the dog ate my homework". Nobody gets the flu in March anyway fer chrissakes. I think he knew that if he showed up Levon would kick his sorry ass. If I'm wrong I'll give away my tickets to see Robbie at Levon's Cafe on April 1; its closed mike nite that Thursday.

---
Fri Mar 5 01:09:25 MET 1999
Spider John
From: LAD3/4Time


Saturday nite 4/3/99 Jim Weider & the Honky Tonk Gurus with Tom Pacheco @ The Towne Crier. Wish I could be there Stu, me thinks I'm gonna have to pass over it.

---
Fri Mar 5 00:42:46 MET 1999
Blind Willie McTell
Remembering Richard.
A soulful voice like his comes around once in a lifetime. Here's a start. Make yourself a tape or CDR of ...
Do The Honky Tonk, The Stones I Throw, Katies Been Gone, Ain't No More Cane, We Can Talk, Tears Of Rage, In A Station, Lonesome Suzie, Whispering Pines, Rockin' Chair, King Harvest, The Rumour, I Shall Be Released, Share Your Love, Hobo Jungle, The Shape I'm In (TLW), The Well, Georgia On My Mind, Country Boy, She Knows.
And there are 20 more where those came from

---
Thu Mar 4 23:57:14 MET 1999
Mitt Stampler
From: way way down the crazy river
Home page


I think I might've posted this before, but is there anyone who could tell me where Piermont, NY is and how one might get there from the beautiful Bay State (Massachusetts)? The beloved spouse and I are heading south to visit relatives in Philly and thought we might be able to see Rick Danko's show at the Turning Point...I hope this won't get me blacklisted from the site or anything, but I've never (sob) seen The Band or any of its members live. (The spouse did see Robbie live once and said it was "phenomenal," and I'm sure it was provided JRR skipped doing "Making a Noise." Arrgghhh...) Speaking of Robbie, I've never really come down on One Side of the feud or the Other, but it's a little nasty to make assumptions based on his non-attendance at the funeral. I lost a sibling some years ago and the family decided not to hold a funeral at all, for a number of reasons. Some relatives and other family acquaintances criticized my folks pretty severely, but I understood their reasoning. However incomprehensible it might be to miss the funeral of someone who was your brother, only JRR knows the facts behind the decision...People do grieve very differently. Let's not be too hard on Robbie for something that must have been very, VERY hard on him, whatever his feelings toward the other members were at the time. I think most of us know what grieving is like..."It Makes No Difference" sums it up pretty well. On another note: I just wanted to thank Lil, Paul, and all the other people who've posted their memories of Richard--I was listening to the Brown album today at work and it's amazing how much different the music sounds after reading yesterday's posts...I copied them and saved them to my hard drive, so I won't forget. On a lighter note: Don Joseph, I think ND agreements are the last form of indentured servitude. I got into law school--think I should go?

---
Thu Mar 4 23:47:04 MET 1999
Ben Pike
From: Cleveland Tx


Don John, let's just save some web space. This Broadrick dame was obviously raped by Robbie Robertson...

---
Thu Mar 4 22:20:51 MET 1999
MattK
From: maryland


Bobbi, I was only joking! It's just a perpetual controversy between the Robbie-ites and the Levon-istas on the board as to why Levon is so PO'd at Robbie. Some feel it's justified and some of us feel that Levon needs to check his dosage...

Seems to come down to either Robbie is Satan incarnate or Levon is a Postal worker incident in the making (US-centric joke for our European and Canadian friends).

All part of the dysfunctional Band family...

---
Thu Mar 4 20:43:24 MET 1999
Bill Munson
From: Toronto


Every once in a while I listen to "Between Trains" from the "King of Comedy" LP. Every time I do, I hear more of Richard Manuel's voice than the background vocal credit suggests. Certainly there's lots of Robbie Robertson doing his best to sound like Richard Manuel (and I have to assume that Robertson's plan was to use Manuel's voice only, but something didn't work out), but some lines are just too close to Manuel's sound for me to accept that it wasn't him. Does anyone else have any thoughts on this?

---
Thu Mar 4 19:55:27 MET 1999
The Ragman
From: NYC


This goes on forever (RR, the funeral, Levon, etc.) for one reason and one reason alone; it is a mystery. No need to apologize. Hey! And if there's anyone who won't let go of it, it's Levon Helm.

---
Thu Mar 4 19:49:52 MET 1999
bobbi638
From: Jupiter, Fl


Matt - Sorry, I didn't mean it. I don't know what came over me. I'm sure this too has been hashed around so I'll just go bury myself in the archives.

---
Thu Mar 4 19:16:19 MET 1999
mattk
From: maryland


Uh oh, Bobbi, now you've done it.

Here we go again...everyone to your corners and come out swinging (I'm heading for my foxhole)

; )

Matt

---
Thu Mar 4 18:44:29 MET 1999
Bobbi638
From: Jupiter, Fl


If RR treated The Band so badly, why did Rick & Garth agree to participate in his first 2 solo efforts? RR did not attend the funeral but Garth played organ on Fallen Angel. It seems to me if they had been mistreated they would have realized it years before. I'm not being scarcastic or anything, it just seems curious to me. Has there been a Band revival of sorts in the 90s that RR profits from and they do not?

---
Thu Mar 4 18:23:02 MET 1999
David Powell
"I liked everybody at Motown and most of the Stax artists. I really wanted to be Mavis Staples. What they shared in common was a kind of strength I didn't hear on English radio."
--Dusty Springfield

---
Thu Mar 4 17:30:24 MET 1999
mattk
From: maryland


RE: RR at the HOF dinner. I was assuming he was not the musical director this time around. Still, with three major influences (one of which he's collaborated with), seems likely he'd attend. I'm wondering whether or not he might be induced to play...at the jam at least.

RE: RR and Richard's funeral. Clinton analogies are incongruous--please stop venting, politically, there are thousands of places to do that on the web. This is one of only three places where Band-oriented issues dominate. Stay on topic please.

On a second note, I agree with everyone who sez we have no idea what's in someones brain or heart. But if you are hell-bent on making RR a villian, then you are probably pre-disposed to seeing his reason as an excuse. If not, you're likely to give him the benefit of the doubt. I'm a benefit of the doubt kinda guy...

Additionally:
Certain flu symptoms make flying dangerous. People have to cancel flights to avoid ear drum damage all the time--for a musician, deafness is like death.
It's also very possible that RR avoided the whole thing so the focus could be on Richard and not on The Band.
Core issue here is whether you view a funeral as an exercise for the living or for the dead. I think it's for the living. The dead either know or don't care what's in the hearts of those that love and miss them. If you're in this camp (which I am) then the honorable thing is to respect the family and avoid creating a circus atmosphere.
If you feel that a funeral is more an honor of the dead for the dead, then I expect Richard would respect either scenario--avoiding the circus and protecting your health and hearing.
One last theory. If Richard stopped drinking between TLW and the reunion; and if he did resume drinking during the early 80s touring, then it's possible too that RR was PO'd at the whole situation to come. RR has always been consistent on his reason for leaving The Band--the road will eventually kill you. I have to imagine that he sees Richard as a casualty of the road (I'd concur). If that's true, then the whole thing may have sickened him to the point that he could not bear to attend--his greatest fear realized and all...
Matt

---
Thu Mar 4 16:00:21 MET 1999
Dexy
RE: RR playing at the Rock Hall ceremony. He has been from the beginning a major force in the Hall. My guess is that he either okayed or hired Paul Shaffer to be the musical director for the performances. Shaffer does, by the way, have some apparent ties -- through close friend Gene Levy of SCTV (and cousing of a former Band manager), "Bones" and the simple fact of where he hails from. Maybe you were kidding, but I kind of doubt he tells Robbie who to play behind. Would be nice to see Robbie w/Springsteen again (they backed Fogerty together for the CCR induction), but even though it's a solo induction he'll surely use it to hype the E-Street Band tour. Better yet -- a real surprise guest plays the introduction when Bruce kicks into Atlantic City.... Naaaaaaaah.

---
Thu Mar 4 15:19:33 MET 1999
The Ragman
From: NYC


There is no way to ever know (for sure) why Robbie stayed away from Richard's funeral, but I can tell you this: I am sure he didn't relish having to deal with Levon and all the crap. It was probably more noble of him to stay away and remember Richard in his own private way, than to go to the funeral, and have it turned into something else. I don't believe that Robbie is cold and callous enough to turn his back on his friend.

---
Thu Mar 4 15:18:32 MET 1999
David Powell
From: Georgia on my mind


"One voice for all

Echoing across the hall..."

Life is brief but his soul will live forever in the music.

---
Thu Mar 4 13:40:22 MET 1999
Patric [ Been a long time]
From: as below


Seems we spend a lot of time on here looking through the past darkly, Being a long way from news and events surrounding the CURRENT Band I would like to know some background on the newer members, I know Richard Bell was in Janis Joplins band at one time and that Randy is a local talent but apart from that I havent much info' on them.

---
Thu Mar 4 13:14:23 MET 1999
Patric
From: Down South In New South Wales


A TRIBUTE TO RICHARD Station halls and prison walls, Blue misty morning, let the night fall, Daniel Daniel and the sacred harp, Goin' with Van up to Griffith Park, Tell me hon what you done with the gun, King Harvest [ has surely come], A whistle stop for man who's saved, Who robbed the cradle?who robbed the grave?, Whispering pines, rising of the tide, Grab your hat, and take that ride,

---
Thu Mar 4 10:15:47 MET 1999
Ragtime
The best way to remember Richard is - apart from listening to him right now - releasing that album full of exhumed rarities. Some time ago there was some talk about it. Record companies: please...
Donald: I expected a freudian explanation from you which prompted my immediate correction. But you may be right indeed... Still an enjoyable album (Storyville), apart from that whiny last track.

---
Thu Mar 4 09:52:02 MET 1999
Peter Viney
It's not my Constitution, but I think Donald is equating "free speech" with the prying attitudes of The National Enquirer.You remember that famous Vietnam story, where the reporter is shouting :"Is there anyone been raped here and who speaks English?" That's free speech. So what do you want, a note from Robbie's physician? Maybe he could submit it to you for appraisal and you could scan it and put it on the site. Then we could get expert medical opinions, maybe a swab from some Kleenex or old clothing. And let's not get into flame wars on this. The word "unseemly" defines this speculation at this time.This isn't a TV soap opera. This is about real people.

---
Thu Mar 4 08:44:19 MET 1999
Railroad Man
From: "Riding on a mail train" ??


A week after Richards death I was involved in a major sporting contest, I decided to dedicate the winning of that contest to Richards memory..We won, and the trophy I have is always a fond reminder of one of my favourite artists.

---
Thu Mar 4 07:59:20 MET 1999
jck
From: washington, d.c.


I'm with Mike and Dave Z. on this one; what's ever solved by bashing people we don't know over things we can't understand? Wouldn't it be possible, for instance, that RR stayed home rather than risk engendering hostility at his friend's funeral? Wouldn't that have been a kindness (and one way to honor Richard)? Speaking of kindness, Donald Joseph, free speech doesn't necessarily preclude civility. There seem to be an awful lot of thoughtful people who post at this site-even those I disagree with-doesn't it ever bother you that so many of your exchanges with them are marked by discourtesy?

---
Thu Mar 4 07:25:25 MET 1999
Jonathan Katz
From: Columbia, MD


I'm thinking about "All the tears, all the rage, all the blues in the night." - and a little converted stable a bit down the hill from Shangri-La, and the mysterious music that I heard coming from it. When God refused to toss him back to us, we lost a great soulful voice.

---
Thu Mar 4 06:49:29 MET 1999
Donald Joseph
From: Great Lakes region


Jake Holman: I've also asked your question & not gotten a good answer, ever. Sorry, Mike Carrico, but you're dead wrong when you say RR doesn't owe us an explanation. You see -- if you'd only do your homework, Mikey, & read the record -- RR was quite liberally quoted in the press at the time of Richard's death as saying he had a bad case of the flu which kept him from the funeral & other services. So Mr. Robertson himself opened the door & VOLUNTEERED a weak explanation HIMSELF. If you're right and he owed us nothing, why did he try to explain himself? Jake & I are just simply questioning WHAT THE MAN HIMSELF TOLD US IN PUBLIC (MattK: It's sorta like Ken Starr questioning the Prez's claim of not having sex with that woman, Miss Lewinsky). When it gets said in public by a public figure, we have a right to check the facts. Mike Carrico: It's a free country last time I checked my copy of the constitution. Start with the 1st Amendment -- there's a "freedom of speech" provision in there somewhere. Jake, don't be bullied by guys like Mike who like to deprive others of their constitutional rights.

So there. Back to Jake's perfectly-legitimate query: Was Robbie's cold/flu really severe enough to keep him away from the funeral? Can a cold/flu ever be that severe? What evidence is there that RR really was even sick? He didn't have to perform at the funeral or anything -- couldn't he have sat in the back row with a box of Kleenex?

Ragtime: I thought "good old whine" in your post was a purposeful pun on Robbie's less-than-stellar vocal talents. I guess it was a Freudian slip.

Martin: You're right that the Dead's Lesh was more active as a singer in the early 70's. His high point was lead on 2 tracks on '74's "Mars Hotel." He virtually stopped singing after that. To answer your question, I caught countless Dead shows (11 in one year alone) between '77 and '95 -- I saw the Boys in London England once, and in Illinois, Ohio, Indiana, Kentucky, Florida, and California.

---
Thu Mar 4 05:58:16 MET 1999
Mike Carrico
Jake, the case is hardly closed...Robbie is the only one who knows the reason for his absence at Richard's funeral. I don't believe he owes you or me or anyone else at this website an explanation - it's personal; it couldn't be more personal.
One thing I do know is that Richard was just about the best rock 'n roll singer I ever heard, and I wish he were still here. May he rest in peace.

---
Thu Mar 4 04:09:08 MET 1999
Dave Z
From: Chaska, MN


Seems kinda harsh, Jake, to use the death of Richard as a tool for re-questioning Robbie's career decisions. I am guessing he was grieving in his own personal way. I once missed a funeral of a loved one, and that fact in no way deminishes the feelings I had nor my respect for others who were grieving.

---
Thu Mar 4 03:52:56 MET 1999
Mike D.
From: Putnam Valley N.Y.


The Bardavon in Poughkeepsie (473-2072) is presenting the Muddy Waters Tribute Band consisting of six former bandsmen.Opening the show is Levon Helm and the Barn Burners consisting of Jimmy Vivino,Randy Ciarlante,Jim Weider and Mike Dunn. The show is scheduled for Sat. March 13 at 8:00. See you there

---
Thu Mar 4 03:33:04 MET 1999
Diamond Lil
From: The Web


Remembering Richard today, not because he died..but because he lived.

---
Thu Mar 4 03:13:27 MET 1999
catbalu
Finally had the opportunity to read all of what has been posted in the past several days instead of flying through..... won't mention where i've been except to say, Mr. Viney, your advice was not wasted. but then, my concerns are not as timeless and irreplaceable as Serge's. thank you... and serge, i'll email (in english)........... what a waste of precious daylight, dealing with the empty, aggressive need of others.... mitt, you evidently did too good a job :-) (I'm thinking that is a "mild exclamation point," Ikka, that "colon/dash/parentheseseee thing." Add it to your homepage etiquette. somebody needs to!..)
flowers blooming too early here - tulip tree bit by frost won't bloom this year.... hate to see beautiful things force their way through before their time..... guess they were tired of dead leaves weighing them down, confused by the too-early storms..... felt it through the dirt..... and then we all pay the price of missing their beauty. ways and whys of the world are left then to writers and musicians and painters and guestbooks.
what bothers me most (IMHO)) i suppose about RR's singing (and truly - Surely - we all truly HEAR it's not his place, not even hollywood can fix that) is that it needs sanding down. all i hear is the fixing of it, the forcing of it to fit the thoughts he has now. i can hear him - i can - making that same music without all the help of strangers (whether he realizes it or not, they always will be...) instead with the ones that brought him there to start with. i can hear his Indian tale told with his true brothers behind him. can you? he's riding that shiny new-age wave as a sacrificial lamb...... being native american is "in" these days, ya' know. don't get me started.......
To Bumbles: no, it's a hurt. nobody who comes here will forget Richard, whether we knew him or not. it takes some of our breath away (especially when i see on tv that The Last Waltz is coming to a town near me). so why do you think that perfect flower gave up the garden....
Now to the one and only thing i really wanted to say at this time:
"This could not possibly be what became of you - the bridge that held a rainbow in an upraised voice.......... Richard lives in a pink house beneath the moon forever."

---
Thu Mar 4 01:50:15 MET 1999
Jake Holman
From: San Pablo


Somebody's gotta say it though its been said before. It's as far as I ever get in the debate of Robbie versus The Band. Mr. Plenipotentiary was AWOL for Richard's funeral. Case closed. Say what you want about responsibility etc. I have never heard an adequate explanation for his absence. Shame & guilt come to mind.

---
Thu Mar 4 01:32:07 MET 1999
Jules
From: Chicago


MattK: The R&R Hall of Fame dinner is in NYC this year, which unfortunately usually means Paul Schafer(sp?), not RR, as musical director. Also, biggies like Springsteen, McCartney and Billy Joel are being inducted, which won't leave much time for anyone else. Maybe Shafer will let RR play back up on "Born to Run on the Long and Winding Road with the Piano Man."

---
Wed Mar 3 23:16:35 MET 1999
Steve H
From: Maryland


Every time I say I love this Web-site, because every time it's true.

Comments on Richard's passing: I saw the Band in Hillsborough, North Carolina one week before Richard passed on. It was a good show in a very small hall. Went with a friend and her teen-aged son who was a big Dylan/Band fan. He worked his way to the front near Richard and yelled out a request for "Katie's Been Gone." Richard looked surprised and said something like, "That's so old I can't even remember it."

On George Martin's importance to the Beatles: Just listen to how great early Beatles sound compared to the early Stones, Who, or Kinks. At the least he made sure all their sessions were well engineered.

---
Wed Mar 3 22:37:42 MET 1999
Little Brother
From: around Philly, PA


Thanks for the Richard commentaries.

---
Wed Mar 3 21:50:16 MET 1999
Kicking Horse
From: High on the hill all covered in Eastern Powder


Can anyone out there tell me where I can find Otis Smith formerly of "OTIS and the ALL NITE WORKERS"; had one hell of a song back in the early 60's. Rumor is he is still alive and still able to belt out a good tune. I'd like to get a copy of his old 45: "Don't Ya Ever Put All Yer Eggs In Just One Basket". He's been known to play around the Woodstock area from time to time. Thanx

---
Wed Mar 3 21:49:19 MET 1999
mattk
From: maryland


The Dusty Springfield comment has me think about the Hall of Fame inductions.

With the Staples getting this time around, and given RR's past affiliation in producing past induction dinners, I wonder if there isn't a shot at seeing some Band action at the dinner this year.

In fact, given the fact that Curtis Mayfield (one of RR's major influences, according to the man himself)is getting inducted and the addition of the late Charles Brown...

this is speculation...any bona fide rumors? I have to imagine RR was at least approached on this. Hey, let's get outta control and wonder if the other members that are still talking might be involved...

Don't think too many folks here are connected to RR, but Serge, et al, any thought on possible involvment with Danko and Garth?

pardon the rumor mongering...slow day.

---
Wed Mar 3 21:21:32 MET 1999
Martin
From: Aberdeen


Can anyone email me the Lyrics to 'Who do You Love' any version will do. Thanks

---
Wed Mar 3 21:11:20 MET 1999
Old friend
From: The Mists of Memory


Sorry for the anonymous testimony, but I am well known in my state and I hold my memories close. I don't have the opportunity to visit here often, but I like to read the posts around this time every year to hear from others who miss Richard's presence among us. I won't be able to make it tomorrow, but wanted to write a few words for what it's worth.

Richard Manuel was the great love of my young life many years ago. At the time of his death, I hadn't spoken to him for a decade and the news laid me low for a long time. I was so sure that I would see him again and my grief was mixed with anger at myself for not making the effort when the opportunity was there. Through marriage, divorce and assorted relationships over a long span of time, he has always been the standard by which other men are measured. Richard's sort of childlike sweetness and heartbreaking voice and his wild heart and his shining soul eclipse his equally grand failings in my memory.

Many ancient cultures believe that only the wildest souls return from the dead, so I think it only reasonable that all those who loved Richard watch for signs. My most tender thoughts go out to all of you who keep him alive by speaking of him often with love for the exceptional man he was and respect for his incredible talent.

---
Wed Mar 3 21:10:27 MET 1999
Old friend
From: The Mists of Memory


Sorry for the anonymous testimony, but I am well known in my state and I hold my memories close. I don't have the opportunity to visit here often, but I like to read the posts around this time every year to hear from others who miss Richard's presence among us. I won't be able to make it tomorrow, but wanted to write a few words for what it's worth.

Richard Manuel was the great love of my young life many years ago. At the time of his death, I hadn't spoken to him for a decade and the news laid me low for a long time. I was so sure that I would see him again and my grief was mixed with anger at myself for not making the effort when the opportunity was there. Through marriage, divorce and assorted relationships over a long span of time, he has always been the standard by which other men are measured. Richard's sort of childlike sweetness and heartbreaking voice and his wild heart and his shining soul eclipse his equally grand failings in my memory.

Many ancient cultures believe that only the wildest souls return from the dead, so I think it only reasonable that all those who loved Richard watch for signs. My most tender thoughts go out to all of you who keep him alive by speaking of him often with love for the exceptional man he was and respect for his incredible talent.

---
Wed Mar 3 20:02:45 MET 1999
David Powell
Bumbles: You must be readin' my mail. I've been listening to that new CD from Duane's old buddy almost everyday for the last two weeks. What an appropriate title from the last of the great white soul singers.

---
Wed Mar 3 19:26:55 MET 1999
Tim(SUNDOG)Corcoran
From: Where MERL SAUNDERS IS JAM'N APRIL 11TH ON SUNDOG
Home page


Yes, I'm going to ask Merl alot of ??? about Rick Danko and the boys, already got my set list! DONALD JOESPH: "TODAY'S THE DAY", I'M DEAD FOR LIFE!

---
Wed Mar 3 19:06:10 MET 1999
Bumbles
From: Smack Dab in the Middle


DAVID POWELL: Don't mean to add to the already high level of morbidity in here, but I couldn't imagine a more appropriate double play than "Dusty in Memphis" followed by the new Eddie Hinton collection, "Hard Luck Guy."

---
Wed Mar 3 18:54:30 MET 1999
Peter Viney
Argh! Don't flame for typing "there" for "they are" - it must be that I'm not getting enough typing practice :-)

---
Wed Mar 3 18:52:38 MET 1999
Peter Viney
Dave Z: Some of us do consider "Stage Fright" one of their best. The late John Bauldie, who was a great rock critic and Dylanologist wrote this in Q magazine when Stage Fright was reissued a few years ago:
John Bauldie: "Stage Fright, the third Band LP from 1970, may well be the greatest of their records. There is more of Robbie Robertson's wonderful guitar playing on Stage Fright than any other LP; there is The Band's greatest rock 'n' roll song, The Shape I'm In; The Band's greatest Americana song, The W.S. Walcott Medicine show; the best of The Band's trademark "interactive" vocals, on Daniel and The Sacred Harp and The Rumour; and the best of Robbie Robertson's gentle ballads, Sleeping and All La Glory."
Richard co-wrote "Sleeping" with Robbie, of course. I think side two of "Stage Fright" is just as good as the first two albums, to which I'd add "All La Glory" and "Sleeping" from side one. I like the other songs too, but there slightly less individual. Robbie was interviewed soon after Bauldie's review and mentioned critical re-appraisal. I never understood why it was ever down-graded. Maybe "Time To Kill" was a jaunty but slightly too mainstream single.

---
Wed Mar 3 17:49:10 MET 1999
Dave Z
From: Chaska, MN


Just got the Gold CD of Stage Fright a few days ago. Great CD !!! Especially like the vocals - a gentle side of Levon's voice on All La Glory, and Richard's low deep voice on The Rumor. Someone remind me why this isn't considered one of their best? I just love it. Also, W.S. Walcott Medicine Show sounds better on this CD to me.

---
Wed Mar 3 17:31:59 MET 1999
David Powell
Just learned of the passing of Dusty Springfield, after a long bout with breast cancer, only weeks shy of her induction into the Rock & Roll Hall of Fame. I think I'll go home this evening and listen to Dusty and Richard, two beautiful souls who move me.

---
Wed Mar 3 16:30:49 MET 1999
Martin
From: Aberdeen


DONALD J. I wont pretend to be any authority on the dead and Lesh's singing, you have an advantage over me having seen them live, but the harmony vocals on the standout tracks on the 'American Beauty' is excellent. 'Attics of My Life', 'Truckin','Sugar Magnolia' and 'Box of rain' contain some of their finest singing ever. I know that Garcia multitracked the vocals himself on 'Workingman's Dead', but on the classic albums TV series Lesh describes how their harmonies were put together-himself on top, Garcia on the bottom and Weir in the middle. This is backed up with concert footage from the early 70s with all 3 singing and it is equally as good as on the album cuts. Mind you for all I know Lesh just gave up after those albums or just smoked too many fags/joints and wore his voice out. When did you see them anyway? I'm curious.

---
Wed Mar 3 16:26:23 MET 1999
David Powell
From: Georgia


Thank you Paul & Diamond Lil for sharing your memories with us. March must be a cruel month for the Band family, particularly Rick. Hoping our thoughts & prayers may bring strength to those who have given us so much joy.

Joey Barkhouse & Donald Joseph: Public Television's "Sessions at West 54th" just aired a program featuring Steve Earle with the Del McCoury Band. They played songs from their new album and Steve performed a few of his solo works, including a strong version of "Ellis Unit One." The Sessions series is one of the best shows on television devoted to live music. The shows presents performances taped live before a small audience in Sony's studio in New York City, along with short interview segments with the artisits conducted by host David Byrne. Other recent programs have included performances by Lou Reed, Lucinda Williams, The Lounge Lizards and Lyle Lovett. This would be an ideal place for current members of The Band to showcase their music. Hint, hint.

---
Wed Mar 3 16:17:21 MET 1999
Dexy
1) Jan and Peter V.: Did either of you glean any info from Garth, Randy or Jim about Levon and/or Rick? Will The Band ever tour again in any way? How's Levon, etc? 2) Paul Godfrey's recollection of Richard's funeral brings up again a point that I've often thought about. As demonstrated by The Last Waltz, all the other doc videos, memories of everyone who has stumbled across him, hell even the infamous Dallas interview -- Levon's got quite a way with words. Singular, I'd say. And figuring in what Weider/Ciarlante say in their songwriter interview, seems to me that Mr. Helm would be a pretty competent lyricist, all things considered. That said, I am still enjoying JUBILATION -- I agree w/The Band that they came up with a record of very good songs.

---
Wed Mar 3 16:06:49 MET 1999
mattk
From: Maryland


Donald Joseph:

Weird Nightmare is a tribute album to Charles Mingus produced by Hal Willner back in 1992, I believe.

I'm a HUGE Charles Mingus fan, so I came at this album from that direction. Didn't even discover RR was on the album until I heard his voice--a speak-over where he reads from Mingus' autobiography Beneath the Underdog.

Wierd Nightmare features a number of other interesting performances by Elvis Costello, Chuck D (the rapper from Public Enemy who also reads, well shouts, actually, from the Mingus book over the music to Mingus' Gunslinging Bird), and Howard Rollins. Bill Frisell and Vernon Reid (guitarist from the band Living Color) share guitar duties--they have a stronger avant-jazz pedigree than RR. RR did work as a co-engineer on the project as well.

Of particular interest on this album is the use of instruments created by avant garde composer Harry Partch. Partch created complex instruments out of glass bowls, metal sheets, etc, but unlike John Cage (who did similair work), Partch's compositions have this ethereal, dark, dreamlike feel, in large part because of his use of his home-made instruments.

Partch's writing is really the big influence here. Properly, this album is really a tribute to both Partch and Mingus. While the music, melodies, progressions are Mingus', the arrangements are very much Partch inspired such that the album really in no way resembles a jazz album.

It's a very strange peice of work that I find beautiful, but definitely not for everyone. If you find Red Boy a bit too strange, Wierd Nightmare is probably not your cup of tea.

Matt

---
Wed Mar 3 16:02:02 MET 1999
Greg D.
From: Stratford, Ont.


Paul Godfrey: thanks for the Richard memory. I don't recall The Band opening for Ricky Skaggs at Centre in the Square, although memory may not be serving me well. I do recall The Band headlining at Centre in the Square, with the Cates opening. Previous to that, I recall that Levon and the Cate Brothers opened a show for Ricky Skaggs there.

---
Wed Mar 3 15:59:50 MET 1999
John Donabie
Paul G. Thanks for the memories

---
Wed Mar 3 15:50:34 MET 1999
mattk
From: maryland


Serge: no sweat. it's your ulcer...

---
Wed Mar 3 14:45:45 MET 1999
Ragtime (what? again?)
From: someone who loves typing even more than Peter Viney


P.S.

... Storyville was made in Austria too & I want to exclude Sign Of The Rainbow from my pre-lunch comment. Awful, awful, awful...

---
Wed Mar 3 14:30:25 MET 1999
Ragtime (after lunch)
From: the land of Duisenberg


To: the village of the Dancing Queen

Hi Ilkka: I did not scrutinize all my Band CD's, but after an at random search I found a lot of discs made in UK, USA, Germany & even Austria (Basement Tapes).

Still I'm proud to present four Dutch-made CD's: Moondog Matinee, Islands, NLSC & Watkins Glen.

But I have to admit: since Polygram was sold to the land of Serge, it's not what it was anymore. Booklets are still mostly printed in Holland, even when the CD's are made in Germany.

BTW I think I'm gonna stop this italic & bold business. It looks better, but it's too much work & risks.

---
Wed Mar 3 13:23:11 MET 1999
Serge
MATT K: I quit smoking 15 years ago.

---
Wed Mar 3 11:40:16 MET 1999
Diamond Lil
From: The Web


Paul Godfrey: Thanks for sharing. I remember the feeling of emptiness and complete disbelief at the news of Richard's death. It's a moment I'll never forget. I didn't attend Richard's funeral, but I did attend the memorial service in Woodstock several days later. There was just a tremendous outpouring of grief and love there that day. Garth filled the church with music from the organ, and I distictly remember everyone trying to sing along to "Amazing Grace". The most emotional moment came when the sounds of "I Shall Be Released" filled the air, and Rick Danko got up and started to sing, imitating Richard's haunting falsetto. That falsetto never sounded as haunting as it did at that moment. There wasn't a dry eye in the room.

And on a lighter note, I do remember standing outside the church later on and throwing a snowball at Rick to try and get him to smile. He did.

---
Wed Mar 3 10:27:26 MET 1999
Ilkka
From: the village of ABBA Frida
Home page


Slow down WILLIE BOY (it's not even lunch time) and answer to this instead!

A short look to my vinyl LPs which are drifting on my floor in a really puberty way shows that most of them are manufactured in Holland (Rock of Ages, Cahoots, Basement Tapes) - I guess there is not much left of that proud gramophone industry? All CDs are made in Germany ... and mr Duisenberg has left, too.

---
Wed Mar 3 10:04:40 MET 1999
Ragtime
Whine? Wine!

---
Wed Mar 3 10:02:55 MET 1999
Ragtime
From: a bad sense of direction


Additional comment on Storyville: I love it! More than I did before. Even Day Of Reckoning. It's like good old whine that has to be stored for a while. Great great songwriter.

---
Wed Mar 3 09:29:22 MET 1999
Ragtime
Now you all made me listen to Storyville again. When can I get back to classical music, please... :-)
BTW The track I always liked most is Go Back To Your Woods It's rocking & funky, a bit like Forbidden fruit (the music, not the lyrics). Tailormade for Levon & Rick & Garth...
If The women don't get ya, the music will...

---
Wed Mar 3 07:37:37 MET 1999
Donald Joseph
From: The Great Midwest


Viney: Don't take the ethnic slur too hard. Remember -- he's a damn Canadian.

Jokingly...ok? Ok? (Yes, I know where the Boys hail from. Jeez--it's a JOKE!)

David Powell: Get Lee Dorsey's "Night People" l.p.; his last...Lee does disco (sort of).

Mitt: Good luck with the lousy job. Re-read your non-disclosure agrm't.

Landau: Hey, try "Beatles'" -- apostrophe AFTER the "s." I'm starting disbarment proceedings. Yours, Dnoald

Martin: Nice try on your "3 lead singers" theory, but including the Dead is unfair. Lesh was barely a singer. I caught shows at which they didn't even give him a mike.

Re Robbie's singing: Remember, y'all, that one great aspect of the Band is it was a group of 5 essential equals. All five contributed more-or-less equally to the sound. Groups like CCR, Li'l Feat, & the Dead were dominated by a lead singer/lead guitar player/lead songwriter (Fogerty, Lowell George, Garcia), & don't have the same balance. If God'd given Robbie a voice as good as the others' (He didn't), Robbie'd've been the dominant factor in the sound (esp. when you include his songwriting as a key feature of the sound -- sorry, Levon). God insured that didn't happen. The Band we got was better for it.

This said, I agree "Soap Box" is fantastic, a classic. And I love Neil's contribution to it.

MattK: What's "Weird Nightmare"?

Joey Barkhouse: Thanks for the eloquent Earle recommendation. I love his last l.p., "Corazon," & I'll buy the new one.I'm listening to Lyle Lovett now -- you like him? This said, you & Earle obviously don't get outta the states much. It's a big world out there, Joey. The rest of it DOES have regular trains. Tell Steve I said so. Every time I hear someone talk about the demise of the railroad industry I know I'm talking to a guy without a passport.

This talk of the Beatles leaves me wondering what happened to that pussy "Lord Beatle." And I loved when I got to call Viney "Lord Beatle, Jr."

Serge, was it you who said I look like a pimp?

---
Wed Mar 3 06:57:34 MET 1999
mattk
From: Maryland


Serge. Seemed like a pretty gracious peace pipe mssr Viney's offering. Why not take a puff? Does the anger really feel that good?

Just a thought...

Cheers

Matt

---
Wed Mar 3 04:53:33 MET 1999
Stu Hruska
From: Westchester, New York


Peter and Jan - thanks so much for your entries on the London gig. I was anxiously waiting to hear news about the show and would have loved to be there with you. The music they make is the best, but you really hit the nail on the head when you both mention that they are incredibly nice, down to earth people. As genuine and nice as anyone you will ever meet. I second that! Glad you both had a wonderful time.

---
Wed Mar 3 04:26:18 MET 1999
Pat Brennan
From: USA


Richard once said that his father was near deaf in one ear. When the Band finally hit it, one of the first things Richard did was buy his father a stereo. He put his dad between two good speakers then rolled the stereo balance to favor his father's bad ear. Finally, his father could hear the music properly and was dulely impressed with his talented son. Re: George Martin. The value of Martin's contributions to the Beatles music cannot be overstated. Although he tends to downplay his role, Martin created a wash to the Beatles music that the Fab Four couldn't have done themselves. He was able to give voice to the musicians' desires, desires that they could only describe in general terms. He created another level to Beatles music that helped define the sound. Garth did the same thing for The Band, although the boys probably let Garth to his own devices. I don't believe John Simon had the same influence on The Band that Martin had on the Beatles. My sense is that Martin's contributions to the Beatles is more in line with Garth's contributions to the Band. Certainly not in a strict sense either.

---
Wed Mar 3 03:45:11 MET 1999
Mitt Stampler
From: wish I knew on nights like this
Home page


Paul: thanks for that story, I started to cry. A good reminder to enjoy the ones we love while they're still around--sounds hokey, but it's painful to find out how true.

---
Wed Mar 3 03:40:19 MET 1999
Paul Godfrey
Richard Remembered. While working at CHYM radio Kitchener Ontario Canada came a call from Richard's folks wondering if I had a way of reaching him. They told me Richards Father had died and they wanted him to know. Fortunately I found him at Levon's in Woodstock and he headed home. A while later the Band opened for Ricky Skaggs at Kitchener's Centre in the Square. After the show we had a chance to talk and he said thank you for getting the message about his father and that all the family were pleased he made it home. God he looked good that night. That sparkle was in his eyes and the grin was as wide as ever. He was "Beak" at his best and full of fun and life. The news of his passing was with disbelief considering my memories of him that night in Kitchener. It really did not seem possible that Richard has passed on. We went to the funeral and I still have the passage they gave everyone when you went into the church. I would be glad to share it with you at some point if you consider it in proper taste. Garth played the organ and Tears of Rage ran down everyone's cheeks when he rendered: "I Shall Be Released." At the downstair hall later I thanked Garth for the music he made that day and how much it meant to all of us. Next I asked Levon what really happened to Richard. His answer will always be with me and rings in my mind with that kind Arkansas drawl as he lovingly put the words together. "Paul" he said, "Many times God gave Richard back to us....this time, He kept him for himself."

---
Wed Mar 3 02:49:41 MET 1999
Tim(SUNDOG)Corcoran
From: A PLACE WHERE I HAVEN'T SEEN "THE BAND", YET!
Home page


I'M VERY HAPPY YOU GUYS GOT SUCH HAPPY MEMORIES, DON'T BE TIGHT NOW,,,SHARE THEM!!! Peace, Love and Light to all of you, and stay high on the tripp you took!

---
Wed Mar 3 02:39:40 MET 1999
Spider John
From: LAD3/4 Time


Eric Andersen @ The Bottom Line 3/5/99. Rick Danko there 3/6/99. What gives. 3/5/99 is anniversary of Richard's passing.

---
Wed Mar 3 01:57:26 MET 1999
Diamond Lil
From: The Web


Remembering with love...Eli Danko, 1970-1989.

Ten years ago on a cold, dark night.....

---
Wed Mar 3 01:29:48 MET 1999
Railroad Man
From: "broken hearted once or twice"


LUIS FROM PLANET EARTH ,Where are you?, I really miss your contributions on here and you had a wonderful way of upsetting some of the pseudo-intellectuals and stuffed-shirts that haunt this page.Please return and restore some balance.

---
Tue Mar 2 23:52:09 MET 1999
Mad dogs & Englishmen...
---
Tue Mar 2 23:18:08 MET 1999
Serge
Viney: You should get out more often.

---
Tue Mar 2 23:09:40 MET 1999
Joey
From: bumbles brain, oh sorry, not enough room.


Oh, gee, sorry Bumbles, I guess I made some spelling errors. I didn't know I was being graded. Since you have made such fine contributions to this site I'll forgive you. Oh, on second thought, all you do is show up and tear apart other people's entries, isn't it? Grow up!

---
Tue Mar 2 22:51:12 MET 1999
Mitt Stampler
From: Stuck inside of Boston with the Java Blues again
Home page


Not sure if anyone can help, but my beloved spouse and I would love to see Rick Danko's show in Piermont, NY at the Turning Point. Can anyone tell us a) where it is and b) how to get there from Mass.? We have to go visit relatives in Philly around that time anyway and thought maybe we could take a detour. Little Bro, up for a couple of beers?

---
Tue Mar 2 22:51:03 MET 1999
Peter Viney
Hi Serge: am feeling too euphoric to be bothered by an ethnic slur against us English. Hell, it's often deserved. If you're in England anytime, I would be delighted to buy you a drink without offering you any (free & professional) advice. Let's leave it there.

---
Tue Mar 2 22:49:07 MET 1999
John Donabie
I'm somewhere between dreaming and outright envy. I have always wanted to see Garth unleashed. You guys sure were lucky. It makes me think of another point, that many times when Garth has been featured in the past on film, the camera is not on him. Too bad that Woodstock records didn't film it. That would be great! I'd buy it in a flash!!!

---
Tue Mar 2 22:25:04 MET 1999
Serge
Bones: I told the pic. story so people would know what a scumbag Hoskyns is. Viney in his know-it-all manner started telling me (personally) how I should go about handling this matter and what my options were. THAT is none of his business. As a friend of mine who also has a beef with Mr.H said "You can always tell an Englishman, but you can't tell and Englishman anything". End of story.
Someone was interested in Narvel Felts earlier, I have some 1959 scans of Narvel in action. Be glad to Email them to you. Let me know.

---
Tue Mar 2 22:00:24 MET 1999
Dave Z
From: Chaska, MN


Peter and Jan: Any chance you guys can get some kind of tape of Garth for use on the webpage - i.e. maybe as a greeting upon entering the site?

I am envious, and can't wait for the next report.

Peter: On a different note, I would love to see down the road, some education regarding Storyville.

---
Tue Mar 2 21:31:27 MET 1999
Bones
From: Connecticut


Serge: I do not understand. You post a story about your pictures being misused, and then you blast Viney for bringing up the topic. If it is none of his business, then why did you tell us the story at all.

---
Tue Mar 2 21:14:11 MET 1999
Martin
From: Aberdeen


Would anyone with copies of early band live concerts be willing to compile a tape of 'rare' live renditions? I've heard that there's a live version of 'kingdom come' kicking about somewhere and I'd love to hear some of the live counterparts of 'Jemimah surrender' 'Rockin chair' and any others that never made it onto any of the official live albums. I'm also interested in procuring the complete Watkins Glen show if it still exists and the Woodstock set. I can offer Dylan's 65 set at Newport and the Hollywood bowl gig with Levon and Robbie in exchange, although if you've got any of the rarer band stuff, the chances are you'll have those as well. Any help appreciated cheers!

---
Tue Mar 2 21:00:49 MET 1999
butch dener
From: new paltz, n.y. usa


FYI,,,, the Barn Burners who will play with Levon Helm in Poughkeepsie, at the Bardavon Opera House, on March 13th, '99 are : Jim Weider-guitars Jimmy Vivino Guitars, keyboards & vocals,, ( from the Conan O'Brien T.V. show, & Johnny Johnson & Hubert Sumlin's albums ) Mike Dunn - Bass Randy Ciarlante - drums , vocals,,, & of course Levon ,,, on Harp, drums & anything else he feels like playing,,, the name "Barn Burners " refers to two sunday recording sessions at Levon's barn / studio,,, Jimmy Vivino produced these sessions with Levon & it will be an album one day,,, They felt that the sessions "burned " ergo,, The Barn Burners ,,, ok ? bb

---
Tue Mar 2 20:00:02 MET 1999
Little Brother
From: around Philly, PA


Nice to know that there are others who are strong Band/Beatles fans. I occasionally gnaw on an old criticism during my Formative Years that I was obsessed by the Beatles, The Band, and Dylan to a fault. Anyway, not to take away from Garth's maestroesque genius-- but I think if you're gonna pick opposite numbers you might want to pick John Simon for George Martin.

Whoops! Since I scavenge my time on Internet at a work PC, I just made the mistake of trying to print Feb.'s postings to catch up on what I missed. Obsession again, I spoze-- when the PC burped and churned and I saw "Page 1 of 294" spew from the printer I cringed mightily. I was able to kill the print request after about 50 pages. Not worth my job to eat half a ream of paper!

Anyway, the Beatles and Band are both examples of that miraculous "whole greater than the sum of the parts" phenomenon. This isn't to knock the parts; genius flows from every one in both bands. But it really is awesome how individual musical (lyrical) minds can combine to produce something greater than each might individually. The overused and done-to-death term "synergy" fits.

Mitt, 3535 is in some kind of stasis or overhaul; there are ghostly candle-like lights behind the smoked-glass windows, and a skirt of ground-level construction company wooden fencing. More office space? The signs don't say. This town has gone hotel-crazy lately, so maybe it'll be more Republican Convention housing. I agree with your thoughts on Robbie's singing. A while back, watching Isle of Wight footage of Leonard Cohen singing, I wondered why he hadn't been choked off early by loved ones or professionals saying, "Len, baby, you're a hell of a poet-- but that honking don't make it!" Robbie is certainly more tuneful, but he also sings like a poet and must be miked carefully to make the best of it. Weird how singing can seem about carrying a tune one time, emoting the next.

Thanks for the live reports; I'm also green, Diamond Lil!

---
Tue Mar 2 18:51:27 MET 1999
Peter Viney
Pete Rivard: "Precious Time" is Van's new single, from the forthcoming "Back on Top" album. I rarely listen to radio in the car - usually just first thing in the morning, and I've heard it on air in the UK three times now. Which is unusual. In the UK it comes on 2 different CD singles (yawn), each with a different two live tracks from 1998. They do this with Van every time, which is something of a scam. They could do with 4 live tracks!

---
Tue Mar 2 18:30:12 MET 1999
Pete Rivard
From: Hastings, MN


Heard a new Van Morrison ditty on the commute this morning, "Precious Time Is Slipping Away" or something to that effect. As I was just given the news yesterday that, at age 45, I need glasses, I was in tune with the sentiment. That was followed on the radio with Dylan's "Positively 4th Street". Both feature that Leslie-fied organ chirping away. I was hoping for the trifecta with a Band tune, but that was not to be the case. Wishful thinking. Then I got to thinking that Van's diction was pretty good on this new cut. I used to think that only John Fogerty was less clear in his pronunciation. Something that the Band boys never had much trouble with, discounting the "Ollie" lyric.

---
Tue Mar 2 18:21:46 MET 1999
David Powell
Thanks Peter & Jan for your on the spot reports. BTW it's easy to remember the name of the gloved one's chimp; just use word association & recall that old song "I'm forever blowing bubbles."

---
Tue Mar 2 17:37:31 MET 1999
Peter Viney
From: viney@mailbox.co.uk


Garth Hudson & The Crowmatix, The Forum, London, March 1st:

Still trying to recover from the adrenaline, the great pleasure and arriving home at 2 a.m. to get up at 6.30 a.m. Between us, Jan, Lee and I will write a longer review or reviews, so this is just a memo of work in progress. And because three people have asked me this morning already; and Jan's in England till Thursday. Randy Ciarlante gave Lee the set-list which I've copied down. This was a stunning set. Expect the unexpected.

Garth, Randy, Aaron Hurwitz and Marie Spinosa did more than an hour. As a taster, they started with a great "Don't Wait" then moved into a Toots & The Maytels piece, and via The High Price of Love to Fading Fast. The audience were there mainly for Mercury Rev - the concert was sold out before Garth was announced - and they were loving every second of it. As were Mercury Rev, who all watched from the wings. The three voices (Randy, Marie, Aaron) blended together well, and it helped the visual focus to have a charismatic vocalist standing up front. The middle of the set was instrumental, with five pieces linking into each other. A keyboard piece of sheer Hudson genius moved into Garth on sax for "Garth's Largo", then into a Middle-Eastern sounding keyboard piece with classical echoes (called "Caravan" on the set list). The backing throughout was fluid and supportive, with Marie playing a variety of percussion instruments along with Randy's drums and Aaron's keyboard. Then they snapped back into "Young Blood"with Garth's hoped-for vocal contribution.

Then came a piece which Garth announced as "Rumanian Girls". Gino Lupari of Four Men and a Dog came on with bhodran, giving us three percussion players. I wouldn't know how to describe it. Eastern European folk dance whirling around. Totally compulsive listening. And it all blended finally into a version of Jimmy-Crack-Corn featuring the three vocalists again. We feared that time would end it there - their set had been planned at 50 minutes, but the headline act were waving them to continue. Aaron said "Chest Fever", Garth wondered if they had time, but Aaron, Randy and Marie walked to the side in time-honoured fashion, and the always unfamiliar magic of "The Genetic Method" started. After a while, Garth said "Randy …?", but Aaron and Randy were waving him to keep going, it was too great to interfere with.

Then the three came back on, and that crunch as they launched into Chest Fever came. That sublime moment at Band concerts. And of course, Randy now is the voice of "Chest Fever", he has been for years. Does it superbly too. Marie and Aaron were singing with him. A thrill to see from beginning to end. This is a great four piece, and they're NOT playing what you'd expect or following Band arrangements. They're adding all the time. They have to take this line-up on the road, and let America hear it. What about an album?

Mercury Rev, judging from the set and the reaction are destined to be megastars. I caught the soundcheck and second part of the set (including Opus 40 and Goddess on the Highway), but spent the first half talking to Lee and Jan. So much to talk about. My stage pass caused least interest, as I'm the senior member (I mean in age) of the party:-) One young lady approached us and said "Can I ask you a question?" "Of course," we replied simultaneously. "What's the name of Michael Jackson's chimp?" Lee and I looked dumbly at each other. Jan knew the answer. Mercury Rev's set will be reviewed by the British music press, who had their photographers there.

For those who are wondering about adventures with ticket touts, Tom Merroti of Woodstock Records and Randy Ciarlante ensured that all three of us had passes. I left Jan and Lee with Garth & The Crowmatix at the Forum at about midnight for my drive back to the coast. Two hours of open road with "Jubilation" and "Deserters Songs" on at full volume. I remembered writing in my review of "Jubilation" on the site that only Garth, Randy, Aaron and Marie appear on every single track. Someone e-mailed me a while back and said, 'These people are as genuine and nice as anyone you will ever meet.' Couldn't say it better.

As a coda, Lee mentioned talking to Kevin Doherty who'd said that in the review on the site, the point comparing the theme of his 'Don't Wait' to 'Daniel & The Sacred Harp" and the Crossroads myth was wrong. I looked it up. Er, sorry, it was me. But I also said it strolls away with the best lyric on the album (and tune), and I'll stick by that. While the instrumentals and vocals are as good as at the Forum, I'm happy to take a break from analysing the lyrics. But not for long!

---
Tue Mar 2 15:52:24 MET 1999
David Powell
From: Georgia


VINYL SIDING

Listening to music in this digital age can be an expensive habit. Tired of paying premium prices for CDs, especially when what you're looking for is available only as an import or bootleg? Get yourself an inexpensive turntable & cartridge (make sure your receiver or pre-amp has a phono section) and explore the analog alternative world of used record stores, garage sales, thrift shops & flea markets. Yes I know I'm preachin' to the choir here with some of you. Occasionally I like to recommend used LPs of Band-related music that I've run across. Here's one that set me back all of $3.00:

HOLY COW! / THE BEST OF LEE DORSEY (1985 Arista LP). Singer Lee Dorsey is perhaps the definitive interpreter of composer, producer, arranger, keyboardist AllenToussaint's music. Mr. Dorsey brought a smooth, relaxed, yet exhuberant approach to the lyrically simple but rhythmically complex songs of Mr. Toussaint. Some of the Toussaint originals on this album include: "Ride Your Pony," "Get Out Of My Life Woman," "Holy Cow," Working In The Coal Mine," "Everything I Do Gohn Be Funky," and "Sneakin' Sally Through The Alley."

Dorsey is backed by Toussaint on piano & background vocals, along with the cream of New Orleans's musicians. When Dorsey sings "Lord, I'm so tired" in "Working In The Coal Mine (goin' down, down)", you know just feel what he means. When you hear his spry vocal delivery on "Sneakin Sally Through The Alley," backed by the infectious rhythms of The Meters with the incredible Ziggy Modeliste on drums, you get an idea of what inspired Robert Palmer & Lowell George to learn how to tap their little feet. With "Holy Cow", there's no question that it's Mr. Dorsey's signature you hear, not Richard's, Rick's or Levon's. Keep an eye out for this wonderful album, it's a fine companion piece to The Band's _Moondog Matinee_.

---
Tue Mar 2 15:33:16 MET 1999
Dexy
From: Way west of London (or South, depending)


Jan -- Garth sang? Please give details.

---
Tue Mar 2 15:20:52 MET 1999
TOM IZZO
From: WATERBURY CT


LITTLE JOHN TYLER: Thanks for the good news!! Some friends and myself have had tickets for about 5 months for the same show and now look foward to it twice as much! Who are the mysterous Barnburners? Anybody? LJT: SEE YA THERE! Row k, seats 7-10.

---
Tue Mar 2 13:57:50 MET 1999
Diamond Lil
From: The Web


Jan: Thanks for posting and making us all incredibly jealous! So happy to hear that you're having a good time. Miss you here and looking forward to that hug from Aaron at the Brokerage. Have a safe trip back!

BTW..you know I have to say this. "Don't Wait"??? Awww.... :-)

---
Tue Mar 2 13:40:52 MET 1999
Jan H.
From: Halden, Norway


A little on-the-road report from an Internet-cafe in London (I can't read e-mail here, only browse the web):

Just said goodbye to Garth, Aaron, Randy, Marie Spinoza and Lee Gabites at the Columbia Hotel by Hyde Park. Incredibly nice people, very friendly and down-to-earth. Not to mention talented ... last night Garth and the Crowmatix opened for Mercury Rev at The Forum. The place was packed and the set was pure magic, opening with a beautiful version of "Don't Wait" (I know Lil, I know) and ending with an all-stops-out version of "Chest Fever". This was Garth's night, doing long solos, switching between the keys, the sax, and the accordion, and even singing (sort of) and dancing-while-sitting-down. Incredible and very surprising.

Mercury Rev was cool, but I'm afraid Lee, Peter Viney and myself spent most of their set drinking beer in the "VIP-room" and flashing our "Access All Areas" badges to young girls :-)

I had to back out from the after-gig party last night, but was up early this morning, had a walk in Hyde Park, over to the Royal Albert Hall ('66 and '71 came to mind, of course). Later Garth, Lee, Tom Moretti of Woodstock Records had breakfast at a French Place. Garth gave us all a detailed lecture on early sax-players (BKC - before King Curtis) and went through details about his session work over the years. I was all ears ... btw Garth was very interested in this site, and pointed out a few sessions I haven't got listed here (Peter, you'll start hunting, hm?).

Serge, Garth sends his best wishes to Wingate and yourself. He spoke a lot about Jack last night back stage ... you guys should've been there with the Glenfiddich.

Lil, I told Aron to pass on a hug to you at the Brokerage.

Moving on here, have to catch my train. Lee took photos that'll appear here later. Behave.

---
Tue Mar 2 12:45:03 MET 1999
Tim(SUNDOG)Corcoran
From: Mad City
Home page


COOL POSTER OF THE GRATEFUL DEAD AND THE BAND JAN! "3RD EYE BALL" THEY ALMOST HAD A GIG AT ALPINE VALLEY HERE IN WISCONSIN CALL "THE PIRATE'S BALL" BUT SOMETHING HAPPEN TO RICK IN TOKYO, AND IT WAS CALLED OFF!!! GEE, I WONDER WHAT HAPPENED HA, HA, HA!!!

---
Tue Mar 2 10:15:34 MET 1999
Patric
From: Down South In New South Wales


MARTIN: Regarding Robbies vocals on Knockin' Lost John..In full agreement, and the song has always been one of my favourite Band tunes, seems to capture them perfectly..slightly ragged playing ...suits the mood of the song and Robbie sounds at the end of his rope..a real gem.

Just dusted off Jubilation, havent played it much, I found it a little dissapointing but far superior to HOTH and far inferior to the wonderful Jericho. I've been listening hard to Garths magic accordion playing, what images fill the air !!, nostalgia, future hopes, flashbacks , being 10 year old and sneaking in the back door late for dinner, that first kiss[ Antoinette, where are you?] flying down the highway heading for big city adventures..wondering if your secret plan is going to come together..its all there when Garth presses those keys.

---
Tue Mar 2 08:21:50 MET 1999
The Matt man
From: Chi-town


THE BAND IS GREAT THEIR TWO BEST SONGS IN MY OPINION ARE "UP ON CRIPPLE CREEK" AND THE "WEIGHT"

---
Tue Mar 2 05:27:20 MET 1999
MArk
From: Crandon


I just picked up a copy of the Band's last show at Winterland in '69. It's an audience recording & a little distant & rough around the edges but I swear that Rick is alternating between the tuba & the bass guitar depending on which instrument that the song calls for. Am I just hearing things because the tape is so rough?

---
Tue Mar 2 05:09:37 MET 1999
Mark
From: Crandon


I'm looking for CDRstapes of the full unedited version of the Watkins Glen concert. I have the official version & want to hear the rest. If you know where I can locate these then please e-mail me. Thanks

---
Tue Mar 2 04:51:00 MET 1999
Pat Brennan
From: USA


Stanley Landau, perhaps you could compare Garth to George Martin in your Beatles/Band thing.

---
Tue Mar 2 04:29:40 MET 1999
Anthony Frazer
From: Sydney, Australia


I think this is such agreat site. I constantly turn to it for more information. If anyone can help me I'm after a copy of The Band's second self titled album. I would be willing to buy it on CD or vinyl. Thanks.

---
Tue Mar 2 02:51:32 MET 1999
Mike Carrico
From: Georgia


Re Robbie's voice, while it is certainly an acquired taste, I disagree with those who say that he can't sing. With the right material his voice can be quite effective - "Out of the Blue", "Broken Arrow" and "Sonny Got Caught In The Moonlight" come to mind. His problem is that he was in a band which had three singers who were in another league. One of the many reasons for the excellence of The Band I believe is the manner in which their voice blended. The individual character of each singer is so strong that each voice is distinct, even when they are all singing together. Although his voice his not nearly as good, I think Robbie's ghostly vocals have an equally strong character, and that it would have benefited The Band to have made more use of it. To Donald J - I heartily second your motion regarding Bill Kirchen; a kickass guitarist with a great sense of humor. It's not for nothing that his band is called "Too Much Fun".

---
Tue Mar 2 01:23:03 MET 1999
Mitt Stampler
From: way down the crazy river without a paddle
Home page


Well, I never liked Hell's Half Acre much, but I do think it's true that Robbie was the runt of the singing litter. That doesn't mean I don't like his voice, but I think the fault lies with his producers and/or sound engineers--I don't know if anyone else feels this way, but I think occasionaly his voice gets drowned out by the "glitz" and sounds weak or worse yet, bland. Any thoughts? Sitting around listening to the Basement Tapes, and where one man's temper might rise up, mine seems to have frozen...Last month we were told there was going to be a "shake-up" at work and last Thursday I got called to one of my six or seven Boss's offices. I see this Boss roughly four times a year, and each time he feels obligated to ask me: where I got my name (answer: I don't know) and "How many cups of coffee do you really drink per day?" (answer: somewhere between thirty-five and forty. Does Rick ever do "Java Blues" at his concerts?) This time, though, he just invited me in and informed me that "we" (love that corporate "we") we merging, and our R&D dept was basically finished, but that some of our "more talented people" would be allowed to transfer into marketing at a "substantial increase." (Call me jaded, but two grand is not particularly substantial; I probably shelled out that much last year on my beloved goddaughter's Beanie Baby collection.) I informed him--politely, of course--that I found rotting my life away designing his product infinitely more rewarding than hawking it to CompUSA Managers and was there some way he could leave me where I was? Whereupon he mumbled something about George Orwell, to the effect that me and my colleagues were fated to become Unpersons if we didn't transfer. He then said, in a much clearer voice, that I had signed nondisclosure agreements going back about four years and didn't seem impressed when I protested that he couldn't hold me to those because I never thought anyone could possibly drink that much coffee and live. I thought briefly about telling him to stuff it, but then I remembered that I have a spouse pretending to write a dissertation and a goddaughter who stays with me so often that I claim her as a dependent, and I said feebly, "Okay." Whereupon I was told to look on the bright side, because I could keep my semiworthless stock options and then I faced the inevitable: "Mitt, how many cups of coffee do you drink a day?" Sorry for rambling--but thanks for listening... Catbalu--Now I hate $$$ as much as you do.

---
Tue Mar 2 01:17:48 MET 1999
Stanley Landau
From: Toronto


Some comments on recent posts:

David Powell: I recall reading somewhere (maybe on this site) that there's a Beatle's bootleg of To Kingdom Come out there. That would be something to hear!

The Beatles have always been my second favorite band, but in terms of individual musical ability, they don't approach The Band. John Lennon: Fantastic rock voice, competent guitarist. Paul: Great bass player, melodic like Rick, (not quite as good as Rick but darn good.) Great voice (but certainly no Richard). George: never even approached Robbie on guitar, marginally better vocalist than Robbie (IMHO!). Ringo: good drummer, but no Levon. And they didn't even have anyone to compare Garth with. Seriously though, the Beatles' strength was the same as The Band's in their prime: the whole sound, the whole song.

On Robbie's singing, I don't know if the reference to "cheap shots" was directed at me, but I didn't mean my shots to be cheap. I emphasize it's my opinion, but first, Robbie's singing was a lot better in the late 60's and early 70's than on any of his solo albums. It sounds to me like the cigarettes have taken their toll. Sure there are a few songs that are well suited to "talk singing" like Somewhere Down the Crazy River, but for the most part, he should be writing, arranging, and playing guitar, not singing. To me it's kind of like Monet taking up photography.

---
Tue Mar 2 00:49:32 MET 1999
Little John Tyler
From: The House Next Door


For a few weeks now I've had tickets to see "A Tribute to Muddy Waters" (with Pinetop Perkins, Bob Margolin, Luther Guitar Johnson and others) at The Bardavon Opera House in Poughkeepsie NY on March 13.

They just added an opening act to that show today: LEVON HELM & THE BARN-BURNERS. Nice bonus. Your guess is as good as mine as to who's in the Barnburners. I'll let y'all know as soon as I can.

---
Mon Mar 1 23:12:47 MET 1999
Bumbles
From: The Fatal Flower Garden


LITTLE BROTHER: The lyric has always read "drunkard's dream," which is a sly twist on a song of that title from the Anglo-American folk tradition. In the original, a sinner is redeemed by a vision of his own wretchedness. In "Cripple Creek," the singer is obviously willing to let redemption wait a whle. Then again, there's no way to know what Levon had in mind when he wrote it.

---
Mon Mar 1 22:39:00 MET 1999
Little Brother
From: around Philly, PA


After being laid low with the Non-Flu and not having a PC to scavenge on, feels like years have passed since last posting!

Robbie can sing, regardless of all the cheap shots that have been taken at him from the beginning of recording (as opposed to recorded) history. He's not a kick-ass front-man type singer, but so what? I think it's easy to underrate him because he may have been sort of the runt of the singing litter next to Richard, Levon, and Rick!

Riddle me this, O Bandloremasters: I ran into a retired trucker who mentioned seeing The Band live in the early 70s. He mentioned "Cripple Creek" as his favorite tune, with the chorus of, "A TRUCKER'S dream if I ever did see one." I used to think that was the line, and there's even an article or two that references "trucker". It certainly fits the context of the song. When did it become "drunkard"? Or did it? Opinions, please...

---
Mon Mar 1 22:29:45 MET 1999
David Powell
Take a trip back in time & check out the following website:
http://www.woodstock69.com
It contains lots of information about the 1969 Woodstock Festival. Click on the "Music" icon & you can access the complete set lists of all the performers, including the Band. Also contains details regarding source material about the music. It's interesting to compare the Band's set list with that of some of the other groups like the Dead, CSN&Y, etc.

---
Mon Mar 1 21:56:17 MET 1999
Martin
From: Aberdeen


Regarding RR's singing, I think what little of it there is on the Band albums is used well and adds a further dimension to a group whose strength was their ability to conjure up such a range of sounds/moods via the use of different combinations of voices/instruments. All the great harmony vocal groups of the 60s relied principally on 3 singers, I'm thinking Crosby, Stills, Nash Garcia, Weir, and Lesh of the Dead, Clark, McGuinn and Crosby of the Byrds, and of course Lennon, McArtney anmd Harrison to name but a few. A fourth vocalist in these situations would often have been redundant, as it would have meant at least 2 of those vocalists singing the same note of a particular scale at any one time(albeit perhaps an octave apart). Groups such as the Beach Boys and the Eagles used 5 vocals to great effect creating a wall of vocal sound, but three part harmony is a much more subtle approach, and I believe it was to Robbie's enormous credit that he was content to let his 3 buddies handle the vocal duties and resist the urge to crowd the sound too much by chirping in his own 2 cents worth. Not having heard much of his solo work, I would rate Knockin Lost John as his best band vocal.

---
Mon Mar 1 21:20:24 MET 1999
Charlie Young
From: Down in Old Virginny


Rod: would that be Ben Fong-Torres?

---
Mon Mar 1 20:19:49 MET 1999
Rod
From: N.Z


Levon's guilty of a little plagarism in his own book. When talking about the rehearsals for the first Winterland concert he quotes the comment from John Simon "If you play that figure, play it with sticks because we can't hear the brushes up here." as if he heard it himself. I remember reading that quote from (Ben Tong's ?) article in the Rolling Stone article about the concert.

---
Mon Mar 1 19:24:30 MET 1999
Diamond Lil
From: The Web


Now there's a shock. Jan's not even been gone one day and already some less than swift individual has to come in and let all of us in on their IQ deficiency. Not even going to dignify "Jemima's" post with a comment. Everyone else have a good day :-)

---
Mon Mar 1 18:42:15 MET 1999
Jemima
From: Lake Charlie, LA, USA


Did Diamond Lil say she once played with Garth's ORGAN? Oh, his accordian...I guess it would be hard to make a plaster cast of THAT!

---
Mon Mar 1 18:34:24 MET 1999
mattk
From: Maryland


Ilkka...

That's exactly the point. Merely to more easily delineate whose saying what to whom and what they are emphasizing.

Another good tool for emphasis, which is used by us old time internet geeks is the asterisk(*). Since quotes (") are "stop" characters to many applications, the asterisk has been used to indicate:

Short quoted material(I call him *babs* but his real name is Fred)

Emphasis (Don't quote me, but *theoretically* bonus checks are coming today).

We also used to use <G> for "grin" and <EG> for evil grin, but with HTML, the < and > tags make that a bad idea. Best to use the smileys or sticons like : ) for grin and ; ) for evil grin.

I'm too young to be an old-timer in any industry. This is depressing...sigh.

---
Mon Mar 1 18:22:16 MET 1999
MattK
From: maryland


Personally, I LOVE Robbie's voice (yes, particularly "crazy river"). On the Weird Nightmare album, my two favorite cuts are Chuck D on "Gunslinging Bird" and Robbie's reading from "Beneath the Underdog."

No, it's not as powerful and rangey as Richard's, Levon's or Rick's, but in context, I really like it. As most may remember, I came at The Band AFTER hearing RR's initial solo work. Ironically, one of the things I found remarkable is that they had a quality singer that never needed to sing more than back up (and was willing to do so...).

Of course, it's all in the ear of the beholder (be-HEARer?).

Cheers

Matt

---
Mon Mar 1 17:19:20 MET 1999
Bumbles
From: Lost in the Rain


JOEY BARKHOUSE:

(1) Bill MONROE

(2) "Bluegrass swamp"?

---
Mon Mar 1 17:10:44 MET 1999
Joey Barkhouse
"M-I-C-K-E-Y M-O......You gotta put yer hat on boy,alright, Y'wanna be in the band you hafta put yer hat on"
Since you guys all have great taste in music and I've seen you discuss 'other' musicians i want to put in a big recommendation for Steve Earle & The Del McCoury band's new one, Mountain. It is pure American music soaked in bluegrass swamp. In the jacket, Steve (mr.earle, sorry) says this album (all tracks written by Steve) is his interpretation of Bill Munroe's genius. He doesn't pretend to be as good as Munroe "Some of it probably has him turning over in his grave"
"Nowadays they don't make no trains, just the piggyback freighters and them Amtrack things."
The album gueststars Iris Dement "I'm still in Love with you", Emmylou Harris "Pilgrim", Sam Bush "Pilgrim", Peter Rowan "Pilgrim".
"When the smoke cleared out over Gettysburg many a mother wept. For many a good boy died there, sure, and the air smelled just like death"
This is one of the Finest works I've heard in years and it's refreshing to hear someone put out a product that is a no-bullshit real peice of musicianship.

---
Mon Mar 1 17:03:10 MET 1999
Ragtime
From: the virtual world


Mmmm... Close your eyes & imagine the Beatles singing Band songs:

Paul Oh when the rumor comes to your town...

George It grows and grows, where it started no-one knows...

Ringo BANG BANG

John Close your eyes, feel the pain, until the fog blows away...

Mmmm... wouldn't it be great...

No. The real thing sounds a whole lot better.

Now I say a little prayer: Oh lord, please be my HTML correct, now that the maestro's is away...

Now I should press submit button. Think before you post Ragtime... too late now... whoops

---
Mon Mar 1 16:33:45 MET 1999
David Powell
Thank you Mr. bumbles for the Strunk & White interjection.

---
Mon Mar 1 15:58:42 MET 1999
Bumbles
From: Where the Sun Don't Never Shine


David Powell: Ostensibly.

---
Mon Mar 1 15:44:40 MET 1999
David Powell
From: Georgia


This past weekend I found a bootleg Beatles album that includes versions of "I Shall Be Relased" and "The Third Man Theme" performed by the Beatles. The album, a 2-LP set entitled _Apple Trax Vol. III_, was taken from the magnetic-tracks on unused film footage of the early "Get Back / Let It Be" sessions.

According to Mark Lewisohn's definitive book on the Beatles Recording sessions, the Beatles, in early January 1969, went into Twickenham Film Studios in England to rehearse new songs, ostensively in preparation for a live television show. The rehearsals were filmed and Glyn Johns was brought in as engineer to oversee the sound recording. Billy Preston was also recruited to play keyboards. Reportedly, over 90 plus hours of film footage exists, some of which was aired for the first time as part of the Beatles Anthology television series.

In between rehearsing a few new songs and arguing, the Beatles can be heard playing a lot of impromptu, short cover versions of some of their favorite songs. Everything sounds rough & ragged, and at times you can almost feet the tension in the air between the members of a disintegrating group. There are, however, occasional flashes of brilliance that give you a glimpse of how much the Beatles had matured in their own individual musical abilities.

It is in these sessions that you can hear George Harrison leading the group through rough versions of "I Shall Be Released" and "The Third Man Theme." During the rehearsals, George was openly rebelling against McCartney's attempts to "take control," and a one point, briefly quit the group. He, along with John Lennon, was definitely moving into different musical directions. It was around this same time that George, along with his friend Eric Clapton, had become a fan of The Band's music. As brief and ragged as the two versions of these songs are, you can at least hear what the Beatles might have sounded like playing something from The Band's repertoire.

---
Mon Mar 1 14:13:17 MET 1999
Railroad Man
From: " On a bar-room floor" ??


Robertson's solo career so far has been diverse musically but I believe he sounds best on the music he grew up playing ...standard rock, such as heard in the wonderful Hells Half Acre.

---
Mon Mar 1 13:15:09 MET 1999
Ragtime
From: one of the chosen few??


Ilkka:Tak!

Jan: Goede reis!

Serge: Hou nou 's op!

Re Robbie's voice: it's just that I don't like Somewhere Down The Crazy River.

---
Mon Mar 1 12:43:50 MET 1999
Serge
Stan, I bet you Doanld looks like a pimp going to work every morning :) How's that for decorum ?

---
Mon Mar 1 11:28:01 MET 1999
catbalu
From: while the main cat's away


hey jan, thought i'd try posting a picture of a sculpture of Garth for Diamond Lil while you are gone. have a nice visit...

---
Mon Mar 1 09:48:55 MET 1999
PV again
P.S. And Storyville is a great and very under-rated album. That's it. Off to London. London, UK, that is. Obviously not London, Ontario where the welcome might be frosty!

---
Mon Mar 1 09:45:21 MET 1999
Peter Viney
Robbie's voice has been much in demand for voiceovers andcommentaries, and I don't think any of the other three could have done "Somewhere Down The Crazy River" (among others) as well as he did. There are some songs that are so Band-like - Soap Box Preacher stands out - that you can easily imagine Levon & Rick doing it. Robbie knows his limitations and has worked with great singers who complement his voice. I don't think either Rick or Levon would have bettered Peter Gabriel on "Fallen Angel " (though the subject of the song might). Neil Young was great as the second voice on "Soap Box Preacher" (it was originally going to be Rick Danko according to an interview) and on the Native Americans material he uses female voices to great effect. Female voices add to the songwriter's palette enormously.
Rick and Levon are natural singers. Robbie, like Bob Dylan and Neil Young, isn't. But he's in incredibly good company. The Band as a touring unit (if they still are) rely heavily on his songs, and it's only when they turn to songwriters of the quality of Bruce Springsteen and Bob Dylan (and on recent evidence Kevin Doherty) that they hit the same level.

---
Mon Mar 1 09:40:09 MET 1999
Ilkka
Home page
DIAMOND LILL and MATTK. - No need to excuse! You wanted to do this Guestbook more tasteful and easy to read. I have written a short text in two different ways on the page:
//members.tripod.com/woodlark/rabbit.htm
If I have understand right, this might have been Mattk's purpose?

---
Mon Mar 1 07:56:06 MET 1999
Jan H.
New guestbook record again, 627K in February! See y'all on Thursday night, off to London to see Garth with Mercury Rev. Behave.

---
Mon Mar 1 06:54:48 MET 1999
Phil
From: Ca


To me RR has a quirky voice. Different but not unpleasant. Like a George Harrison, Mick Jones, or Matthew Fisher it could be a nice change of pace for an album cut or two. But these groups had only one or two lead singers for to take a break from. There really was'nt much room for an extra voice in The Band, pleasantly quirky or not.Though the times it has been used works for me. I've always liked bands with more than one vocalist. It's much easier on the ears. None ever much so than THE BAND.

---
Mon Mar 1 05:19:38 MET 1999
Dave Z
From: Chaska, MN


Awesome, Pat.... For me, it's an old logging road, the Echo Trail, and the first sound I hear after eleven days in the silence of the boundary waters is Go Back to Your Woods as we head for a pizza place in Ely. Unfortunately, we are kicking up dust as we drive probably like Levon, and when the disk skips, I pop mine out in favor of my friend's Little Feet CD. Half way into the first song, he says "Who was that !?!?!!"

---
Mon Mar 1 05:01:10 MET 1999
Pat Brennan
From: USA


Dave Z, in the winter driving through the woods south of Traverse City about seven in the morning knowing that Chicago is some six hours away, with Storyville on. Rainbow ends. Drive in silence. Whew.

---
Mon Mar 1 04:55:12 MET 1999
Dave Z
From: Chaska, MN


I have to admit Pat, I never tire of listening to Storyville. It's my favorite, especially on road trips. Robbie could make another Storyville, and I'd buy it.... Maybe I agree with Stanley again, and could see Levon singing a duet of Breakin' The Rules.

---
Mon Mar 1 04:49:40 MET 1999
Stanley Landau
From: Toronto


Donald Joseph, spell your name right or I'll have you disbarred. By the way, I've started an elegantly casual dress trend at my office. Kind of like the boys circa the Brown album. No need for Harry Rosen garb. Maybe you should do the same.

---
Mon Mar 1 04:35:27 MET 1999
Doanld Joseph
From: cyberspace


Mitt--Your post-before-last was ingenious!

Stanley Landau: Watch your apostrophes, pls., or I'll have you disbarred.

I saw a kick-ass double bill last night -- Bill Kirchen (sideman for Nick Lowe & Commander Cody) opening for Marcia Ball. Marcia did 2 sets, & the show lasted 5 hours -- I swear! (9:15 to 2:10 a.m.). Marcia & her band are an incredible show, & Bill is one of the great unsung guitar heroes in rock. I'll spare you more detail, as these acts're not directly Band-connected. Let me note, though, that Bill does a jaw-dropping, marathon set-closing "Hot Rod Lincoln" (Bill is the original guitar player on the C.Cody hit). When Bill gets to the line "the Cadillac pulled over & let us by," he then interjects all these guitar players who, he claims, also pulled over & let him by...Bill names about 20 guitar heroes (alas, not RR), & does a dead-on guitar lick from each one's signature tune. He does, for e.g., Muddy, Keef, Freddy/BB/Albert King, Jimi, Hooker, Geo.Harrison, etc.,etc.) DO NOT PASS UP A CHANCE TO SEE BILL KIRCHEN LIVE!

I don't think it's fair to call the Serge/Viney thing a "feud," because "feud" implies more or less equal firepower. By my reading, Viney has not crossed the decorum line.

---
Mon Mar 1 04:23:53 MET 1999
Pat Brennan
From: USA


I think "Rainbow" from Storyville is one of the great tunes. Had to be done just the way RR did it.

---
Mon Mar 1 04:13:24 MET 1999
PHILIP
From: TULSA, OKLAHOMA


Evangeline, regarding which album(s) to buy, quite simply buy em all if you can. You won't be disappointed...even with their "Islands" album. Enjoy.

---
Mon Mar 1 03:44:30 MET 1999
Joey
Evangeline: Welcome to the world of The Band. You are in for a treat. Don't forget to check out the Discographies on THIS SITE! They'll help. The song, Evangeline, can be found on "The Last Waltz", and is a must for any fan of The Band. Personally, I'd suggest their first two albums (available on cd) , Music From Big Pink, and their second self titles album referred to as The Brown Album. Also, Rock of Ages, a double live set where you really get to hear the Boys at their best. Also, if you liked Evangeline, you'd probably like "Acadian Driftwood" form the lp/cd Northern Lights, Southern Cross (Referred to as NLSC by many guestbook members). Have Fun and remember "If a little tiny bit of it comes back in your mind later on, even for just a little while, then it's good music" - LEVON HELM.

---
Mon Mar 1 03:21:38 MET 1999
Evangeline
If I am going to buy a Band album for the first time, which one would be the best to buy? Which one has the song "Evangeline" on it? Thanks for your help! Have a great day, everyone!

---
Mon Mar 1 03:21:20 MET 1999
Evangeline
If I am going to buy a Band album for the first time, which one would be the best to buy? Which one has the song "Evangeline" on it? Thanks for your help! Have a great day, everyone!

---
Mon Mar 1 02:39:26 MET 1999
Stanley Landau
From: Toronto


Dave, I really like the two songs you mentioned, and I also like Out of the Blue. I wouldn't mind if he could still sing as well as he did back then. But (again in my opinion) he can't. I've said this before and I'll say it again. The schism between Robbie and the other guys is a real tragedy. Robbie can write really well but can't sing. He play's great guitar and the ensemble of the original Band was a marvel to behold. The other guys recreate that ensemble quite well, they sing great, but to me very few of their songs match up well with the ones that Robbie wrote, (with or without Richard, Levon and Rick).

---
Mon Mar 1 02:22:31 MET 1999
Kevin Gilbertson
From: NE PA


Does anyone know if 'The Hawk' by Ian Wallis was only released in paperback?

Can't seem to find a hardcover version.



---
Mon Mar 1 02:02:23 MET 1999
Dave Z
From: Chaska, MN


Although staggered by the blow of the practicality of your response Stanley, I am still left wondering whether room could be made for at least one extra song per album. I guess maybe I don't buy it that Robbie made his best showing on Knockin' Lost John or Kingdom Come, just like I maybe don't buy it that either Levon or Robbie alone should be referred to as the leader. I acknowledge your point, but as a true Gemini, I also see possibilities,... Plus now Richard is no longer in the Band, and maybe Levon shouldn't have to carry the additional load by himself.

---
Mon Mar 1 01:58:25 MET 1999
Serge
Paul Godfrey, I noticed you spoke of "Coc" Carl Mathers a few days ago. Can you email me, please. I'd like to ask you some questions regarding Carl if you don't mind.

---
Mon Mar 1 01:01:55 MET 1999
Sheryl
From: Texas


I have to say that I am one of those from the Contact site. I visit both this site and the other often. I love the "old" Band's music and sound. The "new" Band does not do for me what the original did. I get much more from Robbie's solo work. I love both his speaking and signing voice and never get enough of listening to all his solo efforts. Like DaveZ said, there are a lot of us who feel the same.

---
[History] [Members] [Library] [Discography] [Videography] [Filmography] [Pictures] [Audio Files] [Video Clips] [Tape Archive] [Concerts] [Related Artists] [Merchandise] [Guestbook] [Chat Room] [Search] [What's New?] [Main Page]
Webmaster