The Band Guestbook, November '96
Below are the entries in the Band guestbook from November 1996.
---
Sat Nov 30 02:42:05 MET 1996
Deena Melendy
From: Dallas, Oregon

---
Fri Nov 29 20:17:00 MET 1996
Marsha Wright
From: Weymouth Massachusetts, live in Arizona now!


The creator is nice!

---
Fri Nov 29 12:51:40 MET 1996
C Doheny
From: Liverpool, ENGLAND.


nice one!

---
Thu Nov 28 19:58:40 MET 1996
Graham Kay
From: North Yorkshire, England


Finally! the lyrics for 'Sleeping': that 3rd verse has been bugging me since i got the record 3 or 4 years ago. What a fantastic song, though. Oh and 'To Kingdom Come': I'd never have guessed that was what he was singing. No wonder he hardly ever sang lead, eh? Thanks with warm regards Graham Kay

---
Wed Nov 27 22:05:05 MET 1996
Rick Anderson
From: San Jose, California


Thanks for the tremendous efforts on the home page -- it's wonderful! I also am a long-time fan of the Band, and I saw the original Band twice: once in 1974 and the second at the Last Waltz. Tomorrow is the 20th anniversary of the Last Waltz on Thanksgiving Day (The real date was Nov. 25), so this is a memorable occasion for me and almost 5000 others who were lucky enough to be at Winterland that night. I would be glad to share my anecdotes with the site readers, but I am also reaching out to locate someone who might have a copy of the Complete Last Waltz tape set or CD package. Although my memories of this concert are still strong, I am very interested in re-hearing ALL of the concert again, and for years to come. The released records and movie are quite nice, but there are several memories of that great event which did not make it to the released products (Acadian Driftwood, Four Strong Winds, Chest Fever, the two jams, the additional poetry readings, etc.). Is there anyone out there who can help me in my search? And, to all the website readers, I wish a Happy Thanksgiving, and a wonderful reminiscence of the Band and their Last Waltz, already 20 years ago. Too Soon Gone...
P.S. Long Live Winterland!
Rick Anderson

---
Wed Nov 27 18:01:22 MET 1996
David Luther
From: Missouri


Nice stuff on The Band. I'm looking for this really long article on the WEB written by Jill Howland. According to Jill, she spent part of her summer traveling NY with The Band and wrote about it. Let me know where to find this. Thanks.

---
Wed Nov 27 02:09:00 MET 1996
Don Pugatch(again)
From: Roswell,Georgia


If anyone wants a copy of the A&E program on The Band, send me a e-mail and I'll give you directions of how to send me a blank cassette and prepaid return postage and package. If you have not seen this biography, narrated by Harry Dean Statton, your trully missing some great history.

The A&E program is the same as the video The Band - The Authorized Biography (sometimes also referred to as the Authorized Documentary). It's available in commercial form at better video stores, and also on the Internet, at CDnow and other video/CD net-retailers. CDnow sells this video for $18.
-- JH
---
Tue Nov 26 22:07:57 MET 1996
Miguel Giovanni Martinez
From: SINGAPORE


Sometimes application is a real mystery, for example a third minor seven flat five tonality (ex. in B flat as tonal centre, therefore the third minor seventh flat five would be E minor 7 flat 5) We all are aware that, it is hardly a tri-tone sub. 'cause in this case it is the first sound of the harmony(Stella By Starlight). It would appear to be a locrain and it is, but, the variations in a half diminish although is a plenty hasn't got a motif. Therefore, a more appropriate approach would be thinking intervalic and instead of the employment of pentatonics or hexatonics. The advisable approach would be not a tri-tone but, triad implifications. In other words, a poly-chordal approach or a motiff of three degrees in the locrian interacting with the preceding tonality of the given harmony(commom tones). One can always voice Auxillary (George Russell) and it will only sound if the aux. were voiced an octave apart from each other, this is simply to avoid the minor ninth cadence. Accelareted notes could be thought of as, passing tones and that's where chromatism comes in the picture. Somtimes, one could substitude the half-dim. for a sharp ninth mixolydian (diminished half-whole, whole-half scale). My advice would be to think tention and tention resolve. In short, use a diatonic and a tentioned mode ( in-going and out-going poly-modality), remember not to neglect all of the above. As, every aspect of that particullar mode should not be taken forgranted. Nice solos are actually nice melodies. Thanks for putting up with all of the above and I do think that THE BAND WWW pages is C O O L .....

Pass it this way, Miguel.
-- JH

---
Tue Nov 26 03:28:49 MET 1996
Don Pugatch
From: Roswell, Georgia


Trully excited about The Band's web page. I have been searching for current information for months on the whereabouts of The Band. The last visit to the Atlanta area was right after Jericho was released. There was to be another concert in 1995 , but was cancelled due to Levon's illness. Since that date no concerts, no info, no radio play, nothing. I have tried to get the local rock and classic rock stations to play the music from The Band, but I have had no luck. This town is totally void of the group and their last tour totally avoided the area. Maybe with the coming of The MIDTOWN music festival in May, the area will have an oppunitiy to hear The Band. Trully do miss their spirit. What makes me glad, is the picture that I took with my son,Sean, with Levon and Rick, in their bus before their last concert in Atlanta. Brings back some good memories. Hopefully someone will tell the boys that Atlanta needs to be visited with their presence. Sincerely, Don Pugatch

---
Mon Nov 25 20:47:40 MET 1996
Bobby Fosbender
From: Lakeland , FL


Thanks for the lyrics...save me much time!

---
Mon Nov 25 09:47:00 MET 1996
Jim Caskenette
From: Hamilton Ont. Canada


Anything on the Band is great. I remember seeing them for the 1st time out at Port Dover, Ontario when they were with Ronny Hawkins, who used to wind Robbie up like a clock before he played a solo. (very effective). Definetly one of the best.

---
Mon Nov 25 09:12:48 MET 1996
Erin
From: Gettysburg College

---
Sun Nov 24 21:51:50 MET 1996
Brian Campbell
From: Cranford, NJ


Brilliant.

---
Sun Nov 24 15:21:44 MET 1996
Tim Fisher
From: Toronto, ON


If you are reading this, then you are tapped in to the best band in the world. These guys are the band that every other good rock band claims as THE influence, and despite the slagging they have taken by some, there is not much that compares to the way a Band show makes you feel. It's like having someone tickle your soul.

---
Sat Nov 23 04:24:59 MET 1996

Michael J. Wiseman
From: Rochester, NY


Just checking in again. I visited Woodstock this summer and got some cool photos of Levon's house and of course, Big Pink. Thanks Jan, for this page.

---
Sat Nov 23 03:13:17 MET 1996
Leroy Mould
From: Olympia WA


The greatest American, no wait, the best Band in rock history.

---
Fri Nov 22 07:33:14 MET 1996
Ryan Clinton
From: Baton Rouge, LA
Home page: www.duke.edu/~rclinton


Wonderful. I'm writing a term paper on the Mythological aspects of Robbie's writing. Any ideas?

---
Thu Nov 21 19:16:40 MET 1996
Skip Wolfe
From: Kennesaw, Georgia


This is what a web page should be like! Great work. I'm not as excited over the "new" band as I was over the original. For me, every member of the group had his unique contribution, and if you take away anybody, you have a different group. So to me a group without Robbie and Richard can't be The Band. (That's not to say that the current group isn't making good music -- I'd just rather listen to the well-worn originals.) I saw them live twice, once when they were backing Dylan, and then again around the time they released "Stage Fright." Two of the best shows I've ever seen.

---
Thu Nov 21 05:32:50 MET 1996
Emily Elizabeth Story
From: Forrest City, AR college-U of A at Fayetteville


LEVON- if you ever read this, when are you coming to Marvell? We want to visit with you. Daddy said you are talking about a movie here soon. Good luck and if anyone needs an extra, tell them to gimme a call. Love, Emily

---
Wed Nov 20 10:00:58 MET 1996
Jimmy Conner
From: Astatula, FL


Great job. The Band is an example of the rare occasion in popular music where the music becomes timeless and one can return to it like a well spring for re-nourishment. Long live their music and its integrity and profound originality.

---
Wed Nov 20 09:29:02 MET 1996
Harry King
From: San Francisco, CA USA


Thanks. I needed that.

---
Tue Nov 19 14:33:28 MET 1996
Mike Ainscough
From: University of Brighton, England


This is one of the most comprehensive and interesting Web sites I've visited, with a wealth of information on its chosen subject. Even if I wasn't interested in the Band (which I am), the site is an excellent example of its kind. Well done! Mike Ainscough

---
Mon Nov 18 08:21:47 MET 1996
Erin McCarthy
From: Mobile, AL.


When I first heard the band i immediately fell in love with them. They truely are good musicians with something to say. A person can also just sit down pop in a cd or vinal and truely enjoy some fun and creative yet deep music. I LOVE EM'!!

---
Sat Nov 16 06:00:45 MET 1996
jerry donoho
From: little rock, arkansas

---
Sat Nov 16 03:48:49 MET 1996
Richard H. Baker
From: Baltimore, Md.


Great work. Do you know how I can get a copy of the Live in Japan video? I e-mailed the guy who wrote about it,but got no response. Sounds like a wonderful video,especially for A Richard Manuel fan like myself.


The Japan Tour '83 video can be ordered from the Internet shop CDnow. They only have it on laserdisc, though, at $56.
-- JH
---
Fri Nov 15 20:44:26 MET 1996
Kevin By
From: Jæren Folkehøgskule, Norway
Home page: http://home.sol/jarenfol


I think this Band home page contains all the information you need about the group. (Keep up the good work!)

---
Fri Nov 15 18:02:50 MET 1996
Charlie Randisi
From: Rochester, NY


The Band's music is the "Rock of Ages."

---
Fri Nov 15 14:30:16 MET 1996
Tom Huhn
From: Alexandria, VA


What a pleasure running into this Web site. I've been a fan of the Band for years (saw them with Bob Dylan in 1974 at the Capital Centre and at Carter Barron Ampitheater in 1976 during their last tour (as the original Band). It's especially nice picking up the actual lyrics to some of their longs at long last (never could figure out Chest Fever!) Keep it up!!!

---
Thu Nov 14 22:04:42 MET 1996
Travis Stirewalt
From: Nashville, TN
Home page: http://www.iolweb.com/travis


Levon and The Band Gang,
I was your bouncer at all of the Chattanooga, TN shows that you did at Market Street Performance Hall. Levon, Rick, and Garth, you three were always so nice to me in return for keeping things straight. Just to let you know, you are in the cd player all of the time and I thoroughly appreciate the vibes. Send me some mail to let me know how you are. Levon, you gave me a hat on your last trip and you signed it for me, do you realize I have been offered top dollar for it but I will keep it always. Take care of yourselves and keep in touch. If you are ever in the Nashville area, give me a call and I will work your personal security.
Travis Stirewalt

---
Wed Nov 13 15:14:37 MET 1996
AUSTIN ALBAHAE
From: FLORIDA VIA NYC
E-mail: EVER CHANGING...


COOL WEBSITE, AFTER HUNDREDS OF CONCERTS OVER MANY YEARS THE MOST FUN I CAN REMEMBER(KEY WORD) HAVING AT A ROCK SHOW WAS SEEING THE BAND IN MAY 96 AT SUNFEST IN WEST PALM BEACH, FL. WE LOVE YOU. KEEP TOURING, COME BACK AGAIN SOOOOON.

---
Wed Nov 13 11:29:05 MET 1996
inger-lise b. andersen
From: Norway


Hilsen Inger-Lise

---
Wed Nov 13 11:27:43 MET 1996
Sissel W. Lie
From: Halden, Norway

---
Tue Nov 12 19:31:53 MET 1996
Hank Widmer
From: Las Vegas Nevada


This initial trip through the pages was very enjoyable. Unfortunately, I am now very depressed seeing all the boots that I am missing out on!! Thanks for all your hard work to make this page great.

---
Tue Nov 12 00:12:39 MET 1996
jiri jj jansa
From: prague (born) & munich (living since 14 years)


I´ve found this page some days ago and I´m sure I´ll come back soon as possible Because I´m a FAN of The Band since I´ve heard The Band for the first time... There is no other band that could make me crazy like that "Creeple Creek".... Your sincerely jj

---
Mon Nov 11 06:28:25 MET 1996
Jim
From: Sudbury,Ontario,Canada


Excellent site!! I've been a band fan for about 25 yrs.and it's great to see that they're still popular.Keep up the fine work

---
Sun Nov 10 17:10:47 MET 1996
Donal Lemieux
From: Ottawa, Canada


Great. What a band. None better.

---
Sun Nov 10 16:15:16 MET 1996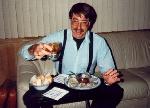 Joseph Moosman
From: New York, New York (born, anyhow)
Home page: http://www.geocities.com/SiliconValley/7043/


I'd rather die happy
than not die at all
The man is a fool
who will not heed the call.
-- R.Robertson

---
Fri Nov 8 17:37:34 MET 1996
Melva Reid
From: Nova Scotia Canada


wow Jan ------this is very impressive!! I'll be back to visit again when I have more time!! Nice chatting with you! Melva

---
Thu Nov 7 02:16:43 MET 1996
Heather
From: Raleigh, N.C.


My fiancee and i have been big Band fans for a while, though we have never been able to see them. If anyone has any info on up coming tour dates - anywhere - or have bootlegs they may want to share - please e-mail me.

---
Wed Nov 6 16:51:18 MET 1996
Kari Hautakoski
From: Finland

---
Wed Nov 6 03:27:39 MET 1996
Billy Harrison
From: Columbus GA


This is great1 Keep it up!

---
Mon Nov 4 16:51:12 MET 1996
Ryoji
From: JAPAN


I've found the great site.The Band was a legendary great band, but now I can get few informations about them. So this pages are very important for me. By the way,I have some questins. The 20th. anniversary of "The Last Waltz" will be coming soon. The concert was held Nov.25 in 1976. Are some events such an anniversary concert going to be held? I wish to be released a Video or CD of the complete Last Waltz. I hear that each guest musician played two or three songs in that concert, and after "I shall be released"a Jam session was played by the guiterist Robbie,Eric, Niel and others. I'm anxious to listen such a play.

---
Sun Nov 3 19:09:52 MET 1996
Henrik Dahlsson
From: Östersund, Sweden


Hi! It is really great to see The Band on the web. Personally, I think that The Band together with Dylan during the 70th produced their best material. Do you have any more information on that? Keep up the good work! /Henrik

---
Sun Nov 3 18:19:24 MET 1996
joe
From: pittsburgh, pa.


nice review laurin. it's a shame about people leaving, but what do you expect from a bunch of unintelligent rednecks.

---
Sun Nov 3 06:09:27 MET 1996
Laurin Willis
From: USA


The Band played a great show in Lexington, VA on 10/4. The show was at the Pavilion at Washington & Lee University. Over 1,400 tickets were sold for the W & L "Homecoming Bash". Unforunately, most of those in attendance came to hear one song, "The Weight", and left promptly after the song was played. Still, the 100 - 200 who came to hear the music were treated to a great show. The set list was: Walcott/Stuff/Back to Memphis/Blind Willie/No Difference/Rag Mama Rag/Atlantic City/Caledonia Mission/Crazy Mama/Weight/Stage Fright/Deep Feeling/Loved You too Much/Shape/Gen Meth/Chestfever/Cripple Creek A.P. had a great mix for the show. Jimmy and Garth traded tremendous solos on "No Difference" and Garth could be distinctly heard for his organ solo on "Stage Fright". For the quality of music that was played, it's a shame that it was so largely ignored by those in attendance. Laurin

---
Sat Nov 2 19:32:47 MET 1996
Litt Roden
From: Richmond,Va.


Now that I've had time to look at this I'm amazed. For my money this is the best music site I've ever seen.

---
Fri Nov 1 19:12:24 MET 1996
Litt Roden
From: Richmond,Va.


I,m glad to have found this page.Would you believe the biggest fan I know is the 10 year old son of a friend of mine ?

---
Fri Nov 1 08:50:19 MET 1996
Mike & Diane McMahon (Mac)
From: Chicago IL
Home page: http://www.cbsinet.com/~adr/


Hi Levon, its (Mac) The kids all say hello. Diane too. Great page you have here. I'll call you soon.

---
Fri Nov 1 06:35:41 MET 1996
barker
From: Iowa City, IA


I like it more!!!

---
Fri Nov 1 06:19:39 MET 1996
barker
From: Iowa City, Iowa


I like it!!!

---
[History] [Members] [Library] [Discography] [Videography] [Filmography] [Pictures] [Audio Files] [Video Clips] [Tape Archive] [Concerts] [Related Artists] [Merchandise] [Guestbook] [Chat Room] [Search] [What's New?] [Main Page]
Webmaster