---
The cafe was closed in May 1999 and their web site is long gone. This page is kept for the archives
---
For more information, reservations or tickets, see the Cafe's official web pages, call (504) 522-5907 or e-mail to LEVONSCAFE@aol.com.
Levon Helm's Classic American Cafe
[Cafe web site] [Invitation from Levon Helm] [Concert dates] [Concert poster, February '99]

PRESS NEWS RELEASE: In what many are calling the most important entertainment development in New Orleans since House of Blues, Tony Mart Orleans, LLC, announced the December 26, 1998, Grand Opening of "Levon Helm's Classic American Cafe" a live music supper club located at 300 Decatur Street in the French Quarter. In addition to THE BAND'S legendary drummer, Levon Helm, the club will count among it's partners New Orleans own Banu Gibson, internationally acclaimed jazz, blues and swing songstress. Grand Opening celebrations will include special performances by Levon, Banu, the Staple Singers, James Cotton, and numerous friends and guest stars including THE BAND.
The two story Cafe will serve a full menu of New Orleans, Classic American and Italian American cuisine, sandwiches and snacks. The cafe will accommodate 300 guests in restaurant and cabaret style seating with balcony viewing, dancing and party space for approximately 400 more patrons during day and night performances of New Orleans' Rhythm and Blues, Jazz, Swing, Blues, Classic Rock and Country Music utilizing a state of the art, custom sound system with theatrical speakers designed by Klipsch Professional. In the style of an ongoing festival, live roots music will be performed day and night featuring regular performances by Levon Helm and Banu Gibson with a cavalcade of New Orleans' and international guest stars and performers. Levon promises a standing invitation for both local and visiting musicians to join in "Levon's Champagne Jam" which will take place most nights at the Cafe after 1:00 am until the wee hours of the morning in an atmosphere described as "The Dew Drop Inn of the Next Millennium"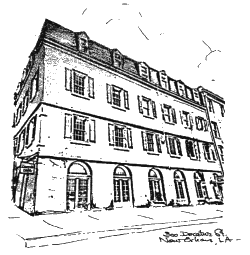 National/International performers tentatively scheduled for 1998 and 99 include Marcia Ball, Little Feat, Anson Funderberg and the Rockets with Sam Myers, Terrance Simien and the Mallet Playboys, Legendary Rockabilly star Ronnie Hawkins, Kim Wilson, Maria Muldaur and Country Superstar John Anderson......just to name a few.
Regularly featured New Orleans; artists will include Brint Anderson, Luther Kent, Herman Ernest, Adams/Griffin Project and Coco Robicheaux; while Banu will welcome jazz greats like Connie Jones and Al Beletto.
The Cafe's Signature drink, a whimsical blend of fine Caribbean Rums and pure, exotic fruit juices, will be known as "Classic Carnival Punch"....Pow!
Other New Orleans Partners in the company include Grimaldi Construction, general contractors for the 9000 square foot Cafe being developed in the historic building at the corner of Bienville and Decatur Streets in the city's rapidly developing Decatur Street entertainment strip.

---
[History] [Members] [Library] [Discography] [Videography] [Filmography] [Pictures] [Audio Files] [Video Clips] [Tape Archive] [Concerts] [Related Artists] [Merchandise] [Guestbook] [Chat Room] [Search] [What's New?] [Main Page]
Webmaster