The Janglers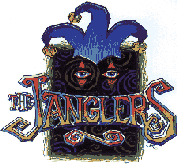 Albums: Sweet Providence (1988), Circuit Ride (1992).
Since their formation in 1987, the Cleveland band The Janglers have covered the following Band songs:
The Shape I'm In
Up On Cripple Creek
King Harvest
Jemima Surrender
To Kingdom Come
Their 1988 debut Sweet Providence, dedicated to the memory of Richard Manuel, was often compared to The Band in reviews. References to The Band appeared in reviews in "Option", "The Ledge", "Scene" and "Cashbox".
The Janglers destiny eerily followed The Band's with lead guitarist John Treadway's death. His replacement, Jack Silverman moved the Janglers sound closer to the Allman Brothers or Little Feat. Lead singer/songwriter Jason White kept his foot in the Band sound, created a new twist for the Janglers. The Janglers make people dance hard. The Janglers now play concerts with 90% original material (no Band covers anymore!) and has released a second album, 1992's Circuit Ride. There are two albums worth of yet unrecorded originals (long concert honed) waiting for the major label break. With the success of groups like Hootie and the Blowfish, Phish, Widespread Panic, Wallflowers, Counting CrowsBlues Travelers, Spin Doctors and other neo-psychedelic/roots bands, success should embrace the Janglers - Jason White is a superior songwriter and singer!
If you would like to prove it to yourself, take advantage of a four year old promotional concept called "Free Music". Over 2700 people worldwide have sent blank cassettes (90 or 100 minute) and received back their tapes with dubs (directly from the soundboard masters) of live Janglers concerts. You will also receive information about The Janglers and their two CD's. Send blank tapes to:
MAIA RECORDS
P.O. Box 372
Wickliffe OHIO 44092-0372
(Postal donations of $1.00 gladly accepted!)
For more info or a MAIA RECORDS catalog e-mail Ken Dixon
---
[History] [Members] [Library] [Discography] [Videography] [Filmography] [Pictures] [Audio Files] [Video Clips] [Tape Archive] [Concerts] [Related Artists] [Merchandise] [Guestbook] [Chat Room] [Search] [What's New?] [Main Page]
Webmaster