Jim Weider:Basic Licks and Classic Solos for Electric Blues Guitar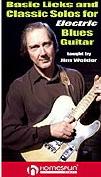 Hereís a video lesson for players who know the basic chords and want to get started playing blues on the electric guitar. Jim Weider takes it from the top, and shows the easy way to get into playing authentic licks, riffs, rhythms and hot solos.
You'll learn how to use slides, string bends, hammer-ons and a variety of vibrato styles for an authentic blues feel, along with rhythm grooves, bass lines and other accompaniment techniques. Learning the pentatonic (5 note) blues scale is the key to blues improvisation, and Jim teaches you how to find the notes you'll need in different positions up and down the guitar fretboard. Before long you'll be playing leads and soloing with the best of them.
Jim teaches the elements of this powerful American style through the classic licks and solos of some of its key players. You'll learn, in detail, how to play tunes such as Albert King's "Going Down," Elmore James' "Elmo's Blues," Freddie King's "Hideaway" and Jim's own "Sugar Cane Blues." He demonstrates the style of the great B. B. King, showing how he gets his distinctive sound, and covers how to get expression on the guitar with the use of volume and tone controls, pickups, pick attack and other essential information. Each tune covers a different aspect of electric blues playing and provides you with a great solo for practicing the techniques you've learned.
The Honky Tonk Gurus, Jimís recording and touring band, supply plenty of great back-up and help Jim demonstrate how a song should sound when played in performance. This video lesson will help novice players become real electric blues musicians in no time!
Jim Weider - Basic Licks and Classic Solos for Electric Blues Guitar - 2001 - Homespun Videos VDJIMBL01
---
[History] [Members] [Library] [Discography] [Videography] [Filmography] [Pictures] [Audio Files] [Video Clips] [Tape Archive] [Concerts] [Related Artists] [Merchandise] [Guestbook] [Chat Room] [Search] [What's New?] [Main Page]
Webmaster