Bob Dylan and The Band: 69-70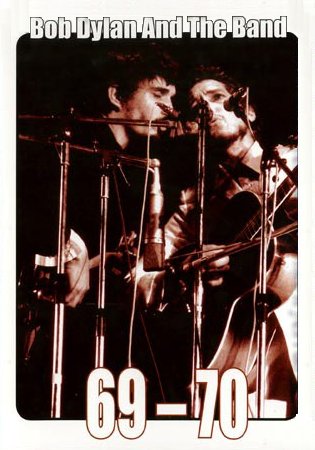 Bootleg DVD released in 2006 with six tracks from Dylan and The Band's legendary set at the 1969 Isle Of Wight festival, shot in black and white from the foot of the stage. The DVD also features some original newsreels from Dylan's appearance at the festival, Dylan's appearance on the Johnny Cash show in May 1969 and part of The Band's show at the Syria Mosque in Pittsburgh in November 1970, which was shot for Dutch TV.
A Dutch 2006 version of this boot, titled 1969-1970, was "released" by Hook'n'Jab Productions.
Contents
Bob Dylan, The Johnny Cash Show, ABC TV, 05.01.1969
I Threw It All Away
Living the Blues
Girl From the North Country
Bob Dylan and The Band, Isle Of Wight, 08.31.1969
The Weight (The Band)
I Threw It All Away
Highway 61 Revisited
One Too Many Mornings
I Pity The Poor Immigrant
Minstrel Boy (cut)
The Band, Syria Mosque, Pittsburgh, November 1970, from Dutch TV
Time To Kill
The Weight
This Wheel's On Fire
Up On Cripple Creek

Bob Dylan and The Band - 69-70 - 2006 - 4Reel/Silent Sea
---
[History] [Members] [Library] [Discography] [Videography] [Filmography] [Pictures] [Audio Files] [Video Clips] [Tape Archive] [Concerts] [Related Artists] [Merchandise] [Guestbook] [Chat Room] [Search] [What's New?] [Main Page]
Webmaster